Sino-American conflict: Latest developments before the Quad meeting in March
Sino-American conflict: Latest developments before the Quad meeting in March
While the German media are preoccupied with Corona and Harry, Meghan and the racist Royals and you don´t get much information about the new US foreign policy in Asia, here a little Global Review from the South China Morning Post, the Hindustan Times, Moscow Times and the Strait Times.
Besides the decision for a new election law for Hongkong which abolishes the last elements of semidemocracy and only allows "patriots"to be elected, the CP China decided its 14 th year´s plan-this time the first time without concrete growth targets:
" GDP: Beijing cites 'policy flexibility' as reason for dropping specific growth target for 14th five-year plan
Unlike in previous years, the 14th five-year plan for 2021-25 does not specify an economic growth target
China's top economic planning agency says this gives Beijing more 'policy flexibility' to deal with uncertainty
China has for the first time abandoned an overall economic growth target in its next five-year plan to provide the government flexibility to cope with risks at home and abroad, the country's top economic planning agency said on Monday.
Unlike in previous years, the 14th five-year plan for 2021-25 does not specify a target for the whole period, but will instead keep annual growth at " a reasonable range", with the first year set at above 6 per cent.
Hu Zucai, the deputy director of the National Development and Reform Commission, said this gave Beijing more policy flexibility.
"It leaves room to deal with the uncertainties. It is also good for guiding all parties to focus on improving the quality and efficiency of development," he said at a press conference on Monday.
It does not mean that China will not need a GDP growth rate any longer Hu Zucai
"[But] it does not mean that China will not need a GDP growth rate any longer."
Traditionally, the economic growth target in five-year plans has acted as a road map for development and been tied to the careers of top political officials across the country. Gross domestic product (GDP) competition among local governments has played a crucial role in supporting China's growth miracle over the past four decades.
However, following the impact of the coronavirus pandemic and rising debt risks associated with pursuing unrealistic growth targets, some academics and advisers called on Beijing to adjust its macroeconomic evaluation system and potentially abandon annual GDP targets.
Before China's two sessions"", which started last week, many analysts expected the government to drop the annual GDP target in 2021 for a second year in a row, but maintain a five-year goal.
China's 2021 National People's Congress opens with Hong Kong's electoral system on the agenda
Andrew Batson, China research director for Gavekal Dragonomics, said the decision to abandon an overall GDP target showed China's leadership had a more complex view of development goals.
"The plan looks like a compromise between those who think growth targets are distorting and unnecessary, and those who think China still needs high growth to achieve its dream of national greatness," he wrote in a note on Monday.
Beijing-based research firm Trivium China praised the decision, saying less money would be funnelled into unproductive projects.
Hu said China's economy had evolved to a "high-quality development stage" and could no longer simply chase after a GDP growth rate figure, especially at the expense of "quality, efficiency and the ecological environment".
But because GDP expansion remained the core indicator to gauge development and international competitiveness, the government included it in a different form, he said.
Two sessions: How China's environmental policies are giving a boost to green industries
"A reasonable growth rate is required to achieve modernisation. China is still the largest developing country in the world, development is still the foundation and key to solving all problems," Hu said.
A certain level of growth was also needed to achieve President Xi Jinping's target of doubling per capita GDP by 2035, he said. Annual targets for economic growth, energy consumption per unit of GDP and emissions intensity will be proposed each year according to circumstances.
China set a target for average annual growth of above 6.5 per cent in its 13th five-year plan, which ended in 2020. But GDP expansion tumbled to 2,3% last year., the lowest rate since the end of the Cultural Revolution in 1976, after the pandemic ravaged the economy at the beginning of the year.
Looking ahead, China's economy is likely to grow over the next five years by between 5 and 6 per cent, Li Xuesong, a senior research fellow at the Chinese Academy of Social Sciences, estimated last November.
Liu Yuanchuan, vice-president of Renmin University of China, said last December the country needed to reach an average annual growth rate of 4.78 per cent in the next 15 years to achieve Xi's per capita GDP goal by 2035."
https://www.scmp.com/economy/global-economy/article/3124574/china-gdp-beijing-cites-policy-flexibility-reason-dropping
The USA and China look for a first direct meeting of senior officials to moderate the tensions between both sides:
"Washington confirms direct engagement between US and Chinese diplomats
Beijing's most senior envoys, Yang Jiechi and Wang Yi, may be sent for face-to-face discussions with their American counterparts in Anchorage
Talks could be a chance to find common ground and begin to leave the Trump era behind, analyst says
The White House has confirmed that Chinese and US diplomats are "directly engaged" in talks, in response to questions over an exclusive report in the South China Morning Post that plans are afoot for a senior level meeting in Alaska.
"Of course there'll be a range of engagements that the president and his national security team will have with China and other countries in the region in the months and years ahead," press secretary Jen Psaki said on Tuesday, when asked to confirm the meeting would take place.
"We are directly engaged. There are a range of issues we of course have talked with the Chinese about through those engagements. We don't hold back about our concerns, but we also look for opportunities to work together," she said." (SCMP)
China also gets prepared to counter the old and new multilateralism of the Biden administration by looking for the developing countries:
"China looks to developing world as US stages global comeback
China's foreign minister puts the focus on Africa, Latin America and Southeast Asia in his annual press conference
Beijing might find it more difficult to hold sway as Biden tries to revive international alliances
China is looking to the developing world for support as the US seeks to revive alliances within the region and with Europe
As US President Joe Biden seeks to return his country to the global centre stage, China's topdiplomat has signalled Beijing's desire to counter Washington by establishing its own sphere of influence, observers said.
State Councillor and Foreign Minister Wang Yi sent the signals on Sunday at a briefing for selected media on the sidelines of China's annual parliamentray sessions, an event that Beijing uses to promote its diplomatic agenda.
During the 90-minute event, Wang spent much of the time answering questions related to developing countries and regions, ranging from supplying Chinese vaccines to Africa, Latin America and Southeast Asia, to infrastructure investment in Central Asia.
It was a contrast with years past when the foreign minister fielded questions from Western media outlets such as CNN, the BBC and Reuters.
"The Chinese side resolutely believes that diversity is a distinct feature in human civilisation. Differences in political systems should not be a reason for confrontation, but a chance for dialogue and exchange," he said.
Chinese Foreign Minister Wang Yi puts forward 5 proposals for more stable China-US ties
Wang's focus on the developing world comes as the United States looks to revive its transatlantic alliance with the European Union and bring the leaders of the"Quad"– Australia, the US, Japan and India – together this week as part of a broader strategy to counter China's influence.
Wang drove home the point on Sunday by saying China opposed US-led "exclusive cliques". He highlighted Beijing's support for developing countries, saying that China had sent vaccines to more than 35 African countries and 12 Latin American nations.
In addition, Wang played up China's booming trade ties with the Middle East and Latin America, as well as its regional trade pact, the Regional Comprehensive Economic Partnership with 14 Asia-Pacific economiesBeijing would continue to push its massive
Belt and Road Initiative, despite reports that some of its projects have been halted by the pandemic, he said.
In describing Beijing's relations with African countries, the Chinese diplomat even invoked Maoist references to uniting postcolonial nations.
"The deep friendship between China and Africa was formed during our arduous struggle for national independence and liberation. We are comrades in arms and brothers," Wang said in response to a question from an Egyptian reporter.
Pang Zhongying, a professor of international relations at Ocean University of China, said Wang was signalling China's desire to muster support from non-Western countries at a time of increasing US-led containment.
"The Biden administration has been seeking to strengthen the US-led alliance to counter China. The current international environment presents an acute challenge for China," Pang said.
"During Mao's time, China received support from its 'iron-clad brothers' in the developing world like Albania and Cambodia. But it would be challenging to build such a sphere of influence in today's world."
Pang said the military coup in Myanmar last month had tested the limit of China's influence in its own backyard.
As the conflict in the Southeast Asian nation deepens, China has insisted that the situation should be resolved domestically and vetoed efforts by the UN Security Council to condemn the military.
Wang said on Sunday that China would continue to communicate with all sides in Myanmar and the Association of Southeast Asian Nations and said its friendly ties would not change "regardless of the changes in Myanmar".
Beijing says Myanmar's situation is 'something China does not wish to see'
Beijing says Myanmar's situation is 'something China does not wish to see'
Pang also said Beijing's influence could be limited.
"The Myanmar situation has proven to be another challenge as it has been unclear what role China can play in mediating the situation," he said.
"There has not been much coordination between China and other powers such as the US and Japan," he said, adding there had also not been substantial progress on the code of conduct negotiations for the South China Sea.
Also at the press conference, Wang called on the US to return to the nuclear agreement with Iran and again floated China's proposal to create a platform for talks with Gulf countries to handle various issues in the Middle East beyond Iran, although he did not offer details.
China and Arab countries had agreed to hold a summit later this year, he said.
Ilaria Carrozza, a senior researcher at the Peace Research Institute Oslo, said developing countries had always been at the centre of China's foreign policy strategy.
"The Middle East is a slightly newer area for China to be involved in because China has so far refrained from getting engaged in places that had ongoing conflicts or difficult political situations. But as part of the belt and road, now China also has large-scale dealings with countries such as Iran, Saudi Arabia and the United Arab Emirates," she said.
Carrozza said China had long sought to foster ties with "friendly" countries, for example, to gain support for its positions and resolutions at the UN Security Council.
But Beijing might find this harder to do if the US regained the trust of EU allies that it lost in the Trump-era.
"The US [had been] taking on a more America-centred vision that has [made it] easier in the past few years for China to push its ideas and balance against the US. But if Biden gets more friendly again with the allies, then I think it would be a lot more difficult for China economically, strategically and diplomatically," she said.
China's strategy in Africa to boost digitalisation will continue to be successful in the near and long term as part of south-south cooperation, according to Carrozza.
"We will see new fields coming into the picture [on top of] infrastructure deals, ports, railroads. New areas where China is trying to get more influential will also matter and digital technology definitely is one of those," she said."(SCMP).
However, both sides are modernizing their military and US think tanks and US militaries push the China threat as Xi Jinping raises the defence expenditures and wants to get China prepared for a"protracted war" with the USA:
"China-US rivalry: Washington must keep pace with Beijing on military spending, analysts say
America 'must work with allies to ensure they are capable of meeting the challenges and potential threats posed by China', political scientist Larry Wortzel says
Beijing's latest spending plans 'confirm that China's leaders continue to prioritise military modernisation', Centre for Strategic and International Security report say
China's military spending is the second highest in the world after the United States, according to a US report.China's increased defence spending, outsize ambition and growing coordination of civilian and military technologies and capabilities represent a potential threat to American interests and operations in the Pacific, according to US analysts.
"The US cannot afford to take its focus off maintaining parity or a lead on China," said Larry Wortzel, a senior fellow at the American Foreign Policy Council. "The US must work with allies to ensure they are capable of meeting the challenges and potential threats posed by China's military and defence programmes."
Others said China's growing capabilities should serve as a catalyst for the United States putting its affairs in order." (SCMP)
"US marines chief calls China 'the pacing threat for the next decade'
General David Berger meanwhile downgrades Russia threat, putting it alongside Iran, North Korea and extremist groups
It follows remarks last month that to compete with China and Russia, US military needs 'a new framework for assessing readiness'
Military rivalry between China and America has continued under the new US administration.
The US Marine Corps commandant has elevated China as the top threat facing American policymakers amid concerns over the PLA's military build-up.
"China will remain the pacing threat for the next decade," General David Berger wrote in a memo to Secretary of Defence Lloyd Austin, military website Breaking Defense reported.
He meanwhile downgraded the Russia threat in the February 23 memo, placing it alongside Iran, North Korea and extremist groups as areas that will "continue to pose threats", according to the report on Tuesday."
These voices find their echo in Beijing:
"Xi Jinping tells China's military 'be prepared to respond' in unstable times
Stresses need for 'high-level strategic deterrence' and more tech innovation
President's remarks follow defence minister's call for PLA to be battle ready amid 'high-risk phase'
China wants to have a "world-class military" by 2050China's military must be "prepared to respond" to complex and difficult situations as the country grapples with security challenges, President Xi Jinping said on Tuesday.
Xi, who also heads the Central Military Commission, made the remarks at a panel discussion attended by armed forces representatives during the annual legislative sessions in Beijing.
.
"The current security situation of our country is largely unstable and uncertain," Xi said. "The entire military must coordinate the relationship between capacity building and combat readiness, be prepared to respond to a variety of complex and difficult situations at any time, resolutely safeguard national sovereignty, security and development interests, and provide strong support for the comprehensive construction of a modern socialist state.""
The president's remarks came after Defence Minister General Wei Fenghe on Saturday called for the military to boost combat readiness, saying China's national security had "entered a high-risk phase".
"We are facing mounting tasks in national defence … and we must comprehensively improve military training and preparedness for battle so as to increase our strategic capabilities to prevail over our strong enemies," Wei told military delegates at a meeting on the sidelines of the legislative sessions.
"The great rejuvenation of the Chinese nation is at a critical stage where we are facing unprecedented opportunities as well as unprecedented challenges," he said. Wei also warned that US containment efforts would "last throughout the process of China's national rejuvenation".
The question of how the People´s Liberation Armyshould handle security risks dominated the meeting on Saturday as the country faces challenges on multiple fronts – from itsHimalayan border dispute with India to simmering tensions with Japan over the East China Seaand rivalry with the United States, including over technology.
Its deep rift with the UStops the list of geopolitical risks, particularly tensions over Taiwan
and the South China Seathat some fear could lead to military conflict as both powers step up air and naval operations in the region. Beijing recently released footage of its military conducting landing drills in the disputed South China Sea, days after US reconnaissance operations and a Taiwanese exercise simulating a mainland Chinese attack on its reefs.
On Sunday, Foreign Minister Wang Yi warned Washington to cross the "red line"on Taiwan, saying there was "no room for compromise or concession on the Taiwan issue".
At the military meeting, Major General Yang Cheng – who served in the 73rd Group Army whose primary mission was presumed to be the conquest of Taiwan – said the PLA needed to strengthen its early warning and reconnaissance efforts and consolidate control over the country's borders.
Zhao Baorui, political commissar of the Western Theatre Command which covers the frontier with India, also called for more military funds for the border region to speed up construction of airports, roads and training bases.
Breaking the US' "chokehold" on technology was another key discussion topic at the meeting. Navy chief Vice-Admiral Shen Jinlong said that to win a future war, China's military must strengthen its ability to use innovative technologies and that more state support was needed for key industries and projects.
The PLA has undergone a sweeping overhaul in recent years and its modernisation drive is ongoing – President Xi has said it should be completed by 2035, with a target of having a "world-class military" by 2050.
Beijing has announce moderate growth in ist defence budget of 6,8 percent in 2021, but said it would boost spending on science and technology research and development by more than 7 per cent in the next five years. Areas targeted for more funds include semiconductors, quantum and cloud computing, and artificial intelligence for both military and commercial use, according to the draft five-year plan."
https://www.scmp.com/news/china/military/article/3124733/xi-jinping-tells-chinas-military-be-prepared-respond-unstable
"'China's military must spend more' to meet US war threat
The second in command of the armed forces says the country must prepare for the 'Thucydides trap'
Comments highlight pessimism about relations with the United States
China's military must improve its ability to win against "strong enemies", according to its defence minister.
China must increase military spending to prepare for a war with a dominant power, according to the country's top general, raising the spectre of armed conflict with the United States.
General Xu Qiliang, second in command of armed forcesafter President Xi Jinping, said the spending was necessary to prepare the country for the "Thucydides trap", the idea that conflict is inevitable when one power rises to displace a great one.
"In the face of the Thucydides trap and border problems, the military must speed up increasing its capacity," said Xu, who is also one of the 25 members of the Politburo, the Communist Party's inner circle.
https://www.scmp.com/news/china/politics/article/3124591/chinas-military-must-spend-more-meet-us-war-threat
Same voices on the US side:
"China poses top threat for decades ahead, says General Mark Milley, Donald Trump's pick to head Joint Chiefs of Staff
China learned to fight more effectively by watching American wars in Middle East, candidate for top military adviser tells US lawmakers
Top general says Chinese military 'went to school' on US and is mimicking its military doctrines and organisations
US Army General Mark Milley testifies before the Senate Armed Services Committee on his nomination to be chairman of the Joint Chiefs of Staff on Thursday. China may remain the "primary threat" to the US military for as long as a century after learning how to fight more effectively by watching American wars in the Middle East, US President Donald Trump's nominee to lead the Joint Chiefs of Staff said.
"China went to school on us," General Mark Milley said in response to lawmakers' questions during his confirmation hearing on Thursday before the Senate Armed Services Committee."
At least there are two factions in the Pentagon and the US military. One faction perceives Russia and China both as the most importnat enemies, while the other faction thinks that China is the top enemy, main competitor and rival, while Russia is a not that important enemy and comparable to North Korea, Iran and the Islamic State like General Milliey, General Berger or the Longer Telegramm of the Atlantic Council which even think s about an cooperation with Russia- "whether we like it or not".
The military competion is also a hitech war and the modernization also linked to the hi-tech revolution:
"US needs a hi-tech revolution to combat China," says General Mark Milley.
Military must adapt to 'fundamental change' under way in the character of war
Joint Chiefs of Staff head wants smaller, more capable forces which fully embrace robotics and artificial intelligence
The US military will need to fully embracerobotics and artificial intelligence if it is to maintain superiority over China, according to the Pentagon's top general.
Joint Chiefs Chairman General Mark Milley also said smaller, more capable forces armed with long-range missiles would need to be posted more widely around Asia to hem in the top US adversary.
"We are in the middle of a fundamental change in the character of war," he told the Defence Forum Washington online symposium at the US Naval Institute on Thursday ."
https://www.scmp.com/news/china/military/article/3112510/us-needs-hi-tech-revolution-combat-china-says-general-mark
And while the USA is still talking about a technological revolution, China reports another success in quantum computing and AI:
"China claims quantum computing lead with Jiuzhang photon test, creating machine 'one trillion times faster' than next best supercomputer"
Researchers said their prototype took a little over three minutes to complete a task that would take the world's fastest conventional machine 600 million years.
Results put the country firmly at the forefront of the field, lead scientist says
Chinese physicists say they have built aquantum computer one trillion times faster than the most powerful supercomputer, with potential for some real-life applicatiosn "
As China is pushing its AI and quantum technology, besides civil and military applications and the social credit system another new application is the implementation of AI algorithms in the legal system which shall produce "smart courts" in order to rationalize and centralize political power:
"China's courts use data analytics and blockchain evidence storage on the way to first AI-integrated legal system
Under the 14th five-year plan, Chinese courts will upgrade to the fourth generation of smart court by 2025
Changes may appear to create a fairer system but they are also a step towards more centralised political power, say academics in the US
Published: 4:00pm, 10 Mar, 2021
Between February and December last year, more than 7 million legal cases in China were filed online and more than 4 million cases were adjudicated online.
China is rolling out changes to monitor judges, streamline court procedures and boost judicial credibility that could result in the world's first AI-integrated legal system.
Through ambitious technological efforts, such as using big data analytics and artificial intelligence (AI), it has started transforming how the judicial system operates, according to the Supreme People´s Court work report released during China´s annual parliamentary sessions on Monday.
The changes are part of China's "smart court" initiative, a signature policy of SPC president Zhou Qiang, to strengthen centralised political power and tighten the oversight of judges, according to legal experts."
https://www.scmp.com/news/china/politics/article/3124815/chinas-courts-use-data-analytics-and-blockchain-evidence
However, while China wants to become a high tech nation, it reports some weaknesses in the manufacturing base which would need another 30 years to become a comprehensive manufacturing power as the USA or Germany.
"China's 'two sessions' 2021: Beijing zeroes in on eight core areas for country to become manufacturing superpower
The renewed focus on advanced manufacturing forms an integral part of China's 14th five-year plan
The strategy would help offset rising production costs, reduce reliance on foreign technologies and enhance competitiveness against the US
China unveiled on Friday a comprehensive plan to upgrade its manufacturing capabilities by 2025 via eight priority areas, sharpening its global competitiveness amid a broad trade and techdispute with the United States.
The plan, which was introduced at the annual meeting of top legislative body theNational People´s Congress (NPC), is focused on rare earth and special materials, robotics, aircraft engines, new energy vehicles and smart cars, high-end medical equipment and innovative medicine such as vaccines, agricultural machinery, major equipment used in shipbuilding, aviation and high speed raail, and industrial applications of China's Beidou global navigation satellite system."(SCMP)
However the chip manufacturing and development is also another Archille´s heels of China as the Strait Times reports::
China tech has a chip on its shoulder
When China's party leadership outlined on Friday short-and medium-term economic goals in its 14th Five-Year Plan, it pledged to turn the nation into a technological powerhouse and move it towards developing self-reliance in tech.
Key to that is for China to be completely independent of global supply chains in semiconductor chips, the microprocessors used to power everything from artificial intelligence (AI) operations to mobile phones and automobiles.
After threats by Washington to ban chip exports in 2015, Beijing embarked on efforts to create a localised semiconductor industry.
However, in spite of leading the field in areas such as the Internet of Things (IoT) and AI, China is still deeply reliant on manufacturers of high-end semiconductor chips in Taiwan, South Korea and Europe.
The world's top semiconductor makers are now mass producing 5 nanometre chips, which are being used in Apple's iPhone 12. Semiconductor chips which require more processing power in a smaller footprint are harder to produce as there is a lower margin for error.
China's largest chipmaker – Semiconductor Manufacturing International Cooperation (SMIC) – completed making prototypes of a 7 nanometre chip only late last year.
Its current top of the line product is a 14 nanometre chip.
Five nanometre chips rely on technology patented by only one company in the world – Dutch firm ASML – which has sold its machines to leading manufacturers including Taiwan's TSMC, South Korea's Samsung and Intel.
SMIC's machine order was reportedly blocked after the United States government intervened on the basis that output from the technology could end up in weaponry used by the Chinese military.
There is also a lack of engineers in China who understand the process of chip-making, said technology analyst Matt Sheehan of the Macro Polo think-tank at Chicago's Paulson Institute.
"You need engineers who have gone through the process of making it because it's problem solving at every step of the way," Mr Sheehan said last week.
China is trying to remedy the problem in the short term by importing engineers from South Korea and Taiwan while the local industry gains maturity, he added.
Beijing has also been implementing tax incentives for Chinese firms making integrated circuits, while also offering incentives for companies to streamline their processes to build a smoother supply chain.
But there is another snag: the US government has placed 60 Chinese companies, including SMIC, tech giant Huawei and surveillance equipment firm Hikvision on a restricted trade list, citing national security risks and foreign policy interests as the reasons.
American firms or those selling US-proprietary technology would need to apply for a special licence before trading with these companies.
Last May, the US Department of Commerce also announced a ban on chipmakers that use US technology from supplying semiconductors to Huawei.
It means that even chipmakers like TSMC, which was contracted by Huawei to manufacture its in-house designed Kirin mobile phone chip, can no longer continue the partnership.
Some analysts believe that the US' blacklisting of Chinese firms last year could in fact be a shot in the arm in the long term. "It's possible that US sanctions could hobble companies such as SMIC and Huawei before they can measurably improve the quality of local suppliers," wrote technology analyst Dan Wang of research firm Gavekal Dragonomics in a Bloomberg News commentary.
"But technology lives in people's heads and China's tech champions have been eagerly recruiting engineers, scientists and academics; those employees will inevitably find new homes or start companies of their own.""
While China is pushing its Belt and Road Initiative and upgrading its own infrastructure, Biden wants now an infrastructure program for the USA and the former US diplomat Emmerson and former German Vicechancellor and Chairman of the Atlantic Bridge Sigmar Gabriel propose a transatlantic Silkroad which includes Africa and Eurasia:
"Joe Biden says US needs major infrastructure plan to keep pace with China
US president says his phone conversation with Xi Jinping lasted 'two straight hours'
'If we don't get moving they're going to eat our lunch,' Biden tells lawmakers during White House meeting
US President Joe Biden meets with senators in the Oval Office of the White House on Thursday to discuss an infrastructure spending plan. China is threatening to outcompete the United States on infrastructure and public transport,Joe Biden US President said on Thursday, as he sought support from lawmakers for a spending bill for US upgrades.
Addressing reporters in the Oval Office before a closed-door meeting with senators on infrastructure spending, Biden pointed in particular to China's extensive high-speed rail network and efforts to develop clean energy alternatives to power cars.
"They're investing billions of dollars in dealing with a whole range of issues that relate to transportation, the environment and a whole range of other things," Biden said. "So we just have to step up.""
One of China´s infrastructure project, a hydropower dam in Tibet at the border to India intensifies the already tense border conflict between India and China:
"China-India relations: Beijing should speed up hydropower project, Tibetan official says
Planning and environmental impact assessments for dams on Yarlung Tsangpo River 'should be approved as soon as possible', region's Communist Party deputy chief says
Chairman of development company said in November the project would help to ensure China's 'water resources security and homeland security'
China's plans for a new hydropower plant on the Yarlung Tsangpo River are likely to upset India. China should accelerate plans to build a hydropower plant on a river near its disputed border.with India, a senior official said at a meeting on the sidelines of the National People´s Congress.
.
A proposal to construct dams on the lower reaches of the 2,900km (1,800 mile) Yarlung Tsangpo River was first presented in November and is included in China's latest five year plan, which was released on Friday at the ongoing legislative meeting in Beijing.
The river rises in Tibet before flowing through the Himalayas and into India, where it is known as the Brahmaputra.
Che Dalha, deputy Communist Party chief of western China's Tibet autonomous region, said authorities there should "strive to begin construction [of the dams] this year".
"Comprehensive planning and environmental impact assessments for the project should be approved as soon as possible," he said on Saturday, according to a press release published on Monday on an official regional government website.
Che said also that the exploration of natural gas in northern Tibet should be one of the focuses of the country's energy development goals over the next five years.
The Yarlung Tsangpo rises in Tibet before flowing through the Himalayas and into India, where it is known as the Brahmaputra.
Beijing is keen to boost its energy capacity and resource-rich Tibet is seen as ripe for development. But the hydropower project on the Yarlung Tsangpo is likely to stoke tensions with India, with which China has been locked in a bloody border dispute since May last year.
Yan Zhiyong, chairman of Power Construction Corporation of China, the state-owned firm leading the development, said in November the dams would have a combined generating capacity of 60 gigawatts, or almost three times that of the Three Gorges Dam on the Yangtze River in central China.
"It is a national security project, ensuring China's water resources security and homeland security," he said.
In what was widely seen as a response to Beijing's plans, T.S. Mehra, a senior official with India's water ministry, was quoted by Reuters as saying in December that the government in New Delhi was considering building a 10GW hydropower project on the Brahmaputra to "mitigate the adverse impact of the Chinese dam projects".
Brahma Chellaney, a strategic studies professor at the Centre for Policy Research, a Delhi-based think tank, said Beijing's hydropower plans had major significance.
"China's decision to build dams on the Yarlung Tsangpo just before the river enters Indian territory will arm Beijing with considerable leverage over India," he said.
"Just before flowing into India, the river makes a U-turn around the Himalayas to form a huge canyon that holds bounteous water resources.""
https://www.scmp.com/news/china/diplomacy/article/3124698/china-india-relations-beijing-should-speed-hydropower-project
This brings the Tibet question in play and the Dalai Lama as the Hindustan Times reports:. But while the USA want to prevent Chinese interference in the succession process of the Dalai Lama, the Modi government seems not that much interested.
"US rebuff to China over Dalai Lama signals Biden won't take eyes off Tibet
The United States says the Chinese effort to impose a government-chosen successor of the Panchen Lama 25 years ago was "an outrageous abuse of religious freedom."
By Shishir Gupta, Hindustan Times, New Delhi
UPDATED ON MAR 10, 2021 10:53 AM IST
The Joe Biden administration's statement that the Chinese government should have no role in the succession of the Dalai Lama on the day Tibetans in 1959 rose against Beijing's rule makes it evident that Washington will continue to press the Xi Jinping regime on Lhasa. The 14th Dalai Lama escaped from Lhasa on May 17, 1959, and reached Tawang in Arunachal Pradesh by March-end. The refuge given to the 14th Dalai Lama by India was one of the principal triggers of the 1962 border skirmish.
"We believe that the Chinese government should have no role in the succession process of the Dalai Lama," State Department spokesperson Ned Price told reporters on Tuesday. Price recalled Beijing's interference in the succession of the Panchen Lama more than 25 years ago and called the Chinese effort to impose its successor "an outrageous abuse of religious freedom."
In December, former US PresidentDonald Trump signed into a law a bill to establish a US consulate in Tibet and called for an international coalition to ensure that the next Dalai Lama is solelyappointed by the Tibetan Buddhist community without Chinese interference.
Irrespective of the statements from Washington, analysts said the Xi Jinping regime will interfere in the Dalai Lama succession and anoint a Chinese Dalai Lama as opposed to one that may be appointed by the 14th Dalai Lama during his lifetime or beyond. It is not very difficult to figure that by having two Dalai Lamas and two Panchen Lama, the Chinese will seek to engineer chaos in the international Buddhist community, particularly in the Gelugpa sect, the most dominant school of Tibetan Buddhism.
Given the Chinese political and economic clout, the international community will be only reduced to making noises as in the case of Hong Kong, Xinjiang and Taiwan. The Chinese economic clout is such that the Sunni Muslim nations are willing to look the other way to state abuses against the Uighur community in Xinjiang but are prepared to red flag India on Kashmir at the first given opportunity.
While India is watching the 14th Dalai Lama succession plan very closely, the Modi government has gone beyond the thinking of past governments who thought, as one former top foreign ministry official put it at a high-level meeting, that this issue was akin to flogging a dead horse.
Even though New Delhi has no intentions of deliberately needling China on the Dalai Lama issue despite Beijing's routine pinpricks on Kashmir, it is unfazed by the routine threats issued by the Xi Jinping regime to anyone raising the so-called core issue of the middle kingdom. Such is the Chinese antipathy towards exiled Tibetan community that the issue of deploying Special Frontier Forces (SFF), made up entirely of Tibetan exiles, in East Ladakh and along the Line of Actual Control (LAC) was seriously raised by the Peoples' Liberation Army commanders during the military dialogue with Indian commanders. The SFF was part of the Indian Army mission to occupy the Rezang La -Rechin La heights on the south banks of Pangong Tso last August."
https://www.hindustantimes.com/world-news/us-rebuff-to-china-over-dalai-lama-signals-biden-won-t-take-eyes-off-tibet-101615352260487.html
There will also be a Quad meeting on March 13th and India already published a plan to upgrade and modenrnize its navy and military:
"Eye on China, India's plan for 6 nuclear-powered attack submarines back on track
Monday's significant test should be seen as part of the navy's overall capability-building plans, ranging from the ongoing plan to build six nuclear-powered attack submarines or SSNs to the commissioning of its second aircraft carrier, INS Vikrant, later this year.
By Shishir Gupta, Hindustan Times, New Delhi
UPDATED ON MAR 10, 2021 09:25 AM IST
On March 8, the Defence Research Development Organization (DRDO) successfully carried out the final test of the land based prototype of the Air Independent Propulsion (AIP) system in Mumbai. The AIP system, retrofitted by expanding the hull area, ensures that diesel attack submarines can remain under surface for a longer period and become more silent than a nuclear-powered submarine. The AIP system will be retrofitted into Kalvari class submarines, the third of which (INS Karani) will be commissioned on Wednesday March 10.
But analysts say that rather than being seen in isolation, Monday's significant test should be seen as part of the navy's overall capability-building plans, ranging from the ongoing plan to build six nuclear-powered attack submarines or SSNs – the project is back on track and was discussed at the Combined Commanders' Conference in Kevadia, Gujarat — to the commissioning of its second aircraft carrier, INS Vikrant, later this year.
Overall, they add, the plans should also be seen as a concerted bid by the Indian Navy to counter the rise of China's navy – now larger than the US navy in terms of number of ships, although the US is still ahead in terms of tonnage and capability. In submarines for instance, India currently has only one Akula class SSN on lease from Russia; one more is expected to come on lease before 2025.
The analysts said the Indian Navy is all set to acquire big teeth and long legs this year. While South Block remains tight-lipped about the country's increasing naval capabilities, HT learns that the Chinese interlocutors during WMCC (working mechanism for consultation and coordination) meetings on disengagement in East Ladakh complained about Indian Navy warships being aggressive against the PLA Navy in the Indian Ocean. Thanks to Indian Navy full deployment in Indian Ocean and real time intelligence from the QUAD allies and France, the People's Liberation Army Navy's (PLAN) warships are only deployed around the Gulf of Aden as of now with no presence anywhere else in Indian Ocean.
India's national security planners are worried about the expanding PLAN and expect Chinese carrier strike force deployment in Indian Ocean by 2023 with Beijing expected to commission a third aircraft carrier this year. That's one reason the Indian Navy has embarked on its own capability-building drive. India will commission its second aircraft carrier INS Vikrant and second nuclear powered ballistic missile submarine (SSBN) INS Arighat this year. While INS Vikramaditya, the other carrier, will be home-based on the western seaboard of India, INS Vikrant will be on the eastern seaboard. Each will have one SSBN and SSN as part of its strike force.
Although the Indian Navy wants a third aircraft carrier with more tonnage than the two existing ones, the strategic planners of the Modi government are still to be convinced of the idea given the massive expenditure involved. The Vikramaditya's tonnage is 45,000 and the Vikrant's 37,500. There's long been talk of a third carrier, INS Vishal, with a tonnage of 65,000, but this could set India back by at least $15 billion.
Adding teeth to the Indian Navy are also its two leased Predator drones, which provide maritime domain awareness from Gulf of Aden to Sunda Straits with the unmanned aerial platform having endurance upwards of 30 hours and acquiring attitude of over 30,000 feet. Once the Indian military is trained to handle the Predator drones, currently based in the Arakkonam base in Tamil Nadu, the plan is to buy 10 armed Predator drones for each of the three services.
Vice Admiral (Retd) Madanjit Singh, former Western Naval Command Chief, said that New Delhi should be cured of its sea-blindness as this is the war theatre of future. "The Modi government must expand to blue water navy status if PLAN's expansion is to be checked.""
https://www.hindustantimes.com/india-news/eye-on-china-india-s-plan-for-6-nuclear-powered-attack-submarines-back-on-track-101615327826084.html
And the Quad will not only discuss closer military cooperation, but also a Quad Health Silkroad spearheaded by India as response to the geopolitical Chionese project of a Health Silk Road.
"India urges other members of Quad alliance to match China's investment in vaccine diplomacy
Beijing has committed to provide at least 463 million doses of its Covid-19 vaccines through exports and donations around the world
India is the world's largest vaccine manufacturer and wants other members of the Quad – Japan, Australia and the US – to help fund production
India has urged the United States, Japan and Australia to invest in its vaccine production capacity , an Indian government source said, as the so called Quafd alliancetries to counter China's growing vaccine diplomacy.
Beijing has committed to provide at least 463 million doses of its home-made Covid-19 vaccines through exports and donations across the world from Asia to Africa, Europe and Latin America.
Two senior Indian officials said the Quad alliance, grouping the United States, Japan, Australia and India, was stepping up efforts to expand global vaccination to counter China´s growing soft power . India, the world's biggest vaccine maker, believes it is best placed to steer the effort, they added."
https://www.scmp.com/news/asia/south-asia/article/3124558/india-urges-other-members-quad-alliance-match-chinas
The race into space is also speeding up China and Russia decided to have a joint lunar space mission on the moon inviting other nations tzo join the project as the Moscow Times reports::
"Planetary Pact: China and Russia to Launch Lunar Space Station
Russia has been lagging behind Washington and Beijing in the exploration of the Moon and Mars, a trend it seeks to reverse
Russia and China unveiled plans Tuesday for a joint lunar space station, as Moscow seeks to recapture the glory of its space pioneering days of Soviet times, and Beijing gears up its own extraterrestrial ambitions.
Though Moscow was once at the forefront of space travel — it sent the first man into space — its cosmic ambitions have dimmed thanks to poor financing and endemic corruption.
It has been eclipsed by China and the United States, which have both clocked major wins in space exploration and research in recent years.
The Russian space agency Roscomos said in a statement that it had signed an agreement with China's National Space Administration (CNSA) to develop a "complex of experimental research facilities created on the surface and/or in the orbit of the Moon."
The CNSA, for its part, said that the project was "open to all interested countries and international partners" in what experts said would be China's biggest international space cooperation project to date.
Moscow is seeking to re-take the lead in the space race.
This year, it celebrates the 60th anniversary of Russia's first-ever manned space flight — it sent Yuri Gagarin into space in 1961, followed by the first woman, Valentina Tereshkova, two years later.
By contrast, the United States' NASA only sent its first manned flight into space in 1961.
But Moscow has lagged behind both Washington and Beijing in the exploration of the Moon and Mars in recent years.
In the meantime, China — which has sought closer partnership with Moscow — has started a successful space program of its own.
'Big deal'
Last year, it launched its Tianwen-1 probe to Mars that is currently orbiting the Red Planet.
And in December, it successfully brought rock and soil samples from the Moon back to Earth, the first mission of this type in over 40 years.
Chen Lan, an independent analyst specialising in China's space program, said the joint lunar space station was "a big deal."
"This will be the largest international space cooperation project for China, so it's significant," Lan told AFP.
Roscosmos chief Dmitry Rogozin wrote on Twitter that he had invited CNSA chief Zhang Kejian to the launch of Russia's first modern lunar lander, Luna 25, scheduled for Oct. 1 — the first lunar lander to be launched by Russia since 1976.
Eyes on Mars
The U.S. space agency NASA has now set its sights on Mars, with its Perseverance rovers last week conducting their first test drive on the planet.
NASA eventually intends to conduct a possible human mission to the planet, even if planning is still at a very preliminary stage.
Moscow and Washington are also collaborating in the space sector — one of the few areas of cooperation left between the Cold War rivals.
However, Russia did not sign the U.S.-led Artemis Accord last year for countries that want to participate in a lunar exploration scheme spearheaded by NASA.
Under the Artemis programme announced during the tenure of former U.S. President Donald Trump, NASA plans to land the first woman and the next man on the moon by 2024.
In another blow to Russia's space reputation, Roscosmos last year lost its monopoly for manned flights to the International Space Station (ISS) after the first successful mission of the U.S. company Space X.
Elon Musks's Space X has become a key player in the modern space race and has announced plans to fly several members of the public to the Moon in 2023 on a trip bankrolled by a Japanese millionaire.
A SpaceX Starship prototype exploded after landing in Texas in March, after climbing to an altitude of six miles (10 kilometers). The test flight was part of the company's ambitious project to take people to Mars.
https://www.themoscowtimes.com/2021/03/09/planetary-pact-china-and-russia-to-launch-lunar-space-station-a73187
However, Xi Jinping rejected Putin´s proposal at the Valdai Club to form a Sino-Russian military alliance, while according to the SCMP and the Guardian an US adnirral warns that China could attack, conquer and occupy Taiwan within the next years.
"China could invade Taiwan in next six years, top US admiral warns
China could invade Taiwan within the next six years as Beijing accelerates its moves to supplant American military power in Asia, a top US commander has warned.
Democratic and self-ruled Taiwan lives under constant threat of invasion by China, whose leaders view the island as part of their territory and which they have vowed to one day take back.
"I worry that they're [China] accelerating their ambitions to supplant the United States and our leadership role in the rules-based international order… by 2050," said Washington's top military officer in Asia-Pacific, Admiral Philip Davidson, on Tuesday.
"Taiwan is clearly one of their ambitions before that. And I think the threat is manifest during this decade, in fact, in the next six years," he told a US Senate armed services committee hearing.
Davidson said the expansion of China's military assets in the region risked creating an "unfavourable" situation for the US, reducing the level of deterrence.
"We are accumulating risk that may embolden China to unilaterally change the status quo before our forces may be able to deliver an effective response," he said.
"I cannot for the life of me understand some of the capabilities that they're putting in the field, unless … it is an aggressive posture."
Taiwan split from mainland China at the end of a civil war in 1949. The ruling Chinese Communist party in Beijing has never governed Taiwan but considers it a part of China that it will retake by force if necessary. Taiwan's leadership and a growing majority of its population reject the idea it is part of China, and cross-strait tensions have been high since Beijing cut off formal contacts with Taiwan after the 2016 election of its current leader, Tsai Ing-wen.
Tensions were further raised by increased US arms sales and diplomatic visits to Taiwan during the latter stages of Donald Trump's presidency as he feuded with China on issues like trade and national security. In response China repeatedly threatened "countermeasures", and ratcheted up its military activity in and near the Taiwan strait.
Analysts differ in their prediction of conflict,noting Beijing isalso using trade anddiplomatic influence to isolate Taiwan. There is also growing concern over China's "grey zone" tactics such as dredging of the sea around disputed islands, which do not quite cross the line into confrontation.
"Though I'm not convinced that Beijing has depleted all the options in its toolkit short of a full-out invasion, my concern is that, with the increasing regularity of incursions into Taiwan's [air space], there is a higher risk of an accident or a miscalculation – one that could compel, or be used by Chinese leadership to justify, further military escalation," said Jessica Drun, a non-resident fellow at Project 2049, a thinktank focusing on security in the Asia region."
https://www.msn.com/en-au/news/world/china-could-invade-taiwan-in-next-six-years-top-us-admiral-warns/ar-BB1erdz2
Under such a scenario such a Sino-Russian military alliance to deter or attack the USA could become reality in the opinion of Putin´s Gazprom adviser Prof. Alexander Rahr in our latest Global Review interview:
"China has denied a military alliance with Russia. China does not want to get the chestnuts out of the fire for Russia. When it comes to showing NATO its limits, China says Russia must come to terms with the West itself or argue with the West alone. But Putin takes a different view. He is convinced that a Russia-China military pact will be the logical answer to the Western offensive against the two powers that are adversaries of the West. Personally, I think Putin is not wrong. After Hong Kong, if China wants to become a world power, sooner or later Taiwan will be incorporated into its national territory. That will be difficult, because China – like Russia with the annexation of Crimea – would oppose the entire world community. At this point at the latest, Xi will remember Moscow's invitation to join a military alliance against the West."
However, Putin´s nationalism and militarism seems to get more features of a Holy War. Putin´s speech about the lessons of WW 2, the charge against Navalny for blasphemy against veterans is now completed by a military mega church as The Moscow Times reports:
In Photos: Russia Unveils New Military Mega-Church
April 27, 2020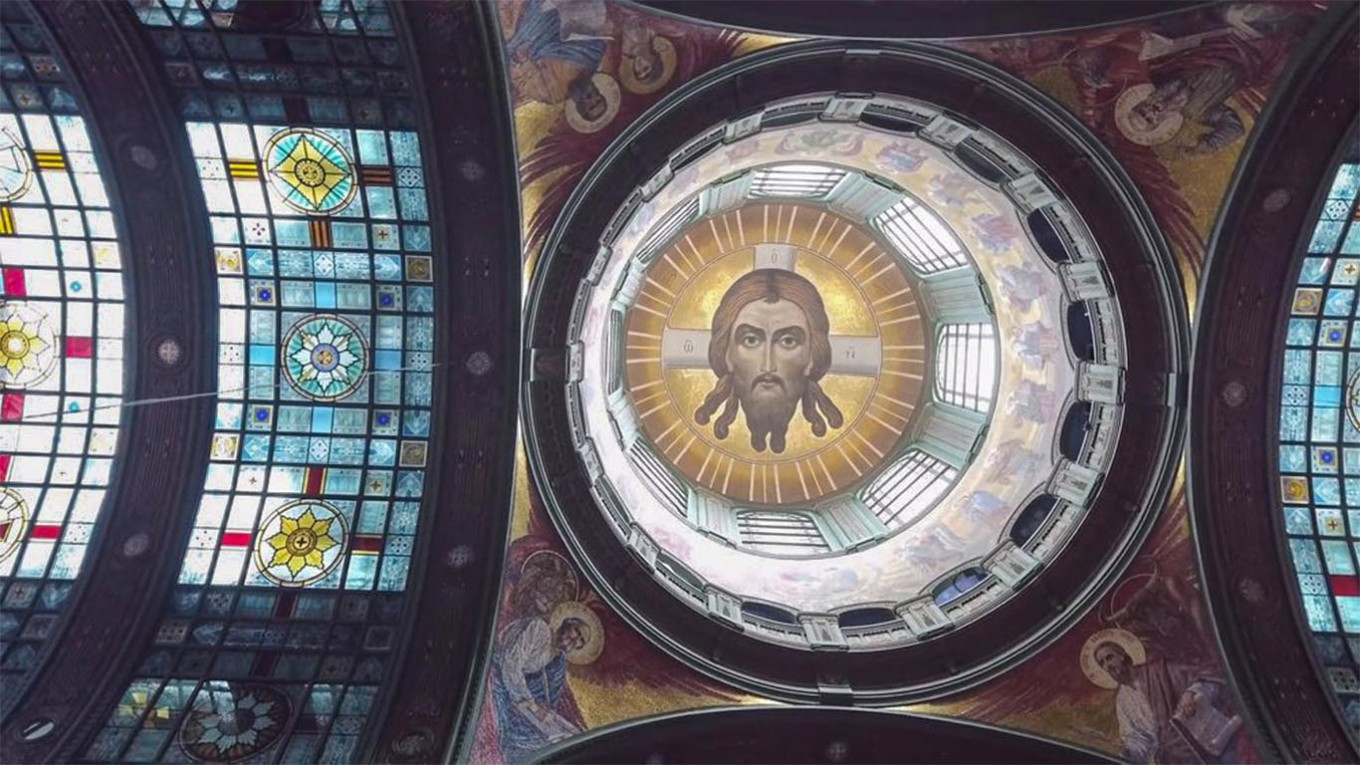 Russia is close to completing the construction of a new Russian Orthodox cathedral dedicated to the country's Armed Forces.
The 95-meter cathedral, located on a sprawling military theme park and exhibition center near Moscow, is set to open its doors on May 9 to mark the 75th anniversary of the Soviet victory over Nazi Germany in World War II.
The cathedral drew widespread attention over the weekend when photos of its interior showed mosaics of President Vladimir Putin, Soviet leader Josef Stalin and the annexation of Crimea from Ukraine adorning the walls.
Here's a look at the rest of the Armed Forces' new mega-cathedral — both inside and out:
A bird's-eye view of the army-green structure. The cathedral's six golden domes are dedicated to the patron saints of each branch of the Armed Forces.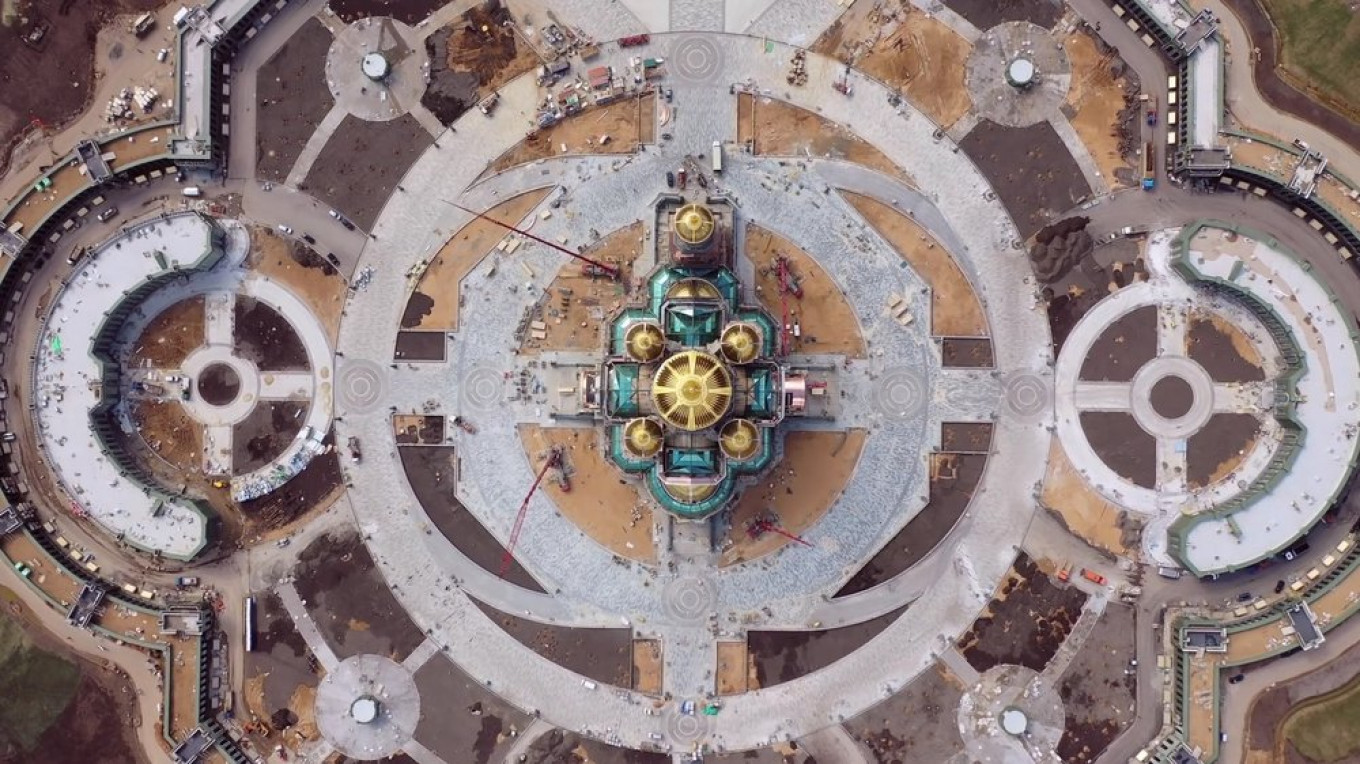 The images of military-related patron saints and other religious figures are also depicted on the cathedral walls.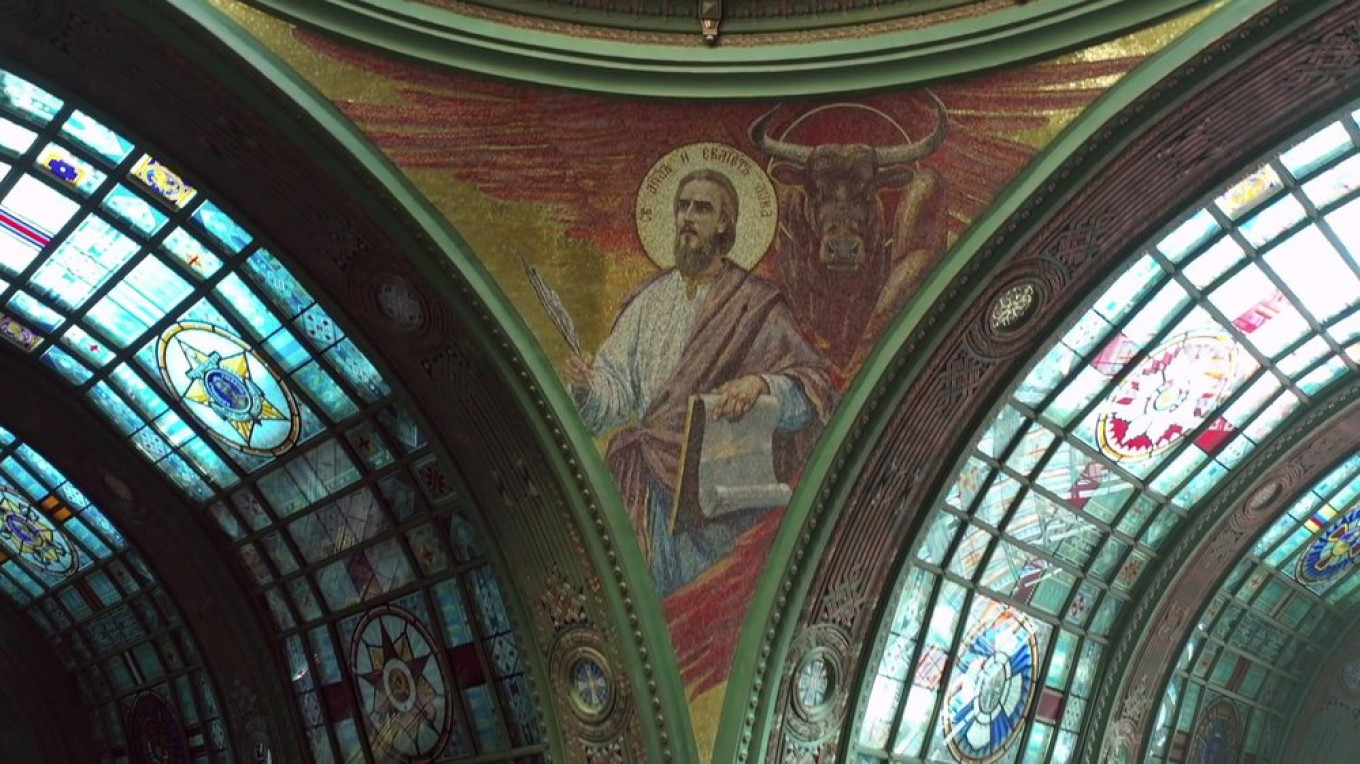 According to the foundation which oversees donations to the Armed Forces cathedral, the public has donated more than 3.6 billion rubles ($41 million) toward its construction.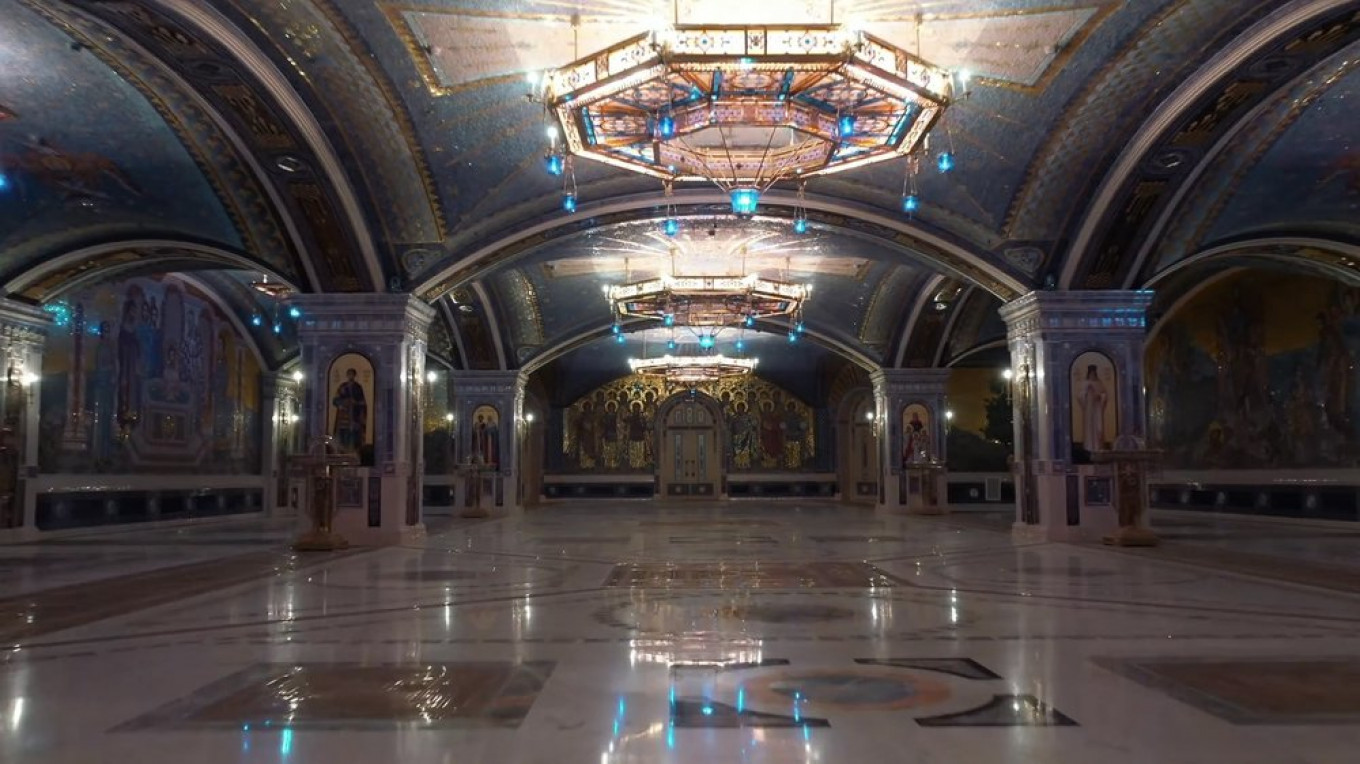 "A school for military priests is being built and the institute of Sisters of Charity [nurses] will be revived at the main church of the Russian Armed Forces," the foundation's head said in 2018.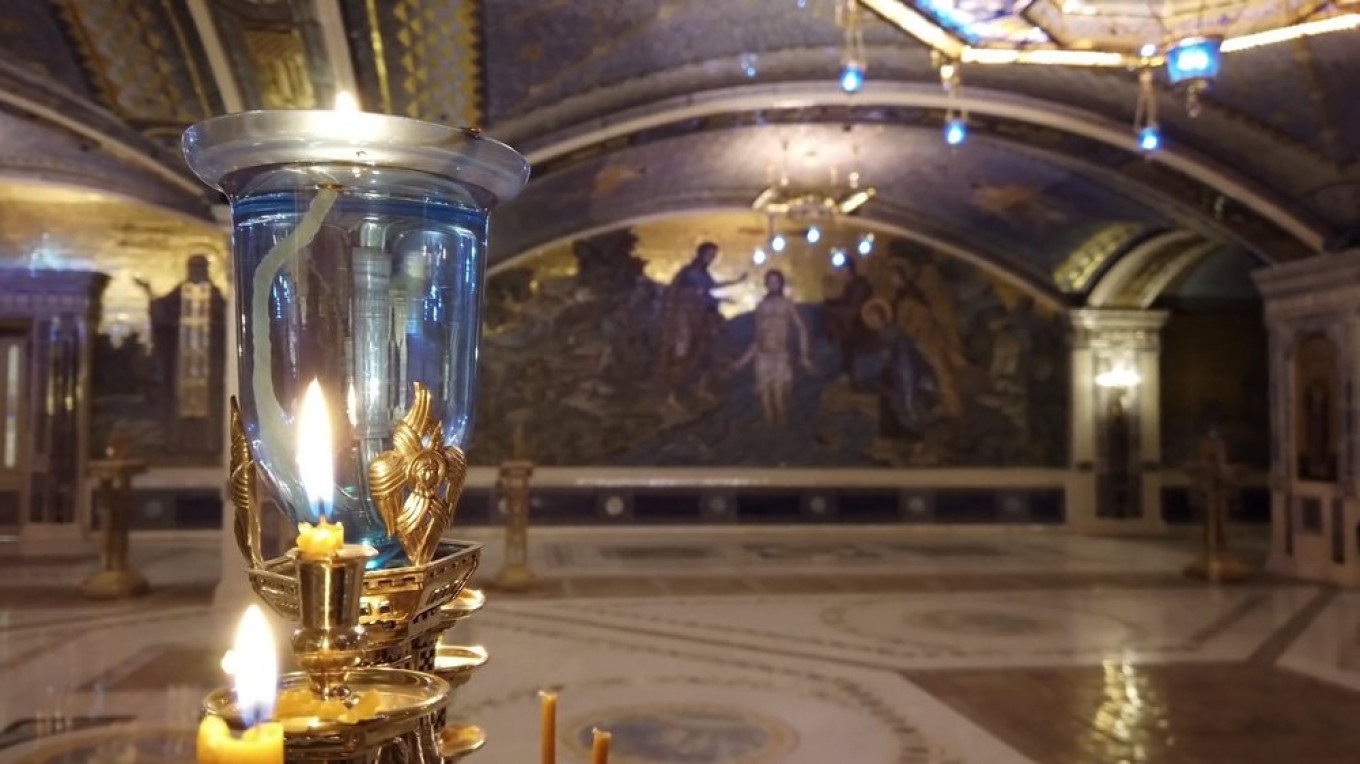 The cathedral's baptismal font is illuminated in green hues.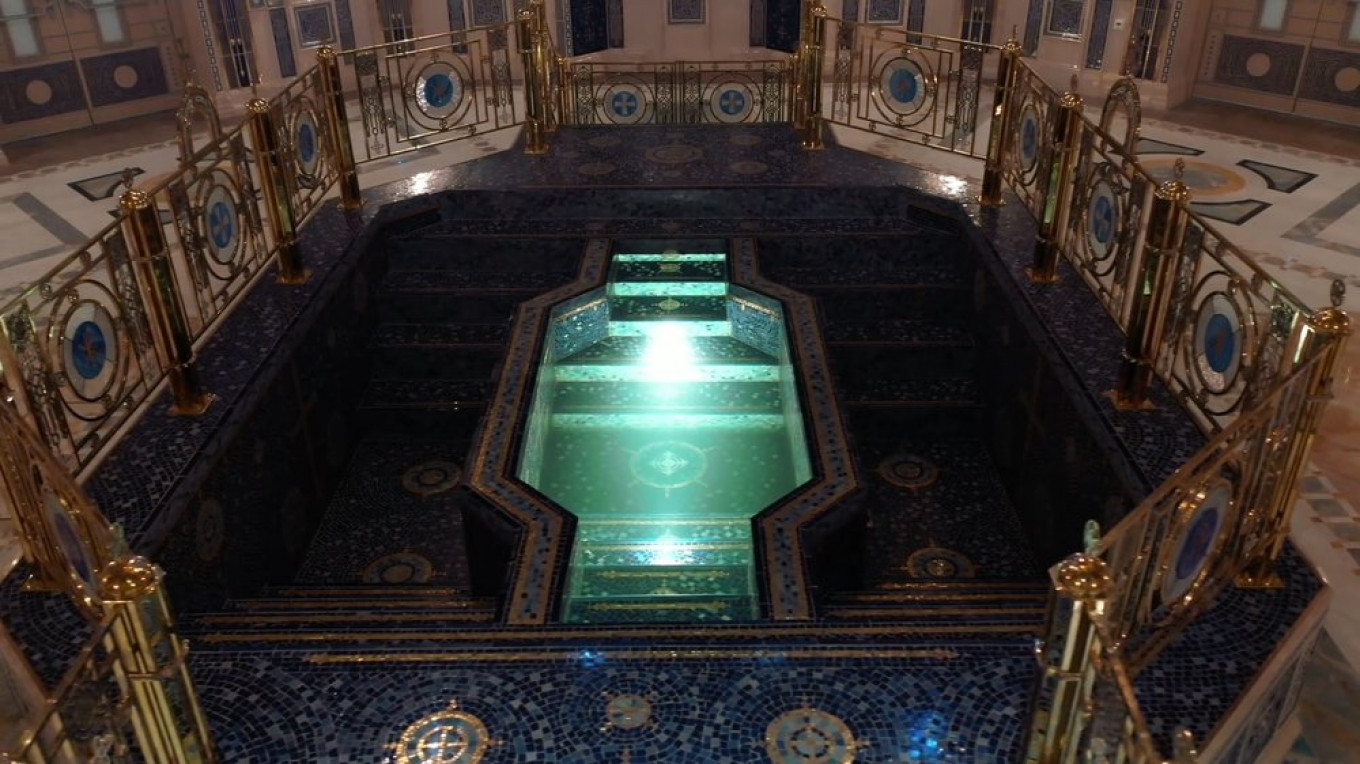 The cathedral's giant doors feature the engraved images of two saints.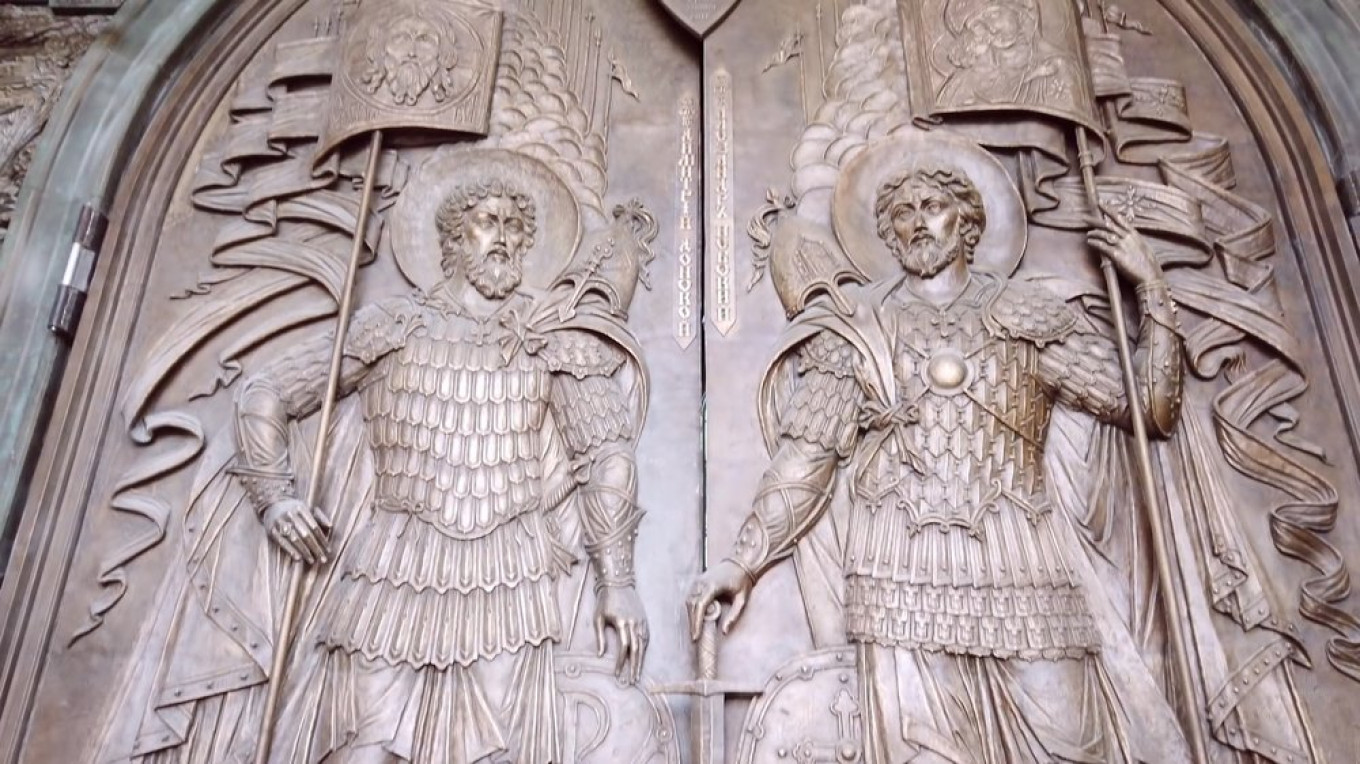 In addition to these stained-glass windows, artisans have crafted a new Orthodox icon for the cathedral. Funding for the icon came from a personal donation by President Vladimir Putin.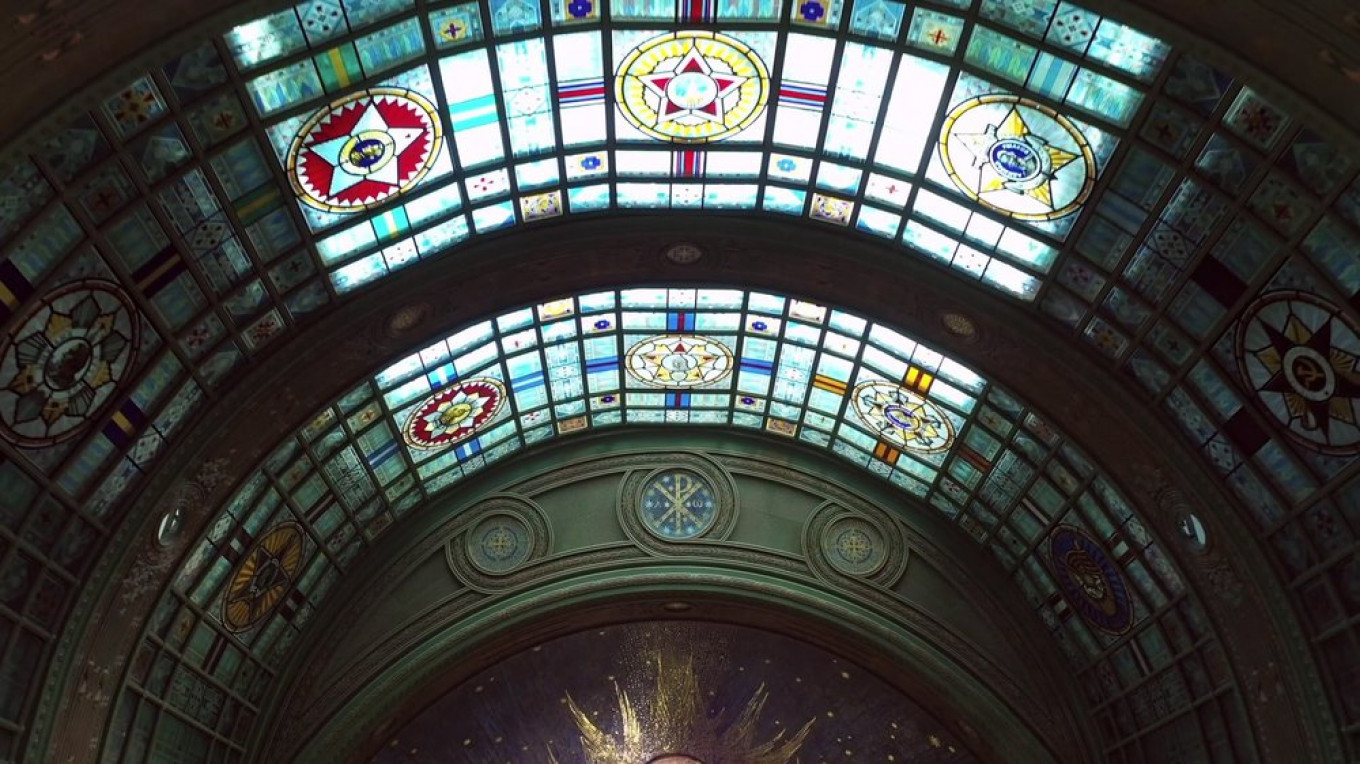 The church's parameters, including the height and width of its domes, will reflect key dates of World War II and the structure will feature multimedia stands dedicated to the 33 million Soviet soldiers who fought in the war.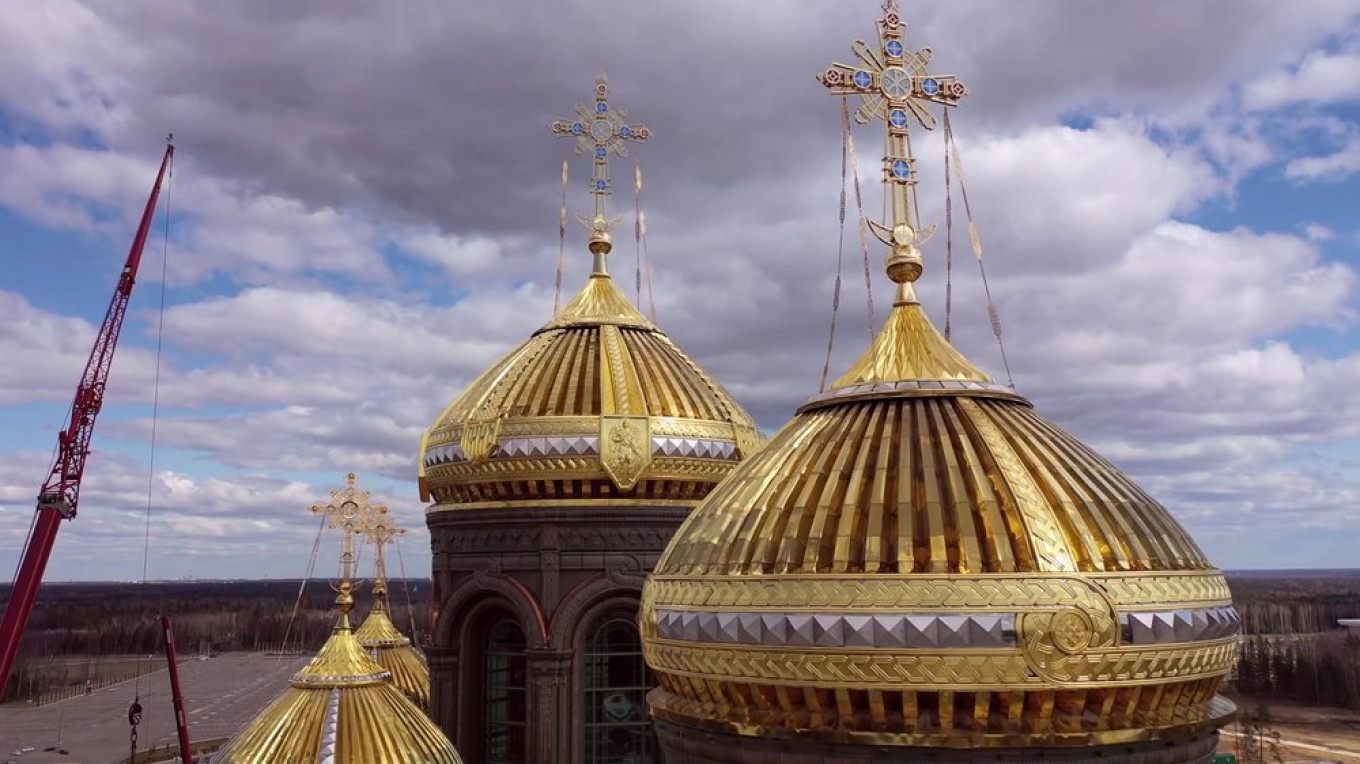 Once completed, the 95-meter cathedral will be one of the tallest Orthodox churches in the world.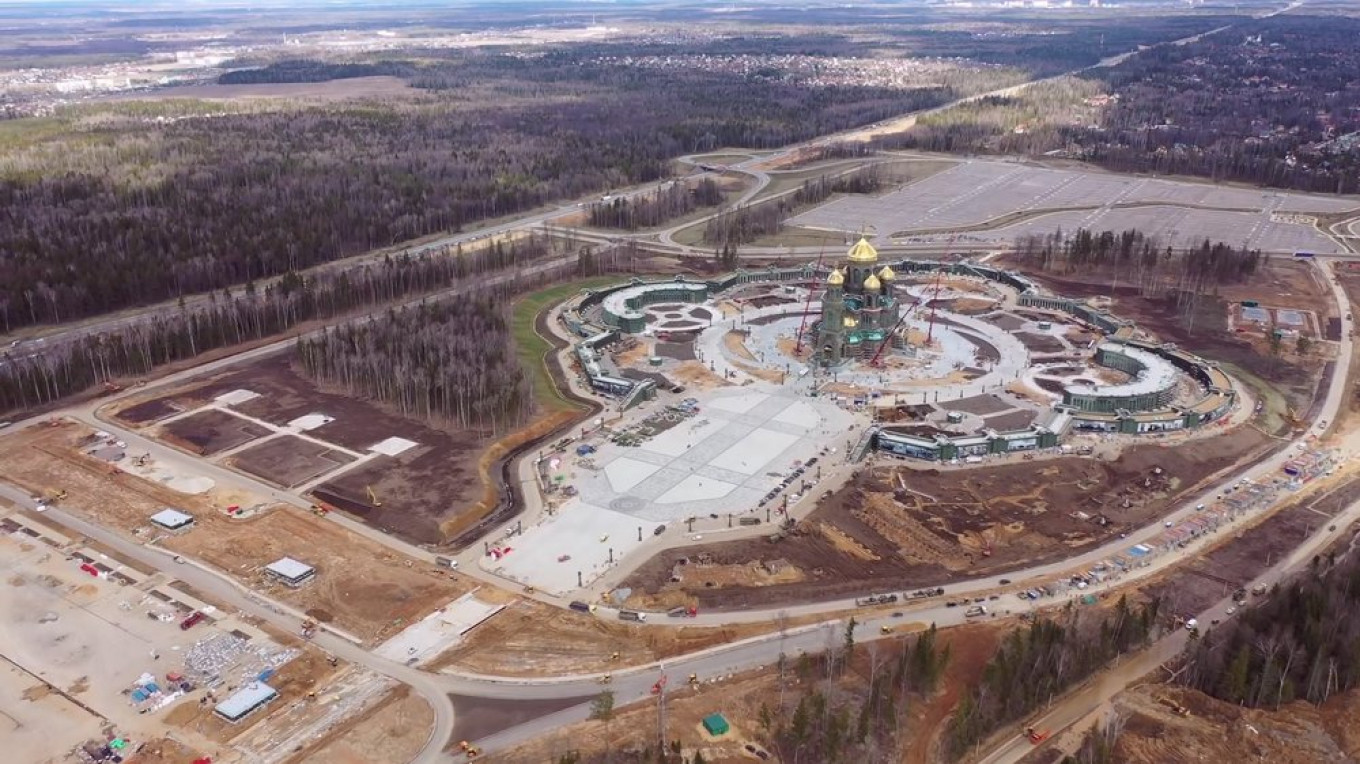 https://www.themoscowtimes.com/2020/04/27/in-photos-russia-unveils-new-military-mega-church-a70110
Imagine if Merkel or Biden  would build a Christian cathedral for the Bundeswehr or the US military with military parades in front of the Brandenburg Gate or in Washington (Trump wanted a military parade at his inaugauration, but the US military rejected that idea as it rejected the use of US military against US citizens) at the anniversary of  NATO or the fall of the Berlin Wall and then take off your helmet for prayers with the clergy for the Emperor, God and the Fatherland. How would Moscow and the rest of the world react? Would they speak of a NATO crusade? I read nothing about Putin´s military cathedral in the mainstream Western media.Putin´s ideology is a machiveliian, syncretic hybrid which combines the tradition of Tsars and Orthodoxism and Empire ideas when they were successful. As long as the Tsars were successful and the old Empire idea of Ivan the Terrible get combined with Stalin and therefore for Putin. Quote everything which made Russia great or makes Russia great again. Putin is not a monarchist neither a Communist, but a nationalist and militarist who sees the decline in Russian power in the Romanovs and WW1 when  they lost and brought the Brestlikowsk treaty as the Russian Versailles as Gorbachev lost the Soviet Union and Jelzin signed to the mew Brestlikowsks. In this perception Stalin who industrialized the country, integrated it by the Russian railways,had the idea of a strong leader and a central national state,  won the Great Patriotic Fatherland WW2, made Russia a superpower with Soviet spheres of influence and a nuclear power is as useful as the old Tsarists, Ivan the Terrible or other Tsar dynasties and the Orthodox church for a revival of a 4th Rome in a multipolar world and clash of civilizations and great powers which wants to reestablish old spheres of influence in Europe and the world. The new military cathedral reminds me of slogans of the era of Emperor Wilhelm 2 before WW1 "For the Emperor, God and Fatherland" or Hitler´s " For the Führer, God and Fatherland" and as Russia is a nuclear power of the apolyptic Hollywood movie "The Planet of the Apes" where the mutants who survived a nuclear war praise their last nuclear bomb in their underground cathedral.