Xis chinesisch-arabischer Gipfel als Wendepunkt für eine "neue Ära"der Nahost- und multipolaren Weltordnung?
Xis chinesisch-arabischer Gipfel als Wendepunkt für eine "neue Ära"der Nahost- und multipolaren Weltordnung?
Mit grossem Propagandaaufwand hat die KP China den chinesisch- arabischen Gipfel in Saudiarabien, bei dem Xi persönlich hinreiste und auch Saudiarabiens Chefvisionär 2030, Mohammed Bin Salman (MBS) traf, herausgestellt. Von einer "neuen Ära" wird gesprochen. Auf die Global Timesberichterstattung sei hier mal verzichtet, aufschlussreicher ist ein Artikel in der Newsweek von Gordon Chang, der sich den Namen eines falschen Propheten eingehandelt hat mit seinem Buch The Coming Collapse of China, das 2001 ein Bestseller wurde und da so bei allem daneben lag. Nun China ist bisher immer noch nicht wie vorausgesagt und vorausgewünscht kollabiert, noch die KP China und Chang sieht jetzt China trotz US- Handelskrieg, Technologieembargo, Covidlockdown, den Annahmen der Peak Power Theory, dass China seine beste Zeit hinter sich habe, nun die Gefahr, dass Chinas Bündnis mit den Arabern es wieder weg von einem Kollaps rettet, gar die Dollarhegemonie bedrohe und Xi von Arabien der neue Lawrence werden könnte, weswegen dies auch als last warning der Araber, vor allem der Saudis an die USA zu vertshen sei. Ja, man hat den Eindruck, dass Gordon Chang die China- und Nahostpolitik Trumps wieder zurückwünscht.
"Xi in Saudi Arabia: China Ejecting America From the Middle East | Opinion
Gordon G. Chang
On 12/13/22 at 6:30 AM EST
S
Saturday, Chinese ruler Xi Jinping completed his triumphal three-day state visit to Saudi Arabia.
As a result of the "pioneering trip"—Xi's characterization in his op-ed appearing in Saudi media—Beijing could eject America from the region, China might take over Washington's place there, and the renminbi appears set to end the dollar's reign as the world's reserve currency. The Chinese Communist Party could also rescue its quickly failing economy.
Xi's trip, in short, highlights what could end up being the most damaging setback for America's global standing in the three decades since the Cold War.
America on January 20, 2021 transitioned from perhaps the most successful Middle East policy to what is turning out to be the very worst. President Donald Trump's Abraham Accords stabilized much of the Middle East and parts of Africa—specifically, Sudan and Morocco—while undermining Iran's terrorist regime, which considers the U.S. its enemy. Washington's relations with the Saudi kingdom were especially warm during the Trump years.
Trump's successor, however, sharply reversed course. "President Biden walked away from the massive gains the U.S. had made with the Abraham Accords," Gregory Copley, the president of the International Strategic Studies Association, told Newsweek.
Biden in his early months in office tried to make Saudi Arabia a "pariah"—following a 2020 campaign promise—and worked to bolster the kingdom's archenemy, Iran. The resulting stress could end an eight-decade partnership that began in 1945, when President Franklin Delano Roosevelt and King Ibn Saud met on an American warship in the Suez Canal. "Our children and grandchildren will be paying the price for Biden's blunders for generations to come," Jonathan Bass of InfraGlobal Partners, an energy consultant, told this publication.
America is already paying a price. In early October, the Riyadh-led OPEC, working with Russia as a member of OPEC+, cut production by two million barrels per day—about 2% of global output. Biden wanted the organization to increase pumping, in part to undermine the Russian war effort in Ukraine. The cartel's flat rejection of the American president's request stood in stark contrast to Saudi help during the 1980s when the kingdom, at President Reagan's urging, ramped up energy production to reduce Soviet revenue.
During his trip, Xi Jinping met Saudi King Salman and participated in the China-Gulf Cooperation Council Summit and the first China-Arab States Summit. China signed 34 agreements and memoranda of understanding contemplating $29.3 billion in investment. Some of the deals are significant. For instance, Huawei Technologies, China's "national champion" telecom equipment maker, will provide cloud computing services and help build high-tech complexes in Saudi cities.
Newsweek subscription offers >
The two countries symbolically inked a comprehensive strategic partnership agreement.
The deals come at an especially important time for the Chinese Communist Party, which is failing to rescue a fast-contracting economy. The Arab states, therefore, can be saviors of Chinese communism.
The Arab states can also lift the Chinese currency from obscurity. During the trip, Xi said that China would soon be paying for oil and gas with renminbi, the largely nonconvertible Chinese currency that so far has not made much of a dent against the U.S. dollar. Currently, China, like other countries, pays for energy in greenbacks. Once the region starts accepting "redbacks," however, the dollar gets pushed from center stage.
"In the region, the Xi meeting was considered a phenomenal success," Bass, who just returned from a trip to the Sunni Gulf states, said. "The achievement is all the more spectacular because no one there really trusts Beijing. They much prefer America."
Why? First, on the most fundamental level, China is the primary backer of Iran, which funnels Beijing's cash to Saudi adversaries, such as Syria, Hezbollah, and Hamas. The relevant Sunni Arab players in the region all know their primary threats are largely funded by the Chinese government.
Second, Saudi Arabia and others feel they are already too dependent on China for goods and want to diversify their sources of supply.
Last week, however, Saudi Crown Prince Mohammed bin Salman, de facto leader of the kingdom, went out of his way to welcome Xi Jinping, giving the Chinese president a far better reception than the one he offered President Biden in July.
"They are saying to America, act and act quickly," Bass said. "They are hopeful that somebody in Washington will realize how bad the situation is."
In fact, many in America's foreign policy community—and even some in the Biden administration—are concerned by Biden's new course, which has, among other things, created a vacuum in the region for bad actors to fill.
Unfortunately, misguided policy is not the only American problem at the moment. Americans and Europeans are simply not focused on supporting the efforts of Saudi Arabia and the five other Gulf Cooperation Council countries to move away from energy extraction as the cores of their economies. Riyadh, for instance, needs tech and know-how to implement its "Vision 2030" economic plan. If American companies are not interested in helping, Chinese state enterprises, prodded by Beijing, will be. China is offering turn-key solutions to bring in everything the region needs.
A patient China was prepared for Biden's wrong turn. "Xi Jinping has made many missteps, but his consistent courting of Saudi Arabia is not one of them," said Copley, also editor-in-chief of Defense & Foreign Affairs Strategic Policy. "Xi, after a decade of steady diplomacy, has finally taken advantage of the situation."
"All of this was a show to get America to react," said Bass, referring to the Saudi kingdom's warm embrace of China's leader last week. "If America doesn't react, it becomes reality."
Gordon G. Chang is the author of The Coming Collapse of China.
https://www.newsweek.com/xi-saudi-arabia-china-ejecting-america-middle-east-opinion-1766569
Na ganz so harmonisch läuft das zwischen Chinesen, Arabern und Iraner. auch nicht ab. Eine iranische Zeitung hat jetzt Taiwans Recht auf Unabhängigkeit behauptet, weil die Chinesen um sich bei den Arabern und Saudis beliebt zu machen vormals iranische Inseln diesen zugestanden haben. Eine nationale Schmach, wie das Amselfeld im Kosovo für die Serben oder Taiwan oder die griechischen Ägäisinseln für Erdogan.
"Taiwan has right to independence: Iranian newspaper
By Jonathan Chin / Staff writer
An Iranian newspaper on Saturday said that Taiwan has a "legal right" to independence, in an apparent reaction to China siding with the United Arab Emirates (UAE) in a diplomatic row over three islands in the Strait of Hormuz that Iran also claims.
The Arman Daily's front page story, titled "Taiwan Independence: A Legal Right," said Beijing would have to accept Taiwan's independence despite attempts to suppress it by force.
The article gained international attention after Iranian commentator Maysam Bizaer posted about it on Twitter.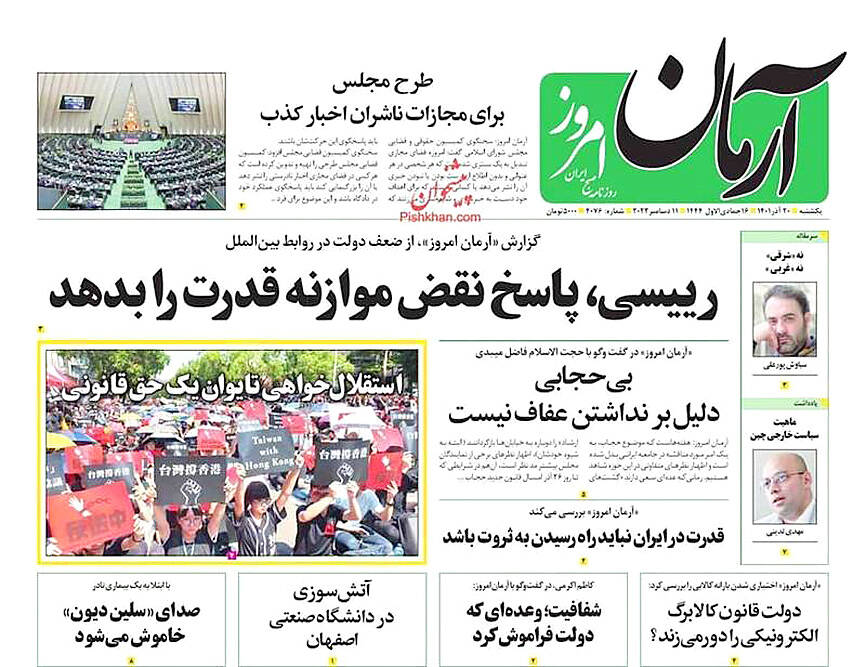 The front page of the Arman Daily with a story titled "Taiwan Independence: A Legal Right" is pictured in a screen grab from Saturday.
Photo: screen grab from the Arman Daily Web site
It came after a joint statement of the 2022 China-Arab States Summit said that participants "affirmed their support for all peaceful efforts, including the initiative and endeavors of the United Arab Emirates … to reach a peaceful solution to the issue of the three islands; Greater Tunb, Lesser Tunb, and Abu Musa, through bilateral negotiations in accordance with the rules of international law, and to resolve this issue in accordance with international legitimacy."
The then-Imperial Iranian Navy seized the islands in November 1971 after the British Royal Navy stopped patrolling near them, sparking a decades-long territorial dispute between Iran and the UAE.
In Iran, the joint statement was widely perceived as a slight, drawing a diplomatic protest from Tehran and condemnations in the Iranian press.
Bizaer's Twitter post cited several headlines in Iranian newspapers, including "China Against Iran," "What's China's Plans for Middle East," "The Chinese Shock" and "China's Not-So-Friendly Message for Iran."
Taiwanese online commentator Emmy Hu (胡采蘋) on Tuesday shared Bizaer's tweet on Facebook, saying: "Something must have happened for us to win prizes while lying down."
"All of this is because the Arabs laid claim to three of Iran's islands and then China backed this claim by playing dumb to ingratiate itself with the Saudis, pissing off Iran," she said, apparently confusing the UAE with Saudi Arabia.
"Kudos to Daddy Xi for making the world more and more pro Taiwanese independence," she wrote, referring to Chinese President Xi Jinping (習近平).
Tehran viewed Beijing's joint statement with the Arab states as "a betrayal," Hu wrote in her post, which received 3,500 mostly positive responses from Facebook users.
"The boat of [Sino-Iranian] friendship sure capsized quick," one comment read.
Meanwhile, Beijing on Tuesday sent Chinese Vice Premier Hu Chunhua (胡春華), who was recently removed from the top echelons of power, to meet Iranian President Ebrahim Raisi in a sign that Beijing is keeping its distance from the Middle Eastern nation as it deals with widespread unrest.
Hu told Iranian officials that China "will not waver in its determination to develop their comprehensive strategic partnership," the official Xinhua news agency reported.
"China firmly supports Iran in opposing external interference and safeguarding its sovereignty, territorial integrity and national dignity," it cited Hu as saying.
Additional reporting by Bloomberg
https://www.taipeitimes.com/News/front/archives/2022/12/15/2003790744
Zumindestens kein Thema in der Tehran Times, weswegen anzunehmen ist, dass das eher ein Ausreisser ist und auch bleiben wird, wie die Kritik ägyptischer Opposition und Nationalisten, dass General Al Sissi zwei vormals ägyptische Inseln Saudiarabien gegeben hat.
Xi jedenfalls besuchte nach dem Chinesisch-arabischen Gipfel auch nicht noch den Iran, sondern uberliess dies weniger hohen Diplomaten bei Betonung des 25Jahresvertrag, der Aussicht um eine umfassende Kooperation un der SCO-Neumitgliedschaft des Irans. Zu den Massenprotesten und den Verhandlungen um den Irandeal hingegen kein Wort. Vielleicht hat China Iran da schon dort wo es dje Araber auf ihrem Weg der Neuen Seidenstrasse noch hinbewegen möchte.
"China-Iran high-level meeting highlights comprehensive cooperation, 'dispels rumor of rift in bilateral ties'
By Xu Keyue
Published: Dec 14, 2022 09:29 PM Updated: Dec 15, 2022 12:00 AM

China views its ties with Iran from a strategic perspective and will not waver in its determination to develop their comprehensive strategic partnership, said Chinese Vice Premier Hu Chunhua when meeting with Iranian President Ebrahim Raisi in Iran's capital Tehran on Tuesday.

Given that the meeting highlighted the consensus on deepening bilateral relations and comprehensive cooperation, Chinese observers said it could effectively help dispel some noises that are trying to drive a wedge between the two countries.

During the meeting, Hu said that China views its ties with Iran from a strategic perspective and will not waver in its determination to develop their comprehensive strategic partnership, noting that China firmly supports Iran in opposing external interference and safeguarding its sovereignty, territorial integrity and national dignity, according to the Xinhua News Agency.

China, he said, stands ready to work with Iran to earnestly implement the important consensus reached by the two heads of state, make joint efforts to advance the implementation of the China-Iran comprehensive cooperation plan, and push for new progress in bilateral practical cooperation.

Hu conveyed Chinese President Xi Jinping's cordial greetings and best wishes to Raisi, and briefed the Iranian president on the major achievements and far-reaching significance of the 20th National Congress of the Communist Party of China held in October.

Xi and Raisi had a phone conversation in July and held a meeting in September, in which they reached important consensus on deepening China-Iran relations.

For his part, Raisi said Iran and China enjoy a traditional friendship and bilateral ties are of important strategic significance. No matter how the international and regional landscapes change, Iran will remain firmly committed to deepening the comprehensive strategic partnership between the two countries, the Iranian president noted.

Raisi also said Iran, which has always been a trustworthy partner of China, stands ready to firmly support each other on issues concerning each other's core interests and major concerns, actively implement the bilateral comprehensive cooperation plan, continuously boost all-round cooperation, and deliver more cooperation outcomes.

On the same day, Hu also held talks with Iranian first vice president Mohammad Mokhber, where they exchanged in-depth views on implementing the comprehensive cooperation plan between China and Iran and promoting bilateral practical cooperation.

In March 2021, China and Iran signed a major 25-year agreement to enhance comprehensive cooperation in a range of fields including trade. Chinese State Councilor and Foreign Minister Wang Yi has said that under the deal, the two sides would tap the potentials in economic and cultural cooperation and make plans for long-term cooperation, according to Xinhua.

Hu's visit will undoubtedly further push forward bilateral ties and boost comprehensive cooperation, Qian Feng, director of the research department at the National Strategy Institute at Tsinghua University, told the Global Times on Wednesday.

The observer said that since the signing of the 25-year deal, China-Iran ties have entered a new stage of development, and the two countries have been making steady progress in economic and trade cooperation.

Also, in September, China congratulated Iran on its upcoming full membership of the Shanghai Cooperation Organization (SCO), and expressed its willingness to strengthen coordination and cooperation within the SCO framework, Xinhua reported.

The meeting between Hu and Raisi came after Xi concluded his trip on Saturday after attending the first China-Arab States Summit and the China-Gulf Cooperation Council Summit (GCC) and paying a state visit to Saudi Arabia.

China's series of high-level meetings in the Middle East region all have yielded fruitful outcomes and enhanced China's relations with the region, Qian said.

The observer said that for a long time, relations between some GCC countries and Iran have fluctuated due to religious and ethnic issues and geographical and security disputes.

Therefore, some Western media, using the tensions between GCC countries and Iran, has been trying to drive a wedge between China and Iran.
Hu's visit could help dispel the noise, Qian said, noting that China is a positive force for peace and stability for the Middle East, and has won widespread praise in the region for upholding justice rather than playing a game of balance of power.

The series of high-level visits to the region reflect that China has strong will to develop a good relationship with Middle Eastern powers including Iran and Saudi Arabia. While recognizing that the situation in the region is complicated, China is trying to play a role of being an active contributor to regional peace, Qian said.