Iran: Die Revolution geht weiter
Iran: Die Revolution geht weiter
Zum Jahrestag der iranischen Revolution erliess der Geistliche Führer Khameini eine Teilamnestie für politische Gefangene, in der Hoffnung dadurch die Protestbewegung zu spalten und ihr weiteren Zulauf zu nehmen. Desweiteren plante er neben den üblichen Jubelveranstaltungen und Paraden der Revoulzionsgarden samt Militärparade auch eine Jubiliäumsrede im staatlichen iranischen Fernsehn zu halten. Jedoch schafften es Hacker sich ins Programm zu hacken und statt Khameinis Rede kam ein Video der Opposition, in dem zum Sturz des Mullahregimes aufgerufen wurde, zumal unter der Parole "Tod dem Diktator":
Inzwischen machen auch die Einigungsbestrebungen der Exilopposition Fortschritte. Man ist sich in dem Ziel der Errichtung einer Demokratie einig, Fragen deren konkreter Ausgestaltung, ob nun konstitutionelle Monarchie oder parlamentarische Demokratie sollen nach der Revolution und Sturz Khameinis geklärt werden:
"Prominent Iranian Opposition Figures Pledge Unity, Urge World Support
Friday, 02/10/20233 minutes
Author: Iran International Newsroom
In a historic event eight leading Iranian opposition figures have called for support from democratic countries to change the regime in Iran and establish democracy.
At an event at Georgetown University's Institute for Women, Peace and Security (GIWPS) — titled 'The Future of Iran's Democracy Movement' — held on Friday on the eve of the 44th anniversary of the establishment of the Islamic Republic, the prominent activists pledged unity for the single purpose of bringing democracy to Iran.
The speakers, all emphasizing the importance of unity against the Islamic Republic also argued that now is not the time to argue about the exact form of a future democratic government in Iran.
Both constitutional monarchy and a republican form of government have their supporters among Iranians.
Exiled Prince Reza Pahlavi, Nobel laureate Shirin Ebadi and Canada-based activist Hamed Esmaeilion, whose daughter and wife were killed in the shooting down of Flight PS752 downed by Iran's Revolutionary Guard in 2020, as well as US-based author, journalist and women's rights activist Masih Alinejad, actresses and activists Nazanin Boniadi and Golshifteh Farahani, former captain of Iran's national soccer team Ali Karimi and Secretary General of Komala Iranian Kurdish party Abdullah Mohtadi were four women and four men who spoke at the event.
Pahlavi, Boniadi, Alinejad and Esmaeilion were present in the room, while Ebadi, Mohtadi and Farahani delivered video messages.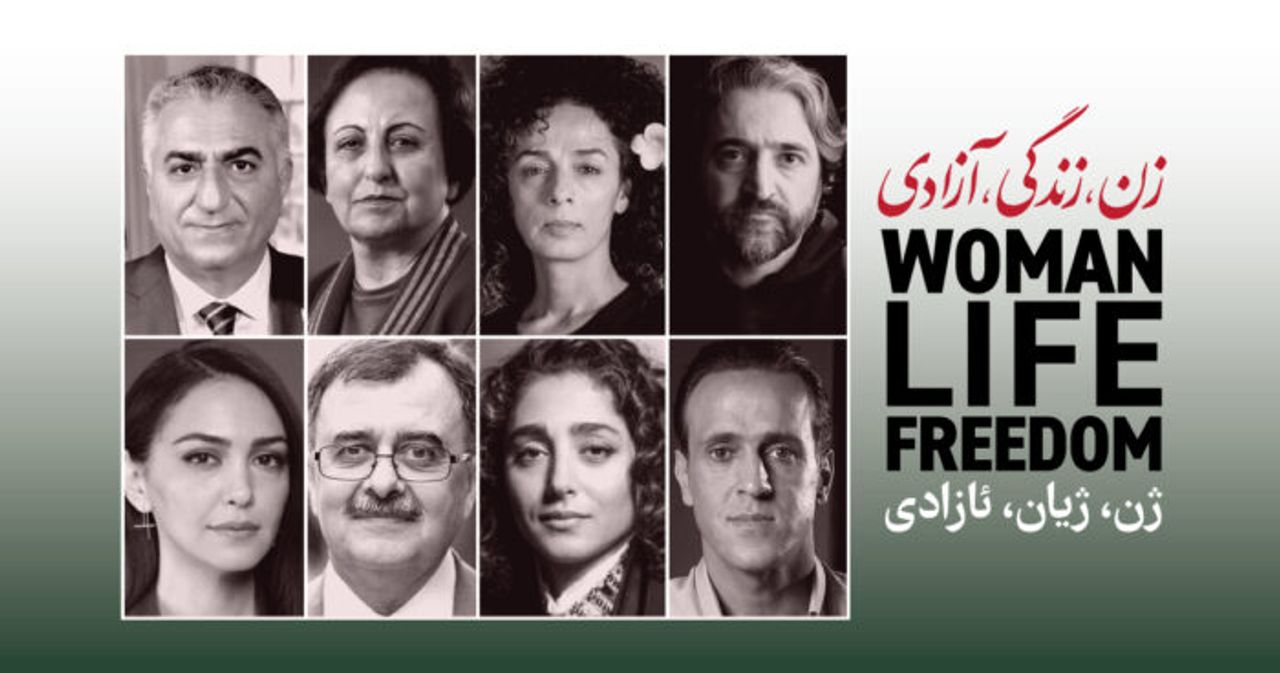 Clockwise – Prince Reza Pahlavi, Shirin Ebadi, Masih Alinejad, Hamed Esmaeilion, Nazanin Boniadi, Abdullah Mohtadi, Golshifteh Farahani and Ali Karimi
The event can become a turning point in shaping a united leadership abroad to represent the democracy movement in Iran, where activists have no chance of publicly defending it. Thousands of protesters are still in prison and dozens face the death sentence.
All speakers emphasized that the protest movement is alive and strong in Iran and it needs support from democratic countries. They pledged to work for a new form of government that would be democratic, secular and bring equality, justice and progress to Iran.
The activists representing the protest movement said that they are working on a charter for their group by the end of February and hope to lay the foundations for political representation of the aspirations of protesters in Iran and gain support for isolating the Islamic Republic.
Nobel Laureate Shirin Ebadi referring to the Islamic Republic's ruler Ali Khamenei said, "Dictator say hello to the end."
"It's not a time for infighting. The overthrow of the regime is not possible without unity and empathy," said Ebadi.
"Let's leave differences for the election. We will move hand-in-hand to a better future," she said in her video message.
Abdullah Mohtadi, a Kurdish political leader said that because of Mahsa Amini's killing by the regime, Islamic Republic's falsehood has been shattered.
Actress Golshifteh Farahani, also speaking on behalf of Ali Karimi, said that now is the time for unity and any Iranian sowing divisiveness is committing treason.
Well-known US-based activist Masih Alinejad emphasized the urgency of isolating the Islamic Republic in the world arena.
Hamed Esmaeilion, Nazanin Boniadi and Prince Reza Pahlavi emphasized emphasized equality, justice freedom and the common destiny binding Iranians.
Alinejad said that the group was working on a charter for a transition that would be ready at the end of the month. "We must agree on minimal principles," she said, adding: "The world must prepare itself for a day without the Islamic republic."
"The next wave [of protests] will come and it will be heavier," Esmaeilion said.
"We can organize and plan so, when the next wave comes, all of us are ready and we can transition away from the Islamic republic."
Prince Reza Pahlavi, who has long campaigned for a secular and democratic Iran rather than any restoration of the monarchy, said, "The time has come to consolidate our positions, put aside differences. The time has come to put aside slogans, roll up our sleeves and begin our work."
Updated at 22:00 GMT
https://www.iranintl.com/en/202302109922
Nächste wichtige Entwicklung. Der Führer und, damalige Präsidentschaftskandidat der Reformmullahs und der Grünen Bewegung von 2009. Mussawi hat nun zum regime change und Sturz des klerikalen Systems aufgerufen und die Einführung einer Demokratie gefordert. Selbst zunnehmnende Teile der Reformmullahs glauben nicht mehr an die Reformierbarkeit der islamistischen Diktatur. Möglicherweise werden sie dann zum Quietismus eines Großajatollah Sistanis wie i Irak konvertieren, der ja auch Gegner eines theokratischen Gelehrtendiktatur ist.
"Hundreds Of Activists Support Mousavi's Call To End Clerical Rule
Author: Maryam Sinaee
Groups of Iranian reformist politicians and activists have come out in support of their top dissident figure against the Islamic Republic, demanding a referendum.
Over 400 political activists and journalists have signed a statement in support of Green Movement leader Mir-Hossein Mousavi's call to end clerical rule in Iran.
"With the current social awakening, and the society's disillusionment with reforms within the current [political] structure, there is no other way than allowing the people to decide their own destiny," the statement said while expressing its support of Mousavi's three-stage proposal and a "peaceful and non-violent transition" to a democratic government and the "Woman, Life, Freedom" Movement.
Mousavi, who was a presidential candidate in 2009 and has been under house arrest since 2011, said in a statement on February 4 that fundamental change was required to "save Iran" and proposed elections to appoint a constitutional assembly to write a new constitution and a referendum on the new constitution and its proposed form of government.
The statement which was released Sunday said the outcome of a political structure based on the rule of Islamic clerics, after four decades is corruption and injustice, a government that is structurally incapable of dealing with an array of crises, and social and political freedoms that have been suppressed.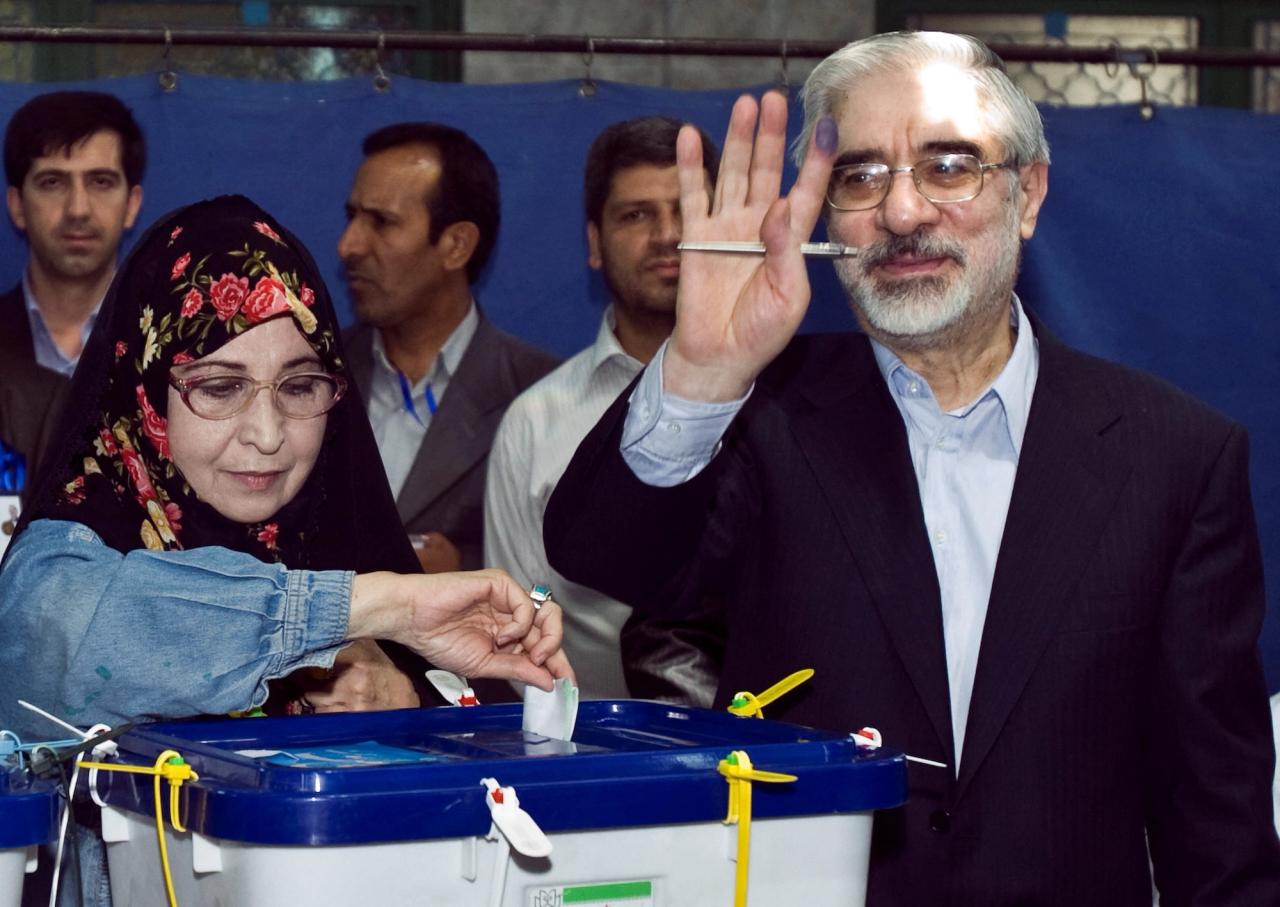 Mousavi and his wife Rahnavard casting ballots in the 2009 presidential election
In another statement, 112 reformists who are mostly former government officials, issued a similar statement Sunday admitting the goals of the 1979 revolution to have justice and democracy in Iran have failed, and voiced support for Mousavi's demands.
In the current atmosphere the support for Mousavi and his demand for transition from the Islamic Republic could entail serious repercussions for its signatories, who had so far remained loyal to the Islamic Republic.
It can also be a serious set back for the regime, as its opponents have begun uniting and organizing in the diaspora, while it is losing its traditional power base.
In 2009 Mousavi's refusal to accept the results of the election sparked widespread protests that were brutally suppressed after Supreme Leader Ali Khamenei accused him of "sedition" along with former parliament speaker Mehdi Karrubi, another candidate in the same elections, and former president Mohammad Khatami.
The signatories of the statement include many of Mousavi's former supporters and other reformists including Hashem Aghajari, a reformist politician who in 2000 was sentenced to death (later commuted) for "disrespecting Islam and Islamic sanctities" in a speech, and politicians such as Abolfazl Ghadyani who has been a harsh critic of Khamenei in the past decade.
Among the signatories there are also women's rights activists such as Noushin Ahmadi-Khorasani who was among the founding members of the One Million Signatures campaign, former student activists such as Abdollah Momeni who has been jailed several times in the past two decades, and veteran journalists such as Mashallah Shamsolvaezin who founded several popular reformist newspapers including Jame'e (Society) from 1998 onward.
Mousavi's proposal has found support with some others including the prominent Baluch cleric Mowlavi Abdolhamid Esmail-Zehi, and leading reformist politicians Mostafa Tajzadeh and Faezeh Hashemi, the daughter of Iran's former president Akbar Hashemi-Rafsanjani, both of whom are behind bars.
In a statement issued with five other political prisoners last week, Tajzadeh and Hashemi said "the only way out of the impasse for the government is to surrender to the right of the people to determine their own destiny."
Tens of expatriate "Republican" figures and activists in a separate statement on Friday called Mousavi's proposal "a positive and forward-looking proposal towards strengthening solidarity among the rainbow political atmosphere of Iranians seeking a transition from the Islamic Republic".
Iran newspaper, the mouthpiece of the government, on Sunday mocked Mousavi's proposed elections and referendum and said his record already included "insurgency against the republic during the 2009 sedition" while the semi-official Mehr News Agency in a commentary on the same day claimed that his statement proved again his "hostility" at a time when unrest in the country has subsided.
Karrubi has so far not made any comments about transition from the Islamic Republic but Khatami in a statement last week, a day after Mousavi's declaration, called on the government to meet the people's demands and prevent a revolutionary change.
https://www.iranintl.com/en/202302132030
Desweiteren droht der iranischen Wirtschaft ein tiefer Einbruch, ja möglicherweise ein Kollaps, weswegen nun Präsident Raisi einen Chinabesuch plant, um noch irgendwo wirtschaftliche Hilfe zu erhalten. Fraglich aber, ob China istande und willens ist, den Iran aus seiner wirtschaftlichen und politischen Bredouille heraushelfen zu können.Wohlgmerkt erwähnt die Global Time die Massenproteste mit keinem Wort und macht gute Miene zum bösen Spiel.
"Raisi's visit to Beijing expected to deepen China-Iran relations, consolidate traditional friendship
By GT staff reporters Published: Feb 12, 2023 08:49 PM

At the invitation of Chinese President Xi Jinping, Iranian President Ebrahim Raisi will pay a state visit to China from Tuesday to Thursday, Chinese Foreign Ministry spokesperson Hua Chunying announced on Sunday. 
China Iran photo:VCG

Analysts said that Raisi's first visit to China since taking office in 2021 will further implement the comprehensive strategic partnership between China and Iran, and shows the Raisi administration's unswerving determination to promote the "Look to the East" policy.

Iran's "Look to the East" policy meant the transition from its policy of negative balancing and non-alignment to building alliances with non-western world powers that have similar political structures to Iran, such as Russia and China. 

According to IRNA, the official news agency of Iran, delegations from both sides are due to sign "cooperation documents." Raisi will also take part in meetings with Chinese businessmen and Iranians living in China.

China is Iran's largest trade partner, IRNA said, citing 10-month statistics from Iranian customs authorities. Iran's exports to Beijing stood at $12.6 billion, while it imported $12.7 billion worth of goods from China.

The top priority of Raisi's visit this time should be to further and develop China-Iran comprehensive strategic partnership and push forward the 25-year cooperation agreement and further implement it, Tang Zhichao, a Middle East analyst at the Chinese Academy of Social Sciences, told the Global Times on Sunday.

Iran and China have strong economic ties, especially in the fields of energy, transit, agriculture, trade and investment. In 2021, both countries signed a 25-year strategic cooperation pact said to include "political, strategic and economic" components.

When Chinese Vice Premier Hu Chunhua met with Raisi in Iranian capital Tehran in December 2022, Raisi stressed that no matter how the international and regional landscapes change, Iran will remain firmly committed to deepening the comprehensive strategic partnership between the two countries.

The two sides have set goals in several high-level exchanges, but the progress in recent years has been delayed due to the impact of the COVID-19 pandemic and changes in the surrounding environment. The key point of Raisi's visit is to push forward the process, because it is beneficial to the people of both sides, Tang stressed.

Experts also said that China and Iran have many international issues of common concern, including Afghanistan, regional stability and development, climate change, regional security, energy security and others, which need to be discussed.

This visit can be seen as a very important upgrade in China-Iran relations, Zhu Yongbiao, executive director of the Research Center for the Belt and Road at Lanzhou University, told the Global Times.

"Cooperation under the framework of the Belt and Road Initiative and the Shanghai Cooperation Organization will give China and Iran more space for cooperation. It is foreseeable that after this meeting, China-Iran relations will enter a new and higher stage," Zhu said.