Big in Japan: SDF mit enemy base strike capabilities, Okinawa, Ende der Abenominics und Buddha-Gebetsroboter
Big in Japan: SDF mit enemy base strike capabilities, Okinawa, Ende der Abenominics und Buddha-Gebetsroboter
Nachdem die LDP die pazifistische Nachrkriegsverfassung geändert hat,seinen Verteidigunsgetat erhöht hat, eine neue SDF- Strategie beschlossen hat, die nicht mehr nur die Abwehr chinesischen Militärs zu See vorsieht, sondern nun auch mittel des Aufbaus von sogenannten "enemy base strike capabilities" militärische Ziel auch auf Festlandchina bekämpfen will, NATO- Generalsekretär Stoltenberg Japan besuchte, wobei Peking munkelte, ob hier nicht eine Asian NATO oder gar Ausweitung der NATO Richtung Asien, wenngleich noch nicht als Global NATO ala Ivo Daalder gepant sei, sich Kishida nun mit Südkorea wiederetwas ausgesöhnt hat, die militärische Zusammenarbeit verteifen will, sowie auch einer eventuellen Mitgliedschaft Südkoreas im Quad nicht abgeneigt ist, aber auch Kommunikationskanäle zwischen chinesischem und japanischen Militär eingerichtet hat, was China bisher den USA trotz Nachfrage noch verwehrt, will Ministerpräsident Kishida nun nach Macron und die deutsche EU- Kommissionspräsidentin Van der Leyen auch Peking besuchen, wie auch Selensky in der Ukraine, zumal Xi Selenskys Einladung bisher noch nicht angenommen hat, nicht einmal einen Vertreter oder Wang Yi geschickt hat, um Putin nicht zu verärgern, wobei Japan Russland klar verurteilt im Ukraine krieg, währen China hier vor allem die USA und die NATO- Osterweiterung verantwortlich macht.Soweit keine Überraschungen, aber folgende Nachricht is interessant:
Na, was machen die Chinesen denn jetzt wieder? Kaufen einfach Teile Okinawas, wo doch die Amis ihre Militärbasis haben. Es dürfte nicht lange brauchen, bis das auch Thema in den US-Medien wird. Interessant war ja auch, als ein japanischer Investor die Diaoyutai kaufen wollte, was damals chinesische Militärmanöver nach sich zog. Aber bisher wird betont, dass es nicht Peking sei, noch eine chinesische Firma, sondern eine Firma mit Verbindungen nach China. Bleibt also zu klären, ob dies eine Strohmannfirma ist oder vielleicht doch unbedenklich.
"Firm with ties to China buys half of uninhabited Okinawa isle
THE ASAHI SHIMBUN
February 16, 2023 at 17:02 JST
NAHA–A Chinese-affiliated company, not Beijing, bought about half of the uninhabited isle of Yanahajima, located north of Okinawa Prefecture's main island, local officials told The Asahi Shimbun.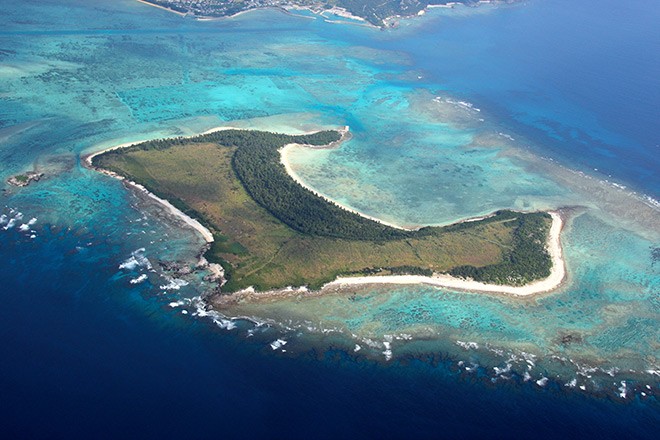 Uninhabited Yanahajima island in Okinawa Prefecture (Asahi Shimbun file photo)
The Tokyo-based company said on its website that it is "working on a resort development plan."
But it has not provided an explanation to residents in Izena village, which has jurisdiction over the island.
The transaction for about half of the 740,000-square-meter island was conducted in February 2021 between private companies.
The village, located on Izena island, owns about 26 percent of Yanahajima island, and this part was not included in the deal, village officials said.
Confusion was sparked after a Chinese woman in late January posted a clip of her visit to Yanahajima island on the video-sharing app Douyin, the Chinese domestic version of TikTok.
The video had 399,000 "likes" as of Feb. 15.
In another video, the woman said, "I bought an island," while showing a document certifying the registration of the land.
According to Chinese media reports, a company run by her family bought Yanahajima island, saying, "We are not excluding commercial use of the land."
The woman's videos drew attention and concerns in Japan.
Izena village officials said they had received several dozen phone calls and emails by Feb. 15 from people who misunderstood the facts of the sale.
One person asked, "Why did you sell the land to China?"
Chief Cabinet Secretary Hirokazu Matsuno said at a news conference on Feb. 13 that Yanahajima island is not subject to the law that regulates the use of important real estate for national security.
"The government will carefully monitor the situation," he said.
(This article was written by Taro Ono, staff writer, and Ryo Inoue, correspondent in Shanghai.)
https://www.asahi.com/sp/ajw/articles/14840908
Alle Welt versucht die Inflation unter Kontrolle zu bringen, Japan hat seit Jahren hingegen eine deftige Deflation und versucht die Inflation hochzutreiben und wie vorher die EZB auf 2%zu bringen. Nun scheint es ein Ende mit den Abenomics, da die nicht gewirkt zu haben scheinen. Daher tritt der alte BOJ- Vorsitzende Kuroda zurück.
"Kuroda departs BOJ after inflation fails to fly like 'Peter Pan'
REUTERS
April 7, 2023 at 13:50 JST
Haruhiko Kuroda delivers his last press conference as Japan's central bank chief on Friday, ending a decade of unconventional policy that included "bazooka" stimulus and a push to change public perceptions with a wall of money and Peter Pan metaphors.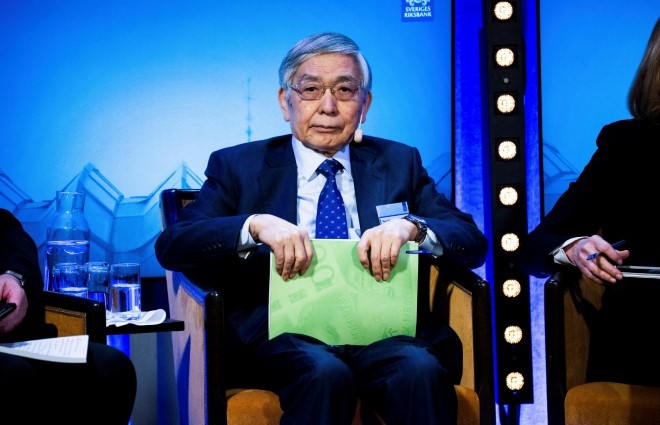 Governor of the Bank of Japan Haruhiko Kuroda attends a Central Bank Symposium at the Grand Hotel in Stockholm, Sweden, January 10, 2023. (TT News Agency/ via REUTERS)
Hand-picked by then premier Shinzo Abe to break Japan out of deflation, Kuroda will see his second, five-year term end on Saturday and hand over the baton to his successor Kazuo Ueda.
The 78-year-old gives his press conference at 0630GMT, the Bank of Japan (BOJ) said.
Shock therapy was among the key features of Kuroda's monetary experiment, under which the BOJ deployed a huge asset-buying program in 2013 partly to convince the public that prices will finally start to rise after decades of deflation.
Kuroda was not the first BOJ chief to attempt to influence public perceptions with monetary easing. Toshihiko Fukui, who presided from 2003 to 2008, frequently expanded quantitative easing to "show the BOJ's determination to beat deflation" and "exert stronger influence on public expectations."
But Kuroda went a step further by binding policy to his 2% inflation target and setting a two-year timeframe for meeting the goal. The target remained elusive only until recently, when the war in Ukraine boosted global commodity prices and pushed inflation well above 2%.
Simple communication was also a key feature of Kuroda's policy. In 2015, he alluded to the Peter Pan fairy tale in explaining that to fire up inflation, the BOJ needed to have the public believe in its monetary magic with massive stimulus.
"I trust that many of you are familiar with the story of Peter Pan, in which it says, 'the moment you doubt whether you can fly, you cease forever to be able to do it,'" he said back then. "Yes, what we need is a positive attitude and conviction."
In another speech that year, Kuroda described how, like a spacecraft attempting to move away from Earth's gravitation, "tremendous velocity" was needed to end Japan's deflationary equilibrium.
When allusions to Peter Pan and spacecraft failed, the BOJ shifted to a defensive, long-term approach in 2016 with the introduction of yield curve control (YCC). The hope was that by capping long-term rates around zero and patiently reflating the economy, inflation would eventually perk up.
The shift to YCC also sought to stop super-long yields from falling too much, a nod to growing concern that prolonged low rates could hurt financial institutions' profits enough to discourage them from boosting lending.
"The BOJ's thinking on interest rate changed dramatically in 2016. It abandoned the idea that the lower the borrowing costs, the better," said former BOJ board member Takahide Kiuchi.
While the BOJ continues its battle propping up inflation and wages, other major central banks have seen their credibility on the line as they struggle to tame soaring inflation.
If Japan sees inflation sustainably hitting 2%, incoming BOJ chief Ueda will face a fresh communication challenge of steering a smooth exit from his predecessor's radical stimulus.
"During Kuroda's era, the BOJ put in place a mix bag of unconventional measures," Kiuchi said. "The BOJ's failure to change public expectations raises a lot of questions about the effectiveness of unconventional monetary policy."
https://www.asahi.com/ajw/articles/14880015
Und Japan ist auch ohne Buddhismus und Shintoismus nicht zu denken. Angesichts demographischer Entwicklungen haben die Hüter der japanischen Religionen ähnliche Probleme wie andere Geistliche in OECD-Ländern. Wow ,dass die Japaner technikaffin und futuristisch sind, weiss man spatestens seit den Laserkanonen in den Godzillafilmen. Nach den Robotern in der Industrie und nun der Altenpflege , (während die USA mit ballernden Kampfrobotern und Robocop freiich weniger zivile Anwendungen einfällt) gibt es jetzt in Japan buddhistische Gebetsroboter. Ob das eine Option angesichts des Pfarrer- und Priestermangels auch für die christlichen Kirchen wäre. Ein Roboterpapst, der dann am Petersplatz Urbi et Orbit verkündet?
"Robot helps spread Buddhist teachings at a Kyoto temple
By SUZUKA TOMINAGA/ Staff Writer
April 8, 2023 at 07:00 JST
KYOTO–Inspired by a priest's belief that Buddhist practices should evolve, the bodhisattva of compassion and mercy has manifested himself as a robot at a temple here.
The android edition of Kannon, also known as Kanjizai Bosatsu, talked to the audience at Kodaiji temple in Higashiyama Ward on a recent day with the hope of sharing the teachings of Buddha.
Among the audience was a monk from a different sect of Buddhism.
"I had not imagined that such a style was possible," said Eishin Masuda, 50, a resident of Nagoya who works under the Jodo school of Buddhism, as he prayed in front of the robot.
"It teaches standard lessons, though the device may look strange," he said. "The idea is interesting because temples can reach out to even those who formerly were not curious about Buddhism with it."
Standing 195 centimeters tall and weighing 60 kilograms, the humanoid, dubbed Mindar, has a silicone face, shoulders and hands resembling the skin of a person, though the material is not applied to other parts of his metallic body.
The robot's face, arms and torso can move, allowing Kannon to blink, for example. His gentle expression comes with a smile pulling at the corners of his mouth.
Kannon explained about the Heart Sutra for 25 minutes using its speech synthesis system while speaking to virtual spectators projected on a wall.
Young priests from the Rinzai school's Kenninji sect, to which Kodaiji belongs, decided what Kannon would discuss.
The idea of Mindar was suggested in 2017 after Tensho Goto, 75, the temple's former chief steward, spoke with robot scientist Hiroshi Ishiguro, who is a professor at Osaka University.
Goto asked Ishiguro to "create a Buddhist statue via robotics," to which the robot scientist expressed interest.
Goto believed Buddhism should be spread by flexibly changing the style in which its teachings are transmitted, such as in the stages immediately after Buddha, its founder, had been spiritually awakened in India.
Buddha's lessons were initially orally told. They were then converted into texts.
Paintings and stone reliefs were then created. These two-dimensional representations ended up being solidified as statues.
Such statues made it easier for the public to understand Buddhist teachings, helping an increasing number of people embrace the religion.
Goto, however, said Buddhist statues have since been relied on for 2,000 years without going through significant changes.
"Modern technology has shifted to printing, the internet and AI (artificial intelligence)," Goto said. "It is high time for Buddhist statues to speak and look into people's eyes."
Thus, Ishiguro's lab created an android. As Kannon is thought to transform into all kinds of objects, the robotic version of Kannon was put in place in 2019 at Kodaiji.
Miyuki Sakaguchi, 63, who lives with her 98-year-old mother-in-law and has been serving as a guide for Mindar for three years, said she has heard the humanoid's lectures on nearly 1,000 occasions.
Sakaguchi said caring for her mother-in-law feels challenging for her at times and that Mindar's teachings have provided her with life tips.
"I can affectionately embrace becoming increasingly older," she said. "I have come to terms with myself both when I'm doing my best to look after her and when I can't."
Akio Oyagi, 61, a company employee in Hyogo Prefecture, said Mindar's lesson struck him like lightning during his visit to the temple.
"I found myself still having a long way to go to mentally mature in some respects," he said.
Oyagi noted he had been unable to be more flexible at his workplace, such as being incensed just by younger employees arguing with him.
"The teachings were easier to comprehend so I could concentrate on listening to them," he said. "I felt relieved when I became aware that I should accept things as they are without being hung up on each of them."
Goto expects Mindar to help people find salvation.
"Faith does not mean believing in Buddha, but pursuing him as an ideal," he said. "I hope people will listen to Mindar explain such concepts as emptiness and mercy so that they can pray for others' happiness and achieve their own psychological peace."
Kodaiji temple was founded by Kita no Mandokoro (1548-1624), the widow of warlord Toyotomi Hideyoshi (1537-1598), to mourn her husband.
https://www.asahi.com/ajw/articles/14861909