Iran: "Final blow" gegen die USA, Wasserkonflikt mit den Taliban, Gemeinsamer OIC-Ummah-Markt, Teheraner Buchmesse und US- Israels Militärplanung
Iran: "Final blow" gegen die USA, Wasserkonflikt mit den Taliban, Gemeinsamer OIC-Ummah-Markt, Teheraner Buchmesse und US- Israels Militärplanung
Radikale Ankündigungen der Iranischen Revolutionsgarden, dass sie den USA nun einen Endschlag verpassen würden und es nach dem SA- Iranabkommen unter chinesischer Vemittlung nun aus dem Nahen Osten rauswerfen würden:
"Iran Guards chief threatens 'final blow' against US over 2020 killing of Soleimani
Head of Iran's Islamic Revolutionary Guards Corps vows to drive US from Middle East, the latest in a series of threats following the assassination of the top general 3 years ago
By ToI Staff 20 May 2023, 6:10 am
An Iranian military commander on Friday threatened the US over the killing of Iran's top general over three years ago, vowing to drive American forces out of the Middle East.
Iran has repeatedly vowed vengeance since a US airstrike killed General Qassem Soleimani in Iraq in January 2020.
Mourners attend a ceremony marking anniversary of the death of the late Revolutionary Guard Gen. Qassem Soleimani, shown in the posters, who was killed in Iraq in a US drone attack in 2020, at Imam Khomeini Grand Mosque in Tehran, Iran, January 3, 2023. (Vahid Salemi/AP)
"Although the Americans martyred Haj Qassem Soleimani, they received the first blow and now are receiving the second blow, which is nothing but their gradual withdrawal from the region," Iranian general Hossein Salami, the commander of the Islamic Revolutionary Guards Corps, said on Friday.
Sponsored by Sheba: The Stem Cell Revolution at Sheba Medical Center
"The final blow has yet to come to them," Salami said, according to Iran's semi-official Fars news agency.
Soleimani, the architect of Iran's regional military activities, was killed in a US drone strike in neighboring Iraq. He is hailed as a national icon among supporters of Iran's theocracy.
Iranian President Ebrahim Raisi in January also issued threats against the US during a ceremony marking three years since Soleimani's death.
"There will be no relief for murderers and accomplices," Raisi said.
Iran responded to the killing of Soleimani by launching a barrage of missiles at US bases in Iraq, causing dozens of brain concussion injuries but no deaths among US soldiers stationed there.
Advertisement
Iranian officials have repeatedly vowed to take further steps and imposed sanctions on individuals accused of taking part in the operation.
According to US officials, Iran has launched at least 80 attacks against US forces and locations in Iraq and Syria since January 2021. The vast majority of those have been in Syria.
In March, a suspected Iranian-linked drone attack killed a US contractor and wounded seven other Americans in northeast Syria. The US retaliated with airstrikes.
Soleimani, who led the elite Quds Force of Iran's Revolutionary Guard, was credited with helping to arm, train, and lead armed groups across the region, including the Shiite militias in Iraq, fighters in Syria and Yemen, the Lebanese Hezbollah terror group, and terror groups in the West Bank and Gaza.
The US held him responsible for the deaths of many of its soldiers in Iraq.
Agencies contributed to this report.
https://www.timesofisrael.com/iran-guards-chief-threatens-final-blow-against-us-over-2020-killing-of-soleimani/
Vorerst aber ist Iran mit neuen Problemen konfrontiert- nämlich einem Wasserkonflikt mit den Taliban. Augenfällig sehr viel Aufmerksamkeit des Mullahregimes für die Unruheprovinz Sistan-Baluchistan. Rausa will neue Elektrizitäts- und Wasserprojekte einweihen .Nur am Wasser scheint es zu mangeln und vielleicht auch an der Wasserkraft für die Elektrizität, was vielleicht der konkrete Hintergrund für den Wasserstreit mit Taliban-Afghanistan ist, zumal Sistan-Balutschistan gerade auch noch eine verheerende Dürre hatte.
"Raisi inaugurates numerous infrastructure projects in southeastern Iran
May 19, 2023 – 13:13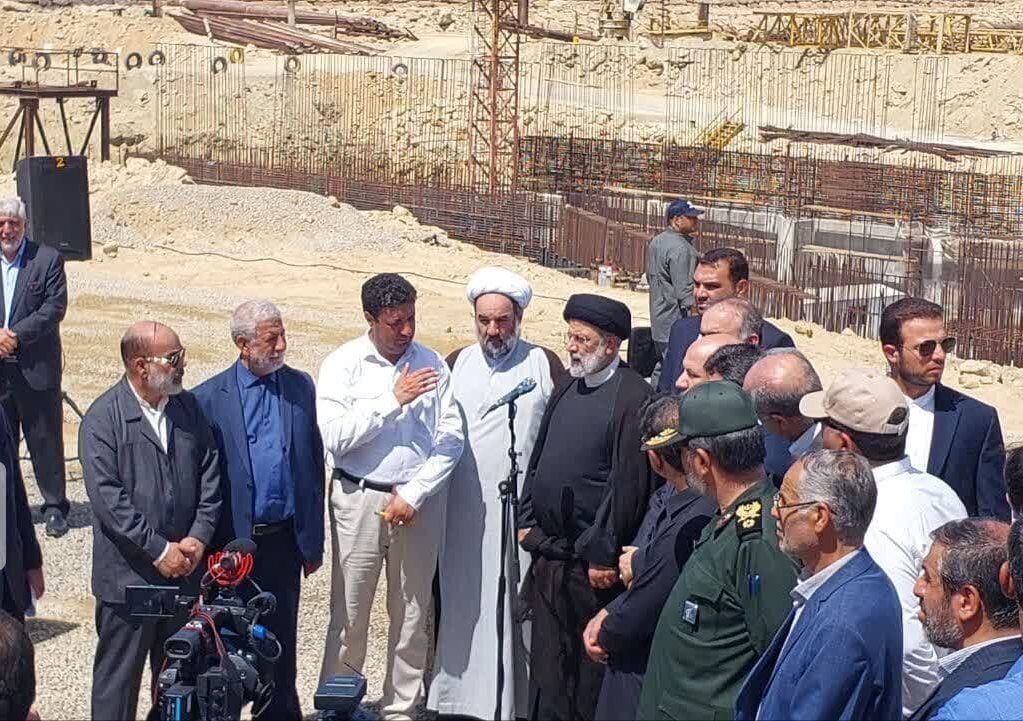 TEHRAN – In a one-day visit to the southeastern Sistan-Baluchestan Province on Thursday, President Ebrahim Raisi inaugurated several infrastructure projects including 11 electricity projects and water supply lines to 155 rural areas.
As IRNA reported, President Raisi also ordered the beginning of the pipe-laying operation at a major project for the transferring of water from the Sea of Oman to the province with the aim of supplying water to the industrial sector in the region.
According to the head of the Sistan-Baluchestan Power Distribution Company, the electricity projects inaugurated by the president were in different sectors including construction, modification, and development of the electricity network.
"Construction and improvement of about 83 kilometers of electricity lines, installation of 26 transformers and a booster device were among the inaugurated projects," Mohammad Raisi said.
The official put the total investment made in the mentioned electricity projects at 410 billion rials (about $774,681).
The water supply projects also went operational in 19 different cities of the province, according to Alireza Ghasemi, the head of Sistan-Baluchestan Water and Wastewater Company.
According to Ghasemi, the mentioned projects are going to provide drinking water to 66,000 people via pipeline.
The total investment made in the said projects has amounted to 2.910 trillion rials (about $5.5 million), Ghasemi said.
The pipe-laying operation of the project for transferring water from the Sea of Oman to the province was also another project that was started at the order of the president on Thursday.
Speaking to IRNA, Mansour Bijar, the deputy governor of the province said that the national project for desalination and transfer of water from the Sea of Oman is being implemented with a physical progress of 11.3 percent.
He estimated the investment made in the project to be about 60 trillion rials (about $113.3 million).
The executive operations of this national project include a desalination center and its facilities, the water transmission pipelines with a total length of 718 kilometers, the implementation of the route and tunnel for the construction of three pipelines, and finally, the construction of a 1000-megawatt combined cycle power plant for energy supply.
The water desalination plant for the projects will have a capacity of 2.4 million cubic meters per day, and when completed, the pipeline will have the capacity to transfer 280 million cubic meters of water every year.
EF/MA
https://www.tehrantimes.com/news/484840/Raisi-inaugurates-numerous-infrastructure-projects-in-southeastern
Raisa reiste persönlich in die Unruheregion Sistan-Balutschistan, um neue Elekrtizitäts- und Wasserprojekte einzuweihen. Fehlt jetzt nur das Wasser für beides und der Wasserkonflikt um den Helmandfluss mit den Taliban spitzt sich zu, nachdem nun auch die Taliban das iranische Regime offen mit ihrem Wassereimervideo lächerlich machen. Ist das der Klinawandel, hat Afghanistan selbst nicht mehr genug Wasser für seine Landwirtschaft und seinen Opiumanbau oder ist der hetzt wieder unter den Taliban verboten worden oder drehen die Taliban dem Iran das Wasser ab,um dafür Geld, Nahrungsmittel und Öl zu bekommen ,um die westlichen und die UNO-Sanktionen zu mildern? Oder aber wollen sie nach dem SA-Irandeal zeigen, dass sie auch noch da sind? Soll Chona oder SA da vermitteln und ein gutes Wort einlegen oder gar selbst etwas finanzielle beitragen für den Frieden?
"Iran's Water Dispute Continues With Taliban As They Ridicule Raisi
Saturday, 05/20/20233 minutes
Author: Maryam Sinaee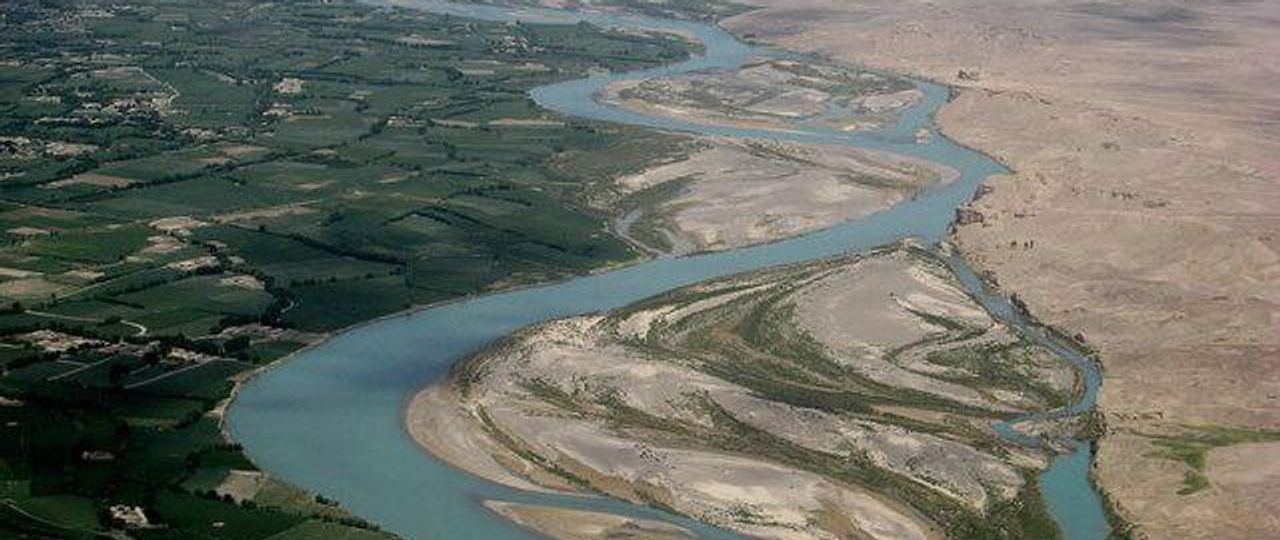 The Hirmand or Helmand river flowing in Afghanistan
A major water dispute between Iran's clerical regime and the Taliban continues as a Tehran officials issue warnings and the Afghan rulers ridicule them.
A Taliban official appeared in a video holding a bucket at the edge of a reservoir and saying he wants to give water to Iran. He ridiculed the Iranian regime's president Ebrahim Raisi who had earlier used threatening language. "I want to give water, so Iran's president does not launch a military attack." The video went viral on social media.
Iran's foreign ministry Friday "strongly refuted" Taliban's claim over lack of enough water in the river Hirmand (Helmand in Afghan) due to draught to release Iran's share of the river's waters.
The foreign ministry also said Taliban's statement over the issue contained "contradictory and false information".
Energy Minister Ali-Akbar Mehrabian said Friday that the government is determined to pursue Iran's water rights according to the Afghan-Iranian Water Treaty of March 1973 to regulate the use of the river.
The Taliban's claim that there is not enough water to flow from Kajaki dam towards the Iranian border is not acceptable and is in contradiction to the experience of the past few years, he said.
Foreign Minister Hossein Amir-Abdollahian also accused the Afghan government in a tweet Thursday of not allowing Iranian experts to investigate the matter in Afghanistan despite his repeated requests. "Proof of existence or lack of water is technical and actual visit [by experts], not a political statement [by the Taliban]," he wrote.
Spokesman of Iran's Aerospace Organization, Hossein Dalirian, said in a tweet Thursday that images from Iran's Khayyam satellite indicate that the government of Afghanistan has stopped the waters from reaching Iran by changing the course of the river in some areas and building "numerous" barriers.
The halt in the flow of water from Afghanistan has seriously affected the lives of hundreds of thousands in the southeastern province of Sistan and Baluchestan.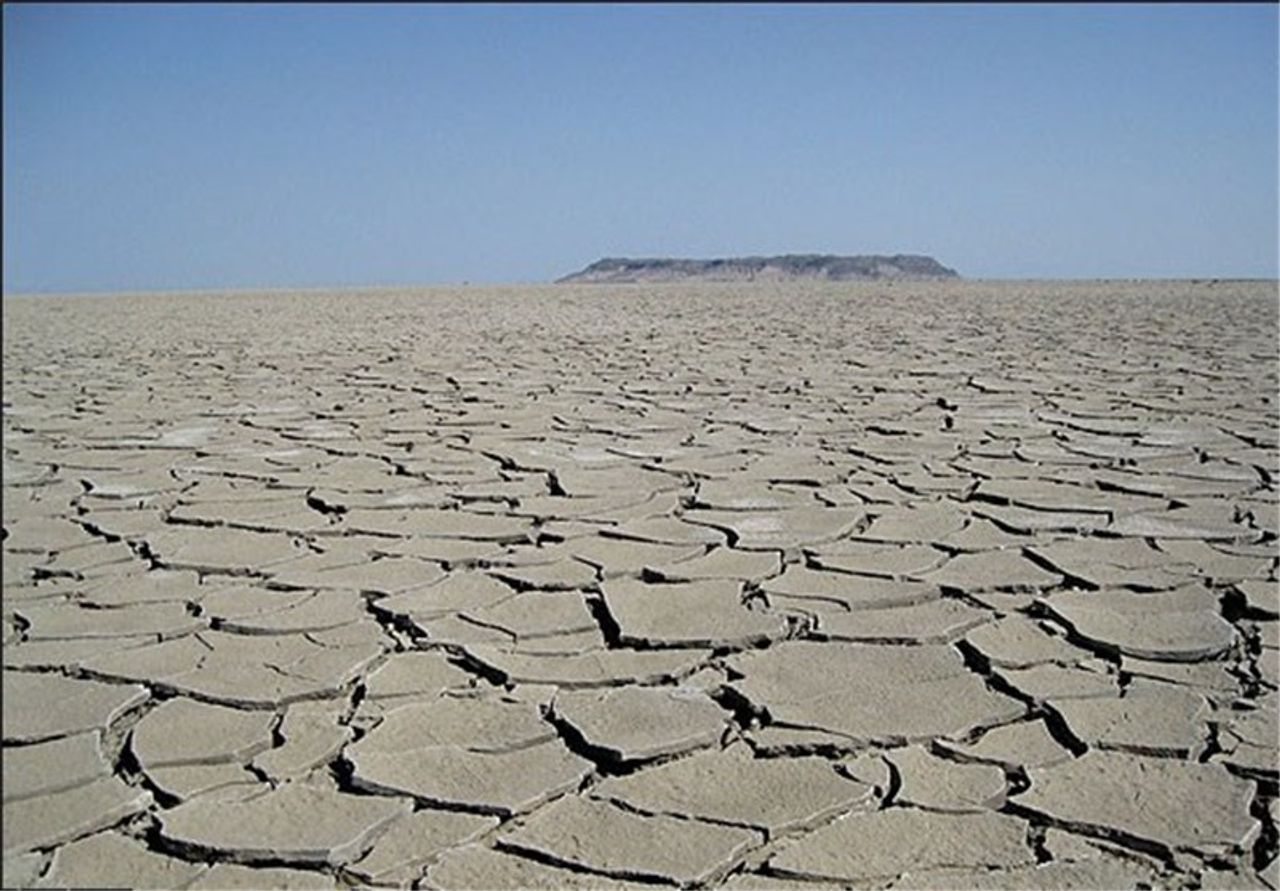 A nature reserve in Iran's Sistan turned into desert
While Afghanistan says it needs dams to store water for agriculture or to produce electricity, which it imports from neighboring countries including Iran, many environmentalists are critical of large-scale water engineering projects.
The Iranian government, and environmentalists, argue constructing the dam on Helmand River will deepen problems in Iran's eastern provinces, particularly in Sistan-Baluchestan where water resources are scarce. Declining rainfall since late 1990s, which caused prolonged droughts in the Helmand basin, as well as water mismanagement both in Afghanistan and Iran, has had serious ecological, economic and social impact.
Wetlands in Sistan have largely turned into salt flats, the once rich wildlife has disappeared, and many local villages abandoned. In 2019, after nearly two decades of drought, water from Helmand reached the wetlands of Sistan and partially revived the Hamoun-e Hirmand Lake. The lake is a UNESCO biosphere reserve.
The dispute between the two countries over water is long standing but it has escalated in the past few years.
In March 2021 in a televised speech inaugurating the Kamal Khan Dam in Nimroz province, former Afghan President Ashraf Ghani said that while Afghanistan remained committed to the treaty but added that "anything beyond the stipulated quota" required further discussion. He suggested that Iran should pay for 'extra' water from the Helmand River by providing oil to his country.
His remarks appeared to refer to Article V of the 1973 treaty, which stipulated Iran in "a normal water year" was entitled to a flow of 22 cubic meters per second from the 1,150km (700 mile) long river.
Hirmand rises in the Hindu Kush before flowing west into Iran and feeding an area of wetlands in the Sistan region including Hamoun Lake. Iran has not always received this amount – in 1999, for example, the Taliban turned off the flow completely.
President Ebrahim Raisi's special envoy for Afghan affairs, Hassan Kazemi Qomi, said Tuesday that Iran received 27 million cubic meters of water out of the 820 million cubic meters it was entitled to under the 1973 treaty.
https://www.iranintl.com/en/202305208790
Zu,al das islamistische Mullahregime nicht nur seitens demonstrierender Iraner oder Balutsche bedroht wird, sondern angeblich auch balutschische Seperatisten oder Islamisten der Jaiyes Al Adl tätig sein solle und auch für die Ermordung von 5 Grenzpolitzisten wie auch eines hochrangigen iranischen Sicherheitskader, der mit der Verfolgung dieser "Terroristen" beauftragt und sehr aktiv war.
"Five Iranian Border Guards Killed In Sistan-Baluchestan Clash
Sunday, 05/21/2023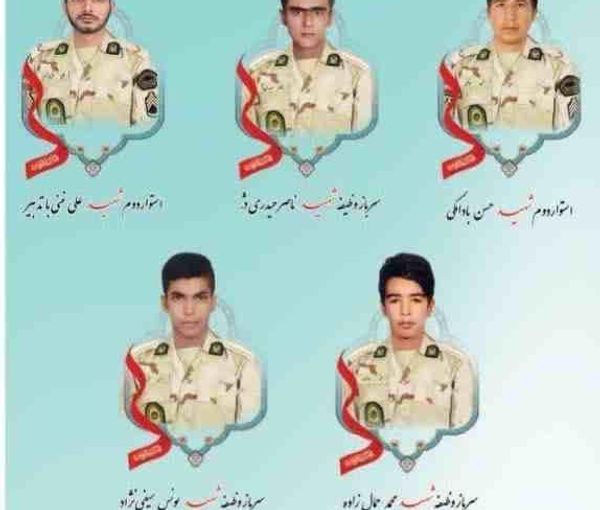 Combo photo of the five border guards killed in Saravan on May 20, 2023
At least five Iranian patrol officers died on Saturday in a clash with what the regime calls "terrorists" on the Pakistani border.
Iranian media reports that the border guards spotted a group of armed men near the border in Saravan, in the southeastern province of Sistan and Baluchestan.
The five officers were killed in the ensuing confrontation with the "terrorist group" on Saturday night.
Two other guards were left seriously injured and are in a critical condition, it was also reported.
There is no information about the affiliation of the armed group, but several Baluch groups from the area are fighting an insurgency against the Islamic Republic.
The most prominent is Jaish al-Adl, which has often targeted Iran's military, especially the Islamic Revolutionary Guard Corps (IRGC).
Saturday's clash comes only a few weeks after the head of the Saravan Intelligence Police, Alireza Shahraki, was shot dead by unidentified gunmen.
Baluchestan news website Halvash reported that Shahraki had used "extremely violent" methods against detainees for years.
In recent months, the situation in Sistan-Baluchistan has dramatically worsened. The area's cities have become very tense, especially on Fridays, when residents come out to protest against the regime.
There have reports of numerous attacks on military and government forces in the province in the months since the death in custody of Mahsa Amini last year sparked protests nationwide.
https://www.iranintl.com/en/202305213751
Hauptschlagzeile in der heutigen Tehran Times sind auffälligerweise mal nicht die USA oder Israel, sondern der Wasserstreit mit Taliban-Afghanistan. Die Taliban behaupten ,es gebe nicht genug Wasser ,die Mullahs,dass es genug Wasser gebe, die Taliban das aber böswillig zurückhielten und für sich selbst gebrauchten. Sie stünden damit in der Tradition der damaligen US-gestutzten afghanischen Regierungen, die Iran das Wasser abgrub ,um Erdöllieferungen zu erpressen. Zudem soll es in der Provinz Sistan-Balutschistan zu einer Dürre gekommen sein. Unklar,ob da der Klimawandel auch eine Rolle spielt und es sich um einen jener vielprognostizierten Wasserkriege oder Resourcenkriege handelt. Jedenfalls droht Iran den Taliban mit 'geeigneten Massnahmen",wobei unklar ist, was das bedeuten soll. Soweit ich mich erinnern kann, hatte der Iran ja schon mal
bei der ersten Talibanregierung mit einem Militärschlag gedroht und Truppen mobilisiert, wobei es da aber nicht um Wasserfragen ging, sondern um die schiitische Minderheit der Hazara.. Ob es soweit kommen wird oder vermittelt China und Saudiarabien oder gegebenenfalls auch Pakistan da wieder, denen ja lauter gute Beziehungen zu den Taliban nachgesagt werden?
By Mehran Shamsuddin
"Water Warning
May 19, 2023 – 21:12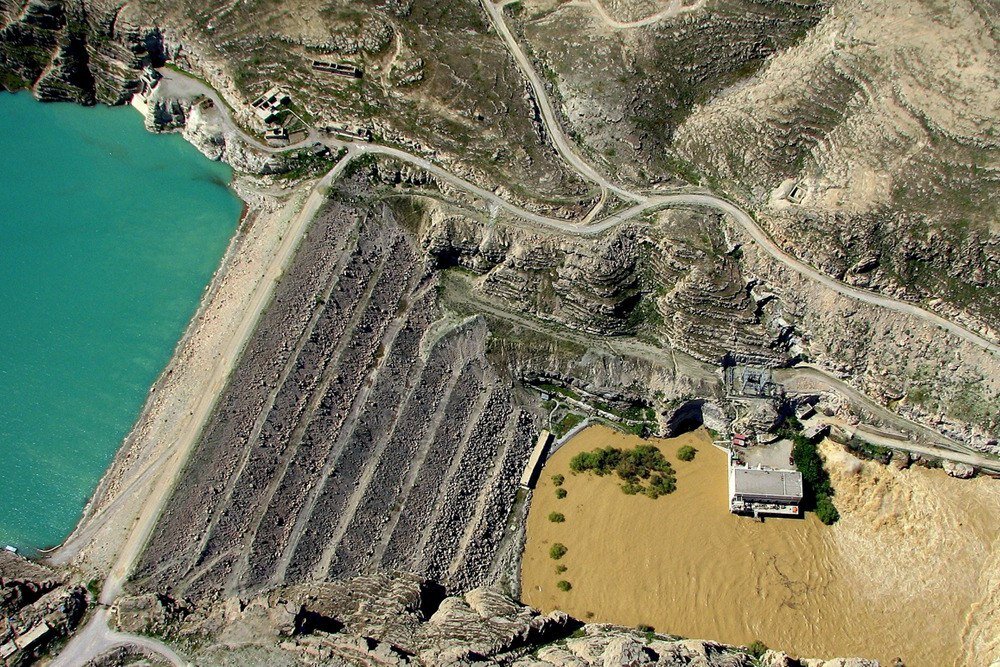 TEHRAN – Relations between Iran and Afghanistan soured in recent days after the Taliban refused to respect Iran's water rights in shared rivers. 
The Taliban's long-time procrastination in releasing Iran's share from shared waters prompted Iranian President Raisi to issue a stern warning to Kabul, urging them to secure Iran's rights or risk tensions with Iran.
In a weekend trip to the southeastern province of Sistan-Baluchistan, President Raisi said, "I want to tell the rulers of Afghanistan not to consider my words as normal, but to take them very seriously; I warn the officials and rulers of Afghanistan to give the rights of the people and the region of Sistan and Baluchistan immediately."
Referring to some published claims that the dam built on Helmand does not have much water or that part of it is sediments, he stated, "Our experts should be given permission to investigate this issue as soon as possible, if our experts confirm this, very well, there is no problem; we have no dispute about the lack of water, but if there is water, this right should be given to the people of Sistan and Baluchistan and we will not allow the rights of the people to be lost in any way."
The warning comes against a backdrop of severe drought hitting Sistan-Baluchistan province. Iranian officials said the lack of water in the province stems partly from Taliban's unwillingness to implement a decades-old agreement between Tehran and Kabul that requires Afghanistan to honor Iran's water rights.
Of course, the Iran-Afghanistan water disputes are older than the Taliban rule. The former U.S.-backed government of Afghanistan deliberately sought to withhold Iran's water share. With help from the U.S., the former Afghan regime built many dams on rivers that ultimately flow into Iran with the aim of diverting their waters to other dry Afghan regions. The Kajaki and Kamalkhan dams are a case in point.
Former Afghan President Ashraf Ghani once openly said that Kabul won't give water to Iran for free. "If you want water, then give us oil or things," Ghani said.
The Western-backed government of Kabul has gone but its legacy strangely lives on. The Taliban, which fought against the Americans for two decades, is now following in their footsteps in terms of not living up to Afghanistan's commitments regarding shared waters.
After President Raisi's warning, the Taliban, instead of pouring oil on troubled waters, issued a statement that further inflamed tensions because it claimed that due to low precipitation, there are now additional waters behind the controversial dams, something that Iran took with a pinch of salt.
The Iranian foreign ministry said in a statement that the Taliban have not abided by Afghanistan's obligations and not let Iranian experts to examine the drought claims.
"The declaration dated 18 May, 2023 by the Afghan side about the Helmand River water rights contains contradictory and incorrect information, and the Ministry of Foreign Affairs of the Islamic Republic of Iran strongly rejects it. The Helmand Treaty signed between Iran and Afghanistan, dated February 20, 1973 has clearly and unambiguously specified the Iranian side's water rights from the Helmand River. This is a legal, objective and definite right, and Afghanistan is committed to providing the aforementioned right and not taking any action, which fully or partly strips Iran of its water rights, under Article 5 of the Treaty," the statement said.
It added, "Although the Afghan rulers, in the past year and half, have repeatedly emphasized adherence to their obligations under the Treaty, in practice, they have failed to honor the obligations arising from the Treaty to provide the necessary cooperation in the release of the water flow and realization of Iran's water rights, and to allow Iran access to its water share."
The statement concluded, "Non-adherence to the Treaty and non-provision of Iran's Helmand water rights on the part of Afghanistan and issuing political statements without practical action are not acceptable in any way. The Islamic Republic of Iran reserves the rights to take necessary measures and emphasizes the full responsibility of Afghanistan in this regard."
Iranian Energy Minister Ali Akbar Mehrabian said the Kajaki dam contains enough water and Taliban officials have acknowledged that.
"Based on the president's emphasis, we are obliged to ensure the rights of the people, and the issue of the Helmand River claim is seriously on the agenda as an example of the rights of the people of Iran," Mehrabian stated.
https://www.tehrantimes.com/news/484870/Water-Warning
Kann denn der Iran an einer ernsthaften Auseinandersetzung mit den Taliban überhaupt so ein Interesse haben, eskaliert er doch gerade gegen Israel und drohen die Revolutionsgarden mit einem "Final blow",der die USA aus dem Nahen Osten vertreiben soll .Ist das die übliche Kraftmeierrhetorik oder ist da Grösseres geplant? Aber was soll das sein? Ein final blow gegen die UStruppen im Irak? Das CENTCOM in Katar können sie wohl nicht meinen, da die Reaktion der USA dann eher ein "Final blow" gegen den Iran wäre.Aber nach den mageren Ergebnissen der Eskalation des Raketenterrors des Islamic Jihad von Gaza gegen Israel, scheint man vorerst mit Afghanistan beschäftigt.
Zudem erhofft man sich zwar Gelder und Unterstützung aus China und Saudiarabien, doch hat jetzt auch noch neben solche geopolitischen Grooßraumvorstelkungen wie der Greaeat Eurasian Maritime Zone, die den Golf bis Indien und die ASEAN umfassen soll und vielleicht dnn auch it China zusammen gehen soll, nu auch die Idee eines großen muslimischen Binnenmarkts der Organization of Islamic Countries (OIC), eine Art OIC- Binnenmarkt als pansislamische Ummahunterstützung für einen wackeren Vorkämpfer.Vielleicht dann alles halal und nur noch Islamic Banking.
"Iran calls for establishing joint Islamic market among OIC members
May 19, 2023 – 13:14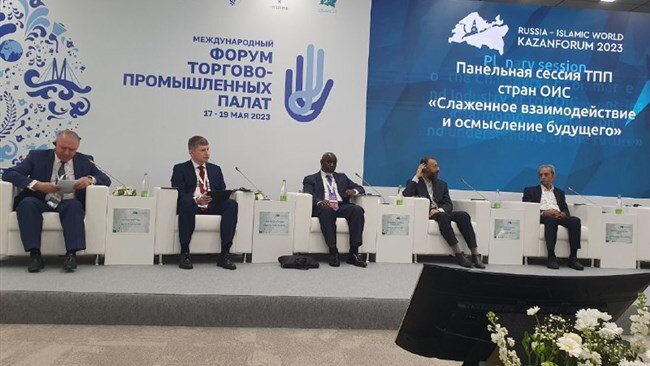 TEHRAN – Head of the Iran Chamber of Commerce, Industries, Mines and Agriculture (ICCIMA) has stressed the need for establishing a joint Islamic market among the members of the Organization of Islamic Cooperation (OIC) over the next 10 years, the ICCIMA portal reported on Thursday.
Addressing a gathering of the heads of OIC member chambers of commerce on the sidelines of the "Russia – Islamic World: KazanForum 2023" in Russia, Gholam-Hossein Shafeie said: "An important issue that has been discussed a lot in the past and the organization should pay attention to it in the current situation is the creation of a common Islamic market in the next 10 years, which can be achieved by concluding a free trade agreement among Islamic countries and removing tariff and non-tariff barriers."
"Experts have worked on the Islamic market plan, and using the experiences and studies of these experts can definitely be a way forward," he added.
The Organization of Islamic Cooperation, which was formed in 1972, today has reached a position where, according to statistics, the future of the world's energy would be in the hands of the Organization of Islamic Cooperation, Shafeie said in his speech.
EF/MA
https://www.tehrantimes.com/news/484841/Iran-calls-for-establishing-joint-Islamic-market-among-OIC-members
Was macht der Führer Irans Khameini? Er besucht vorerst die Teheraner Buchmesse, die er als oberster geistlicher Führer aller Zeiten seit Khomeini  ideologisch wichtig befindet und überlässt die sonstigen Tagesgeschäft ohne Machtwort vorerst Raisi. Buchmesse. Diesmal nicht in Frankfurt oder Leipzig, sondern in Teheran. Der Führer besucht die Buchmesse persönlich und kritisiert, dass es viel zu viel ausländische Kinderliteratur im Iran gebe. Er fordert mehr einheimische Kinderliteratur, vor allem Kriegsliteratur über den Irak-Irankrieg und den Iran-IS-Krieg für Kinderherz. Seltsamerweise erwähnt er den Gro9Satan USA und den kleinen Satan Israel nicht. Aber vielleicht gibt es da schon genug passende Kinderliteratur fürs Kindeswohl und einen final blow in Sachen friedlichem Jihad.Ein wenig Jihad hat noch keinem Kind geschadet.
"Leader warns of foreign children's stories dominance at Tehran book fair
May 14, 2023 – 18:40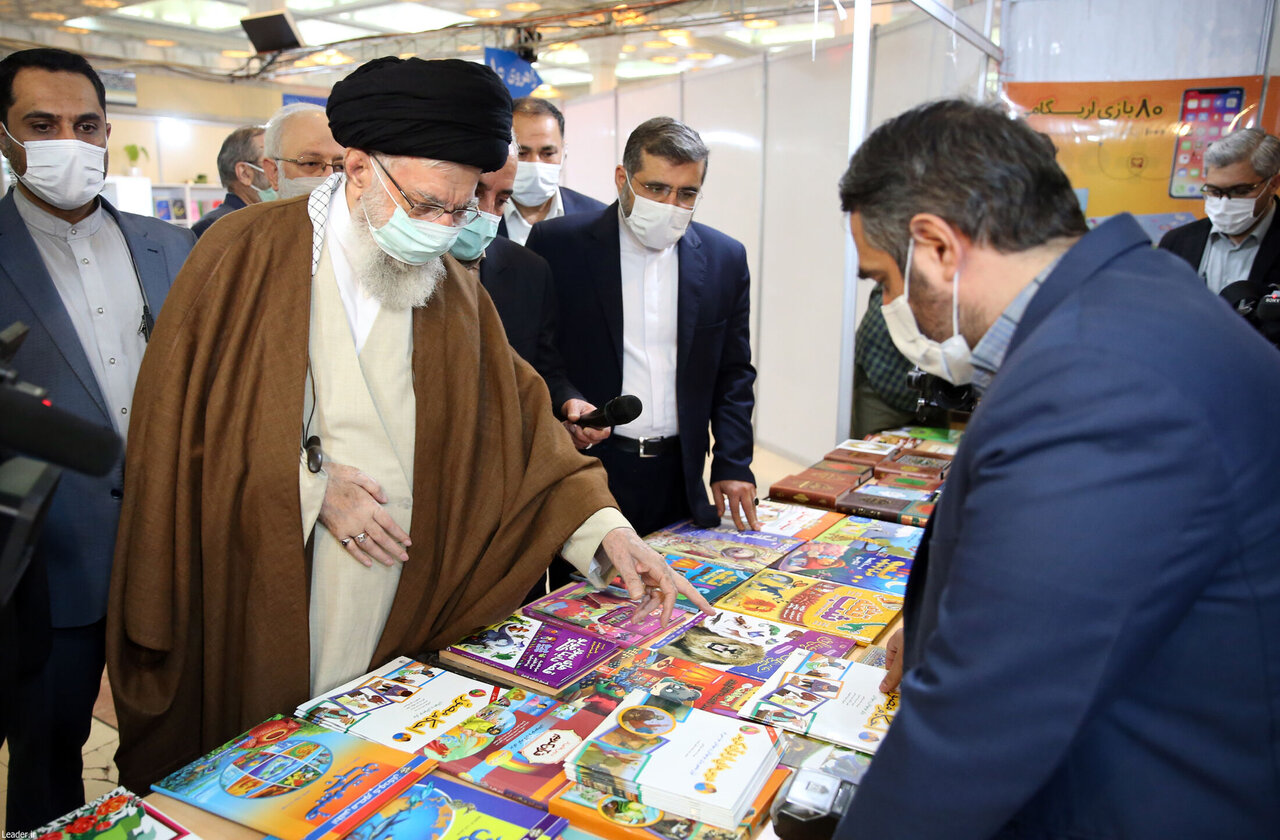 TEHRAN – The Leader of the Islamic Revolution, Ayatollah Seyyed Ali Khamenei warned of the dominance of foreign children's stories in Iran during his visit to the 34th Tehran International Book Fair on Sunday.
"As much as you are able, produce quality books by local writers in order to attract children and young adults," the Leader told the publishers.
"Foreign children's stories are still dominant; that's a major shortcoming," he warned.
Ayatollah Khamenei also met Morteza Sarhangi, an author of books on the 1980s Iran-Iraq war who is also the director of the Resistance Literature and Art Office at the Art Bureau of the Islamic Ideology Dissemination Organization.
The Leader praised Sarhangi for his contributions to the publication of war memories.
The Leader's visit to the book fair marked the first occasion following a three-year absence as a result of the COVID-19 pandemic.
"I'm really pleased that I was able to visit this year's fair, which is a public meeting centering on culture and this is a pleasant topic," the Leader confided to an IRIB correspondent at the end of his visit.
He also praised people's warm welcome to the book fair and said, "Despite deficiencies such as lack of paper and low-quality paper, there has been significant progress in publication in the country."
"Once again, I ask publishers to produce books for our children and young adults in quantity, making us independent of that which is alien and helping to provide our teenagers with domestically produced books that promote our own culture, orientations and aims," he noted.
He asked readers to pay more attention to those books written by indigenous authors recounting memories of the Iran-Iraq war and the war against ISIS.
The leader categorized himself as a regular reader of scientific books and novels and other genres.
Photo: Leader of Islamic Revolution Ayatollah Seyyed Ali Khamenei visits the 34th Tehran International Book Fair at Imam Khomeini Mosalla on May 14, 2023. (Leader.ir)
MMS/YAW
https://www.tehrantimes.com/news/484720/Leader-warns-of-foreign-children-s-stories-dominance-at-Tehran
Dazu weist die Tehran Times in ihrem Kulturtel noch auf eine Neuerscheinung eines Buchs, das sie für wichtig hält in nun persischer Übersetzung hin. Nanu, Darwins! Evolutionstheorie im Iran. Da sind ja US-Evangelikale und Kreationisten allemal rückständige. Oder gibt es auch schon eine iranische Version des Intelligent Design? Es soll ja nur eine Einführung sein, die Interpretation und wie sich dies zu Allah und dem Mullahregime verhält wird dann sicherlich wieder der Größte Geistliche Führer aller Zeiten Ajatollah Khameini vornehmen.Ob Khameini auch vom Affen abstammt?

"John Scotney's simple guides to Darwin's Theory of Evolution published in Persian
May 19, 2023 – 17:51
TEHRAN – "Theory of Evolution: Simple Guides" by John Scotney has been published in Persian by Kargadan.
Mohammadreza Tavakkoli-Saberi is the translator of the book originally published by Kuperard in 2009.
Today the theory of evolution by natural selection and the science of genetics are the twin keys to our understanding of how life on earth came about.
Yet when an English naturalist called Charles Darwin first published his ideas in 1859 in a book called "On the Origin of Species" the world was horrified at the notion of a changing creation without the intervention of a Creator.
By contrast, when a few years later an obscure Moravian monk, Gregor Mendel, published the results of his experiments in genetics the world failed to notice John Scotney's new book explains just what these two great men had discovered and follows the amazing development of this seminal idea from the decade when it turned the world on its head to the present time and the unraveling of the human genome.
It describes how the first dinosaur fossils were believed to be the bones of giants and how little by little the ongoing story of living creatures has been assembled until we can see the thread of life running from single-cell microorganisms to primates like ourselves, and why most ancient creatures died out and some survive to this day.
The Theory of Evolution conveys the excitement of this fundamental discovery and gives an insight into the way scientific inquiry and debate continue to shape our world.
John Scotney is an English lecturer, writer and broadcaster. After reading history at the University of Cambridge, he taught for two years at the University of Delhi in India.
Since returning to England, he has combined teaching with writing and producing for the BBC. He has taught at the University of Westminster and on courses accredited by the Universities of Manchester and Kent, and for San Diego University, California, he taught a summer school on the history of ideas, with particular relevance to science.
His Radio 4 program, "A Mind of Universal Sympathy", was a portrait of Darwin's grandfather, Erasmus Darwin, who anticipated many of his grandson's ideas.
Photo: Front cover of the Persian edition of John Scotney's book "Theory of Evolution: Simple Guides".
MMS/YAW
https://www.tehrantimes.com/news/484857/John-Scotney-s-simple-guides-to-Darwin-s-Theory-of-Evolution
Währenddessen läuft Irans Nuklearprogramm weiter in der Anreicherung und versucht nun die Jerusalem Post herauszufinden, was die Iranpolitik Bidens und Netanjahus sind und wie Netanjahus neueste Zurückweisung Bidens Vorschlägen in Sachen gemeinsamer Militärplanung zu verstehen ist:
"What does joint US, Israel military planning mean regarding Iran? – analysis
Should Jerusalem accept Washington's offer?
Published: MAY 18, 2023 18:59
Updated: MAY 18, 2023 21:49
CENTCOM commander Michael Kurilla and IDF Chief of Staff Lt.-Gen. Aviv Kohavi visit Nevatim Airbase in southern Israel, November 15, 2022.
(photo credit: IDF SPOKESPERSON'S UNIT)
Usually any time the US offers Israel more military aid, joint exercises and coordination, Israel jumps at the offer.
Jerusalem has been careful to highlight a variety of recent joint military exercises, including a joint aircraft exercise in early January, the giant Juniper Oak exercise in later January and the Red Flag joint exercise in March.
Also, Israel has highlighted separate visits by US Secretary of Defense Lloyd Austin and US military chief Gen. Mark Milley in March and a visit by CENTCOM Chief Gen. Michael Kurilla in late April.

Defense MinisterYoav Gallant and US CENTCOM Chief General Michael Kurilla. (credit: ARIEL HERMONI/DEFENSE MINISTRY)
The idea is usually to send a message to Iran that Israel has the US's backing, if necessary, for military action against the Islamic Republic, and possibly even some readiness by the US to participate on some level in assisting Israel directly with such an action.
With that in mind, what is the best way to understand the complex report that came out on Wednesday from Axios that some of these trips have involved American officials seeking to deepen sharing of operational planning against Iran – only to be rebuffed by Israel?
First, we need to keep in mind that all of the US and Israeli comments about this exchange are part of a three-dimensional chess game that all sides are playing with each other and with Tehran.
The US wants to alternately make Israel feel safe by showing it is serious about military cooperation, but also wants to discourage the Jewish state from actually using force against the ayatollah's nuclear program anytime earlier than the Biden administration would view it as necessary.
What is the difference between the point in time Israel would think a preemptive strike on Iran's nuclear program would be necessary versus America's timeline?
Recently, former IDF intelligence chief Tamir Hayman told the Jerusalem Post that Israel needed to keep an eye on top Iranian atomic officials' leanings – a bottom-up focus – and not just look at Supreme Leader Ayatollah Ali Khamenei. If they started to push for moving toward an actual nuclear weapon – as opposed to just building significant amounts of enriched uranium stock but not crossing the nuclear threshold – Jerusalem might worry.
Put more simply, Israel might strike at some moment than it sees signs Iran is moving toward a nuclear weapon, even if the moment of crossing the threshold might be months away.
In contrast, the US might wait much later – until a mere days or weeks before Iran might be capable of using a nuclear weapon before acting, or wanting Israel to act.
This is an oversimplification because there are always a million factors in play with major decisions about war and peace, including any last possible attempts at diplomacy with Iran which might open up with a more imminent military threat, relations between Tehran and the IAEA inspectors, domestic politics and the overall geopolitical balance between the world's major powers.
The Pentagon provided the Post with the same on-record response which it gave Axios, "Senior leaders at the Department have made repeated public statements regarding our interest in expanding military cooperation with the Israeli Defense Forces, to include by increasing joint participation in military training exercises in order to improve interoperability and promote a common understanding of regional security challenges. The relationship between the U.S. and Israeli militaries is extremely close, and our commitment to Israel's security remains ironclad."
Nothing in this statement really clarifies whether the US offer would grant Israel new advantages or come with new strings, though US officials do seem to want to make pains to not want to be perceived as attaching strings.
There is another possibility. The Biden administration pretty much conveyed to a group of US Senators on Wednesday that it is treading water with the Islamic Republic without any real idea of how to exit the current stalemate.
This latest proposal to Israel may not be a one-sided give Israel more military backing or an opposite one-sided attempt to restrain Jerusalem. It could also be a play at figuring out how Israel is perceiving the current stalemate and what direction it might go in the coming months.
Such a test would not set any new clear change in policy for either country as much as it might help the US decide on what its policy should be if Iran continues to march its nuclear program forward both without crossing the nuclear threshold and without any nuclear deal.
The IAEA Board of Governors meets in two-and-a-half weeks and will need to decide again whether to refer Tehran to the UN Security Council or punt the issue once more.
In that light, maybe all of this is just the opening act before the next real round of decisions.