Von Peking lernen, heißt MINT und Mandarin lernen!
Von Peking lernen, heißt MINT und Mandarin lernen!
Eine Internationale Konferenz für wissenschaftliche Lesefähigkeit in China. Gibt es Vergleichbares in westlichen Ländern? Aber scheinbar wird diese noch nicht so gut besucht, nur 24 Organisationen und dann nur Pakistan und Saudiarabien als Promis. Interessant auch, dass dazu die weltweit erste Internationale STEM-Lehrerkonferenz abgehalten wird. Ob sich da die deutsche Bildungsministerin mal sehen lässt, auch wenn man sich so die Pisaergebnisse deutscher Schüler bei den MINT-Fächern betrachtet oder will man sich keine chinesische Nachhilfe geben lassen? Wollen die aus uns jetzt alle Mathestreber machen? Gibt es Vergleichbates in Deutschland oder Taiwan oder Japan? Wäre auch mal interessant, ob das auch unter die Global Civilization Initiative fällt.
"China shares experience in promoting science literacy during Beijing International Week"
By Deng Xiaoci Published: Sep 17, 2023 10:07 PM
The Beijing International Week for Science Literacy kick off on September 17, 2023.

The Beijing International Week for Science Literacy kick off on September 17, 2023. Photo: Deng Xiaoci/GT
The Beijing International Week for Science Literacy started on Sunday. Guests from all over the world, including His Royal Highness Prince Fahd bin Mansour bin Nasser bin Abdulaziz from Saudi Arabia and Khan Muhammad Wazir, the science and technology counselor of the Pakistani Embassy in China, attended the launch ceremony on Sunday morning at the Shougang Park.
A total of 24 international organizations and institutions from 22 countries and regions, with 27 representatives from various tech sectors and the science education industry, are attending the conference. They will jointly explore the issue of improving public scientific literacy and plan a win-win development path, according to the Beijing Association for Science and Technology (BAST), the main organizer of the event.
Vishal Kumar Agarwalla, a vice chairman of the Young Indians, a group of young businessmen who are part of the Confederation of Indian Industry, and Nur Karnina Karim, head of Seria Energy Lab of Brunei, also participated in the Sunday event.
Shen Jie, executive vice president of BAST, told the Global Times that the Beijing International Week for Science Literacy is a "name card" for the association to conduct international scientific and technological exchanges, which greatly benefit the association's participation in the Chinese capital's rise as an international science and technology innovation center as well as an international exchange center.
In an exclusive interview with the Global Times on Sunday, Wazir congratulated and expressed his appreciation of the leadership of BAST, for hosting the event.
"This event has brought together leaders from different parts of the world to share their experiences and achievements in promoting science literacy in their respective countries and to learn from the Chinese experience," he said.
When asked in what specific areas China and Pakistan could work together to improve the general public's science literacy and how that will help enhance the iron-clad friendship between the two countries, Wazir noted that China and Pakistan are cooperating closely on STEM (Science, Technology, Engineering and Mathematics) education and recently a MoU between the China Association for Science and Technology and the Pakistan Science Foundation was signed. The cooperation includes training of STEM teachers, the exchange of STEM students and sharing of experiences and resources.
Set to end on September 24, this year's Beijing week is themed "Working Together for Common Development – Digital Literacy and Future Education."
This theme reveals the Chinese openness, mutual learning for common benefits and China's willingness to share with the rest of the world its achievements in making science a culture and new normal, the Pakistani councilor said. He also noted that China has used science, technology and innovation for its socio-economic development and to transform its economy and society into digital and connected systems. The theme further explains the increasing and essential link of education with digital technology.
And according to Shen, during this week, Beijing will hold the first-ever international science and technology teachers conference, an exhibition to showcase international science popularization works created by innovation groups, through which BAST hopes to achieve international exchange of scientific communication experiences and resource sharing, enhance quality and literacy, promote academic and experiential exchanges and promote the dissemination and promotion of quality science popularization resources.
Cheng Donghong, the chairperson of the Chinese Society of Natural Science Museums, highlighted in her remarks at the Sunday ceremony the Tiangong Classroom sessions beamed down from the Tiangong space station by Shenzhou crew members in December 2021 and March 2022. During these sessions, more than 200 science and technology museums, more than 700 mobile science and technology museum stands, and more than 500 science popularization vans, along with 800 rural middle school science and technology venues across the country, under the coordination and guidance of the museum, organized local youths to watch live broadcasts and conduct space-Earth comparative scientific experiments.
"Featuring the largest coverage and the highest public participation for such an event in a single day, this was a successful case for China's science popularization venues and educational activities," Cheng said.
Aiming to strengthen international communication coordination and collaboration, and enhance the effectiveness of international communication, BAST also signed a strategic cooperation agreement with the Global Times at the Sunday ceremony, witnessed by Shen and Global Times General Manager Wu Tianhong. 
https://www.globaltimes.cn/page/202309/1298354.shtml
Doch nicht nur MINT wird gefördert, auch Mandarin. Der Mittlere Osten erlebt gerade einen Mandarinboom und in Saudiarabien wurde Chinesisch gleich als Pflichtfach an den Schulen eingeführt:
"Middle East's Mandarin push sets the tone for 'convergence' with China on trade
Language learning is a 'reciprocal gesture' to China's soft power as the region eyes closer ties via the Belt and Road Initiative, one analyst says
But Arab students are unlikely to find Mandarin as attractive as European languages, given 'historical perceptions' and a shortage of native teachers
Published: 9:30am, 18 Sep, 2023
Some 17 years after Beijing began to promote the teaching of Mandarin in the Middle East, the language is now making major inroads into the educational systems of the region's leading powers, in a nod to China's political and economic standing.
For both the Saudi and Emirati governments, "there is not only a recognition that China is an important global player, but also an implicit understanding that the Chinese market is one to watch closely", said Clemens Chay, a research fellow at the National University of Singapore's Middle East Institute.
Mandarin language classes "are a reciprocal gesture to China's deployment of soft power", he said.
Saudi Arabia, China's largest trading partner in the Middle East, last month made it compulsory for public and private secondary schools to hold twice-weekly Mandarin classes for one semester each year.
While Saudi Arabia is the first in the region to make learning the language mandatory, the United Arab Emirates began incorporating Mandarin into its kindergarten-to-secondary school curriculum as an elective subject in 2017.
Since then, more than 150 of the UAE's state-run secondary schools – with over 50,000 students – have introduced Mandarin classes and the aim is to reach 200 schools by 2030.
The UAE is home to more than 300,000 Chinese nationals, the biggest diaspora in the region, and it is Beijing's second-biggest trading partner in the Middle East.
Mandarin classes have been introduced at more than 150 public secondary schools covering over 50,000 students in the UAE. Photo: Shutterstock
"Both countries want closer relations with China by pegging their [economic] diversification plans" to the Belt and Road Initiative, said Ahmed Aboudouh, an associate fellow at British think tank Chatham House's Middle East and North Africa programme.
Many analysts tend to focus on belt and road infrastructure investments and overlook the initiative's cultural and human development aspects, but "Arabs learning Chinese and vice versa is a central enabler of both sides' long-term convergence of interests and visions", Aboudouh said.
Iran has also begun preparations to introduce Mandarin as an optional subject, following the endorsement of a law by President Ebrahim Raisi in July.
Egypt launched a pilot project in Ocober last year to introduce Mandarin as an optional subject at a dozen state-run middle schools.
Mandarin language classes are not "a novelty in the region because Confucius Institutes were established in the Middle East during the 2000s, starting with Beirut in 2006", Chay said.
Confucius Institutes are used by Beijing to promote cultural outreach and Mandarin language teaching. The first of these institutes to open in a Gulf Arab monarchy was established in Abu Dhabi in 2010.
In June, the number of Confucius Institutes in the Middle East and North Africa rose to 23 across 13 countries with the opening of the first branch in Saudi Arabia at Prince Sultan University in Riyadh.
Chinese language learning and China studies departments have also been established at universities in 14 countries across the Arab world.
Saudi tech minister says China a 'success story to replicate' during Hong Kong visit
Still a challenge
Despite the political push for more concrete steps to enhance Mandarin language programmes in the Gulf, the process is hampered by challenges such as "deficiencies in the Saudi and Emirati public education systems – a chronic pan-Arab problem – and their inability to build students' foreign language skills effectively", Aboudouh said.
Saudi authorities prepare their teachers to teach Mandarin with a one-year course taught by Saudi instructors who primarily promote rote learning.
"Political will is not matched by financial generosity, as it is more expensive to bring native Chinese instructors to the Gulf than to train local teachers," he said.
Such shortcomings make Mandarin – already a difficult language to learn – less appealing to students.
It will also "take time for Arab students" to find Mandarin as attractive an option as Western languages, such as English or French, "due to historical perceptions and psychological barriers and also seeing it as a powerful skill to have in the labour market", Aboudouh said.
Despite the growth of China's commercial presence in the Gulf, Mandarin is not yet widely used in business circles there.
In the UAE, some businesses with operations in China are sending employees to Confucius Institutes to learn Mandarin.
But this is "limited since English seems to be the primary language of exchange between Arabs and Chinese so far", said Mohammed Abdul Rahman Baharoon, director general of the Dubai Public Research Centre, an independent UAE think tank.
More than 6,000 Chinese-owned companies operate in the UAE, the major business and logistical hub of the Middle East.
While it is "natural" for Gulf Arab countries to want more cultural exchanges with China "considering the exposure to Chinese business and community", interest in Mandarin is "not as big" as other languages spoken by large expatriate communities, Baharoon said.
Hindi and Urdu, the closely related national languages of India and Pakistan respectively, are "possibly the third-most widely spoken language in the UAE", he said.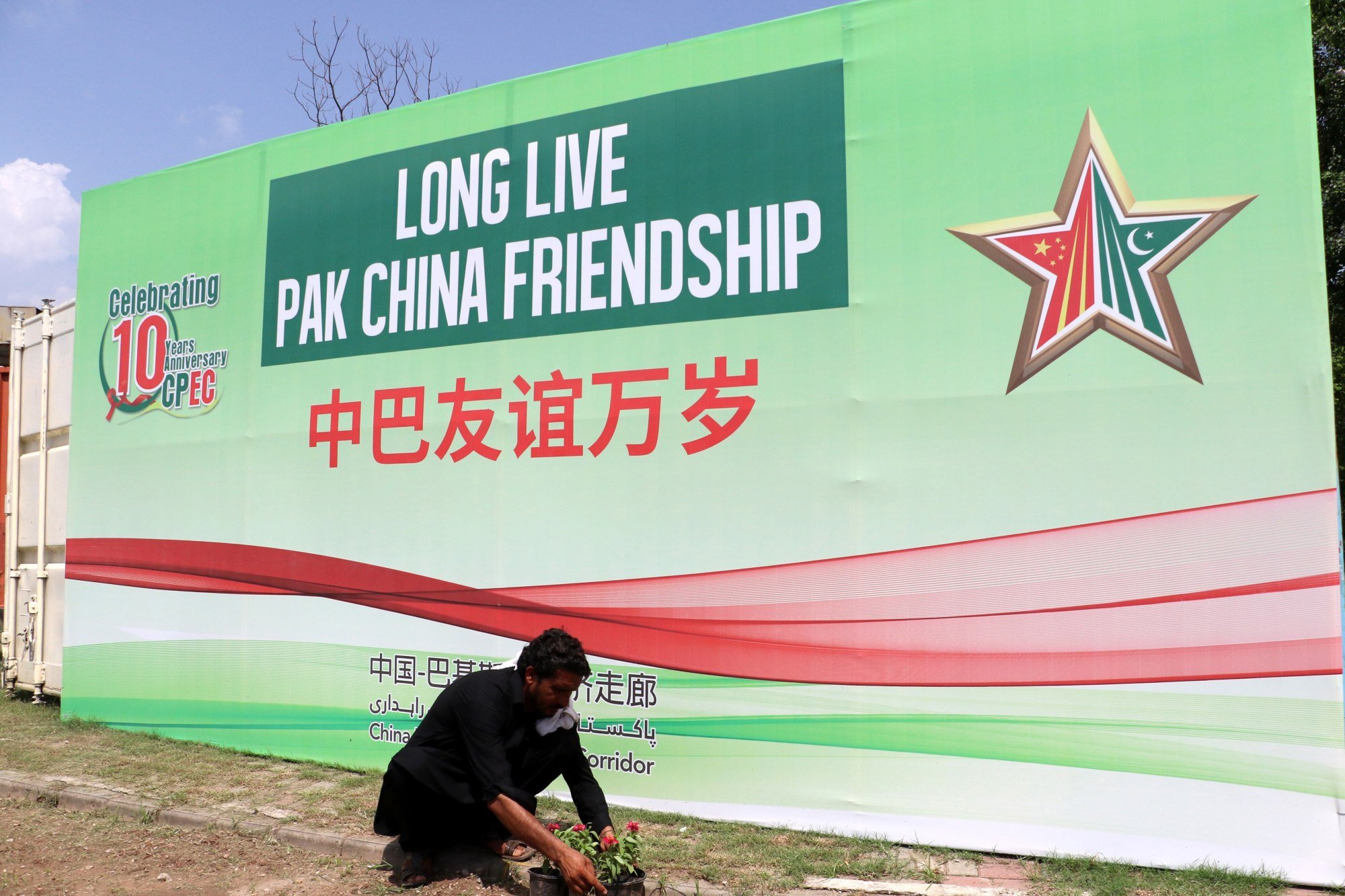 Arabic in China
But the number of Chinese nationals learning Arabic is growing fast because it has become a compulsory part of the curriculum in many state schools in China, and is now taught at 37 universities and institutes across the country.
"There are definitely more Chinese speaking Arabic than Arabs speaking Chinese, mainly because of the number of Muslim-Chinese," Baharoon said.
Considering the growing interest of China and Gulf Arab states in increasing cultural understanding, "it's not unusual to see a spike in interest in the Arabic language among Chinese who are opening businesses in the region", he said.
The rising economic and political status of Gulf countries "puts Arabic in high demand as an attractive option" for Chinese nationals seeking to learn a foreign language, Aboudouh said.
Arabic is "very useful if you are engaged in finance, commercial activities, investments abroad or even interested in diversifying your options", he said.
Similar motivations have driven the Saudi government's decision to make Mandarin an integral part of its secondary school curriculum.
The kingdom's decision reflects its policy of seeking to "benefit from the languages of technologically advanced countries", said Najah al-Otaibi, a Saudi political analyst based in London.
Previously, Saudi Arabia's schools and universities focused on teaching English and European languages to improve the job prospects of students.
"However, we are now seeing a desire among the leadership in Saudi Arabia to prepare a new generation of Saudis to become fluent in the Chinese language, due to China's increasing economic and political role," al-Otaibi said.
It is also "an opportunity for Saudi companies and individuals to better access the Chinese market and benefit from Chinese expertise and knowledge", she said.
https://www.scmp.com/week-asia/people/article/3234706/middle-easts-mandarin-push-sets-tone-convergence-china-trade?utm_medium=email&utm_source=cm&utm_campaign=enlz-thisweekinasia&utm_content=20230918&tpcc=enlz-thisweekinasia&UUID=3cfa84b1-c0ec-4ea5-a1bd-d24462221765&tc=10&CMCampaignID=958283ca35e610fed6da0ea8976cf04c