Auflösung des Infrastrukturinsvestitionsstaus: "Security Belt", chinesische BRI-Bullettrains versus Shinkansen in der Ukraine, Douhet-Musk versus China, GPS und Ariane 6
Auflösung des Infrastrukturinsvestitionsstaus: "Security Belt", chinesische BRI-Bullettrains versus Shinkansen in der Ukraine, Douhet-Musk versus China, GPS und Ariane 6
Global Review war bei CCTV und CRI damals eingeladen, als Gastkommentator des 18.und 19. Parteitags der KP China zu kommentieren. Soll man sich mit einer Diktatur einlassen? Interessant war, dass damals konstruktive Kritik an Arbeitsbedingungen, Wertevorstellungen und ökologischen Standards an der BRI äußern durfte, wenngleich dann wimm3r noch eine Passage nachgefügt wurde von der chinesischen Redaktion, dass die Greenness der Red Culture allinklusiv und synkretistisch und überhaupt in allen Belangen gegeben sie, wobei der vorbildliche Charakter Chinas neben seine "A Global Community of shared Future" , was sich erst mal sehr multikulturell zuerst angenommen und wahrgenommen wird, zumal von digital natives, die nur auf assozialen Medien kommunizieren, seit SMS ohnehin keine Texte über 140 Zeilen lesen, wenn sie nicht dazu gezwungen werden, , aber dann tendenziell doch sehr sino- statt euro- oder US- oder transatlantikzentrisch und nach der Rolle des angry white old man nun die chinesische Variante des angry yellow Chinese man and the other fat rocket man on a suicide mission. Ebenso wurde von CRI ein Gastkommentar zum XI- Trumpbesuch zensiert, da wir meinten, dass die Einschätzung, dass Trump nur ein unideologischer Businessman sei, der auf einen möglichst korrupten Great Deal statt Green Deal oder New Deal, hofft und man einfach mal sein 100- Punkte-Programm lesen solle und sein lecihtfertiges Infragestellen von nicht nur NATO oder US-Atomschirmen, sondern auch des Ein- China- Prinzips mit Einflüsterern Pompeo und Bolton, die, falls sie etwas zu sagen hätten, Taiwan schon morgen unabhängig erklären wollen mit US- Anerkennung als Staat und glauben die KP China würde dann nicht mit Krieg reagieren.
Vor allem aber wurde unser Artikel zensiert " Does BRI need a Security Belt", der frsgte, wie die VR China und Xi denn BRI sicherheitspolitisch und militärisch absichert und ob es nicht einen Sicherheitsgürtel für die BRI bräuchte. Das war doppelt "falsch": BRI ist ein rein Win-Win-ziviles Projekt ohne irg3ndwelche debt trap und so was ,wobei sie scheinba diesen Gedanken meinerseits schon selbst durchdachten, wenngleich noch nicht in einen die Global Security Iniitiatve gebracht hatten und dann auch überhaupt wurde diese Frage als Zweifel an den unerschütterlichen Xi Jingping- Gedanken gesehen und das geht gar nicht. Nun unter Xi wurden CRI, CCTV und all anderen Medien, indirekt über den inzwischen ausgetauschten Jack Ma und Alibaba die SCMP, Ausschalung vom Hongkonger Apple-Oligarchendissens,. als regelmäßige Kolumnen in der Global Times nun "Xi ´s Letters" nebst manchmal noch "Hus Voice, direkt unter einem Progagandaministerium gestellt und zu einer Agitpropeinheit der KP China und Xis verschmolzen, weswegen wir da als Gastkommentare auch nicht mehr erwünscht waren.
Eine interessante Übersicht über Chinas Security Belt entlang der BRI gibt heute ein Artikel der DDP- nahen Taipeh Times, die die "Militärdiplomatie" und damit den "Security Belt" entlang der BRI und Chinas kurz zusammenfasst:
"Sun, Oct 01, 2023 page8
China's lagging military diplomacy
By Antonio Graceffo
On Sept. 13, the Chinese People's Liberation Army (PLA) concluded its fifth annual joint training exercise with Singapore's armed forces. In March, the PLA conducted joint training with Cambodia's army. In February, BRICS members China, Russia and South Africa conducted joint naval drills. These exercises were all part of Beijing's military diplomacy campaign.
Military diplomacy deploys armed forces for foreign policy goals. Interaction between a nation's military and foreign entities can achieve diplomatic goals and bolster security. China is increasingly leveraging its military for engagement and diplomatic advantages.
China's exercises facilitate overseas training for its troops and provide practice in deploying and resupplying at distance. Military exchanges also foster alliances and enhance the PLA's collaboration with foreign forces, boosting China's global military presence.
China ranks third in firepower after the US and Russia, but aims to surpass the US as the dominant global military power by 2050. Apart from troop and weapon numbers, strengths of the US include its alliances and its ability to wage war from bases overseas. The US has 750 military bases across 80 countries. It is a leading member of the world's largest military alliance, NATO, as well as AUKUS with Australia and the UK and the Quadrilateral Security Dialogue with Australia, India and Japan.
Furthermore, the US has bilateral defense agreements with the Philippines, Japan, South Korea and others, while also providing security for nations such as Saudi Arabia.
Through military diplomacy, China hopes to emulate and overcome the US' advantages.
In addition to joint exercises, China's military diplomacy incorporates defense cooperation, overseas bases, private security companies, providing weapons and technology, counterterrorism, humanitarian assistance and regional security forums. Progress in these areas has varied, with some successes and some non-starters.
Defense cooperation is an area where China has been unable to make headway. Its only official defense agreement is with North Korea. The establishment of overseas bases has been slow: China has a base in Djibouti, air and naval facilities in Cambodia, as well as surveillance bases in Argentina, Cuba and on one of Myanmar's islands in the Bay of Bengal. China has also obtained the right to deploy security forces to protect Chinese investments in more than 40 countries.
Chinese police, the PLA and private security companies have been sent to several countries in Asia, Africa and Latin America. Through a combination of military diplomacy and investment and trade agreements, China might yet be able to secure more overseas bases.
Beijing has had mixed success selling weapons and technology. It is one of the world's top five arms exporters, but its weaponry lags behind Russian and US alternatives. Russia, despite needing weapons for its war in Ukraine, has overtaken China as the largest supplier of weapons in Africa. US-aligned nations such as EU states, the Philippines, Japan and Vietnam rarely buy Chinese arms, highlighting the link between diplomacy and arms sales.
Joint counterterrorism exercises, like the ones conducted with Singapore, are sometimes used as a less-threatening means of engaging with the security forces of another nation, which might be wary of hosting a Chinese base or participating in joint training. China has conducted similar exercises or training for local forces in Africa. In March, China led the China-Pakistan-Iran Trilateral Consultation on Counterterrorism and Security.
Humanitarian assistance and peacekeeping operations are a means of giving PLA troops operational experience in other countries, while enhancing China's global standing. The PLA has participated in UN Blue Helmet peacekeeping and counterpiracy operations in Africa, as well as police operations in Haiti.
Regional security forums have had extremely mixed results for China. On the one hand, it has convinced other countries to participate in such events. On the other, no defense agreements have been signed and countries rarely agree to host Chinese bases. China participates in a number of regional security forums and organizations, including the Shanghai Cooperation Organization, the ASEAN Regional Forum and the Beijing Xiangshan Forum. These platforms give it an opportunity to engage with neighboring countries and discuss regional security threats.
The irony is that China is the largest regional security threat.
Taiwan is threatened by a Chinese invasion and is often blocked from attending Chinese-led forums. Taiwan, Brunei, Malaysia, the Philippines and Vietnam have disputes with China in the South China Sea. The Permanent Court of Arbitration has found Chinese claims to be without merit.
India has fought two border conflicts with China in the past two years. Beijing's most recent official map includes territory that belongs to Taiwan, India, Malaysia, the Philippines and Russia, evoking official condemnations from its neighbors.
Manila has had numerous run-ins with Chinese maritime units. In April, it augmented its defense ties with Washington, specifically as a countermeasure to China. Most recently, Philippine President Ferdinand Marcos Jr ordered a barrier to be cut that China installed when laying claim to a Philippine fishing area.
In addition to the Sino-Vietnamese War of 1979 and an oil rig incident in 2014, Vietnam has ongoing disputes with China regarding the South China Sea and Mekong River water resources. These conflicts have pushed Vietnam deeper into the US' sphere of influence. Hanoi and Washington this month upgraded their relationship to a "comprehensive strategic partnership." In 2016, the US lifted its arms embargo on Vietnam and is now one of its major arms suppliers. Following a recent attack on a Vietnamese fishing vessel by the Chinese Coast Guard, the US transferred two of its coast guard vessels to Vietnam and plans to send more.
Vietnam's government has also expressed interest in obtaining F-16 jets and unarmed drones.
While China has made some headway in military diplomacy, and some countries are willing to accept weapons and training from it, few trust Beijing enough to sign bilateral defense agreements or host Chinese bases. Its aggression, particularly in the South China Sea, is undermining its military diplomacy and preventing it from building meaningful alliances.
Antonio Graceffo, a China economic analyst who holds a China-MBA from Shanghai Jiaotong University, studies national defense at the American Military University in West Virginia.
https://www.taipeitimes.com/News/editorials/archives/2023/10/01/2003807021
Folgender Artikel zeigt auch auch noch, inwieweit China überhaupt in der Lage ist oder sein will, sein BRI – Projekt auch militärisch abzusichern, wenn es dies nicht einmal so richtig in Zentralasien statt Rußland kann.
Auch wird schon überlegt, inwieweit China denn Russland als militärische Macht in Zentralasien ersetzen könnte, nachdem die CSTO scheinbar eher funktionslos geworden ist und unklar ist, ob Putin Kasachstan nochmals so aus der Klemme helfen könnte. Momentan hält man das für eher unwahrscheinlich, da es gegen Chinas bisherige Politik spreche, dass man keine militärischen Interventionen in anderen Ländern mache, auch um solch ein Desaster wie die USA im Irakkrieg oder Afghanistan nicht erleben zu müssen, auch aus Imagegründen , wenngleich über die Global Security Initiative über sogenannte Private Militär- und Sicherheitsfirmen und Ausbildung fremder Militärs da schon Netzwerke errichtet werden nebst sogenannten Friedensinitiativen, doch da China bis 2049 en Militärweltmacht wie die USA werden wollen, könne sich dies zukünftig vielleicht dann doch ändern:
"Why didn't China send troops to aid Kazakhstan?
THE ASSOCIATED PRESS
January 14, 2022 at 12:30 JST
BEIJING–China gave strong verbal backing to Kazakhstan's leader for his deadly crackdown to quell violent unrest, but stood aside as Russia sent in special forces troops.
Resource-rich Kazakhstan, on China's western border, has economic and strategic importance for Beijing and is an important link in its "Belt and Road" infrastructure initiative to expand its global trade and political influence in rivalry with the U.S. and its allies.
China's response to the crisis underscores how it prefers to influence outcomes with verbal assurances and offers of assistance, without committing troops.
"The growing closeness between Russia and China means we can expect more rhetorical support for Moscow's overseas ventures, particularly when they go up against Western geostrategic aims," said Rana Mitter, an Oxford University China expert.
"However, China remains extremely reluctant to deploy People's Liberation Army troops outside its own territory, except in areas such as U.N. peacekeeping operations, as it would contradict its constant statements that unlike the U.S., China does not intervene in other countries' conflicts," Mitter said.
WHAT ARE CHINA'S GOALS IN CENTRAL ASIA?
Since the demise of the Soviet Union, China has steadily expanded its economic and political influence in a region that Russia considers its own backyard. As the largest and by far the wealthiest Central Asian state, Kazakhstan is key, acting as the buckle in China's "Belt and Road" initiative, and its authoritarian politics act as a bulwark against democratic movements in Ukraine and elsewhere that China derides as Western-engineered "color revolutions."
China's ruling Communist Party, which violently repressed its own pro-democracy challenge in 1989, views such movements, whether in Georgia or Hong Kong, as a threat to its own stability. In a message to Kazakh President Kassym-Jomart Tokayev amid the unrest, Chinese leader Xi Jinping said his country would "resolutely oppose external forces deliberately creating turmoil and instigating a 'color revolution' in Kazakhstan."
China's position dovetails with its strident opposition to outside criticism of its policies, whether its human rights record or its expansive territorial claims in the South China Sea, as meddling in its internal affairs.
China's influence in Central Asia still has limits, however, and Kazakhstan may feel uneasy about inviting in Chinese troops, given China's harsh treatment of ethnic Kazakhs and other Muslim minorities within its borders, said Steve Tsang, director of the China Institute at the University of London's School of Oriental and African Studies.
"An important element of China's foreign policy under Xi is to make the world safe for authoritarian states and stop color revolutions from spreading," Tsang said.
WHEN DOES CHINA INTERVENE?
China frequently vows retaliation for any criticism of its policies, especially when the offenders are the U.S. and its allies. It is far friendlier with autocrats, pledging non-interference and cooperation with whomever is in power, regardless of their records on human rights and corruption.
That's evidenced in its dealings with regimes that others criticize, from Myanmar's military leaders to Hungary's Viktor Orban. While not recognizing the Taliban, it is hedging its bets in Afghanistan by working with the country's current rulers, despite their espousal of the form of radical Islam that Beijing has sought to keep from infiltrating its restive, largely Muslim region of Xinjiang, which shares a narrow border with Afghanistan and a much larger one with Kazakhstan.
China generally reserves action, military and otherwise, for cases in which its own security is perceived as threatened, as in the 1950-53 Korean War, or more recently, in violent incidents along its disputed border with India, and especially with Taiwan, which China threatens to invade if it doesn't agree to unite. Beijing responded with ruthless trade and diplomatic retaliation against Lithuania when the tiny Baltic nation broke with diplomatic convention by allowing Taiwan to open a representative office in Vilnius under the name "Taiwan" instead of "Chinese Taipei."
HOW DOES CHINA VIEW MILITARY ALLIANCES?
Troops, mostly from Russia, were deployed to Kazakhstan last week by the Collective Security Treaty Organization, a grouping of six former Soviet states, at the president's request amid unprecedented violence. China officially eschews such security alliances, although The Shanghai Cooperation Organization, which Beijing dominates along with Moscow, has a security component, currently limited to joint training and other non-combat missions.
Unlike the CSTO, there is "no agreement about sending troops from member countries of the SCO," Chinese international security expert Li Wei said. "In addition, China sticks to the fundamental principle of not using force in other countries."
U.N. Peacekeeping Operations remain the rare exception, and China is quick to point out that it is the largest contributor of forces to such missions among the five permanent members of the U.N. Security Council.
Given the growing might of China's military, some experts expect Beijing to become more amenable to military interventions in the future. Oxford's Mitter also points to a growing "grey zone" of Chinese private security enterprises that can be used to protect Chinese interests "without any formal government intervention."
https://www.asahi.com/ajw/articles/14521814
Ach interessant, dass Japan jetzt die Ukraine mit einem Shinkasen ausrüsten will. Das scheint so die japanische Antwort auf BRI.
"Ukraine looks to Shinkansen to build rails to Western allies
THE ASAHI SHIMBUN
September 29, 2023 at 07:00 JST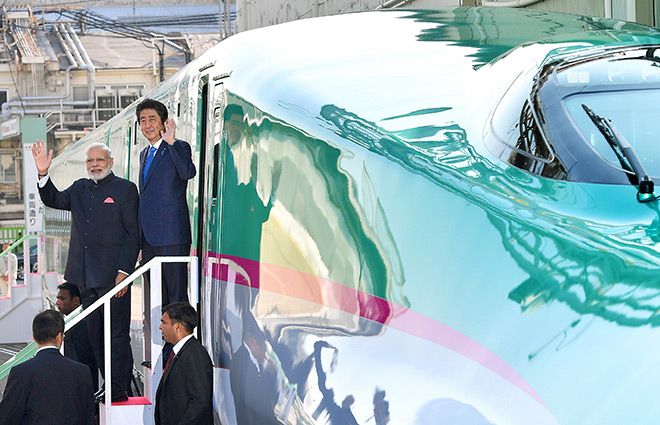 Prime Minister Shinzo Abe, right, and Indian Prime Minister Narendra Modi examine an E5 series Shinkansen at a Kawasaki Heavy Industries Ltd. facility in Kobe in November 2016. (Asahi Shimbun file photo)
Ukraine is eagerly looking to Japan's super-safe Shinkansen system to bolster the war-torn nation's recovery from the devastation of the Russian invasion.
This provides a ripe opportunity for Japan to publicize its high-speed train system as it has been stepping up efforts to export its railway technology abroad.
In late May, a Japanese government insider heard Ukrainian ambassador Sergiy Korsunsky request that "Japan's Shinkansen be included as part of rebuilding support" after the Group of Seven summit in Hiroshima.
Ukrainian Deputy Prime Minister Oleksandr Kubrakov, who is in charge of infrastructure, reportedly also expressed interest in bullet trains in mid-June while he was visiting Japan for a meeting to discuss Ukraine's economic reconstruction.
However, there are significant obstacles to clear before the project can become a reality.
MATTER OF RAIL WIDTH
In addition to making Ukraine's transportation system faster with Japan's Shinkansen technology, the rail reconstruction project also presents an opportunity for Ukraine to strengthen ties with Western Europe–and diminish Russian access.
Ukraine, as a member of the former Soviet Union, currently uses 1,520-millimeter-wide train tracks throughout the country, as is standard in Russia. This consistency has allowed Moscow to transport personnel and supplies to Ukraine smoothly during their invasion efforts.
On the other hand, Poland and other Western European countries rely on 1,435-mm-wide rails–as do Japan's Shinkansen.
The difference in track standards forces passengers and cargo to change trains on trips between Ukraine and its Western neighbors.
In May last year, Ukrainian Prime Minister Denys Shmyhal announced plans to change the country's rail width to be consistent with the European criteria.
The decision to improve passengers' accessibility to the Western states, and reduce Moscow's clout, was seen as key to the envisioned rebuilding of Ukraine's railway network–and makes Japan's Shinkansen, running on its 1,435-mm tracks, ideal candidates for the project.
JAPAN EAGER TO EXPORT
The Japanese government has been beefing up infrastructure facilities exports as part of its economic growth tactics, wary of the shrinking domestic market and the dwindling birthrate within Japan.
The Shinkansen is viewed as one of the most promising offerings under the national endeavor–boasting an untarnished record of zero fatal accidents from derailments or collisions over the course of more than 50 years since the punctual, high-speed rail system's opening.
In 2007, a high-speed transit network utilizing Japanese bullet train technology opened in Taiwan for the first time.
Japan is also looking to share its technology used for the Tokaido Shinkansen Line with the United States, in the hopes of linking Dallas with Houston in vast Texas.
A similar initiative is under way to build a Shinkansen line between Bangkok and Chiang Mai in Thailand, while Vietnam is looking to connect Hanoi and Ho Chi Minh City with a bullet train line.
OBSTRUCTIONS ON THE TRACK
However, Japanese Shinkansen export efforts face growing competition from other nations.
Japan lost the bid to China to build a rapid rail network for the Jakarta-Bandung route in Indonesia.
The governments of Malaysia and Singapore have already dropped their plans to lay a Shinkansen track between Kuala Lumpur and Singapore.
Local uncertainties can also present challenges that hamper the seamless launch of a bullet train line.
For example, the leaders of Japan and India agreed in 2015 to develop a Shinkansen line between Mumbai and Ahmedabad. The intention was to export East Japan Railway Co. (JR East)'s E5 series, which is currently running in Japan on the Tohoku Shinkansen Line.
However, difficulty in acquiring land and other obstructions have delayed production so significantly that completion is predicted to be in 2028 rather than 2023.
Meanwhile, costs have ballooned to 3 trillion yen ($20.32 billion) from the initial estimate of 1.8 trillion yen.
The Japanese government extends loans that are to be repaid over 50 years at an annual interest rate of 0.1 percent to cover construction costs.
This extraordinarily generous assistance is part of the state's comprehensive support to lessen the substantial risk of such large construction projects.
Despite this, some still question whether the Shinkansen service can turn a profit as a private business.
For Ukraine, the prolonged war makes even conducting an on-site survey, a necessary procedure before building rail tracks, unrealistic for the near future.
The United Nations Development Program list mine clearance, debris removal, energy supply support and other such initiatives as reconstruction priorities.
A Japanese government insider agreed, saying, "Utilities for power, water and heating have to be restored to their former state within one to two years.
"Reconstruction programs like one concerning Shinkansen should be weighed under a 10-year strategy following that."
(This article was written by Shinkai Kawabe and Go Taka)
https://www.asahi.com/ajw/articles/14999684
Chinaexperte Professor van Ess meinte:
"Interesssant, dass die sich anscheinend nicht für den ICE interessieren."
Die Ukrainer  haben vielleicht halt von der DB, deutschen Verspätungen und Unfällen gehört, dann lieber japanische Gründlichkeit und nur das Beste vom Besten für die Ukraine, vielleicht zahlt es auch noch die EU. Fehlt nur noch der Transrapid ,aber der ist jetzt in chineischen Händen und fährt nur von Pudong zum Shanghaier Flughafen als Disneylandtouristenattraktion. Interessant auch ,dass von Houston nach Dallas ein Shinkansen fahren soll. Make America Great again.  Dürfte aber kein chinesischer Schnellzug sein. Scheinbar läuft in den USA nicht nur die Teststrecke in Florida. Ist der Shinkansen eigentlich elektrisch oder Diesel? Wenn elektrifiziert, wäre da vielleicht ein Anteil für Siemens drinnen. Muss mal Brad als CEO von Siemens Health in den USA ansprechen, der ja angeblich Joe Kaeser und den Nachfolger kennt. Great man! Make Germany Great again! What is good for Siemens, is good for Germany and the world! Scheinbar aber der ICE nicht für Europa, sondern Shinkasen für die Ukraine und vielleicht mit Giorga Meloni und dem britisch- italienisch-japanischen Kampfbomberprojekt auch für das europäische Eisenbahnnetz, falls nicht neue Austeriätspolitik den zweite Delorsplan und eine europäische Seidenstrasse in die Knie zwingt? Der ICE und Siemens nicht für Europa, sondern Shinkasen und der Rest des ICE und von Siemns/Krupp für Ägypten?
Wobei man auf die neue deutsche Bagdadbahn von Siemens (wie damals die Deutsche Bank wie bei Trump und dem russischen Oligarchen nach dem Herrhausattentat) jetzt unter Al-Sissi ein Hochgeschwindigkeitsbahnnetz in Ägypten vorantreibt. Mit deutscher Pünktlichkeit und Präzision und Ingenieurstechologienation wie beim BER dann doch lieber die Japaner? Al Sissi hat sich aber für Siemens/Krupp entschieden. Shinkansen statt Siemens/Krupp, die jetzt von dem tschechischen Oligarchen zu 50% ihrer Aktienanteile und Stimmrechte nebst dann  Personalrochaden, ja vielleicht auch für einen oder anderen spektakulären Personalwechsel bei billigen Temelin-AkW-Strompreisen vornimmt ,ähnlich wie Trump bei der GOP. Aberdas begann schon vor und dann unter George W. Bush jr. mit Newt Gingrich und Sarah Palin als Vizekandidatn von dann John Mc Cain samt Tea Partybewegung? Noch interessant auch, ob Giorgia Meloni nun eine von Italien initiierte europäische Seidenstraße als europäisches Zugnetz wie der Delors-Plan der 90er wiederauferstehen lässt und wiederbelebt und auch materiell hinterlegt, der infolge des Neoliberalismus und Anti-Keynesianismus gecancelt wurde, zumal Giorgia ja auch noch mit Berlin, Italien, Israel ,SA und Indien als hubs des Indien-EU-Middle East Economic Corridor ein ganz großes multilaterales Mare Nostrum entwirft.
Doch, wo wir bei deutschen und europäischen Seidenstraße und Infrastrukturprojekten bleiben, Global Gateway und auch B3W, und Zugnetzen, ist die Konkurrenz schon im Douhetschen Sinne in Sachen Luftüberlegenheit in der nächsten Runde mittel sElon Musk nd Jeff Bezzoes und fernab von kontinentalen Eisenbahnmodellbau. Hoffentlich nach dem ICE, nicht auch noch Arianne 6. Sonst gibt es wieder wütende Shitstorms bei Musk und Bezzos samt riot-rot-grüner Betroffenheit, dass Musk jetzt auch die Ampel für die Migrationskrise verantwortlich macht. Wie war das mit den Ukrainekrieg-erprobten Satelliten ,die Musk jetzt gegen Chinas neues Weltraumsatelittenentz von geplante 35ßßß Satellitten in den Weltraum schiessen will, um zu zeigen, dass GPS, Arianne 6 und Gallileo und auch die Chinesen samt der staatlichen NASA die rückständigen Looser sind, zumal die auch keinen Großen Führer und einer der vielzitierten Narzisten und /oder Visionäre ( weil oder nicht weil? Das ist hier die Frage) haben, der Charisma und Personenkult genial vereinigt und auch schon mal  wie Trump auf der Kaufhausrolltreppe Homer Simpson in Springfield besuchte, anfangs in Moe's Bar, wobei dem Elon seine genialen Ideen bei Homers Biergelalle entsprangen und dann den AKW-Chef Mr.Burns zur Verzweiflung treibt und die Stadt "abschafft" mit Hungerküchen- und Arbeitslosenschlangen, nach einem Hyperloop-Tuberide kotzenden Goldtesthamster und solarbestückten Vogelhäusern. Jedenfalls hat Musk sich in die Migrationskrise in Deutschland mit sogar angeblichen AfD-Wahlaufruf in innere DEUTSCHE Angelegenheiten eingemischt haben ,auch eine der sogenannten Friedenspläne für die Ukraine mit Aufruf zur Einstellung der Waffenlieferungen. Dementsprechend hat Annalena Baerbocks AA nun über Musk deutliche Worte verlauten lassen. Wird Musk der Soros der Rechten? Man dachte ja das wolle Victor Orban mit seinem Matthias Corvenius Zentrum oder Putin es mit Yakunins Dialogue of Civilization, oder Xi mit der Global Xivilization Initiative wollen?
Und die Xivilization dehnt sich auch mittels Zug- und Brückennetzen aus. Neben der zunehmenden Integration des Greater Bay Areas auch um Hongkong, scheint die Fujianprovinz der Brückenkopf für die versuchte ökonomische Infiltration. Zum einen das Treffen mit taiwanesischen Geschäftsleuten und Studenten in der Fujianprovinz, dann neue Maßnahmen zur ökonomischen Durchdringung der taiwanesischen Inseln von Kinmen bis Matsu. Nun als nächstes eine Hochgeschwindigkeitszugbrücke ,die in Zukunft auch über die Taiwanstraße führen soll. Das wäre dann aber wohl eine 100 km-Brücke, zudem könnte man damit auch Truppen transportieren. Vielleicht bietet China Taiwan demnächst noch an,Teil der BRI zu werden.
"China's first 350km/h sea-spanning high-speed railway to open in E.China's Fujian
By Tao Mingyang Published: Sep 27, 2023 10:06 PM
A Fuxing bullet train commences a test operation along the Fuzhou-Xiamen high-speed railway on September 4, 2023. Photo: VCG

China's first sea-spanning high-speed railway capable of a top speed of 350 kilometers per hour is expected to start service in East China's Fujian Province on Thursday. The line shortens the travel time between Fuzhou and Xiamen to at most 55 minutes in a bid to enhance the connectivity between the two major cities in the province, the Xinhua News Agency reported on Wednesday.

With a total length of 277 kilometers, the railway starts from Fuzhou, passes through Putian, Quanzhou and Xiamen and ends in Zhangzhou.

The high-speed railway is yet another intelligent railway route to enter commercial service following the Beijing-Zhangjiakou high-speed railway and Beijing-Xiong'an high-speed railway, demonstrating new progress in the intelligentization of China's high-speed railway technology.

The railway was designed using the latest modeling technology based on digital information, which realized the integrated management of high-speed railway's design, construction and operation.

The BeiDou Navigation Satellite System, intelligent robots and environmentally friendly materials were adopted to facilitate the construction of cross-sea bridges. An intelligent command and dispatch system is used to ensure trains stay on schedule and operate efficiently. A big data analysts system can monitor and report all potential weather disasters, ensuring the safe operation of each train on the route.

The opening of the railway connects multiple cities along Southeast China's coast and forms a belt full of tourism sites. It will also form a high-quality traffic channel connecting Ningbo in East China's Zhejiang Province and Guangzhou in South China's Guangdong Province with other high-speed railway routes that have already been completed or are still under construction.

Wang Jianmin, a senior cross-Straits expert at Minnan Normal University in Fujian Province, told the Global Times that the opening of the Fuzhou-Xiamen high-speed railway shows China has the technological ability to build a cross-Straits railway.

"What's more, it also offers expectations for people on the both sides of the Straits that the railway will be the foundation of a cross-Straits railway in the future," said Wang.
https://www.globaltimes.cn/page/202309/1299057.shtml
Chinaexperte Professor van Ess meinte dazu:
"Zunächst mal ging es ja wohl darum, die Städte an der Küste besser miteinander zu verbinden. Fujian ist zerklüftet und einzelne Städte deshalb traditionell schlecht erreichbar (bin allerdings vor 4 Jahren von Fuzhou nach Quanzhou gefahren. Das ging damals schon sehr gut). Von Quanzhou bis Taichung wäre das aber doch eine Brücke von deutlich über 200 Kilometern. Das wird noch ein bisschen dauern."
Erinnert ein wenig an Sizilien. Seit Jahrzehnten tauchte immer das Pollitikerversprechen auf, zuletzt unter Berlusconi, dass man eine Brücke von Italien nach Sizilien bauen wolle. Ob die Sizilianer und die Mafia das auch so wollen? Aber ebenso hat man immer auch versprochen, dass Süditalien und das Mezzogiorno industrialisiert und e entwickelt wird, aber das Gefälle ist anders als in Deutschland geblieben ,da haben ja Bayern und BaWü das Ruhrgebiet und NRW abgehängt und quasi die Rollen getauscht, wovon auch die Ruhrpott- Blogger "Ruhrbarone" immer trefflich zu klagen wissen.
Doch dem nicht genug, errichtet China und nicht Japan/ Shinkansen, Amtrak-USA oder ICE-Deutschland die erste Hochgeschwindigkeitsstrecke in Südostasien- von Indonesiens Jakarta nach Bandung, als Projekt der chinesischen Seidenstraße BRI.
"Indonesia set to launch S.E. Asia's first high-speed railway
THE ASSOCIATED PRESS
October 1, 2023 at 13:00 JST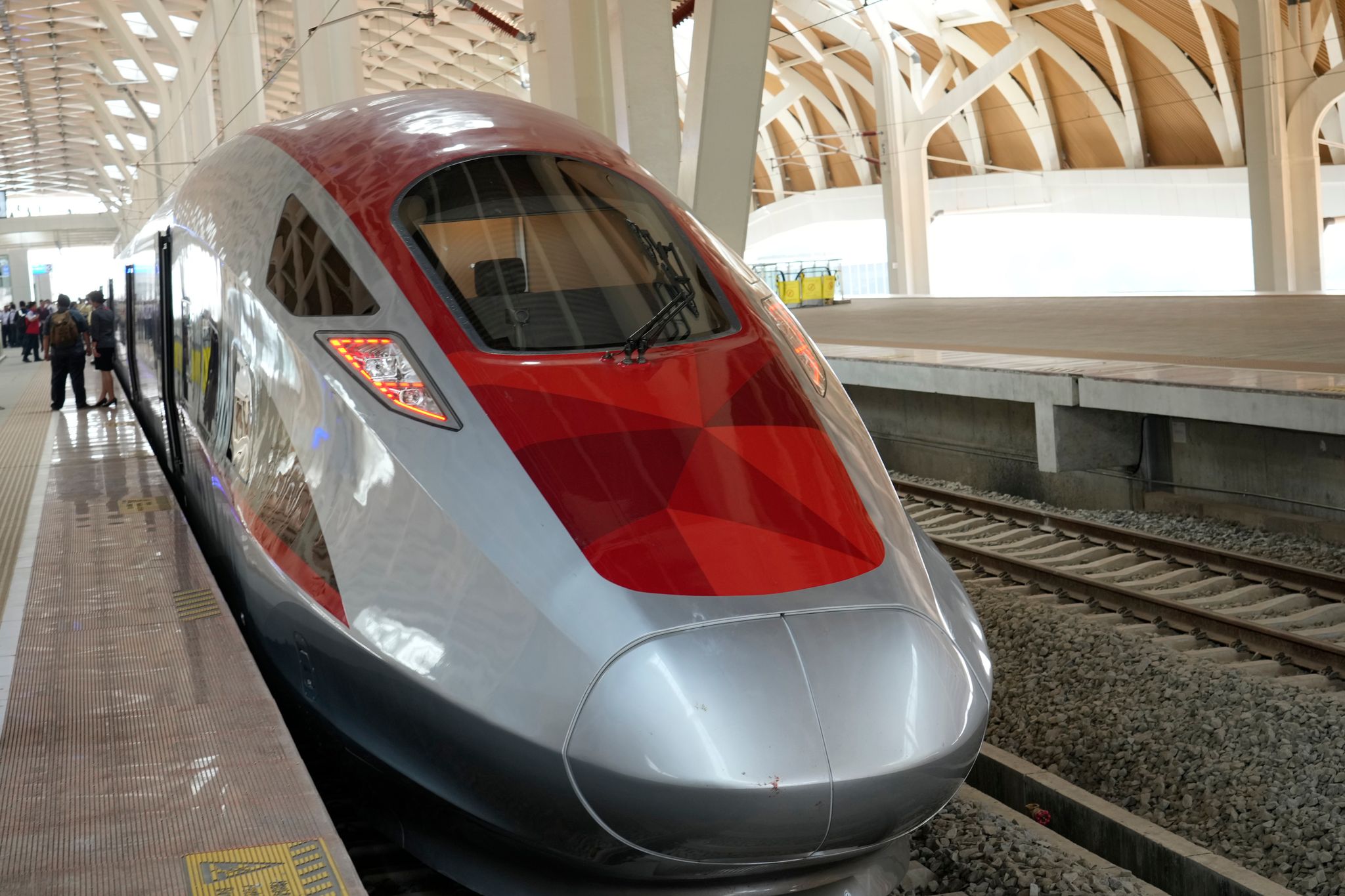 A high-speed train is parked during a test ride at Halim station in Jakarta on Sept. 18. (AP Photo/Achmad Ibrahim
JAKARTA–Indonesia is launching Southeast Asia's first high-speed railway, a key project under China's Belt and Road infrastructure initiative that will cut travel time between the capital and another major city from the current three hours to about 40 minutes.
The project has been beset with delays and increasing costs, and some observers doubt its commercial benefit, but President Joko Widodo has championed it and will be inaugurating the 142.3-kilometer railway as it begins commercial operations Oct. 2.
The Chinese-made bullet train, called "Whoosh," will connect Jakarta with Bandung, the heavily populated capital of West Java province. Widodo, along with other high-ranking officials, is expected to ride the Whoosh from its first station, Halim KCBJ in eastern Jakarta to Bandung's Tegalluar station, the last of the line's four stations.
The $7.3-billion project, largely funded by China, was constructed by PT Kereta Cepat Indonesia-China, known as PT KCIC, a joint venture between an Indonesian consortium of four state-owned companies and China Railway International Co. The joint venture said the trains will be the fastest in Southeast Asia, with speeds of up to 350 kph.
Luhut Binsar Pandjaitan, the coordinating minister for maritime and investment, said China Railway has agreed to transfer its technology to Indonesia so that in the future the country's high-speed trains can be made domestically.
Chinese Premier Li Qiang took a test ride early last month while visiting Jakarta for three days of talks with leaders of the Association of Southeast Asia Nations and other countries.
Li rode the train from Halim KCBJ station to the next station ,in West Java's Karawang city, a 40-kilometer ride that took about 11 minutes. He then returned on the same train.
Widodo took a 25-minutes test ride on the train a week later and told reporters that he felt comfortable sitting or walking inside the bullet train even at its top speeds.
He urged people to switch from cars to mass transportation to reduce congestion and pollution, adding that congestion in Jakarta and Bandung is estimated to cost the economy more than $6.5 billion a year.
PT KCIC has also been running a two-week, free-of-charge public trial prior to the inauguration.
Indonesia broke ground on the project in 2016. The line was originally expected to begin operations in 2019, but was delayed by disputes over land acquisition, environmental issues and the COVID-19 pandemic.
It was planned to cost 66.7 trillion rupiah ($4.3 billion), but the amount ballooned to 113 trillion rupiah ($7.3 billion).
The trains have been modified for Indonesia's tropical climate and are equipped with a safety system that can respond to earthquakes, floods and other emergency conditions. The 209-meter train can carry 601 passengers.
Ticket prices had not been finalized as of Sept. 30, but PT KCIC estimated one-way prices per passenger would range from 250,000 rupiah ($16) for second class to 350,000 rupiah ($22.60) for VIP seats.
Passengers going to downtown Bandung need to take a feeder train from the Padalarang station that will add a further 20 minutes, with an estimated cost about 50,000 rupiah ($3.20).
The rail deal was signed in October 2015 after Indonesia selected China over Japan in fierce bidding. It was financed with a loan from the China Development Bank for 75 percent of the cost. The remaining 25 percent came from the consortium's own funds.
The project is part of a planned 750-km high-speed train line that would cut across four provinces on Indonesia's main island of Java and end in the country's second-largest city, Surabaya.
"I'm so happy and very excited that finally we can ride a bullet train in Indonesia," said Christianto Nusatya, a Jakarta resident who joined a public test ride last week. "But still, I would prefer to choose a regular train or car, because Jakarta-Bandung is too short and not worth it to be reached by high-speed train."
Deddy Herlambang, executive director of the Jakarta-based NGO Institute for Transportation Studies, said the public does not really need a high-speed train on the Jakarta-Bandung route because there were already many other ways of traveling between the two cities.
He said the bullet train would have a significant economic impact if it connected Jakarta and Surabaya. However, he was pessimistic that the railway project would make a profit in less than 30 years of operation.
"The high-speed train cannot replace the old transportation that previously existed," Herlambang said, "People, of course, will prefer to use far cheaper modes of transportation for short distance trips."
https://www.asahi.com/ajw/articles/15018527
Zeitenwende zudem in Japan. Die Infrastruktur und Flugplätze werden modernisiert und ausgebaut auch im Hinblick auf militärische Nutzung und einen Taiwankonflikt. Wie sieht das eigentlich in Deutschland aus? Von solchen Plänen habe ich noch nichts gehört.
"Sun, Oct 01, 2023 page2
Japan's plans have Taiwan focus
RUNWAY UPGRADES: Airports and ports mainly scattered around southwestern Japan are being given major overhauls, primarily serving as civilian-use facilities
By Lin Tsuei-yi and Jonathan Chin / Staff reporter in TOKYO, with staff writer
Japan has chosen 33 airports and ports as candidates for improvement to enhance military capabilities, with a particular focus on infrastructure that could be utilized in a Taiwan emergency, according to a recent report in Japan's Nikkei Shimbun.
Citing the Japanese government's fiscal budget proposal for next year, the newspaper said Toyko is to name some facilities as essential bases and receive funding for upgrades in line with the revamped national security strategy published last year.
According to an unofficial policy document drafted last month and reviewed by the Nikkei, the Japanese government designated 14 airports and 19 ports for improvement, including 16 facilities in the Ryukyu Islands encompassing Okinawa, as well as Kyushu and Shikoku.
The selection of the sites suggests a concern with areas near China, a country of surging military capabilities that analysts say could become the focal point of a major conflict in Asia, it said.
New Ishigaki, Miyako and Naha in Okinawa, Kagoshima and Miyazaki in Kyushu, and Kochi in Shikoku are among the airports listed in the government's plan, the Nikkei said.
These airports could be used as bases for the Japan Self-Defense Forces to deploy troops and supply Taiwan with fuel and food in case of a contingency, the newspaper said.
Yonaguni, New Ishigaki and Miyako airports with their 2,000m-long runways are difficult places to take off or land for heavy military transport aircraft including Japan's Kawasaki C-2, capable of moving 100 people, it said.
The capability to accommodate heavy cargo planes would enable the evacuation of local residents if necessary, the newspaper said.
Other airports are being considered for runway extensions and installation of a variety of improvements encompassing new parking lots, taxiways and hangars that would allow their utilization by the Japan Self-Defense Forces and Coast Guard, according to the Nikkei.
A civilian runway of 2,500m or more that is easy to use for defense purposes is a security asset for Japan, a senior Japan Self-Defense Force official was quoted as saying.
Japan is eyeing Yonaguni Island for a new port capable of accommodating escort and patrol vessels, while the docks at Ishigaki, Hirara and Naha ports in Okinawa, Kumamoto port and Hakata port in Fukuoka are to be overhauled, Nikkei said.
Facilities in Hokkaido and Fukui prefectures, which respectively have to deal with Russian and North Korean threats, are also to be upgraded, the Nikkei said.
The list of airports and ports to receive improvements is classified and its content is subject to change, it said.
Japan has begun briefing local officials on its plans and ranking members of the government already visited Miyako over the matter of refurbishing Miyako Airport and the Port of Hirara, Nikkei said.
https://www.taipeitimes.com/News/taiwan/archives/2023/10/01/2003807039