Lage im Indopazifik zwischen Gazakrieg und Global AI Safety Summit: Keine Taiwankrise "in the near term"
Lage im Indopazifik zwischen Gazakrieg und Global AI Safety Summit: Keine Taiwankrise "in the near term"
Zeitgleich mit den zunehmenden Kontakten zwischen den USA und China und nachdem nun nach Treffen mit Yellen, Blinken und der Errichtung einer Arbeitsgruppe auch Militärkontakte vielleicht mit Austin im Gespräch sind und ein XI- Biden-Treffen am Rande des APEC.-Gipfels im November und ein Revival des "Spirit of Bali", also dem  letzten Biden-Xi-Treffen beim G20- Gipfel in Indonesien, erhofft wird, relativiert ein Bericht des US- Verteidigungsministeriums die ansonsten an die Wand gezeichnete "Chinagefahr"/"China Threat", früher die "Yellow Peril":
"Sun, Oct 29, 2023 page3
PLA worried about war readiness: US
NATIONAL INSECURITY: PLA slogans suggest it has concerns about whether it and its commanders are ready for combat, despite modernization efforts, a Pentagon report said
By Wu Su-wei, You Tai-lang and Jake Chung / Staff reporter, with staff writer
Beijing's self-assessments of its military readiness "represent genuine anxieties" among its leadership about the Chinese People's Liberation Army's (PLA) readiness for real combat conditions, a US Department of Defense report said.
The Pentagon's annual report to the US Congress, released on Thursday last week and titled Military and Security Developments Involving the People's Republic of China, said that the military shortcomings the PLA has highlighted publicly are "likely to guide and accelerate force-wide modernization efforts."
The PLA routinely highlights shortcomings using slogans or phrases to urge the military to carry out improvement campaigns, which this year include: the "five incapables," the "two incompatibles," the "two big gaps," the "two inabilities" and the "three whethers," the report said.
The "five incapables" slogan highlights concerns over shortcomings in training and education "that reportedly left some commanders — particularly at the operational level — inadequately prepared for modern warfare," it said.
Some commanders cannot judge situations, understand the intentions of higher authorities, make operational decisions, deploy forces and manage unexpected situations, it said.
The "two inabilities" slogan refers to the PLA's inability to fight a modern war and the inability of its officers at all levels to command in a modern war, it said.
The "two incompatibles" refers to the PLA's concerns that it "does not meet the requirements of winning local war under informatized conditions" and "does not meet the requirements of carrying out its historic missions at the new stage of the new century," the report said.
The PLA uses the slogan "two big gaps" to highlight "enduring concerns" about its true fighting capabilities despite years of modernization efforts and its belief that it is "behind the world's most capable militaries," it said.
The second gap is that it does not meet national security requirements, it said.
As for the "three whethers," the report said that the PLA is concerned about whether its armed forces can maintain the Chinese Communist Party's (CCP) "absolute leadership" and can "fight victoriously when needed," and whether "commanders at all levels are competent to lead forces and command in war."
Institute for National Defense and Security Research analyst Shu Hsiao-huang (舒孝煌) said that the CCP is concerned about its capability to carry out joint operations, face new challenges and sustain itself in modern warfare following its 2015 military reforms.
It is unknown whether the PLA has come to a conclusion or decided on a strategy regarding US deployments in the Indo-Pacific region in the past few years, Shu said.
Taiwan's military said that it is ever vigilant and has continued to train its forces, citing recent collaborations between the Republic of China Air Force and the French Air and Space Force as an example.
A team of French and Taiwanese pilots have been flying simulated combat exercises starting from the middle of this month through early December at an air base in Hualien County, it said.
https://www.taipeitimes.com/News/taiwan/archives/2023/10/29/2003808389
Da stellt sich umgekehrt auch mal die Frage, ob das US und taiwanesische Militärs auch solche incompatibles, inabilities, inseperabkes, whethers und big gaps und selbst auch eine Strategie hat. In Taiwan ist ja die Stachelschweinstrategie inzwischen auch umstritten, die US Navy beklagt fehlende Ausrüstung und Modernisierung, zumal inzwischen China schon die größte Kriegsmarine haben soll und ob es mit Taiwans Wachsamkeit allein getan ist, ist auch fraglich. Interessant aber, das trotz Macrons Statement, dass Taiwan nicht Europas Angelegenheit sei, scheinbar taiwanesisch-französische Militärkontakte im Luft- und Weltraumbereich zu bestehen scheinen.
Gleichzeitig wird seitens des Vorsitzenden des taiwanesischen Nationalen Sicherheitsrates Koo im Vorfelde der Wahlen, bei der beide Seiten die Wahl des anderen als Entscheidung über Krieg und Frieden darstellen, vorläufige Entwarnung gegeben, dass China Taiwan in der nächsten Zeit angreifen könne, vielleicht auch als Reaktion auf den Gazakrieg. China sei zu sehr it wirtschaftlichen und inneren Problemen beschäftigt, die USA hätten trotz Gazakrieg noch genug Kontingente in Fernost in Reserve habe, um China abzuschrecken:
"Thu, Nov 02, 2023 page1
PRC attack unlikely in near term: Koo
DOMESTIC PROBLEMS: Faced with falling foreign investments, increasing debt and rising unemployment, China would not risk an invasion at this time, the NSC head said
By Hsieh Chun-lin and Jonathan Chin / Staff reporter, with staff writer
China is unlikely to attack Taiwan any time soon, as Beijing is focused on addressing domestic issues, National Security Council (NSC) Secretary-General Wellington Koo (顧立雄) told legislators yesterday.
Koo made the remarks in response to a question from Democratic Progressive Party Legislator Chiang Yung-chang (江永昌) during a meeting of the legislature's Judiciary and Organic Laws and Statutes Committee.
The national security head added that the recent death of former Chinese premier Li Keqiang (李克強) was not expected to increase the risk of Beijing starting a war with Taiwan.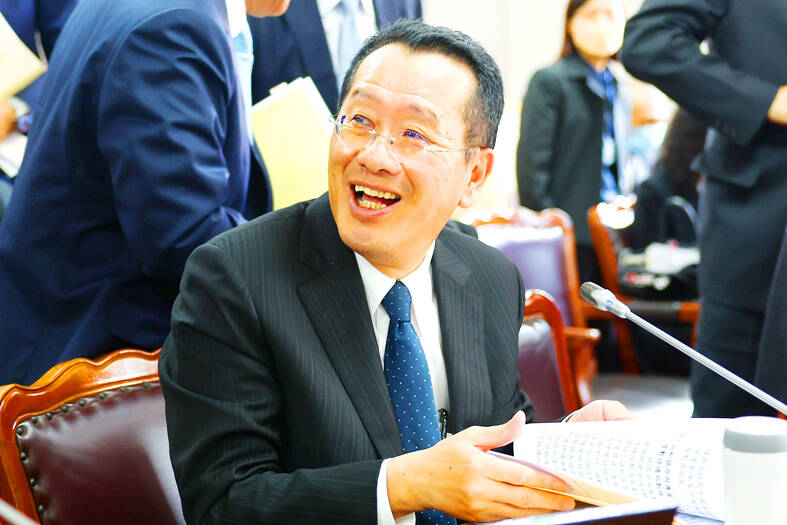 National Security Council Secretary-General Wellington Koo flips through documents at a meeting at the Legislative Yuan in Taipei yesterday
Koo made the remarks in response to a question from Democratic Progressive Party Legislator Chiang Yung-chang (江永昌) during a meeting of the legislature's Judiciary and Organic Laws and Statutes Committee.
The national security head added that the recent death of former Chinese premier Li Keqiang (李克強) was not expected to increase the risk of Beijing starting a war with Taiwan
The Chinese leadership is divided into two camps regarding the country's overall strategy, he said.
A Chinese State Council-based group is advocating economic development, while a national security group is pushing for an aggressive stance on the world stage, he said.
Although the national security wing holds sway over policymaking, the Chinese government would probably act cautiously in the immediate future, Koo said.
Addressing economic problems stemming from declining foreign investments, local government debt, rising youth unemployment and weak domestic demand would likely absorb Beijing's attention, he said.
China's economy could face devastating consequences if Beijing pursues policies that could scare away foreign investors and businesspeople, including from Taiwan, he said.
Beijing's demonstrated intent to manage risks suggests a preoccupation with addressing domestic concerns, which makes it unlikely that China would initiate an armed invasion of Taiwan in the near term, he said.
Chinese President Xi Jinping (習近平) is expected to try to ease tensions with Washington in a meeting with US President Joe Biden at an APEC summit in San Francisco this month, although the framework of US-China strategic competition would not change, Koo said.
The public show of grief over Li's passing indicates that many Chinese long for a return to an open market economy, he said.
Xi appeared to be unnerved by signs of discontent and is shifting his focus to maintaining social stability and growing the economy, he said.
Koo also said that international focus on the Israel-Hamas conflict would not increase the likelihood of China launching a surprise attack on Taiwan.
The US' commitment to defending Taiwan against Beijing's aggression is not diminished by dealing with Israel's invasion of the Gaza Strip, as a contingency in the Taiwan Strait would constitute a greater threat to Washington's core interests, he said.
A war between Taiwan and China would spiral into a broader conflict in the Indo-Pacific region, which is crucial to US security interests, while the war between Israel and Hamas could be managed, he said.
Washington has repeatedly demonstrated its commitment to maintaining the "status quo" across the Taiwan Strait, through public statements and its request that South Korea voice its support of that position at the G7 summit earlier this year, he said.
Taiwan's security is crucial to the US' goal of maintaining prosperity and security globally, Koo said.
Hamas' surprise attack on Israel was intended as a political statement, which is not a military strategy suited for China's intention to annex Taiwan, he added.
Seizing Taiwan would require amassing conventional forces and logistical preparations that could not be hidden from surveillance, he said.
China seeking to occupy Taiwan's outlying islands, aimed at striking a blow against morale, is a more likely scenario than a direct invasion of Taiwan proper, which was highlighted in the US Department of State's Military and Security Developments Involving the People's Republic of China report released last month, he said.
However, any military action by Beijing would lead to economic sanctions and other severe consequences, which lowers the probability of Chinese attacks on these territories, Koo said.
Taiwanese defense and national security officials continue to monitor China closely, he said, adding that maintaining public morale in Taiwan would be the key factor should Beijing attack the outlying islands.
https://www.taipeitimes.com/News/front/archives/2023/11/02/2003808567
Ein Anhänger der Peak Power Theorie scheint Koo nicht gerade zu sein, wobei die Frage wäre, was unter "near term" zu verstehen ist. Einige Experten meinen ja, dass  die Präsidentschaftswahlen in Taiwan und den USA 2024 das Entscheidungsjahr werden können. Dazu noch als Lesetip:
Doch es gibt im Indopazifik auch noch andere hot spots als Taiwan. So stellt die DDP-nahe Taipeh Times die Frage: Entzündet sich der nächste größere sinoamerikanische und sinophilipinische Konflikt um das verrostende philippinische Schiffswrack der Sierra Madre? Ein Fall, der eine geopolitische Realsatire um einen rostenden Schrottkübel sein könnte, hätte er nicht ein philipinisches Hoheitszeichen und würde nicht als eigener Territorialansprüche gesehen, ja, wenn er nicht so ernst werden könnte und vielleicht nicht mit gegenseitigen Wasserkanonenbeschuß ausgetragen werden sollte:
", Oct 31, 2023 page13
Why the rusting wreck of a World War II ship is so important to China
The Sierra Madre, deliberately marooned by the Philippines in 1999, is crumbling but repair is being made impossible by an effective blockade by Beijing
By Rebecca Ratcliffe / The Guardian
It is perhaps the most unlikely kind of military base. For more than two decades, a World War II-era ship, BRP Sierra Madre, has stood deliberately grounded in the remote, shallow waters of the fiercely contested South China Sea, carrying the Philippine flag and guarding against Chinese expansion.
But its future is increasingly precarious, and the ship has become a growing flashpoint in one of the world's most disputed waters.
The Sierra Madre, marooned on Second Thomas Shoal, in the Spratly Islands, since 1999, is effectively a shipwreck. Rust has ravaged its sides and holes pierce its shell. Defense experts question how much longer it can last — and the Philippines faces a difficult decision about what to do next. So too might the US, which has a mutual defense treaty with Manila, and considers the South China Sea, one of the world's busiest shipping routes, strategically important.
Attempts by the Philippines to deliver supplies to a handful of marines living on the ship have been repeatedly blocked by China, which has demanded the ship's removal. Analysts say Beijing is effectively waiting for the ship to crumble, leaving the shoal unoccupied. On Sunday, Philippine and Chinese vessels collided twice as Manila attempted a resupply mission, the latest in a series of tense maritime confrontations.
Abandoning the ship would mark a difficult retreat for the Philippines. The Sierra Madre is "a symbol of how far and by how much our sovereignty and sovereign rights stretch," says Jaime Naval, assistant professor at University of the Philippines.
Bringing construction materials, even to partially repair the Sierra Madre, is logistically complex — whether by air or water.
"Getting something through unmolested by sea is almost impossible unless you did something that was low-observable but there's nothing in the Philippines inventory that has the speed or the stealth to get through all of that," says Raymond Powell, a fellow at Stanford University's Gordian Knot Center for National Security Innovation in the US.
Second Thomas Shoal has only one, very narrow entrance, which can easily be blocked, and Chinese ships can be quickly deployed from nearby Mischief Reef, which has been occupied by China since 1995, says Powell.
"Mischief reef is really in some ways the perfect weapon for a blockade," he adds.
It was China's seizure of Mischief Reef in 1995 that prompted Manila to run the Sierra Madre aground at Second Thomas Shoal. Both locations are less than 200 nautical miles from the coast of the Philippine island Palawan, and so are part of the country's exclusive economic zone — meaning the Philippines has the right to exploit resources and construct in the area.
After the recent collisions, which the Philippines blamed on China's "dangerous, irresponsible and illegal" behavior blocking its boats, China's foreign ministry spokesperson Mao Ning (毛寧) said the Chinese coast guard had "lawfully" blocked Philippine attempts to send construction materials" to the ship, which it claimed had been illegally grounded.
Beijing claims almost all of the South China Sea — despite a UN tribunal finding this has no legal basis.
Collisions between Chinese and Philippine vessels last week are just the latest confrontation during a resupply mission. In August, Chinese coast guard vessels used water cannon against a similar Philippine resupply boat. In February Manila accused China of directing a military-grade laser at a Philippine vessel.
Analysts have warned that confrontations are becoming more intense, and frequent, and that there is an increasing risk of miscalculation in what is a long running and delicate dispute. The mutual defense treaty between Manila and Washington extends to armed attacks on Philippine armed forces, public vessels and aircraft — including those of its Coast Guard — anywhere in the South China Sea, the US state department has said. Were the situation to escalate, this could bring the US into confrontation with Beijing.
Tensions have risen to a level not been seen since 2014, when the Philippines airdropped food and water to Second Thomas Shoal to overcome a China-imposed blockade, said Harrison Pretat, associate director and associate fellow, of the Asia Maritime Transparency Initiative at The Center for Strategic and International Studies, a Washington-based thinktank.
Some have questioned if an airdrop could be used again to deliver supplies, but analysts say it is not a sustainable option. The Manila-based think tank Stratbase ADR Institute this week called for Manila to consider joint patrols with the US and other partners, with its president Dindo Manhit saying, "Only by working together can the Philippines successfully assert its right."
Joint patrols, too, would raise difficult questions, said Pretat.
"If a US ship starts to accompany the resupply missions, are they going to continue to accompany them for every resupply mission in the future?" says Pretat, who added that such missions happen once or even twice a month.
It's also unclear what a joint patrol would look like in practice, and these could risk further heightening tensions.
Patrols with partner countries other than the US could help tackle Beijing's narrative that Washington is using the Philippines to stir trouble in the region, says Naval.
"The Chinese are trying to oversimplify the narrative [suggesting that] it's just a battle between two big elephants. It's not."
Under president Ferdinand Marcos Jr, the Philippines has revived its alliance with the US, which had soured under his predecessor Rodrigo Duterte, but it has also strengthened ties with Japan and Australia.
Last week, General Romeo Brawner, chief of staff of the armed forces of the Philippines, said that it had begun superficial repairs on the ship.
It was sad to see the state of the living conditions where the small contingent of troops were staying, he said.
"We're trying to improve that by making sure they have at least decent sleeping facilities, decent dining facilities, Internet," Brawner said.
Naval has, in the past, interviewed soldiers who were deployed to the ship.
"Simply put, it makes you mad," he says. Soldiers stay in small quarters, "eyeball to eyeball with everyone," for months, he says.
Storms are severe and there is little comfort, other than a battery-powered TV playing the same movies on repeat.
Given the dilapidated state of the Sierra Madre, it's unclear to what extent it can be salvaged, says Powell, who added that abandoning the ship, and surprising Beijing by running another vessel aground at a nearby shoal, could be an alternative option. Troops could be moved over to a new ship at an atoll nearer to the coast of Palawan, such as Sabina Shoal, he adds.
"It would be a defeat of sorts, but at the same time it would be a victory of sorts because they'd get to start afresh," he says, adding that materials for long-term maintenance could be brought on board.
If the atoll were left unoccupied, it's not clear whether China would seek to build on it, given that Mischief Reef is about 30km away, says Pretat.
Nobody knows how long the Sierra Madre has left before it succumbs to the elements, but Powell says there are concerns its collapse could come within months, not years.
"We have to be ready for the idea it could start tomorrow."
https://www.taipeitimes.com/News/feat/archives/2023/10/31/2003808465
Derweil gibt ein ehemaliger Pentagon-Unterstaatssekretär seine Sichtweise über den sinoamerikanischen Konflikt, wobei er Taiwan nicht als Ursache und Wurzel des Konflikts, sondern dessen deutlichsten Ausdruck sehe., wobei er Taiwan die Rolle eines "mere stepping stone" für Chinas angestrebte Indopazifikexpansion zuordnet.
"Wed, Nov 01, 2023 page1
Ex-Pentagon official urges US support for Taiwan
By Liu Tzu-hsuan / Staff reporter
Washington should support Taipei's international participation and include Taiwan in combat-readiness operations to thwart China's ambitions in the Indo-Pacific region, former US deputy undersecretary of the navy Seth Cropsey said.
Taiwan's status "was not the root of Sino-American antagonism, but it was the clearest expression of it," Cropsey, who is also the founder and president of US think tank Yorktown Institute, wrote in an opinion piece published on Monday on the Web site of US daily The Hill.
The tension over Taiwan between the US and China is a strategic antagonism, rather than a legal one, founded on "mutually conflicting long-term political, military and economic objectives," he said.
The disputes between the US and China are broadly "based on the Chinese Communist Party's Asian and Eurasian ambitions," he said, adding that Taiwan's role in the US defense system makes it the strategic center of the rivalry.
Taiwan "remains key to China's self-image," which also includes a more aggressive military posture, Cropsey said.
To keep Beijing from taking military action against Taiwan "requires deterring Chinese aggression throughout the Indo-Pacific" region, as Taipei is "a mere stepping-stone" to China's ambition of regional dominance, he said.
Beijing taking control of Taiwan would jeopardize the defenses of Japan, the Philippines and Australia, he added.
China could control the eastern part of Eurasia's most important trade route by taking the Malacca and Lombok straits, he said.
China is aware of the situation and has "thought well past the first contingencies," he added.
Cropsey called on the US to prioritize the military aspects of deterrence by allocating more to the defense budget so that it "can sustain the forces needed to fight a large-scale Indo-Pacific air-naval war."
More importantly, the US should "integrate the capabilities of regional allies, allowing them to operate jointly with US forces in combat," which "must include Taiwan as well, considering Taipei's geographic and military relevance," he said.
Providing Taiwan with more diplomatic outlets through participation in international organizations and connections with other countries would also help the US' efforts and should be encouraged, he said.
Legal disputes over Taiwan's status are symptoms of underlying antagonisms between the US and China, he said.
Renewing discussions on the issue would have no real impact on the relationship between Washington and Beijing, he said.
The US providing China with public or private assurances against a declaration of Taiwanese independence would not meaningfully decrease the odds of confrontation, he said.
Taiwan is "an independent country under any definition," a status "in no need of modification," and which makes it "meaningless to say so in one manner or another," he said.
"China has already lost Taiwan, insofar as Taiwan is not ruled by the mainland," he said, adding that Taiwan only refrains from declaring independence to avoid provoking China.
"The time for language games has passed," he said.
https://www.taipeitimes.com/News/front/archives/2023/11/01/2003808518
Wähend man momentan Entwarnung für die nächste Zeit gibt, so wird die anhaltende chinesische Aufrüstung doch als weiterhin zunehmende Gefahr gesehen. Auch angesichts weiterer chinesischer Fortschritte im Technologiebereich, dessen bedeutendster Ausdruck der Chips Act der Bidenadministration ist, dessen Ziel, Chinas technologischen Fortschritt aufzuhalten nun in Zweifel gezogen wird seitens taiwanesischer Chiphersteller:
"Sat, Oct 28, 2023 page12
US cannot halt Chinese advances, chip expert says
'FUTILE EFFORT': Former TSMC vice president Lin Burn-jeng said Beijing would seek to reach the 5-nanometer technology milestone and experiment with new materials
The US might not be able to stop Chinese firms, including Semiconductor Manufacturing International Corp (SMIC, 中芯) and Huawei Technologies Co (華為), from making progress in chip technology, one of the semiconductor industry's leading figures said this week.
SMIC and Huawei, which stunned Washington by unveiling a made-in-China phone processor, can use existing older machines to make even more sophisticated silicon, former Taiwan Semiconductor Manufacturing Co (TSMC, 台積電) vice president Lin Burn-jeng (林本堅) said.
SMIC should be able to advance to 5-nanometer technology with ASML Holding NV machines that it already operates, said Lin, who at TSMC championed the lithography technology that transformed chipmaking.
Huawei electrified the chip industry when it unveiled a 7-nanometer processor made by SMIC in the Mate 60 Pro, triggering celebrations in China and accusations in the US that a campaign to contain the country's tech ascent had failed.
Yangtze Memory Technologies Co (長江存儲) is also producing some of the most advanced memory chips in the industry.
The administration of US President Joe Biden this month tightened curbs to close loopholes through which China might be accessing advanced US equipment, marking a new phase in a struggle to influence technologies crucial to the economic and political balance.
Yet that might not stop China's technological ascent, said Lin, who is highly regarded in the industry for being the first person to propose immersion lithography, the technology that ASML's core products rely on.
SMIC used ASML's immersion lithography machines to make the 7-nanometer chip for Huawei, Lin said.
Beyond trying to reach the 5-nanometer milestone, it is likely that China would experiment with new materials or advanced chip packaging to make more powerful semiconductors, he said.
"It is just not possible for the US to completely prevent China from improving its chip technology," Lin said in an interview at National Tsing Hua University in Hsinchu City, where he serves as dean of the semiconductor research college.
That echoed comments from Arm Holdings PLC chief executive officer Rene Haas earlier this month.
"What the US really should do is to focus on maintaining its chip design leadership instead of trying to limit China's progress, which is futile, as China is adopting a whole-nation strategy to boost its chip industry, and hurting the global economy," Lin said.
The US might have inadvertently granted Shanghai-based SMIC a golden opportunity, he added.
In 2020, Washington effectively banned TSMC — supplier of the world's most advanced silicon to Apple Inc and Nvidia Corp — from doing business with Huawei.
That is when SMIC stepped up to inherit the massive orders that helped it to improve its manufacturing technique, Lin said.
A debate is now raging in the US and beyond about whether Washington and its allies should step up their Chinese containment campaign.
US Secretary of Commerce Gina Raimondo has said Washington does not have evidence that China can make advanced chips "at scale."
US Under-Secretary of Commerce for Industry and Security Alan Estevez said it is "absolutely" a concern for Washington that China could use 7-nanometer technology — or better — in military applications.
https://www.taipeitimes.com/News/biz/archives/2023/10/28/2003808317
Scheinbar ist in den USA und auch bei taiwanesischen Chipherstellern auch im Rahmen vermehrter Zeichen einer möglichen neuen US-China-Annäherung eine Debatte in Gange, ob das bisherige Ziel Chinas Fortschritte bei der Chipentwicklung aufzuhalten überhaupt realistisch ist oder die USA nicht eher ihre relative Führerschaft erhalten oder gar ausbauen sollten. China sei schon jetzt in der Lage mit der bereits importierten Technologie 7 Nanometerchips und vielleicht auch kleiner zu entwickeln .TSMC liegt gerade bei 2-3 Nanometer. Unklar bleibt, ob da Chiphersteller doch noch gerne Chinas Markt bedienen wollen und die geschäftsverringernden Sanktionen weghaben wollen, denn auch wenn das US-Ziel der Verhinderung illusorisch sein mag, insofern es denn wirklich in dieser Absolutheit und nicht als Idealziel gemeint ist, so bewirken doch die Sanktionen doch die deutliche Bremsung von Chinas Fortschritten und will ja dadurch auch den Vorsprung der USA und Taiwans auf diesem Hochtechnologiegebiet ähnlich wie damals die COMECON- Liste gegenüber der Sowjetunion erhalten und ausbauen.
Chinaexperte Professor van Ess konterte:
"Kann aber eben auch sein, dass die Verhinderungsstrategie dazu führt, dass China die ursprünglich führenden Hersteller eines Tages nicht mehr braucht."
Schon, aber dann eben auf niedrigerem technologischen Level. Was ja der erhoffte Zweck der ganzen Übung ist. Es erinnert aber auch an die COMECON-Liste im Kalten Krieg.Wobei die sowjetischen Wissenschaftler und Techniker selbst, wenn sie einzelne Teile oder Blueprints durch Leipziger oder andere Messen samt sonstger Beschaffungsmaßnahmen oder eben Wirtschaftsspionage erhielten, zumeist unfähig waren, diese nachzubauen oder weiterzuentwickeln. Der damalige technologische Vorsprung bei den Waffensystemen der USA, die sich auch in Raketenabwehr, Luft-und Raumfahrttechnik und am deutlichsten in den Pershing 2 und Cruise missiles zeigten, waren ja Reagans Erfolgrezept zum Sieg über die Sowjetunion. Doch war die Sowjetunion nicht solch ein attraktiver Riesenmarkt wie China, bestanden nicht solche ökonomischen Abhängigkeiten und hat China inzwischen massenhaft eigene Patentanmeldungen, werden chinesische wissenschaftliche Publikationen inzwischen weltweit an führender Stelle zitiert und selbst japanische Akademiker loben in der japanischen Asashi Shimbum das angeblich bessere Forschungsumfeld in China. Fraglich, ob man das dann so mit der COMECON-Liste vergleichen kann.
Eine weitere disruptive Technologie ist die Künstliche Intelligenz, Artificial Intelligence und hierzu wird gerade ein Global AI Safety Summit in Brext- Global Britain abgehalten, bei dem der Streit tobte, ob man China dazu einladen sollte, dann vorgeschlagen wurde, es am ersten Tag einzuladen, um es am zweiten Tag dann wieder auszuladen, was China ablehnte und empörte, wie es auch darauf hinwies, dass das Ziel einer weltweiten Regulierung der KI ohne China als eine der größten KI- Mächte ein Widerspruch sei.
Interessant dabei ist: China hat im Oktober auch eine eigene Global AI Governance Initiative beschlossen – nach Global Development Initiative (GDI) mit Kernstück Neue Seidenstraße BRI, Global Security Initiative (GSI) und Global Civiliation Initiative (GCI), inzwischen auch scherzhaft Global Xiviliaztion Initiative genannt und ein Whitepaper "Global Community of a shared Future"herausgegeben, das sich wie die chinesische Version der einst programmatischen Schrift des damaligen US- Präsidentenberaters, Mr. und Mdame Tschiang Kaitschekbewunderers und Verlegers des Lifemagazins Henry Luce von 1941 "The American Century"liest und China da quasi auch als "guten Samariter der Welt" auf win-win- Basis, Inklusivität und Diveristät darstellt. GB wird weder von den USA noch China als der AI Leader gesehen welcher Brexit-Global Britain gerne wäre. China kündigt jetzt seinen eigenen Global AI Goverance Summit an, um gleich selbst die Führungsrolle zu übernehmen. Ähnlich wie es als Konkurrenzveranstaltung zur Münchner Sicherheitskonferenz und dem Singapurer Shangri La Dialogue inzwischen sein eigenes Xiangshan Forum gegründet hat oder wie die Global Times stolz berichtet:
"UK inviting China to AI summit shows Beijing's indispensable significance in global AI governance
Summit hard to live up to Sunak's expectation as major power competition in AI may shadow results
By GT staff reporters Published: Oct 31, 2023 08:32 PM
British Prime Minister Rishi Sunak delivers a speech on Artificial Intelligence (AI) in London on October 26, 2023. Photo: VCG


The UK's invitation for China to attend a global summit on artificial intelligence this week demonstrates the indispensable role of China on global cooperation on AI, said Chinese observers. However, they doubt whether the summit will yield substantial result as its agenda is tinted with exclusiveness and overshadowed by major powers that are vying to govern AI.

The AI Safety Summit 2023 will take place on Wednesday and Thursday at Bletchley Park, Buckinghamshire. It will bring together representatives of AI companies, political leaders and experts to discuss what some see as the risks posed by AI, with the aim of building an international consensus on its safe development.

British Deputy Prime Minister Oliver Dowden said on Thursday that China has accepted Britain's invitation to attend the summit. "It is the case they've accepted, but we will wait to see everyone who actually turns up at the summit," Dowden told the BBC. "As things stands, yes, we do expect them to come."

China has not released information about who might participate as of press time.

The decision to invite China to the AI safety summit previously raised eyebrows in some quarters. However, British Prime Minister Rishi Sunak defended the invitation, and said on Thursday that "I do believe that it's absolutely the right thing to have invited them."

The summit would suffer a huge blow, perhaps even all significance, if China decides not to show up, said Shen Yi, deputy director of Fudan University Cyberspace Research Center. He pointed out that Sunak views the summit as major showcase to elevate the UK's international status and he hopes to win points for the UK to lead the global governance of AI.

China now has at least 130 large language models launched by companies including Alibaba and Tencent, accounting for 40 percent of the global total and just behind the US' 50 percent share, Reuters quoted brokerage CLSA as saying on Monday.

The Guardian reported in September that Sunak is considering banning Chinese officials from half of the AI summit, citing unfounded reason as "spying" by Beijing on Western governments.

This decision, if true, once again reflects Western countries' tendency to provoke confrontation, Qin An, deputy director of the expert committee of counter-terrorism and cyber security governance at the China Society of Police Law, told the Global Times. AI governance requires the participation of the international community. However, those so-called "like-minded" countries are still following the approach of the US to exclude China and form a "small circle" of core allies, Qin said.

Doomed expectations

Sunak hopes the summit will produce a consensus on the risks posed by unrestricted AI development and the best way to mitigate them. For instance, officials are attempting to thrash out a communiqué on the nature of AI risks, with an initial draft reportedly referring to AI's potential for causing "catastrophic harm," according to the Guardian.

Chinese experts cast doubt on whether the summit will live up to Sunak's expectations. The UK wants to claim the crown of AI, yet such dominance needs strength in this industry, including the development of AI and its applications, as well as its ability to contribute resources, Shen said, noting that the UK lags far behind countries like China and the US in the field of AI.

Moreover, Qin believes that the global scramble to govern AI will likely overshadow any consensus reached at the UK summit. It might be difficult for other countries, such as the US, to accept the UK playing a leadership role in the field of AI, Qin said.

US Vice President Kamala Harris, European Commission President Ursula von der Leyen and Italian Prime Minister Giorgia Meloni have confirmed their attendance at the summit. But the absence of other world leaders, including US President Joe Biden and French President Emmanuel Macron, is regarded by UK media as a "snub" to the event.

Biden on Monday signed an executive order on AI as the US moves to catch up with other governments in regulating the technology. It marked his first effort to regulate how US companies develop it and how regulators oversee the technology. The order will create standards for American companies and public agencies.

The New York Times said its release is intended to establish the US as the global leader in regulating the fast-growing tech, coming just days before the British summit.

Qin called the timing of the US' move as Washington getting a head start as it "tries to showcase its own leadership on AI governance before the UK summit makes a fanfare. Thus you can see that even those so-called allies are also engaged in white-hot competition in the area of AI and tried to call shots of this field," Qin said.

Based on previous experience, when a summit ends with some kind of declaration, most Western countries will as usual pay scant attention to it, such as how many actual results are yielded, Shen said.

Shen believes that instead, China is set to play a bigger role in global AI governance. The country launched a global AI governance initiative in October, and is able to hold a more influential global summit in the field to push forward positive development of the technology, said Shen.

A spokesperson from China's Foreign Ministry said on October 18 that the initiative systematically outlines China's proposals on AI governance from three aspects, namely, the development, security and governance of AI.
https://www.globaltimes.cn/page/202310/1300916.shtml
Gute Frage. Wird ein internationaler AI Regulierungskonsens mit Vorreiter USA, EU und China zusammenkommen oder die Welt auch in AI-Blöcke, ja Technologieblöcke vielleicht auch mittels Sanktionen sich gruppieren, da das Internet a inwzischen auch schon regionalisiert ist. Biden scheint da eher an einer Kooperation interessiert,hat aber auch nur Kamela Harris zum Global Safety Summit geschickt, Macron gar nicht erst teilgenommen, Trump ist sicherlich dagegen, Liz Truss meldet sich wieder zu Wort und hätte China erst gar nicht eingeladen:
"Do not interpret China's participation in global AI safety summit narrowly: Global Times editorial
By Global Times Published: Nov 01, 2023 12:23 AM Updated: Nov 01, 2023 12:03 AM
Photo:VCG

The first global AI safety summit ambitiously organized by the UK is set to take place on November 1 and 2. Right from the inception of the event's planning in the UK, there was a question of whether China would be invited and whether China would attend. According to latest UK media reports, Wu Zhaohui, vice minister of science and technology, along with representatives from the Chinese Ministry of Foreign Affairs, tech companies, and academic institutions, have been invited to attend. They will engage in discussions with peers from around the world on issues related to the secure development of AI technology in pursuit of international consensus.

The participation of Chinese representatives has sparked a lot of discussions in the international media and has been given additional significance. Some people view it as "another sign of the thaw in China-UK relations," and the POLITICO Europe has stated that if the UK brings China and the US together, it will be a major diplomatic coup. These interpretations are all from a perspective of international relations or geopolitics, and frankly speaking, they are somewhat narrow and limited. Although AI is primarily a technological topic, the global AI safety summit hosted by the UK has never been devoid of the influence of domestic politics, geopolitics, values and ideologies all along. These factors will be obstacles and constraints on the achievement of results at this conference in the future.

Since it's called as a "global AI safety summit," excluding China, which boasts the world's largest AI application market, would be ironic. The UK is just a step away from this. The voices of opposition against inviting China have been quite loud among some British politicians. Even after the UK government decided to extend the invitation, there were still some vehement "dissenting voices" within the UK, with former prime minister Liz Truss even writing a letter requesting incumbent Prime Minister Rishi Sunak to rescind the invitation. This forced Sunak to provide an explanation and emphasize that inviting China is "the right thing to do." The resistance faced by the UK in making the right decision has been a common theme in recent years among Western countries.

In contrast, China considers the inherent complexity and necessity of things when making decisions. China's decision to send representatives to the summit is rooted in the belief that it is necessary, without allowing some narrow-minded attitudes within the UK to deter its participation. This demonstrates China's openness and its responsible approach to the well-being of all humanity.

AI is a new field of human development. Everyone can see the tremendous opportunities brought about by the rapid development of global AI technology, as well as the unpredictable risks and complex challenges. This is a common issue that concerns the fate of all mankind and the countries of the world. However, global AI governance lags far behind the speed of technological development. The world urgently needs to reach a basic consensus on this issue in order to equip rapidly developing AI technology with a global unified standard steering wheel and brakes, so that it can better serve the well-being of all mankind, rather than becoming a new tool of hegemony for some major countries or even facilitating large-scale new types of crimes. Therefore, the world needs more comprehensive discussions. The UK hosting this global AI safety summit provides an opportunity for such discussions, regardless of any subjective calculations. China has supported the UK's move with practical actions.

It is worth mentioning that the three major global powers, China, the US and Europe, have recently made efforts in the global AI governance. On October 18, President Xi Jinping proposed the "Global AI Governance Initiative" in his keynote speech at the opening ceremony of the Third Belt and Road Forum for International Cooperation, systematically outlining China's proposals on AI governance from three aspects, namely, the development, security and governance. On October 30, US President Biden signed an executive order on AI, which was called the "most significant action any government anywhere in the world has ever taken on AI safety, security and trust." Prior to this, President Biden's top science advisor praised the UK's invitation to China to participate in the AI summit as a "terrific idea." The long-awaited Artificial Intelligence Act of the European Union has also entered the final negotiation stage.

If China, the US and the EU can reach some consensus on global AI governance, it would be of great significance. One key aspect, as mentioned in China's "Global AI Governance Initiative," is to oppose drawing ideological lines or forming exclusive groups to obstruct other countries from developing AI, as well as to oppose creating barriers and disrupting the global AI supply chain through technological monopolies and unilateral coercive measures. Whether this healthy and constructive mindset can be maintained not only affects the specific outcomes of this summit, but also the safe development of AI.
https://www.globaltimes.cn/page/202311/1300952.shtml
Inzwischen werden auf solchen Summits erst gar nicht mehr gesellschaftliche, zwischenstaatliche, geopolitische, geoökonomische oder sonstige Auswirkungen der AI diskutiert wie etwa im Buch von Henry Kissinger und Ex- Googlechef Eric Smitt "The Age of AI", sondern dies vor allem nur noch unter Sicherheitsaspekten und möglichen Terrorismus und Hackertum, vielleicht noch Deep Fakes, während etliche Teilnehmer und IT- Unternehmer am liebsten gar keine große Regulierung wollen, zumal auch KI- Entwickler in Europa beklagen, dass die EU zu sehr über Regulierungen rede, denn über die Chancen der neue Technologie und deren Förderung und eigenen Entwicklung. So auch SPIEGEL-Cyberpunk Sascha Lobo, der in Sachen IT so als der mediale Cyber- und KI-Guru auf einer Stufen mit Popphilosophen Richard David Precht und Harald Lesch gilt, was aber auch nicht unbedingt ein Qualitätsmerkmal sein muß. In Deutschland gilt desöfteren jeder, der "was mit Computern zu tun"hat oder einen Computer anschalten kann und auf einem Influencerkanal ist schon auch mal unhinterfragt mal IT- und KI-Experte.