Trump`s and Bolsonaro´s preperation for a coup and the role of the Evangelicals, the AfD and the European right
Trump`s and Bolsonaro´s preperation for a coup and the role of the Evangelicals, the AfD and the European right
The Trump fascists want to march in front of Capitol Hill on September and support Bolsoanro now doing the same in Brasil. They train for their definite coup and fascist takeover and Bolsonaro even hopes that the Brasilian military will support him to establish a new dictatorship against the Leftist Lula. The German AfD is also training for such a scenario as it became clear when they opened the German parliament to right-winged radicals and esoteric "Querdenker"elements who attacked and intimitated German parlamentarians. In Germany it is not yet so polarized as in the USA and Brasil, but the German AfD has close contacts with Bolsonaro and the Trumpists, be it in the person of Beatrix von Storch or the AfD evangelical leader Waldemar Herdt who tries to build a clerical fascist coalition in Europe and with the Trumpists, the Bolsonaro supporters and the Evangelicals. The Trumpists also support Bolsonaro for his coup de etat.
Brazil's President Jair Bolsonaro is behind in polls. Now he is copying Donald Trump and is getting active help from the environment of the former US president. Jair Bolsonaro is considered by many to be a kind of South American Donald Trump. Like the former US president, the incumbent head of state in Brazil is extremely right-wing, populist and not averse to opposing facts with their own truth. Like Trump, he can rely on a large and loyal following, whose wishes and prejudices he uses in order to stay in power. And just like the US republican, Bolsonaro does not try to unite his people and get all of them behind him if possible, but divides society in order to build a hard core united front together with his fans against supposed socialists and enemies of the state. Bolsonaro is currently having demonstrations for his own purposes. He has called on his followers to take to the streets against an alleged coup by state authorities who want to undermine him and his government following his narrative.
Following the example of Donald Trump, Bolsonaro is already stirring up doubts about the legitimacy of the elections in Brazil, which he did not, however, question when he was elected to office himself. In Bolsonaro's attack on the state institutions in Brazil, he has two enemies in mind that have one thing in common: both represent the independent judiciary in Brazil. In particular, the right-wing populist shot himself at Luiz Fux, the President of the Supreme Court, and at Judge Alexandre de Moraes. Moraes had arrested and arrested some Bolsonaro fans who are accused of inciting violence and spreading false reports. The lawyer, in turn a judge at the Supreme Court, is also investigating Bolsonaro himself, who is accused of abuse of office, corruption and the dissemination of false information in connection with the Corona crisis.
And so Bolsonaro is now mobilizing his supporters into the streets to attack the state institutions. Quite with success: more than 100,000 people followed his call on Brazilian Independence Day on September 7, 2021 and protested across the country for President Jair Bolsonaro and against the judiciary. Bolsonaro himself threatened that if Court President Fux "did not keep his judge in check", the authorities would suffer something "that we do not want". He also emphasized again that "only God" was able to get him out of the Brazilian government palace Palacio de Planalto – in contrast to allegedly rigged elections or even the judiciary.
Following Donald Trump's blueprint, he turns this anti-democratic cause into its supposed opposite. With his attack on the institutions, he wanted to ensure that "our freedom, which has brought us independence and is guaranteed", is strengthened by "absolute respect for democracy," he tweeted on the national holiday. And the sowing of this distrust in the state in which he himself stands as president is bearing fruit. Since then, his fans have repeatedly broken police barriers to the government district, formulated wild threats against the judiciary on posters and banners and tried several times to storm Congress. Just as Trump's supporters did on January 6, 2021 when the Capitol was attacked. The fact that they have failed in at least three attempts to actually penetrate the parliament building is also due to the fact that the police authorities have so far been constitutional and maintaining law and order in the country against the will of their president. That's why at least seven attempts to storm the Supreme Court have failed. Bolsonaro's followers are now calling for the military to be deployed domestically, calling this a "counter-coup".
Already in the run-up to the attempted coup, scholars and various civil rights movements in the country had warned that scenes similar to those in Washington D.C. could take place on Independence Day. on January 6, 2021. They pointed out that Bolsonaro with authoritarian threatening gestures and other unsubstantiated allegations against the state and the judiciary could heat up the mood to such an extent that his fans actually under the model of the "MAGA" movement around Donald Trump in the USA disregard for life and limb, for example by police forces, could promote a coup. This was supported by the fact that Bolsonaro fans were brought up by buses from different parts of the country to be brought together in the capital Brasília and the metropolis São Paulo.
Bolsonaro himself stepped in front of his frenetically cheering fans and openly called for a violation of the law by demanding that from now on nobody should follow the decisions and instructions of Judge Moreas. The president is following a pattern that Donald Trump has always used: the closer it is politically or legally, the more aggressive his rhetoric becomes. In doing so, he unites his followers behind him and stylizes himself as a freedom fighter against an allegedly corrupt state. For some time he has been calling for the presidential elections in autumn 2022 to be canceled if they are not held on his terms.
And the parallels to Donald Trump and the mostly extreme right-wing protagonists of his "MAGA" movement are not just ideal. As the Brazilian news agency Metrópoles reports, Trump's current closest advisor, Jason Miller, was arrested at the airport in Brasília when he was about to leave the country. Why exactly and why Miller was questioned for around three hours has not yet been made public.
The Brazilian media report that Miller is suspected of conspiratorial intent to have advised Bolsonaro on the preparation of a coup. Miller himself subsequently stated that he had not been charged with any wrongdoing. According to the US news portal Huffpost, support for the Bolsonaro movement on the part of Trump's "MAGA" movement is indicated by the fact that "foot soldiers from the MAGA movement are flocking to Brazil" to join the aggressive protests against the democratic institutions and their siblings to help in spirit to "achieve what they themselves failed".
Thomas Traumann, a Brazilian political scientist, confirms concern that "Trump's expertise" in questioning the integrity of elections is leading to increasing uncertainty within the Brazilian judicial system: "They are worried and want to make it clear to US citizens that they are to stay out of the affairs of Brazil. "Miller was questioned about this, but at no time was there a serious risk of imprisonment or even punishment. However, it could be too late for them to keep Donald Trump's environment out of those Brazilian affairs. Eduardo Bolsonaro, son of the president and himself a congressman, was spotted in the Trump International Hotel in Washington in 2019 and was then hailed as a rising star of Brazilian politics by the "MAGA" giants. The Huffpost writes that both movements should have always been coordinated in "their conspiratorial worldview, their exaggerated macho indictment policy and their autocratic whims".
This is supported by the fact that Eduardo Bolsonaro, together with MyPillow CEO Mike Lindell, one of the most inveterate defenders of Donald Trump's election fraud narrative, and Steve Bannon, former chief adviser to Trump, allegedly claimed at a conference in the United States in August 2021, according to Huffpost the upcoming presidential elections in Brazil would be rigged. The reason for this is obvious: In current election polls, Jair Bolsonaro is far behind his most likely challenger, former President Luiz Inácio Lula da Silva. And so Bolsonaro is now pursuing a dual strategy. On the one hand, he continues to incite his followers, on the other hand, he has been courting the Brazilian military for years. His fans are already following him blindly and following the example of the "MAGA" movement, one of them was seen during the large demonstrations in a costume that was modeled on that of the (former) "QAnon shaman" Jacob Chansley. In the military, the former captain is still biting his teeth, even if he repeatedly provides high-ranking military officials with lucrative government posts.
However, not only US Trump fascists are teaming up with the Bolsonaro fascists, but also the German AfD (Alternative for Germany/ Alternative für Deutschland).Together with Beatrix von Storck the leading forerunner fur such a international clerical fascist coalition is Waldemar Herdt, 58, member of the Bundestag for the AfD. At the end of March he traveled to Brazil, met with politicians and pastors, and visited companies and churches. What is a German MP doing in the middle of the coronavirus pandemic in Brazil? The answer to this question leads to a man who is a networker of the Christian right. To biblical groups who forge alliances around the world and try to redefine human rights. And to a German party that is increasingly looking for an exchange with right-wing extremists in Brazil.
The plan to travel to Brazil originated in 2019 at the Prayer Breakfast in the White House in Washington. Once a year, politicians and religious groups from all over the world come together in the US capital on the initiative of a conservative Christian organization. The meeting is considered an important lobbying event for Christian interest groups in the USA. Some catholic, many evangelical, not a few fundamentalist. Former US President Donald Trump also spoke there. "There was no speech by a president," says Herdt enthusiastically, "it was a sermon." 4,500 people took part in the event in 2019, mainly politicians, but also pastors and entrepreneurs. Ten MPs came from Germany. Herdt also got into conversation with Brazilian MPs there. He doesn't want to reveal who exactly. But what he wants to say: "At the Prayer Breakfast I had to find out that not only I personally, but the whole AfD has no relationship with Latin America." That should change soon. In July of this year, AfD politician Beatrix von Storch also traveled to Brazil. But the most important politician in this new AfD alliance is Waldemar Herdt.
If you google his name in Cyrillic letters, you get thousands of hits: Waldemar Herdt speaks in Russian state media. About climate change, the flood disaster, Ukraine, vaccination, migration, Nord-Stream 2, the EU. He has his say almost every week. Occasionally it is tuned in live on the main news program. A NATO report on Russian influence operations in Germany, published at the end of 2020 and available to the taz and the ARD political magazine "Kontraste", who cooperated for this research, names him as one of the most important key players in the dissemination of Kremlin-loyal narratives about Germany. advertisement Herdt immigrated to Germany in 1993. He grew up as a Russian-German in Kazakhstan, was trained as an agricultural engineer and was the manager of an LPG. He has been working as a building contractor in Lower Saxony since 2004. Before he found the AfD, he was involved in the Party of Faithful Christians ( Partei der Bibeltreuen Christen/ PBC). Until the beginning of the year he was the spokesman for the North Regional Association of "Christians in the AfD". "It is the values of the Bible that show me my way," he writes on his homepage. In conversation, Herdt presents himself as a perfect Christian and a loving grandpa who has created his personal paradise in the Lower Saxony province. The property once belonged to the entrepreneur Anton Pohlmann, who was called the "chicken king" because he made millions with poultry. A couple of chickens are cackling on the edge of the property. Herdt actually wanted to build a multi-generation house here. But the local council took a stand, rejected the project. Herdt is a man who talks a lot about "humanity". Who repeatedly emphasizes that the family is the most important thing. Who stages himself as a war opponent. Herdt is not the classic AfD agitator. And yet: He speaks of "climate hysteria" and says that the "collective feeling of guilt" robs Germans of their dignity. Again and again he warns of a "new model for society". He talks about "genderism", "normal families" and that we could soon end up in "Sodom and Gomorrah". With that he is completely in line with the evangelical scene.
Herdt's religious home is a two-story building with blue-tinted panes, located on a busy street, not far from Osnabrück Central Station. "Evangelical Free Church Source of Life" is written at the entrance, with a cross above it. Otherwise the building looks inconspicuous, not very sacred. Herdt is actively involved in the community life of the evangelical church. The "source of life" belongs to the Russian-German Pentecostal churches. As a rule, they do not practice critical exegesis. That means: What is in the Bible is considered God given and is not questioned. Especially in West Germany, the evangelical congregations of various orientations have been strongly influenced by the influx of repatriates since the 1980s. The dangerous preachers of the Pentecostal movement The religious scholar Martin Radermacher from the University of Bochum is an expert on evangelicalism. He has researched variants of this belief. "The Pentecostal movement assumes that the biblical Pentecostal experience can also affect people today: The Holy Spirit then drives into a person, sometimes phenomena such as 'speaking in tongues' occur – the believers speak in other languages ​​or languages ​​that support it there is no such thing as a divine inspiration, "explains Radermacher. Miraculous healings and the casting out of demons were also part of it. It is estimated that this particular denominational orientation has around 60,000 members in Germany. The "Lebensquelle" has its own YouTube channel, the videos are professionally produced. Bands play Christian pop music in the church services. The musicians look like the average young adult. Three-day beard, earrings, H&M shirts. Her appearances are emotional, almost sentimental: "You have conquered death for me. Thank you, Jesus. "In front of the stage there is dancing and clapping, hands are held in the air. "Thank you, Jesus. Thank you, Jesus ". Many congregations today are oriented towards US forms of expression, says Radermacher. "They developed attractive services with modern music that also attracted new members. It's a lot about community experiences and emotions. "Many congregations are seeing a growing number of members. The "source of life" is, however, not without controversy. She was accused of carrying out so-called conversion therapies to "cure homosexuality" and questionable addiction therapies. Christina Vital, Professor of Anthropology "
Evangelicals and the new right are connecting all over the world and operate in international networks" Sometimes guest preachers come to Osnabrück. Their appearances are also documented on YouTube. One of them is Alexey Ledyaev from Latvia. His appearances are also highly emotional. He whispers, whispers, screams, can preach the believers in trance-like states. In Riga he leads the "New Generation Church", he is known for aggressively homophobic appearances. Waldemar Herdt describes him as a "friend". Ledyaev was one of the first guests of the then newly elected AfD member of the Bundestag in 2017. In the election to the European Parliament in 2019, the Latvian preacher aggressively supported the candidates of the right-wing conservative, Russia-friendly Centra Partija (Center Party). The German MP Waldemar Herdt ran for second place in the Latvian party for the parliament in Brussels. In this context, he also appeared at an election campaign event organized by the preacher on behalf of the organization "Watchmen on the Wall". The Watchmen are a joint project by Ledyaev and the right-wing, fundamentalist American preacher Scott Lively. In a sermon Ledyaev on the founding of the Watchmen it is said that LGBT people were trying to establish a "dictatorship of homosexuality", that the Watchmen should defend society from the "culture of death" and support politicians who share their values. Lively is co-author of the book "Pink Swastika," which blames homosexuals for the Holocaust. At the beginning of August he called his followers in a video message to go underground. Although he appeared together with Lively as a celebrated star guest at a Watchmen event in Riga in November 2018, Waldemar Herdt, when asked by taz and "Kontraste", said that he somehow knew him, but could only vaguely remember him. Herdt remembers his interlocutors in Brazil better. The largest country in Latin America is playing an increasingly important role in Christian rights.
In the largest Catholic country in the world, evangelical churches have been very popular for years and already make up 31 percent of the population. According to calculations, the evangelicals will make up the majority here in 2032. Similar to the USA, there are huge, ultra-modern prestige buildings, such as the Temple of Solomon in São Paulo. But there are also small churches on almost every street corner. A few plastic chairs and a microphone with boxes are often enough for the loud sermons. With their promises of salvation, charismatic pastors and spectacular church services, the churches are particularly popular in the poor peripheral areas neglected by the state. The churches used to focus on preparing for the coming of the Messiah. Politics was seen as "too secular". Today they have a direct influence on politicians and act as "world changers". In the parliament in Brasília there is an association of strict members of parliament, many members of which are pastors: preach on Sundays, vote on Mondays. That also impressed the AfD man Waldemar Herdt. "In Brazil you can live out your faith without feeling any counter-pressure from society," says Herdt. In the run-up to the election campaign in 2018, the evangelical elite sought proximity to the new right, above all to one man: Jair Messias Bolsonaro. Today's president is actually Catholic, but was baptized in the Jordan River with media coverage, was a celebrated guest star at evangelical events and was married to his third wife by celebrity pastor Silas Malafaia. It is a powerful alliance with increasing influence. Minister for Women, Family and Human Rights is Damares Alves, a pastor and well-known anti-abortion activist. In August 2020, she caused a stir because her ministry had helped religious fun¬da¬men¬ta¬lists to prevent a 10-year-old from having an abortion after becoming pregnant through rape.
Other politicians also cheered the election victory of the man who threatened to shoot political opponents during the election campaign and who has photos of torturers hanging in his office. For example Christian Blex. The AfD member of the North Rhine-Westphalian state parliament, who is assigned to the "wing" that has now been disbanded, has family ties to Brazil and is often in the country. "Purely personal,". As a domestic politician, he does not want to interfere in foreign politics. Nevertheless, he was happy about Bolsonaro's choice. He likes him because he rejects the "climate nonsense" and does not go along with the "Corona panic". And what about the criticism of Bolsonaro? It is clear that his positions do not please the "left mainstream". Blex suggested founding a parliamentary group in Brazil in the state parliament, but this failed. "Maybe then in the next legislative period," he says. advertisement
Another AfD politician with ties to Brazil is the Thuringian state parliament member Torben Braga. The 30-year-old was a press officer for the German-national fraternity "Deutsche Burschenschaft". He is considered the political son of Björn Höcke. Braga was born and raised in Brazil and went to school in Rio de Janeiro. He has a good chance of entering the next Bundestag via the Thuringian state list in September. Braga also celebrated Bolsonaro's election victory on social media, but is more cautious in the interview. As a "nationally and conservatively thinking person", hopes are linked to Bolsonaro, but the tone of the former paratrooper is not his. And the agitation against minorities? Bolsonaro finally declared that he would rather have a dead son than a gay son, he racially insulted black people and told one MP that she did not even deserve to be raped. Braga says he doesn't know the quotes and therefore can't comment on them.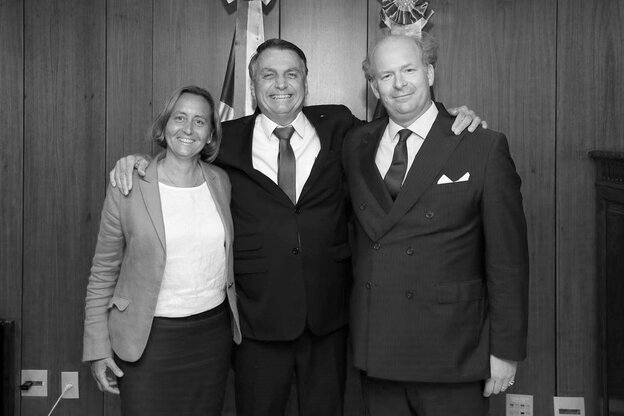 Brasilia in July 2021: Beatrix von Storch with Jair Bolsonaro und her husband
At the end of July this year, a photo finally surfaced on social media of a suntanned, happily smiling woman in the arms of President Bolsonaro. It's Beatrix von Storch. Von Storch met other influential politicians in Brazil, including the president's son, MP Eduardo Bolsonaro. He plays an important role in the government, maintains many contacts with right-wing politicians abroad and is considered the unofficial foreign minister. Steve Bannon, Donald Trump's former chief strategist, appointed Eduardo Bolsonaro to head Latin America for "The Movement", a planned international right-wing network. Compared to the visit of Waldemar Herdt, the visit of Beatrix von Storch, the granddaughter of Hitler's finance minister, triggered a huge outrage in Brazil. Jewish groups and human rights organizations in particular sharply criticized the meeting. The Holocaust Museum in the southern Brazilian city of Curitiba spoke of a burden "for building a collective memory of the Holocaust in Brazil and for our own democracy".
Like Herdt, von Storch was also a representative of the Christian-conservative current of the AfD. Representatives of various Christian denominations gathered there: Free Churches, Anglicans, opponents of the incumbent Pope and pre-conciliar Catholics. Their attitude is often sharply demarcated from the official positions of the Catholic and Protestant Church. The leitmotif of these religious rights is the defense of what they imagine a "Christian Occident" to be: the fight against abortion and LGBT rights, the advocacy of traditional family images as a universal norm and the defense against an alleged "Islamization". The AfD also made several small inquiries about development cooperation with Brazil. "This is a cloak to give the Bolsonaro government a democratic look," says SPD politician Yasmin Fahimi, chairwoman of the German-Brazilian parliamentary group in the Bundestag. "Many problematic topics are not addressed." Statement by the Holocaust Museum Curitiba "Beatrix von Storch's visit is a burden on our democracy" Why Brazil? There are many issues that link the far right party with the Bolsonaro government. Climate and corona policy, anti-communism, rejection of the UN migration pact. But above all, gender and family policy issues are extremely important for both sides. Analyzes from Brazil suspect that Brazil could take on a new leading role for the Christian right after Donald Trump was voted out of office. There are some indications that the AfD politician Waldemar Herdt is a central networker of this international conservative-Christian alliance. Because Herdt founded an organization in 2019 where a lot is apparently supposed to come together.
Moscow in summer 2019: The State Duma of the Russian Federation has invited, the "International Forum for the Development of Parliamentarism" will take place for the second time. The arriving guests meet in the congress hall of the World Trade Center. The President of the Parliament, Foreign Minister Lavrov and even President Putin in person will give speeches. With this event, the Kremlin tries to network pro-Russian parliamentarians and to win over multinationals for the goals of Russian foreign policy. Such productions in Moscow are called "parliamentary democracy". Waldemar Herdt also traveled to Moscow. On your own initiative, without an order from the Bundestag. Herdt has an idea that he can present there on the Duma television channel: the establishment of an "alternative human rights commission". He explains it to the taz as follows: "I have noticed that all human rights organizations have a left-wing genderist touch. Completely. The conservative side is not represented at all. We need an inter-parliamentary commission based on Christian-conservative-patriotic values. "
Indeed, a few months later, in December 2019, the AfD parliamentary group decided to found the "Interparliamentary Human Rights Commission" (IPMK) – chaired by Waldemar Herdt. The AfD writes in a press release that it should take care of "the classic human rights hidden by the left-green ideology". In the meantime, parliamentarians and experts from 30 countries have become members, according to Herdt. The USA, Portugal, Serbia, Russia, Belarus, Kazakhstan, Mongolia and, more recently, Brazil are represented. One draws up resolutions that would then go into legislative initiatives. Despite Corona, the IPMK has already held various events. Among other things, an online conference on the subject of extremism, where Russian Duma members and activists, US preachers and the special ambassador for religious freedom Sam Brownback, who was in office under Trump, met. The topic of human rights and the filling of positions in bodies relevant to human rights has become a kind of gateway for Christian rights worldwide. This is also the case in Brazil. In 2013, Marco Feliciano, Herdt's interlocutor, was elected chairman of the Human Rights Commission in the Chamber of Deputies. "He didn't come to this post because he had previously worked in the field, but because he wanted to stop LGBT issues," says anthropologist Christina Vital. The fox took over the chicken coop at the time. #
he evangelical minister Damares Alves is also trying to establish a new definition of human rights. And AfD man Herdt? For him, human rights mean three things above all: "Right to life, right to work, right to believe", he says in an interview. However, this is only a fraction of what the Basic Law and the Universal Declaration of Human Rights contain. The German Institute for Human Rights, the independent national human rights institution in Germany, sounded the alarm in June in a detailed study on the AfD. She came to the conclusion that, from a human rights theoretical perspective, the AfD represents positions that are "not based on the Basic Law". The bustling Waldemar Herdt will not run for the Bundestag again this year. Although he had stood as a candidate at the first assembly meeting, he was not elected. However, it is questionable that the projects he initiated will also fall asleep when he leaves. One thing is clear: the contacts he has made will also be available to subsequent members of the new AfD parliamentary group. The IPMK committee should be continued, he emphasized in the interview. Herdt himself wants to continue acting as spokesman for the IPMK, at least in the near future. A conference in the German Bundestag is also planned for next January. Speakers from Brazil are also invited. And Waldemar Herdt already has a new project: a European foundation, the "European Christian Coalition". There is already a homepage-see:
"The Bible, borders and Brexit" will "make Europe great again", declared Ed Martin to roaring applause. The Republican pundit who co-wrote 'The Conservative Case for Trump' was speaking at a global gathering of religious conservatives in Verona this March. Italy's deputy prime minister, Matteo Salvini, was a headline speaker.
Verona, Italy's ancient 'city of love', is emblematic of how Europe is changing. It is now a stronghold for Salvini's Lega party which, together with right-wing populists across the continent, is challenging the laws and social norms that have defined European life for decades.
Even discounting Farage's Brexit Party, anti-EU populists are expected to win a record number of seats in this week's elections to the European parliament in Brussels. There's been feverish speculation about how attempted Russian interference will skew the results. Pollsters predict the far right could redraw the political map of Europe. But what does actually mean?
Some commentators question whether Europe's far right will actually be able to function as a unified bloc, given their nationalist priorities. The Poles and the Italians can't agree about Russia. The Austrians and Italians can't agree about their border.
After a six-month openDemocracy investigation, major aid donors and NGOs have said they will investigate anti-LGBT 'conversion therapy' at health facilities run by groups they fund.
But unlike the other aid donors, US aid agency PEPFAR has not responded at all.
This misses the point. Far less attention has been paid to the extent to which these European groups rely on each other – and often on American, as well as Russian, assistance. Together, they are seeking to redefine individual rights and freedoms in ways that will affect a majority of people in every European country.
There are obvious common policy priorities: many of Europe's populists rail against Brussels 'elites' and say they want to repatriate a range of legislative powers, and they have common cause on migration, too. The difference between President Trump and Hungarian Prime Minister Viktor Orbán is that Orbán actually built a wall – explicitly, as he put it, to "keep out the Muslim invaders".
But there are also deeper alignments, often around an overtly conservative religious worldview. Many far-right leaders talk openly about defending or taking back 'Christian Europe'. Orbán put it in his party's European elections manifesto. He and other far-right leaders frequently attack concepts such as "gender ideology": a not-so coded pushback against hard-won women's and LGBTQI rights. The far-right Vox party in Spain has vowed to roll back laws against gender-based violence, and Poland's Law and Justice Party has pushed limits on contraception and abortion.
Implicit, often explicit, is the premise that women, LGBTQI, people of colour and migrants should not have equal protection under the law. ('Protection' instead means something quite different – like the Lega's proposed policy of chemical castration for rapists.) To roaring applause in Verona this year, Salvini denounced Europe's crisis of "empty cribs", mocked feminists as "interesting for anthropologists to study" and pledged that "the 'theory of gender' is something I will fight until it changes".
It's a strategy which seeks to shift power away from individuals who have universal rights, and onto powerful institutions: churches, patriarchal family structures, the police and 'strong leaders'.
This isn't surprising when you track where a lot of their financial support comes from. There's a lot of focus on Russian interference; less on the increasing influence of American religious conservative groups, some with links to the Trump administration and his former adviser, Steve Bannon. A recent investigation by openDemocracy found that America's religious right spent at least $50 million on "dark money"-funded campaigns and advocacy in Europe over the past decade. (In context, the total spend on the 2014 European elections by all of Ireland's political parties combined was just $3m).
Notably, some religious campaigners and their far-right allies now appropriate European 'secular' language to make their case: of science or bioethics to advocate against 'gay propaganda' in schools; of 'freedom of speech' to refuse business to same-sex couples; of 'men's rights' to roll back on domestic abuse protections.
These efforts are far more connected than they first seem. Another openDemocracy investigation last month revealed how a right-wing Madrid-based campaign group, backed by both American and Russian ultraconservatives, has been acting as a 'Super-PAC' across the continent, working to drive European voters to the far right.
European lawmakers fear that Trump-linked conservatives are working with allies on this side of the pond to import an American model of political financing, opening up the door not only to "extraordinary coordination" between different far right groups, but to large amounts of 'dark money' flowing unchecked into elections and referenda. Former Democratic senator Russ Feingold, who worked alongside Republican senator John McCain for reform of electoral finance in the US, has warned that "Europe has an opportunity to get ahead of this and not make the same mistakes that were made here in the United States."
There are many underlying contradictions in the demands of Europe's far right and their religious conservative allies. The 'religious freedom' they push for is, of course, highly selective: religions other than Christianity are not part of the plan for 'Christian Europe'. Second, the punitive laws they champion to stem the flow of migrants haven't worked – people are still dying at sea – and are having consequences which could, in time, affect their popularity. Hundreds of EU citizens, including priests, elderly women and firefighters, have been arrested or charged in recent years for basic acts of kindness, such as offering food, shelter or transport to refugees.
For now, there are "winds of change across Europe that secular liberals could never have imagined", as Conservative YouTube star Steve Turley put it to the ultraconservative Verona summit in March. But there are signs of a pushback, too. For the first time in the history of the annual event, the crowds protesting outside were far larger than the audience inside. Over 30,000 people from across Europe, even Argentina, made the journey. Speaking afterwards, an Italian feminist activist said: we feel "stronger" and "more united". "We are worried", she added, "but not scared"
The left has a fundamental problem regarding religion.


The revolutionary left saw ala Marx religion only as opium of the people, as a pure superstructure phenomenon, as a remnant of feudalism. It would virtually evaporate if capitalism prevailed and then communism. It ignored the transcendental and spiritual needs of many people. Therefore, she confined herself to a "There is no help from God, neither Emperor nor Tribune, to redeem from misery, we can only do it ourselves". True, this humanism, this confidence in its own human-worldly power and anti-authoritarian impulse, is right, but one saw religion as a phenomenon that was no longer to be taken seriously, but as one that would liquefy itself with the rise of modernity. Rather than a fad , a quirk that would dissolve already in the context of secularization and the bourgeois revolutions and then the communist revolution.Now we have the phenomenon that religiosity on the one hand exists in agricultuaral-backward areas, but as well as in the urban middle class of many states, whether in Turkey, in Egypt, or in US cities and towns, where evangelicals and religious rights are no longer the redback phenomenon of secluded Bible Belt or the Midwest, but are seizing the modern big cities. Many leftists also saw religious movements as an expression of social and anti-imperialist protest, throwing even the more left theology of liberation into a pot with Islamists like Khomeini, the Muslim Brotherhood or even the Islamofascist Hamas.
The reformist left saw religion as an ineradicable part of man, renounced atheistic or scientific criticism of religion, mostly sees religion only as propagating social justice, solidarity and charity, especially philanthropideology, especially with an anti-capitalist orientation (interest-free, charity institutions, which compensate for the lack of a welfare state and ethically-oriented economics such as Islamic banking as much-cited examples), i.e. as a somewhat religiously ticking labor movement-like social movement and tried to moderate religion, to steer it in a humane way and to make it part of the bourgeois-democratic rule – of course to a large extent denying that the taming of religion and its moderation took place above all due to the brutal acts of violence of the French Revolution, as well as the associated secularization as a result of the spread of the s capitalism. But the new bourgeoisie knew how to take control of religion very quickly when it entered its imperialist and colonial phase, and the fascists also established a symbiotic relationship with religion that served their power with the Christian Churches' concordat treaties with Hitler's NSDAP and Mussolini as the most obvious example – whereby National Socialism in particular once again developed a neo-paganism of ethnic provinces in the SS Ancestors´Heritage of Himmler, which then wanted to replace the old religion. But also with the SS: Christians were allowed to become members, while godless, quasi-communist atheists never! The Church's few resistance fighters against fascism are inflated to oversize, in order to gloss over factually extensive cooperation of the Christian churches with fascism. But whether Mussolini, Franco, Salazar – all these clerical fascists or Latin American military dictators worked very well with religion, especially with the Catholic Church and its Opus Dei and its Jesuits, who also bloodily suppressed the theology of liberation in interaction and Christian Churches also organized the flight of leading German National Socialists and Italian fascists to Christian South America or Spain and Portugal.
Evangelicals and Christian Fundamentalism


The United States was an exception to this initially. On the one hand the USA arose from basic Christians and fundamentalist-Calvinist fanatics who had fled the European religious wars, and on the other hand from the immigration due to poverty by free spirits, who also did promote the ideas of the Enlightenment and the French Revolution. Religion in the United States was seen as a salvation from feudalism and martial Christianity, mostly Catholicism, so the United States has a different connection to religion, but it should be noted that radicalization and increasing political orientation started again with Reagan and the Moral Majority at the latest and now has produced a radicalized evangelicalism that the United States would like to transform into a Christian Iran or Christian presidential dictatorship based on the Muslim Brotherhood model, as enviwsaged in the book The Handmaid's Tale or Margaret Atwood or Volker Schlöndorf `s film "as a black dystopia.

The evangelicals are not only a powerful force in the United States, but evangelical free churches are growing all over Latin America, Africa and also parts of Asia and are allying with chauvinistic right-wing politicians, now also in Bolsonaro Brazil.

The future foreign minister of the Brazilian government of Jair Bolsonaro, Ernesto Henrique Fraga Araújo, had given several speeches, articles and essays on Brazil's foreign policy before taking office.

One of his central proposals is a kind of Christian Western alliance between Bolsonaro- Brazil, Trump- America and Putin- Russia. Brazil must form a new conservative axis with the United States and Russia.

Other conservatively governed states such as Italy, Hungary or Poland are also mentioned. With the new Brazil, all these states should defend their national sovereignty and the values of western civilization against "dominating globalism".These are the free states "that oppose the demonization of national sentiment and the suppression of belief (especially Christian belief).

The evangelicals are not only a powerful force in the United States, but evangelical free churches are growing all over Latin America, Africa and also parts of Asia and are allying with chauvinistic right-wing politicians, now also in Bolsonaro Brazil.

The future foreign minister of the Brazilian government of Jair Bolsonaro, Ernesto Henrique Fraga Araújo, had given several speeches, articles and essays on Brazil's foreign policy before taking office.

One of his central proposals is a kind of Christian Western alliance between Bolsonaros Brazil, Trumps America and Putins Russia. Brazil must form a new conservative axis with the United States and Russia.

Other conservatively governed states such as Italy, Hungary or Poland are also mentioned. With the new Brazil, all these states should defend their national sovereignty and the values ​​of western civilization against "dominating globalism".

These are the free states "that oppose the demonization of national sentiment and the suppression of belief (especially Christian belief)." They want to reject the emptying of the human soul and its replacement by anemic dogmas, which only serve the interests of the world domination of certain elites.
Ernesto Henrique Fraga Araújo strives for the "desacralization of immigration, combating the ideology of the 'untouchable immigrant', the universal right to migration". These things should not overlap the right to "national sovereignty."

However, it is questionable whether Trump will come to such a deal with Putin and to such a Christian front, especially since in the United States hostility to Russia and China has been a priority since the new national security strategy, US superpower conflicts with both powers can no longer be ruled out, one Pentagon study already calls for plans for a war economy, which threatens the USA with the termination of the INF treaty, has just approved the largest defense budget and Putin warns of the danger of a nuclear war.


However, it shows how Christian fanatics, especially evanglicals, team up with radical right-wing nationalists and now also call for conservative Christian axes. There are 80 million evangelicals in the United States, most of whom are fanatical and at the core of the Christian right, as well as Trump's core voters. Although there may be some moderate evangelicals such as Rick Warren, who also accompanied Obama's inauguration as a speaker, the majority are more arch-conservative, reactionary and right-wing radical. It is these 80 million US evangelicals that make up the real core of the Israeli lobby in the United States and also support Middle East politics as a lobby group alongside other actors such as AIPAC, Republicans and Democrats. Trump's Jerusalem decision should also be seen from this perspective, as the Evangelicals want to use the US power and Israel, as Crusader army, to wage the holy war over the Holy Land and Jerusalem against Islam. While established Catholic and Protestant churches are shrinking, evangelical free churches are flourishing all over the United States, Latin America, Africa and Asia. Bolsanaro's core electorate includes exactly those evanglicals, which is why Bolsanaro's foreign ministers are now calling for an international Christian and conservative front.
It remains to be seen how European Christians will react to this Christian pact. While the German Christians are rather reserved here, the "Christians in the AfD" are still rather a marginalia, Gloria von Thurn and Taxis together with Bishop Müller want to integrate in Steve Banon's radical right-wing movement as arch-reactionary Christians in defense of the Christian West, hundreds of thousands of regressive Christians demonstrate in France against gay marriageand could easily be won over by the Front National, just as Catholic countries with a clerical-fascist past such as Italy, Hungary, Spain or Portugal could have a potential for this, as well as Catholic-nationalist Poland. Europe is now secular, Eastern Europe partly atheistic or areligious, nevertheless one should not rule out the risk of radicalization of the still established churches, as well as a possible emergence of the evangelical free churches in Europe. Quite an option at the moment, but there is little in favor of it, but conversely, German Christianity is a special way and one should not believe that Pope Francis was already the end of the development and the decision of the 2nd Vatican Council was not irreversible.

The left practices Eurocentric criticism of religion and developed a cult-relativistic cult of guilt


Most leftists focused their criticism of religion primarily Eurocentric on European Christianity, the history of feudalism, the crusades, the burning of witches, the 30-year war of religion, anti-Semitism, colonialism and imperialism. On the one hand, this was logical, on the other hand, a cult of guilt was spread here, which relativized the criticism of other religions and religion in general or denounced it as neo-imperialist and Eurocentric. This overlooked the fact that outside of moderated European Christianity, which did not produce any political movement, reactionary religious forces were striving for political power everywhere in the world. For one thing, in the United States there are the 80 million fundamental Christian Evangelicals and religious rights who exert a wide influence on the Republican Party through their Political Action Committees, be it the reborn Bush Jr. Rick Samtorium, Ted Cruz or now under Trump Mike Pence as Vice President, who emphasizes that he is "Christian, Conservative and then Republican and excactly in that order"or the Evangelical Mike Pompeo..
Second, the resurgence of the reactionary Russian Orthodox religion under Putin or the Hindu nationalism of the Indian BJP or the Daoist-Buddhist-Confucian syncretic mass sect Falungong in China, which intends to topple the CPC and replace it by a totalitarian cult of leadership around its great guru Li Hongzhi, who is exiled in the United States .Western people, in turn, confuse the Falungong with the Dalai Lama, consider their teachings to be harmless because they rely on Buddhism and Daoism and practice qigong, that is, they are misjudged for a Far Eastern meditation and fitness group, although their leader uses his manifesto " The 9 Comments on the CP China "openly calls for the annihilation of the Chinese Communist Party and has a completely religious-Manichaean worldview.The new Falungong book "How the Devil riuls the World" is the next step, extending the meaning of communism to liberal democracy, social democrats, conservatives, ecologists, etc. Just Chinese Trumpist, a clerical fascist mass sect like the Evangelicals who team up with Trump, Bolsonaro and other fascist parties. The Chinese opposition is divided. One faction of the secular-democratic opposition said in the opposition organ Beijing Spring that they refused to cooperate with the Falungong, as it was an end-time-apocalyptic-irrational-cultural-chauvinist leader organization that wanted to replace the authoritarian CCP with a religious-fundamentalist totalitarianism and was not striving for secular democracy . The father of the democracy wall Wei Jingsheng and other democrats are more opportunistic, pointing out that the Falungong had 100 million members when it was banned, while the CP China was just 65 million and the democratic opposition therefore after the ban and suppression of the Falungong can use their million-strong underground network. Especially since a Democrat Roosevelt had entered into an alliance with the totalitarian Stalin against Hitler, China's democratic opposition should enter into an alliance with the Falungong. Here, too, secular-democratic forces underestimate the power of religious groups and their ability to form effective parties overnight and make them effective, and even to establish religious-fascist dictatorships.But till the Falungong can topple the CPC, she first wants to make a coalition with the Trumpists and other clerical fascists in order to get rid of "socialist" "Beijing-Biden" and the US democracy. Trump and Bolsonaro want to make the next test in September.