20th CCP Congress: Does the Rise of Xi Mean the Rise of China?
20th CCP Congress: Does the Rise of Xi Mean the Rise of China?
For the 20th party congress of the CP China, here first of all analyzes by the Jamestown Foundation, the China newsletter of the China Institute of German Economics, the Taipei Times, the Asashi Shimbum and then also more the Indian perspective of ex-General Asthana, who beyond all personnel changes, raises the much more fundamental question of whether the rise of Xi also means the rise of China. Here's the Jamestown Foundation's analysis first:
"The 20th Party Congress: Xi Jinping Exerts Overwhelming Control Over Personnel, but Offers No Clues on Reviving the Economy
By:Willy Wo- Lap Lam
October 24, 2022 02:46 PM Age: 6 days
Xi and the other members of the PBSC in the Great Hall of the People in Beijing on Sunday (source: Xinhua)
General Secretary Xi Jinping has scored an overwhelming victory at the recently concluded 20th Party Congress and the First Plenum of the new Central Committee. Xi's picks for the Politburo and its Standing Committee consist of unalloyed supporters, but these officials are also largely apparatchiks with expertise in areas such as ideology, propaganda and "party construction," with a near-total absence of pragmatically minded technocrats experienced in finance and economics among them. As a result, most of Xi's conservative, quasi-Maoist policies, including the zero-COVID policy, appear set to endure into the foreseeable future.
A Clean Sweep for the Xi Jinping Faction
In the new Politburo Standing Committee (PBSC)—the Chinese Communist Party's (CCP) inner sanctum of power—Xi remains General Secretary and Chairman of the Party's Central Military Commission (CMC). The other six PBSC members are considered members of the Xi Jinping Faction (XJPF). Shanghai Party Secretary Li Qiang (李强), who worked under Xi in Zhejiang Province from 2002 to 2007, will become premier. Other Xi allies in the supreme decision-making body include incumbent PBSC members: Secretary of the Central Commission for Discipline Inspection (CCDI) Zhao Leji (赵乐际), who will become Chairman of the National People's Congress; and chief ideologue Wang Huning (王沪宁), who will become Chairman of the Chinese People's Political Consultative Conference. In addition to Li Qiang, three other key Xi protégés earned promotions: Beijing Party Secretary Cai Qi (蔡奇), who likely become the new Head of the Central Committee Secretariat; Guangdong Party Secretary Li Xi (李希),who will become the next CCDI Secretary); and Director of the CCP General Office and Head of the Xi Jinping Office Ding Xuexiang (丁薛祥), who will likely become executive vice premier (Xinhuanet, October 23; Ming Pao, October 23; Nikkei Asia, October 23).
Among the 24 members of the incoming Politburo and the 205 full members of the new Central Committee, Xi loyalists also predominate (Xinhua Weibo, October 23). The departure of thirteen ordinary (non-PBSC) Politburo members provided Xi with openings to elevate XJPF affiliates into the powerful body. As 133 (or 65 percent) of the 205 full Central Committee members are newly installed, Xi had leeway to eject members from known opposition groups or factions (Xinhuanet, October 22). Almost all of the 24 seats on the new Politburo belong to bona fide XJPF members (Radio Free Asia, October 23). Several Politburo seats are now held by members of the recently ascendant military-aerospace clique, a subsect of the XJPF including the Party Secretary of the Xinjiang Uighur Autonomous Region Ma Xingrui (马兴瑞), who is a former General Manager of the China Aerospace Science and Technology Corporation (CASC) and Director of the China National Space Administration; Party Secretary of Liaoning Zhang Guoqing (张国清), who is a former vice-president of the China North Industries Group Corporation; Zhejiang Party Secretary Yuan Jiajun (袁家军), a former top executive at the CASC; and Shandong Party Secretary Li Ganjie (李干杰), a respected nuclear physicist (South China Morning Post (SCMP), October 23).
There are no representatives on the new Politburo from the two other former major factions within the CCP: the Communist Youth League Faction (CYLF) and the Shanghai Gang. Vice Premier Hu Chunhua (胡春华), a former Party Secretary of Guangdong and former First Secretary of the Communist Youth League, was generally expected to receive a seat on the PBSC and to serve as executive vice premier. However, Hu did not even make the ordinary Politburo, let alone the PBSC (Zaobao.com, October 23; United Daily News, October 23). This unusual phenomenon of only one party running the show "一党独大" (yidangduda) was apparently responsible for ex-General Secretary and CYLF leader Hu Jintao, who was sitting next to supreme leader Xi, being dragged unceremoniously about half-way through the closing ceremony of the 20th Party Congress on Saturday (SCMP, October 22). The official Xinhua News Agency reported it was because Hu suddenly became sick. But the consensus among observers was that Hu was openly expressing his dissatisfaction at the name lists for the new Central Committee and the Politburo Standing Committee, which testified to the sidelining of his long-cherished faction. The kind of public display of dissent that Hu mounted has been a rarity in major party meetings since the Cultural Revolution (Japan Times, October 23; Hong Kong Free Press, October 22).
Xi's other major triumph is that the CCP Constitution has now been revised to incorporate the principle of the "two upholds" 两个维护 (liang ge weihu), which are to "uphold Comrade Xi Jinping's core position on the Party Central Committee and in the Party as a whole"; and to "uphold the Central Committee's authority and its centralized, unified leadership" (Gov.cn, October 26). This, of course, further confirms Xi's Mao-like status However, the new leadership has not explained why the long-rumored addition of the "two establishes " 两个确立 (liang ge queli), which are to establish Xi as the "core of the central party authorities and the core of the entire party" and to establish "Xi Jinping Thought on socialism with Chinese characteristics for a new era" as the guiding principle for the party and state in the future, were not included in the updated constitution. Moreover, both in the run-up to and during the week-long Congress, various officials had already started referring to Xi as "the people's leader," 人民领袖 (renmin lingxiu), a title formerly used only for Mao Zedong that was also omitted in the revised charter. Nevertheless, these developments in no way detract from the supreme authority now exercised by Xi.
Chinese-style Modernization
A key element of Xi Jinping Thought is so-called "Chinese-style modernization"- 中国式现代化 (zhongguoshi xiandaihua), which Xi first raised during his opening report to the Party Congress on October 16 (Xinhua. October 16). In effect, Chinese-style modernization means that only Marxist and socialist precepts that have been rendered suitable for Chinese conditions in the 21st century by supreme leader Xi will be followed in all policymaking. According to the definition laid down by Xi himself, "Chinese style modernization" is made up of elements such as stern party leadership; upholding Chinese-style socialist precepts; realizing "high-quality development"; enriching the "spiritual world" of the people; attaining common prosperity; seeking a balance between man and nature; and pushing forward global peace and the goal of a "common destiny for all mankind" (VOA Chinese, October 20; People's Daily, October 19).
Although Deng Xiaoping's "reform and open door policy" was mentioned four times in Xi's Congress report, Xi has clearly prioritized national security and "waging struggles"- 斗争 (douzheng) against both domestic and foreign enemies ahead of economic development or opening up the country to the international marketplace. Future policy emphasis will be put on quasi-Maoist, autarkist values such as "internal circulation," which means self-reliance, particularly in advanced sectors such as semiconductors and AI; party control of the economy, which includes keeping a tight grip on both public and private enterprises; advancing common prosperity; and preparing the people for a "complex and challenging global situation," an apparent reference to meeting the challenge posed by the "anti-China" policies of the U.S. and its allies (BBC Chinese, October 16).
In terms of foreign policy, the Xi team will continue to ratchet up nationalism, particularly in relation to China's reunification of Taiwan and its resumption of "Middle Kingdom" status as a global rule-setter. Another priority of the post-20th Congress party is that by the year 2049, the centenary of the establishment of the PRC, China will have closed the gap with the U.S. and become the most powerful country in the world. The revised CCP Constitution pointed out for the first time that Beijing would "resolutely oppose and stop Taiwan independence." In contrast, the old charter simply states that the CCP has a responsibility to achieve national reunification (Chinanews.com, October 24; News Radio French International, October 23).
Foreign and Military Policy
Throughout the 20th Party Congress, including in Xi's closing speech, there was no reference to the U.S. However, the rhetoric of the supreme leader and senior officials seemed geared toward intensifying the PRC's all-out competition with the U.S.-led "anti-China" coalition. Xi repeatedly called on Congress members and all Chinese to counter the "hegemonism and bullying" of other countries and urged the people to be "brave enough to wage struggle, and to be good at waging struggle" (NPC.gov.cn, October 24; News.cn, October 18). Even in the area of international business and normal people-to-people interaction between Chinese and Westerners, Xi has indicated the Chinese authorities would put national security well before economic considerations. As Xi and the new Politburo are likely to funnel more resources into military modernization, the chances of the potential outbreak of a "hot war" over Taiwan or in the South China Sea may increase (VOA Chinese, October 18; Deutsche Welle Chinese, October 16).
In a reflection of Xi's heavy dependence on a state-of-the-art military to carry out his foreign policies, he has broken with the usual "retire at 68" rule to retain CMC Vice-Chairman Zhang Youxia (张又侠) for one more five-year term. General Zhang, who was born in 1950, had long been expected to retire this year. However, given the intimate friendship between the fathers of Zhang and Xi, the former enjoys the total trust of the Commander in Chief. Two other newly promoted generals on the seven-member CMC, Vice-Chairman He Weidong (何卫东; born 1957) and ordinary CMC member General Miao Hua (苗华; born 1955) have experience serving in the Fujian Province-based 31st Field Army as well as the now-defunct Nanjing Military Region, which covered Fujian and Zhejiang provinces. A high possibility exists that Xi first became acquainted with the two generals while serving in various positions in Fujian and Zhejiang provinces from 1985 to 2007. General He is a former commander of the Eastern Theatre Command, which includes Taiwan in its jurisdiction. General Miao is a veteran political commissar who is Director of the CMC's Department of Political Work (Businesstoday.com.tw, October 23; SCMP, October 23).
The other three new members of the CMC are General Zhang Shengmin (张胜民; born 1958), who oversees military discipline and anti-corruption work; former Commander of the Ground Forces General Liu Zhenli (刘振立; born 1964), who is a candidate for promotion to Chief of the Joint Staff Department; and General Li Shangfu (李尚福; born 1958), an accomplished aerospace engineer who is the incumbent Head of the Equipment Development of the CMC (Headline News.HK, October 24; Breakingdefense.com, October 17).
Conclusion
Despite the fact that many major congresses and conventions in socialist countries feature a plethora of grandiloquent speeches and pledges rather than solid pathways to concrete goals, the 20th Party Congress —including Xi's and other leaders' reports —focused almost entirely on theoretical concepts such as "Chinese-style modernization," "the great renaissance of the Chinese nation," and "daring to wage struggles." Although the State Statistical Bureau just announced that GDP growth in the third quarter of 2022 was 3.9 percent, most independent researchers and think tanks, including the World Bank, forecast an annual growth rate for the Chinese economy of around 2.8 percent or lower (Scio.gov.cn, October 24; CNBC.com, August 18). Outgoing Premier Li Keqiang, who has taken charge of the economy in the past four months, has gone against the precepts of President Xi by calling for more foreign investment and a streamlined anti-pandemic regime (China Brief, July 18). Yet the sole "trump card" that Li and other technocrats on the State Council have recommended is boosting stimulus for infrastructure projects to jack up economic growth (Rthk.hk, August 30; English.gov.cn, July 29). However, government investment is an old tool that is liable to lead to overleverage, waste and diminishing returns on outlays. While Xi and his cronies are celebrating their stunning victory at this Congress, they have to convince the nation and the international community that the economy can be fixed, particularly given the harsh sanctions and boycotts recently imposed on the PRC by the U.S. and its allies.
One disturbing factor affecting personnel changes at the Congress is that a host of Western-educated and market-oriented officials have retired. One of retiring Premier Li Keqiang's last remarks was that "the waters of the Yellow and Yangtze River won't flow backwards." This was seen as a rebuke of the Maoist restoration undertaken by Xi. Other officials with backgrounds in working with and in the West include outgoing Vice Premier Liu He (刘鹤) a Harvard-educated economist, who was once a close adviser to Xi; Governor of the People's Bank of China Yi Gang (易纲), who is a former economics professor at a U.S. university; and top-ranked banking regulator Guo Shuqing (郭树清).
Based on the new Central Committee membership list, the Director of the National Development and Reform Commission, He Lifeng (何立峰) is a clear candidate to replace Liu He as the Vice Premier in charge of economics (Xinhuanet, October 22). He, however, gained Xi's trust mainly because the two worked together in Fujian Province for many years. He Lifeng has very little reformist credentials. Xi's overall preference for professional party apparatchiks over number-crunching technocrats has also led to a paucity of specialists in economic or financial matters on the Central Committee and the Politburo. Unless this situation is remedied, and Xi agrees to make more than token concessions on rigid ideological dogmas ranging from the zero-COVID regime to stringent party-state control over the economy, both Chinese and foreign observers will remain unconvinced that China can realize its dream of attaining superpower status by 2049.
Dr. Willy Wo-Lap Lam is a Senior Fellow at The Jamestown Foundation and a regular contributor to China Brief. He is an Adjunct Professor in the History Department and Master's Program in Global Political Economy at the Chinese University of Hong Kong. He is the author of six books on China, including Chinese Politics in the Era of Xi Jinping (2015). His latest book, The Fight for China's Future, was released by Routledge Publishing in 2020.
Editor's Note: This article was revised on October 28, 2022 to include additional information from the full text of the revised CCP constitution.
https://jamestown.org/program/the-20th-party-congress-xi-jinping-exerts-overwhelming-control-over-personnel-but-offers-no-clues-on-reviving-the-economy/
The Chinapolitian Newsletter of the China Institute of German Economy summarizes the party congress as follows:
"What do the results of the just-concluded 20th Chinese Communist Party Congress mean? The congress provided an opportunity for Xi Jinping to completely overhaul the Central Committee, Politburo and Standing Committee and to promote his closest allies. Xi has used this consistently and ruthlessly, thereby significantly consolidating his power. His confidants now dominate in all committees. In addition, as might be expected, he has sealed his third term in office, which he will enter in a strong and unchallenged position. A big surprise was the retirement of popular and well-respected Vice Premier and Standing Committee member Wang Yang. Wang Yang has demonstrated his flexibility, skill and competence in various local and ministerial posts. Wang's departure from all posts demonstrates Xi's level of control over the party. Instead, Xi Jinping's longtime confidant Li Qiang was included in the Standing Committee. It is also the designated successor to Li Keqiang as prime minister. Most recently he was Party Secretary of Shanghai and as such responsible for the controversial three-month lockdown. Li's rise shows everyone that loyalty is the key to a career under Xi, not popularity. This is the first time that a party politician with experience at the provincial or county level has been made prime minister. With no established base of his own in the central government, Li will have to rely on Xi's authority to lead the State Council. Also, for many, Cai Qi's promotion is unexpected. Cai has made himself unpopular as party secretary in Beijing. In 2017, he unveiled a plan to reduce the capital's population that ultimately pushed many low-income earners out of the city. For years he worked directly under Xi Jinping in Fujian and Zhejiang provinces. Beijing's hosting of the Winter Olympics earlier this year, at the height of the pandemic, was seen as a success for Cai Qi within the party. Xi Jinping has thus unquestionably promoted cadres loyal to him to the top positions. Nevertheless, there is a great deal of uncertainty. It's possible, or even likely, that sooner or later Xi's own allies will split themselves into different factions and compete for power. Everyone will lay claim to one day inheriting Xi Jinping. It is also unclear whether Xi will be able to retain full control or will have to delegate more authority to his trusted collaborators, who now control key party and state relays. A standing committee full of loyalists doesn't necessarily mean Xi will become an all-powerful supreme leader and can do anything. His theoretically unlimited power is constrained by his limited capacity and diminishing energy as he ages. We do not know how great the resistance in the party was to this reorganization of the bodies. Overall, it appears that leadership is tightening as a result of internal and external challenges. But there are also dangers in this. From now on, Xi Jinping's team will not only be fully responsible for every political mistake, but will also have to reckon with even stronger international headwinds from the USA and other Western countries. All of these scenarios will make the third and possibly a fourth term more volatile and risky.
How the new leading personnel of the CP was selected – Since last week, the new summary of the party leadership (Central Committee, Politburo, Standing Committee) has been known. Renmin Ribao recently published an article detailing how the new staff was selected. Accordingly, the party started personnel planning at the end of 2020. Well thought-out planning was particularly important this time due to the great challenges China is facing. For this reason, when making the selection, particular importance was attached to the fact that the candidates had distinguished themselves through good and strategic government action in the past. The candidate selection process was personally managed by Xi Jinping from the very beginning. Our assessment: It had been foreseeable for a long time that Xi Jinping would primarily bring loyalists into the party's executive bodies. In this respect, long-term planning was essential for him. In the West, the concentration of power in his hands was reported very negatively. Not surprisingly, a different narrative is being circulated in China. Accordingly, he had succeeded in uniting the party and thus stabilizing it. This is an important and great historical achievement. Xinhua
Taiwan's Reactions to Xi Jinping's Opening Speech – According to a Xinhua article, Xi Jinping's opening speech met with widespread approval in Taiwan. Accordingly, a large part of Taiwan's population shares the dream of reunification with the motherland. They found Xi's speech inspiring and exciting. The passage in which Xi Jinping pointed out that there would never be any pledges to refrain from using military means was therefore correctly understood as a warning to foreign forces promoting Taiwan separatism. Our assessment: It is not surprising that this assessment does not correspond to the wishes of the majority of the Taiwanese population. According to the latest data from Chengji University's annual survey, only 1.5% of survey respondents want "reunification" with the PRC. Accordingly, the speech was discussed in the Taiwanese media in a completely different way than the Xinhua article suggests. Xinhua; Taipei Times
How the Congress Speech Was Discussed by Delegates — Xinhua also released a report last week on how Xi Jinping's opening speech was said to have been discussed by delegates. Accordingly, they were unanimously of the opinion that the idea of ​​unity conveyed in the speech was a guarantee of stability and progress. For example, MP Xian Guoyi, secretary of the Guyuan City CCP Committee, said Xi's rural revitalization policy has lifted many regions out of poverty. Overall, the delegates were of the opinion that China was on the right path and that this had to be pursued consistently. Our assessment: When selecting MPs this year, (probably) special emphasis was placed on loyalty to Xi. In this respect, the speech should actually have encountered little resistance. However, discussions of the speech took place behind closed doors during the congress, so it is very difficult to make a truly informed assessment of what those debates actually looked like. Xinhua"
How is this assessed in Taiwan? According to the DDP-affiliated Taipei Times:
"Xi expands power and promotes allies
'MAXIMUM XI': With a loyal standing committee, more power would be concentrated with Xi, without any kind of checks or balances in the system, a political analyst said
AP, BEIJING
Chinese President Xi Jinping (習近平), the country's most powerful leader in decades, yesterday increased his dominance when he was named to another term as head of the ruling Chinese Communist Party (CCP) in a break with tradition and promoted allies who support his vision of tighter control over society and the struggling economy.
Xi, who took power in 2012, was awarded a third five-year term as general secretary, discarding a custom under which his predecessor left after 10 years.
That has sparked warnings that Xi's increasingly unchecked power might trigger a succession crisis when his rule finally comes to an end.
Xi's "reappointment today is the result of his concentration of extreme individual power," said a senior Chinese political academic who requested anonymity to avoid potential repercussions from the authorities.
The move was "catastrophically negative for the Chinese state," harming the party's resilience and heralding "decline and stagnation," the academic said, adding that it was "inevitable" that Xi, 69, would now seek to rule for life.
The party also named a seven-member Central Politburo Standing Committee, its inner circle of power, dominated by Xi allies after Premier Li Keqiang (李克強), the No. 2 leader and an advocate of market-style reform and private enterprise, was dropped from the leadership on Saturday. That was despite Li being a year younger than the party's informal retirement age of 68.
"Power will be even more concentrated in the hands of Xi Jinping," said Jean-Pierre Cabestan, a Chinese politics expert at Hong Kong Baptist University.
The new appointees are "all loyal to Xi," he said. "There is no counterweight or checks and balances in the system at all."
Xi and other standing committee members — none of them women — appeared for the first time as a group before reporters in the Great Hall of the People in central Beijing.
The No. 2 leader was Li Qiang (李強), the Shanghai party secretary. That puts Li Qiang in line to become premier, the top economic official. CCP Secretary of the Central Commission for Discipline Inspection Zhao Leji (趙樂際), already a member, was promoted to No. 3, likely to head the legislature.
The lineup appeared to reflect what some commentators called "Maximum Xi," valuing loyalty over ability. Some new leaders lack national-level experience as vice premier or Cabinet minister that is typically seen as a requirement for the post.
It is the economy that is likely to command Xi's immediate focus as he embarks on his history-making third term.
His signature "zero COVID-19" strategy, with its snap lockdowns, mass testing and restrictions on movement, has pummeled consumer sentiment and chipped away at growth.
China this week delayed the release of its third-quarter economic growth figures, amid expectations that the country was on course for its weakest performance since the early days of the pandemic in 2020.
The country eked out just 0.4 percent growth in the second quarter, and analysts widely expect it to miss its annual growth target of 5.5 percent by a wide margin.
https://www.taipeitimes.com/News/front/archives/2022/10/24/2003787601
Similarly, another article in the Taipei Times sees the concentration of power and instability in succession struggles as a potential problem and possibly even as a fourth term for Xi:
"Xi, lacking successor, could seek fourth term: analyst
By Chen Yu-fu and William Hetherington / Staff reporter, with staff writer
Chinese President Xi Jinping (習近平) appears to be planning a fourth term in 2027, as he did not indicate a successor at the Chinese Communist Party's (CCP) 20th National Congress, Academia Sinica researcher Wu Yu-shan (吳玉山) said yesterday.
Xi yesterday secured an unprecedented third term as CCP general secretary and chairman of the CCP's Central Military Commission, as the party unveiled its new leadership for the next five years.
The CCP traditionally grooms successors by promoting young leaders to permanent positions, and then assigning them suitable responsibilities, Wu told a news conference held by the Fair Winds Foundation in Taipei.
NO BACKUP
"That we did not see any young appointees this time implies that Xi has no intention of designating a successor," he said. "Also, the youngest member of the Politburo Standing Committee is Ding Xuexiang (丁薛祥), and he is already 60. So, at most he would only serve for one term if he took over from Xi."
Since Xi became CCP general secretary, there has been a high concentration of power, and a decreased focus on institutionalization in China, Wu said, adding that the situation was reminiscent of China under Mao Zedong (毛澤東).
"The trends we are seeing with regard to Xi are the centralization and expansion of power, and the breaking of patterns," he said.
Wu said that a conflict in the Taiwan Strait would depend on Xi's hold of power in China, Taiwanese politics and the US' commitment to Taiwan's defense.
Xi's reinstatement increases the risk of war, but Taiwanese are highly resistant to Chinese aggression, which would be to the country's benefit, he said.
The US' apparent increase in strategic clarity toward Taiwan would serve as a deterrent to Chinese aggression, he added.
TOUGH TO PREDICT
Tamkang University researcher Chen Chien-fu (陳建甫) said that Xi's policies on Taiwan would be more difficult to predict than in the past.
Although the CCP said it would not rule out the use of military force to unify Taiwan, wars are costly and China's economy is struggling, he said.
"It's most likely that China will attempt to force Taiwan to the negotiating table through a blockade in the Taiwan Strait," he said.
The CCP National Congress ended on Saturday after endorsing amendments to the party's constitution, including vows to build a state-of-the-art military to enforce its "one country, two systems" framework in Hong Kong and to "strongly and firmly oppose and contain Taiwan independence."
It remains unclear how long Xi plans to rule, but he is certainly aiming to "accomplish some achievements" on the Taiwan issue for his legacy, China expert Chao Chun-shan (趙春山) said on Saturday.
Xi considers Taiwan unification an integral part of his "Chinese dream" of "great rejuvenation of the Chinese nation," and he would seek a fourth term to give him more time to achieve that goal if necessary, said Chao, a professor emeritus at Tamkang University's Graduate Institute of China Studies.
Taiwan must prepare to resist coercion from China, as maintaining the "status quo," favored by most Taiwanese, is not one of Beijing's options, he said.
Additional reporting by Chung Li-hua and CNA
https://www.taipeitimes.com/News/front/archives/2022/10/24/2003787602
Also interesting. A brief analysis of the newly appointed generals and the constellation in the military commission. For a conflict or even war with Taiwan, it will be crucial that this takes place quickly and without differences within these institutions and one seems to be preparing for this, otherwise one will end up with a repetition of the Vietnam or Ukraine disaster wihout real war experience like the US and a lot of Russian designed weapons.. Although the US side emphasizes that China might be ready militarily in a year to attack Taiwan and, according to US Secretary of State Blinken, strike Taiwan faster than expected, but there are other experts who but believe that while Xi is picking up the pace, there is still enough time to prepare and the threats of violence against Taiwan in Xi's speech were not beyond what could be expected:
"Analysts assess new generals of Xi Jinping
Reuters, HONG KONG
Chinese President Xi Jinping's (習近平) new generals might have been selected for their political loyalty to him, but those ties could serve at least one vital military purpose in any Taiwan invasion plan: Ensuring cohesion and decisiveness.
C
Although the politburo's seven-man Standing Committee would make the ultimate decision on any Taiwan action, the Chinese Communist Party's (CCP) Central Military Commission would forge and execute the battle plan, eight Asian and Western military attaches said.
Three new generals were appointed to the top command body on Sunday after the CCP's five-yearly congress — an event at which Xi said China would "never promise to give up the use of force" to take control of Taiwan.
Four security analysts and four military attaches said that Russia's Ukrainian quagmire has shown how vital speed — in build-up and execution — would be to any Chinese plan, in part to prevent Taiwanese forces and international support from mobilizing.
"If Xi Jinping is going to the pull the trigger on Taiwan, then he can't afford any dissent from the Central Military Commission," Singapore-based strategic adviser Alexander Neill said. "To secure any kind of advantage they would have to move fast, lightning fast."
"There is no room for dithering," Neill said. "That has always been Chinese thinking on Taiwan, and the Ukraine stalemate has confirmed the need to avoid getting bogged down in a slow logistical build up."
In his first two terms, Xi purged thousands of officers on corruption allegations and has attempted to tighten the party's control over the military.
Xi further strengthened his grip on his military command, with three new generals appointed to the commission and an extension beyond retirement age granted to his closest military confidante, General Zhang Youxia (張又俠).
"This breaking of precedent is being used to his advantage to achieve two aims at once," said James Char, a military academic at Sinagpore's S. Rajaratnam School of International Studies, referring to keeping Zhang in his post past retirement. "To ensure the PLA's [Chinese People's Liberation Army] top soldier is someone well-versed in operational command and is politically reliable."
The Chinese Ministry of Defense did not respond to questions.
Some analysts and attaches described the commission as a tightly interconnected group that blends operational experience and political loyalty while maintaining a link to China's last shooting war, against Vietnam.
Zhang, 72, was described in the Pentagon's report last year on China's military modernization as a PLA "princeling" whose father served with Xi's father at the end of the Chinese Civil War in 1949.
One of Zhang's proteges, General Li Shangfu (李尚福), was also promoted to the commission. Crucially, Li has experience with the PLA's digitized strategic support forces, a body that covers electronic, cyber and space warfare.
General He Weidong (何衛東) will serve as the second vice-chairman below Zhang. He was promoted to the position after his command of the reformed Eastern Theater Command, which is responsible for Taiwan operations.
He oversaw the unprecedented military drills and missile tests surrounding Taiwan in August that Beijing unleashed after a visit to Taipei by US House of Representatives Speaker Nancy Pelosi.
General He is widely known to be connected to Xi through his service in the former 31st Group Army in China's Fujian Province during Xi's time there.
It is a background He shares with leading political commissar Admiral Miao Hua (苗華), who remains on the commission.
The new line-up straddles a military generation, given the promotion of General Liu Zhenli (劉振立), who has been in command of forces around Beijing and has experience in the People's Armed Police, China's internal security forces.
Liu, 58, along with Zhang, has combat experience dating to the ill-fated conflict with Vietnam, which rumbled on to the late 1980s.
"That link to the problematic Vietnam campaign is a reminder that for all of the PLA's advances in recent years, there is a glaring lack of modern combat experience," said one Asian military attache, speaking on condition of anonymity.
"All the drills, exercises and parades can't replace that. As cohesive as this team might be, there are glaring questions about the PLA's ability to wage war — for them, and for those of us on the outside looking in," added the attache, speaking on condition of anonymity because of the sensitivity of the matter.
Which member of the commission will serve as minister of national defense, replacing the retiring Wei Fenghe (魏鳳和), will emerge when the National People's Congress confirms a new governing team in March.
The position, which includes an extensive military-diplomatic role, is seen as less crucial than the work of the commission itself, which operates amid strict secrecy out of a command center in western Beijing.
https://www.taipeitimes.com/News/taiwan/archives/2022/10/30/2003787971
Now, what is important for the CCP propaganda sheet to mention? The way Hu Jintao was treated and publicly humiliated in the pillory of the party congress and taken out of the 20th Party Congress quite severely, of course is not mentioned in the Global Times. Has there ever been such humiliation so openly?
After common prosperity, now as a new term, humanity's 'shared values' as a foreign policy maxim. Sounds a bit like the version of the common global goods and so people-unifying, inclusive and without any claim to hegemony, as it is also emphasized that China wants to continue its economic opening to the outside world, although probably not just any political opening in terms of liberalization, which is not surprising either:
"New CPC central leadership set for new journey
Xi vows to open China to world wider, promote humanity's shared values
Published: Oct 24, 2022 12:42 AM
Xi
Xi Jinping was elected general secretary of the 20th Central Committee of the Communist Party of China (CPC) at the committee's first plenary session held on Sunday, according to the communique of the plenary session.

The session, presided over by Xi, was attended by 203 members of the 20th CPC Central Committee and 168 alternate members. Xi was also named chairman of the CPC Central Military Commission at the session.

The members of the Standing Committee of the Political Bureau of the CPC Central Committee elected at the session are Xi Jinping, Li Qiang, Zhao Leji, Wang Huning, Cai Qi, Ding Xuexiang and Li Xi.

Zhao and Wang were members of the Standing Committee of the Political Bureau of the 19th CPC Central Committee. Li Qiang, Cai and Li Xi have served as Party chiefs of municipal CPC committees in Shanghai, Beijing and the Provincial CPC committee of Guangdong Province since 2017. Ding has been director of the General Office of the CPC Central Committee since 2017.

Analysts said the new central leadership of the Party with a strong core leadership, demonstrated solid unity, which is a key advantage and essential element for the Party to handle complex challenges and accomplish new great missions in the future, and to withstand "dangerous storms" in a turbulent world together.

Also elected at the first plenary session of the 20th CPC Central Committee were members of the Political Bureau of the CPC Central Committee at the session, which endorsed the members of the CPC Central Committee Secretariat nominated by the Standing Committee of the Political Bureau of the CPC Central Committee.

The session named the members of the Central Military Commission, with Zhang Youxia and He Weidong as vice chairmen. The session approved the secretary, deputy secretaries and members of the Standing Committee of the Central Commission for Discipline Inspection (CCDI) elected at the first plenary session of the 20th CCDI.

Remarks of confidence

After the plenary session concluded, Xi led the Party's new central leadership to meet Chinese and foreign journalists on Sunday at the Great Hall of the People in Beijing, and delivered a speech at the meeting with the press.

Xi said China will open its door wider to the rest of the world. "We'll be steadfast in deepening reform and opening up across the board, and in pursuing high-quality development," Xi said when meeting the press, noting that a prosperous China will create many more opportunities for the world.

Just as China cannot develop in isolation from the world, the world needs China for its development, Xi said. Through over 40 years of relentless reform and opening-up, China has created the twin miracles of fast economic growth and long-term social stability, he said.

Chinese analysts said it shows that both the CPC's and Chinese people's determination on reform and opening-up is unchanged, and the Party will unwaveringly insist on the successful policy and strategy, which is a message of confidence and certainty not only to the Chinese economic development, but also to the world in turbulence and global recovery.

The Chinese economy has great resilience and potential, Xi said. "Its strong fundamentals will not change, and it will remain on the positive trajectory over the long run."

Humanity's shared values

Xi on Sunday also expressed China's commitment to promoting the building of a human community with a shared future.

"We will work with peoples of all other countries to champion humanity's shared values of peace, development, fairness, justice, democracy, and freedom to safeguard global peace and promote global development, and keep promoting the building of a human community with a shared future," Xi said when meeting the press at the Great Hall of the People.

Xi's remarks further highlight the core ideas of China's diplomacy since the 18th CPC National Congress, emphasizing the stability and continuity of major diplomatic policies, which drew a sharp contrast with certain countries that emphasize their own absolute security and maximize their own interests, building up small blocs, Su Xiaohui, deputy director of Department of International and Strategic Studies at the China Institute of International Studies, told the Global Times on Sunday.

"It shows that our diplomacy is not based on selfish and zero-sum mentalities, and the idea of promoting a human community with a shared future is winning and will win more support from the international community, especially from developing countries," Su said.

The concept of "humanity's shared values" presented by the CPC is very different from the "universal values" promoted by the West, experts said. Based on the facts about the destruction and chaos in the non-Western world that has been caused by major Western powers, these so-called "universal values" actually serve as a pretext for hegemony to bully, interfere in and invade other nations, and the "values" are actually dividing the world rather than uniting it, as the West, especially the US, uses these concepts to create "enemies and competitors" to unite its own allies and followers, despite being guilty of hypocrisy and double-standards in many cases.

But the CPC's concept of "humanity's shared values" is inclusive and aims to unite all members of the international community and all civilizations, which also include civilizations in the Western world, and China under the CPC's leadership will always oppose and fight hegemony that threatens world peace, and will never follow the suit of hegemony or imperialism in the past to repeat the bloody and brutal path of rising in the new journey toward its Second Centenary Goal, experts said.

At this critical moment for the world to learn what China's core leadership will do, experts noted that China's core diplomatic ideas were incorporated in Xi's first address since he was elected general secretary of the 20th Central Committee of the CPC, indicating that China will uphold those common values of humanity by highlighting fairness and justice.

Keep Party invincible

"A political party can only become invincible if it remains committed to self-reform, even though it has had a glorious past," Xi made the remarks when meeting the press at the Great Hall of the People.

The revolutionary travails and tempering of the past century, and especially of the first decade of the new era, have made the CPC stronger and more dynamic, Xi said.

Xi urged the CPC members to remain on high alert and stay sober-minded and prudent in the face of new challenges and tests on the journey ahead.

Zhang Shuhua, director of the Institute of Political Sciences of the Chinese Academy of Social Sciences, told the Global Times on Sunday that "Facing an increasingly complex international environment, especially when Western political systems are deteriorating and many Western countries have no longer been able to elect leaders with professional performance, the CPC underscores a strong leadership, showing its capability to organize, unite and execute."

Political authority, consistency and certainty of the leadership are important for a major power to prevent the risk and handle the crisis in a turbulent world, and the CPC provides crucial advantages for China to overcome challenges in the future and to win the tough competition and confrontation launched by a few countries, experts said.

"We must make sure that our century-old Party, the biggest in the world, will become ever more vigorous through self-reform and continue to be the strong backbone that the Chinese people can lean on at all times," Xi said. He stressed that the Party should always act for the people and rely on the people on the journey ahead.
https://www.globaltimes.cn/page/202210/1277787.shtm
Meanwhile, once again a German political Taiwan tourist human rights delegation in Taiwan, which the KP China, in view of the Scholz visit, is not worth mentioning or protesting in the People's Daily or Global Times, but is only singled out by the Taiwanese Taipei Times and the Japanese Asashi Shimbum:
"German parliament delegation arrives in Taiwan to discuss human rights
Staff writer, with CNA
A delegation from the German Bundestag's Committee on Human Rights and Humanitarian Aid arrived in Taiwan yesterday on a four-day visit to discuss human rights issues with local officials and academics.
The delegation, led by German lawmaker Peter Heidt of the Free Democratic Party, was welcomed by Deputy Minister of Foreign Affairs Tsai Ming-yen (蔡明彥) and German Institute Taipei Director-General Jorg Polster at Taiwan Taoyuan International Airport.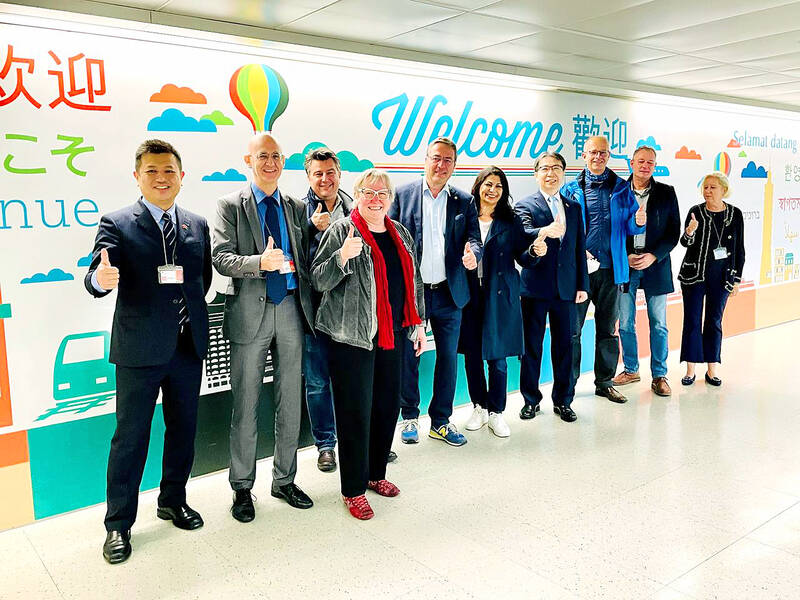 The delegation, led by German lawmaker Peter Heidt of the Free Democratic Party, was welcomed by Deputy Minister of Foreign Affairs Tsai Ming-yen (蔡明彥) and German Institute Taipei Director-General Jorg Polster at Taiwan Taoyuan International Airport.
The delegation also includes German lawmakers Heike Engelhardt and Derya Turk-Nachbaur of the Social Democratic Party, Michael Brand and Carsten Brodesser of the Christian Democratic Union, and Boris Mijatovic from the Greens.
The visit is the second by German lawmakers this month, following a seven-member delegation to Taipei from Oct. 2 to 6 headed by German-Taiwan Parliamentary Friendship Group Chairman Klaus-Peter Willsch.
The human rights delegation is scheduled to meet President Tsai Ing-wen (蔡英文), Minister of Foreign Affairs Joseph Wu (吳釗燮) and National Human Rights Commission Chairperson Chen Chu (陳菊), the ministry said.
The delegation is to visit the National Human Rights Museum and discuss cooperation with local non-governmental organizations and think tanks, it added.
The trip is meant to learn firsthand about the "tense security situation" in Taiwan and to express the delegation's stance that it would not accept "a larger neighbor attacking its smaller neighbor in violation of international law," Heidt said in Berlin last week.
Germany must overcome its economic reliance on China, he added.
Heidt said that Taiwan is known for its economic prosperity and its chip production.
"No iPhone in the world would work without Taiwan's [semiconductor] industry," Heidt said. "In other words, Taiwan's independence is also very important to us for economic reasons."
https://www.taipeitimes.com/News/taiwan/archives/2022/10/24/2003787615
"German lawmakers oppose China military threats toward Taiwan
THE ASSOCIATED PRESS
October 24, 2022 at 16:25 JST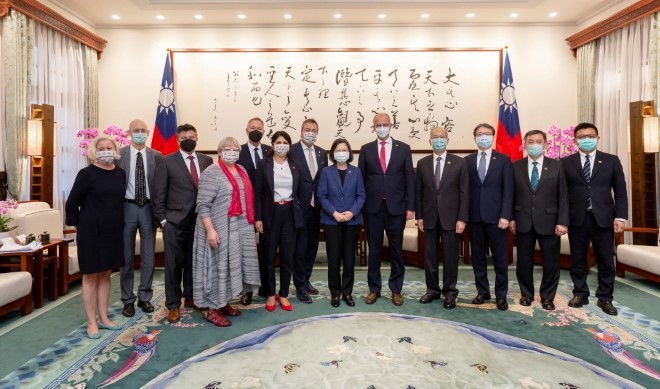 In this photo released by the Taiwan Presidential Office, Taiwan's President Tsai Ing-wen, center, poses for photo with a group of German lawmakers led by Free Democratic Party's Peter Heidt, seventh left, at the Presidential Office in Taipei, Taiwan, Oct. 24, 2022. (Taiwan Presidential Office via AP)
In this photo released by the Taiwan Presidential Office, Taiwan's President Tsai Ing-wen, center, poses for photo with a group of German lawmakers led by Free Democratic Party's Peter Heidt, seventh left, at the Presidential Office in Taipei, Taiwan, Oct. 24, 2022. (Taiwan Presidential Office via AP)
TAIPEI–Any changes to the China-Taiwan relationship must come about peacefully, a visiting German lawmaker said Monday, two days after China's ruling Communist Party wrote its rejection of Taiwan independence into its charter.
A German parliamentary delegation focusing on human rights met Taiwan President Tsai Ing-wen at her office on Monday. The lawmakers expressed interest in how Taiwan would handle threats from China.
"Taiwan is really facing military threats," delegation head Peter Heidt said. "From Germany's point of view, changes to the cross-strait status quo, if any, must be based on peaceful means. Also, these changes must be made after both sides have reached a consensus."
China claims Taiwan as its territory and says the self-governing island about 160 kilometers off its east coast must come under its control.
The Chinese Communist Party, on the last day of a major congress that confirmed a third five-year term for leader Xi Jinping, inserted a statement into the party constitution on Saturday "resolutely opposing and deterring separatists" seeking Taiwan's independence.
"We note Xi Jinping's intimidation against Taiwan in China's 20th party congress. We also note the reaction of mainland China after Pelosi visited Taiwan," he said, referring to the large-scale military drills held after the visit of U.S. House Speaker Nancy Pelosi in July.
Tsai did not refer to the amending of the Communist Party's constitution in her remarks. But her government's Mainland Affairs Council issued a statement Saturday urging China to break away from the mindset of confronting or even conquering the island, according to Taiwan's Central News Agency.
The statement said their differences should be resolved in a peaceful manner.
At the opening of China's weeklong party congress, Xi said Beijing would continue to strive for peaceful "reunification" with Taiwan but refused to renounce the possible use of force. The two sides split in 1949 after a civil war.
Taiwan's Mainland Affairs Council responded that the island's 23 million people have the right to decide their own future and urged Beijing to stop imposing its political framework and its military coercion.
The German delegation arrived on Sunday and was expected to leave on Wednesday. It is the second German parliamentary group visiting Taiwan this month.
https://www.asahi.com/ajw/articles/14750855
Scholz's visit to China, on the other hand, is positively highlighted in the Global Times, especially as the first G7 representative, and it is hoped that Germany, as the leading country in the EU, will then also influence China policy in the interests of Beijing, as was already the case under Schröder and Merkel, who is now mourned after. Can this be described as strategic balancing? From the CP China's point of view, the Scholz visit proves the importance, the correctness and the charisma of the Xi line and the CP China worldwide. But a few other less prominent heads of state from Vietnam, Pakistan and Tanzania have also announced their attendance.
"China to host several foreign leaders following key CPC congress, to set good example of major country diplomacy
Intensive visits show countries positive on China's development
Published: Oct 28, 2022 10:59 PM Updated: Oct 30, 2022 05:24 PM

China will soon unveil its major diplomatic events after the conclusion of the 20th National Congress of the Communist Party of China (CPC) by welcoming several foreign leaders from countries with different political systems and economic development paths, illustrating that more countries hold positive views on China's future development and welcome the country's foreign policy embedded with the concept of humanity's shared values pursued by the CPC.

At the invitation of Premier Li Keqiang, German Chancellor Olaf Scholz will pay an official visit to China on November 4, Chinese Foreign Ministry spokesperson Wang Wenbin announced on Friday.

He also became the latest foreign leader set to visit China, as General Secretary of the Communist Party of Vietnam (CPV) Central Committee Nguyen Phu Trong, Pakistani Prime Minister Shahbaz Sharif and Samia Suluhu Hassan, president of the United Republic of Tanzania are scheduled to visit the country in the coming days.

Such intensive visits to China following the CPC's key congress show that many countries in the world understand, support and welcome China's diplomatic ideas and approaches in the face of intensifying geopolitical uncertainties, drawing a sharp contrast with US-led Western hegemony that has triggered growing confrontation and divisions by piecing together small cliques, some experts said. More countries are also expected to share experiences and find some inspiration for their own growth.

Vietnam's communist party chief will pay an official visit to China from October 30 to November 2 at the invitation of Xi Jinping, general secretary of the CPC Central Committee and Chinese President. Trong will also be the first foreign leader to visit China after the 20th National Congress of the CPC.

Pakistani Prime Minister Shahbaz Sharif will also visit China from November 1, which will also be his first visit to China since taking office in April, the Chinese Foreign Ministry announced earlier this week. It demonstrates the special friendship and strategic mutual trust between China and Pakistan, which is also a continuation of the positive momentum of close high-level contacts between the two countries, according to the ministry.

Meanwhile, Samia Suluhu Hassan, president of the United Republic of Tanzania, will pay a state visit to China from November 2 to November 4, who will also be the first head of state from Africa to visit China after the CPC National Congress. .

In addition to leaders from Asia and Africa, German Chancellor Scholz's trip to China will make him the first G7 leader to travel to the country since the beginning of the COVID-19 pandemic, media reports said.

These visits of foreign leaders to China show that more and more countries are optimistic about China's future development, especially after the 20th CPC National Congress signaled the stability, predictability and continuity of our policies, more countries are willing to maintain cooperation with China, a Beijing-based expert on foreign relations who preferred not to be named told the Global Times on Friday.

"This also shows that China's diplomatic ideas are welcomed, understood and supported by many countries around the world, which also underscores the ideas of common interests and security, helping push forward the international order to a fairer and more equitable direction," the expert said.

Shared values highlighted

As the world stands at a critical junction in the face of growing challenges such as the Russia-Ukraine conflict, energy crises and the impact of COVID, how China plays its role will also affect how the world is developing, and the upcoming face-to-face communication between foreign and Chinese leaders serves as an important opportunity to understand where China's policy and diplomacy is leading, some experts said.

It has been a long time since Chinese and German leaders have had face-to-face communication, and Scholz will be visiting China at a key period when the two countries celebrate the 50th anniversary of the establishment of diplomatic relations and Berlin plans its overall foreign policy with its China policy as a major part, Cui Hongjian, director of the Department of European Studies at the China Institute of International Studies, told the Global Times on Friday.

"The direct communication will help shape consensus, as we have heard different voices concerning China-Germany relations in the European country. Some questions need to be answered: Should we adhere to the basis of pragmatic cooperation? How do we handle the Ukraine crisis and where are China-EU relations heading?" Cui said.

After Xi was elected general secretary of the 20th Central Committee of the CPC at the committee's first plenary session, he expressed China's commitment to promoting the building of a human community with a shared future.

"We will work with peoples of all other countries to champion humanity's shared values of peace, development, fairness, justice, democracy, and freedom to safeguard global peace and promote global development, and keep promoting the building of a human community with a shared future," Xi said when meeting the press at the Great Hall of the People on October 23.

In the eyes of Chinese experts, such commitment is also underscored in the country's future diplomacy with the firm determination of deeply integrating into the world's economic system and taking concrete actions in pushing forward a human community with a shared future.

After the Party's congress, China released a series of signals welcoming foreign investment and continuing cooperation with other countries, and such determination to advance a human community with a shared future will also crush the US' ill-intentioned attempts of decoupling and disruption of supply chains, Yang Xiyu, a senior research fellow at the China Institute of International Studies, told the Global Times on Friday.

"It's believed that many other foreign leaders hope to visit China after the Party congress to learn China's policy," Yang said.

Setting an example

Xi said when meeting the press on October 23 that China will open its door wider to the rest of the world, and will be steadfast in deepening reform and opening up across the board, and in pursuing high-quality development. A prosperous China will create many more opportunities for the world, he said.

As the CPC embarks on a new journey, it's also time to share experiences and opportunities of China's path to modernization with the world, which could set an example for other developing countries, Wang Yiwei, director of the Institute of International Affairs at the Renmin University of China, told the Global Times on Friday.

"For example, we have signed many cooperation deals on the Belt and Road Initiative with countries like Vietnam, bringing benefits to local people and businesses. Amid rising energy prices, China and Germany could cooperate in the area, and the two countries have more opportunities in cooperating in new-energy vehicles," he said.

This cooperation is not defined or driven by ideology nor self-righteous mindsets like the US has done by exporting or imposing its own values or forcing others to acceptits so-called rules, and China never seeks to export its development model, Wang said.

As Scholz will also be the first Western leader to visit China after the Party's congress, experts believe that pragmatic China-Germany relations will also play a role of stabilizing China-EU relations, given that Germany is the bloc's largest trading partner with China.

"In the Merkel era, China-Germany relations also played a major role in overall China-EU relations. If the two sides can stabilize and further improve their relations, it will also serve as a good example not only for Europe but also for the West," Cui said.
https://www.globaltimes.cn/page/202210/1278235.shtml
Interesting comment on China policy in the green taz (Tageszeitung) , which doesn't correspond at all to Annalena's and Habeck's guideline, but could rather have been written by BASF, VW or the Scholz-SPD:
"CPC Party Congress: No way past Xi
China's people face further surveillance and harassment. The West must nevertheless cooperate with the huge country. Xi Jinping left no questions unanswered when appointing his new management team. In almost all core areas, it is possible to foresee how the People's Republic will develop in the coming years: "Zero Covid" will remain, the economy will increasingly be controlled by the interests of the party and the foreign policy tone will become increasingly harsh. Above all, however, the massive violations of human rights by the regime will be exacerbated. In the future, Chinese society will be monitored and harassed more than ever. From a European point of view, the CP Congress was a great disappointment. Liberal democracies will increasingly encounter nationalism and aggressive rhetoric when dealing with China. The will of the Chinese party leadership to fundamentally transform the Western world order will take on more concrete traits than ever before.
A small ray of hope: China will remain rational and reliable under Xi Jinping compared to Russia. Despite everything, the 69-year-old autocrat is a head of state who thinks in long-term perspectives, pursues consistent goals and never acts in anger. The vision he has in mind for his home country is likely to meet with deep rejection in Brussels and especially in Washington. Nevertheless, a compromise between the West and China will have to be found in the years to come. Because economically, but also in terms of climate policy, the Middle Kingdom is too important to be completely written off. However, the tightrope act is becoming more and more delicate: instead of demonizing, finding a fair way of dealing with China is likely to become one of the key foreign policy challenges. It seems questionable whether we are prepared for this: the China competence in the authorities and political institutions is far too meager compared to the importance of the country. Mainly since the People's Republic has kept its borders closed in the wake of the pandemic and is generally becoming less and less transparent, reliable insights are in short supply
https://taz.de/Parteitag-der-KP-Chinas/!5886857/
On Twitter, China leader Mao becomes: Scholz-Tse Tung Photo: Source: Twitter The CDU opposition leader Friedrich Merz in particular is taking a stand against the Scholz visit:
"Merz about Scholz: "Right now he's also flying to China" Updated on 10/29/2022-04:34
The CDU leader criticized the chancellor's planned trip to Beijing. China's President Xi Jinping will exploit the visit together with the port participation in Hamburg for propaganda purposes. CDU leader Friedrich Merz has criticized Chancellor Olaf Scholz's (SPD) planned trip to China and again called for a review of Germany's relationship with the country. "He couldn't drive at a worse time," he told the "Augsburger Allgemeine" on Saturday with a view to Scholz' trip next Friday. With regard to the German government's decision to have China enter a container terminal in the port of Hamburg, Merz said that the chancellor apparently still believes in the theory of change through trade. "He lacks the willingness to reassess the risks to which we are exposed," criticized the Union faction leader.
"And now, of all times, he is flying to China, a week after this Communist Party congress, where military force against Taiwan was openly threatened and Xi Jinping's predecessor was taken out of the hall in full view of the world public." The Chinese government will exploit the chancellor's visit "together with the gift of another port participation as confirmation of their course for propaganda purposes," warned Merz. "The turning point also includes a new look at China" He pointed out that the coalition itself had announced a new China strategy for the spring. "It would have been right to only travel to China afterwards. The war against Ukraine and China's unilateral partisanship with Russia make it even more urgent to review our relationship with China," he said. "The turning point also includes a new look at China." Instead, the Chinese Communist Party "now gets a complete overview of trade flows in Europe through its holdings in European ports". With a view to resistance within the traffic light government, he said: "Scholz's lonely decision was a serious strategic mistake."
https://www.faz.net/aktuell/politik/merz-ueber-scholz-ausgerechnet-jetzt-fliegt-er-auch-noch-nach-china-18422803.html
On Twitter, China leader Mao becomes: Scholz-Tse Tung Photo: Source: Twitter
The question is: should Scholz not visit Beijing at all or only at this point in time (20th party congress) and then again? When then? What do the critics want? It is already forgotten that Scholz's first trip to Asia was to Japan. In addition, the strange argument that Scholz would not have traveled to China with Macron. Did Merkel or Macron go to Beijing earlier with the other leader of the Franco-German axis? Actually, you remember it completely differently. Or does Friedrich Merz only want to travel to China with EU partners once he wants to become Chancellor?
Despite all personal and political analyses, it is interesting that the Jamestown Foundation points out that Xi did not directly and aggressively criticize the USA in his party speech, nor did he attack it directly, rather indirectly via the old formulations against hegemony and Cold War thinking, moreover after China by means of the discreet and quiet threat of an EMP nuclear bomb in space, he now also sends conciliatory tones towards the USA in order to demonstrate good will:
"Strengthening of communication and cooperation"
China demands better cooperation with the USA Xi Jinping believes that China and the USA have entered a "new era". Therefore, the superpowers must find ways to "get along with each other." In a letter he calls for better cooperation with Washington. 10/27/2022,
China's President Xi Jinping has called on the United States to cooperate better. In order to ensure world peace, both countries must "find ways to get along with each other," Xi said, according to a report by state broadcaster CCTV on Thursday. "Today's world is neither peaceful nor calm." The United States and China must contribute to international stability together. "Strengthening communication and cooperation between China and the United States as world powers will help enhance global stability and security and promote world peace and development," Xi said. According to the information, he expressed himself in a letter to a New York-based non-profit organization to promote cooperation and understanding between the two countries. "New era" According to Xi, China is ready "to work with the US in mutual respect and peaceful coexistence (…) and to find ways to get along with each other in the new era". This would "benefit not only both countries, but the whole world." Relations between Washington and Beijing have been extremely strained for some time. The reasons for this include different reactions to the Russian war of aggression in Ukraine and the dispute over the status of Taiwan.
https://www.spiegel.de/ausland/xi-jinping-china-verlangt-bessere-zusammenarbeit-mit-usa-a-e47dd22a-7f3b-41ed-aebf-2b52764c53a1
The hope of cooperation with the USA despite differences in a "new era" is also emphasized again in the Global Times:
"Xi calls for finding the right way for China and US to get along in new era, shows China's firm, consistent policy amid US heightened pressure
By Zhang Hui and Wan Hengyi Published: Oct 27, 2022 10:57 PM Updated: Oct 27, 2022 11:59 PM

China stands ready to work with the US to find the right way to get along with each other in the new era on the basis of mutual respect, peaceful coexistence and win-win cooperation, Chinese President Xi Jinping stressed in a message sent to an event of the National Committee on US-China Relations, the Xinhua News Agency reported Thursday.

Xi made the remarks in a congratulatory message sent to the annual Gala Dinner of the National Committee on US-China Relations. Xi congratulated Evan Greenberg, vice chair of the national committee and chair of Chubb Limited and Chubb Group, on receiving an accolade at the gala, and extended his appreciation to the committee and its members for their longstanding dedication to the growth of China-US relations and the exchanges and cooperation between the two countries in various areas.

Chinese observers said that while the US' heightened fear of China has led to increasing pressure on the country, China has instead held the firm stance that it remains committed to mutual respect and peaceful coexistence in bilateral relations, showing the world that China will not be a destroyer of the current world order but will always be a participant of the world order and defender of peace.

They warned that the Biden administration may get tougher on China on the Taiwan question and technology, especially after the midterm elections, as the Democrats may likely lose at least one chamber of Congress, and China consequently needs to improve its ability to "fight."

Noting that the world today is neither tranquil nor peaceful, Xi said closer communication and cooperation between China and the US, both as major countries, will help bring greater stability and certainty to the world, and promote world peace and development.

China stands ready to work with the US to find the right way to get along with each other in the new era on the basis of mutual respect, peaceful coexistence and win-win cooperation, which will benefit not only the two countries but also the whole world, Xi said.

Xi said he hopes the committee and all those who care for and support China-US relations will continue to play an active role and help bring bilateral relations back to the track of sound and steady development.

Also on Wednesday, US President Joe Biden sent a congratulatory message to the Gala Dinner of the committee.

Yang Xiyu, a senior research fellow at the China Institute of International Studies, told the Global Times on Thursday that Xi's message shows China's firm political direction on bilateral ties, which is that China remains committed to mutual respect, peaceful coexistence and win-win cooperation, as current China-US relations are in a particularly difficult period.

"China's stance has not changed and will not change even amid US' enhanced pressure and attacks on China," Yang said.

Lü Xiang, a research fellow at the Chinese Academy of Social Sciences, told the Global Times on Thursday that China also took the opportunity to show that China's policy toward the US is consistent, as Western media and politicians maliciously misinterpreted the 20th National Congress of the Communist Party of China (CPC).

From the message, we can see that Xi looks at China-US relations from a global perspective, and the world will realize that China will not be the destroyer of the existing so-called world order, but will always be a participant in the world order and a maintainer of global stability. China has always made great efforts not only for China-US relations, but also for global recovery and stability, Lü said.

Heightened pressure

Contrary to China's policy that stresses peace and cooperation, the US has heightened its attacks on China using the Taiwan question since the 20th National Congress of the CPC.

US Secretary of State Antony Blinken said on Wednesday that China has decided that the status quo of Taiwan's situation is "no longer acceptable" and has begun to ratchet up pressure on the island, including "holding out the possibility of using force," Reuters reported.

Mao Ning, spokesperson of the Chinese Foreign Ministry, said at Thursday's media briefing that how to resolve the Taiwan question is entirely China's internal affair, and we are ready to create broad space for peaceful reunification, but we will never leave any room for secessionist activities seeking "Taiwan independence."

Mao said that the status quo of the Taiwan Straits is that both sides of the Taiwan Straits belong to one and the same China, and that Taiwan is part of China. It is not China that is trying to change the status quo, but the DPP authority's secessionist activities and the US' distortion of the one-China principle.

As for whether China has plans to reopen dialogue with the US in areas including military commanders and on climate change, Mao said that both sides should create favorable conditions and an enabling atmosphere for relevant communication to resume.

Aside from instigating tensions in the Taiwan Straits, the US has accelerated the introduction of Taiwan-related bills to undermine China's sovereignty and strengthen military ties with the island of Taiwan.

In response, China's Ministry of Defense spokesman Tan Kefei said on Thursday that China urges the US to stop playing with fire on the Taiwan question. The People's Liberation Army (PLA) has always been a strong force for safeguarding China's sovereignty and territorial integrity, and any attempt to obstruct China's complete reunification is bound to fail, Tan said.

Root cause

Also on Wednesday, US President Joe Biden said the US has "a responsibility to manage increasingly intense competition with China." "We are looking for stiff competition — doesn't have to be conflict," the Washington Times reported him as saying.

The report said Biden's remarks came after the recent release of Biden's National Security Strategy, which identifies China as "America's most consequential geopolitical challenge."

Lü said that all of the current US policies and hostility toward China is really motivated by a fear that China will soon become bigger and stronger and will thus try to challenge US' leadership in the world, leading to a situation that is close to a cold war-style conflict between the two sides.

It seems that the so-called responsible management of competition raised by Biden is not responsible at all, as the fact remains that many of the measures now being launched by the US are seriously hurting their companies, for instance, semiconductor companies and industry in the US, the expert said.

Observers believed that Biden's China policy will become more hostile after the midterm elections, when Biden has little room to push forward his domestic legislation, with Democrats likely losing control of at least one chamber of Congress.

Yang said Biden's measures to blockade China's development of high technology are likely to be tightened, and more Taiwan-related bills are likely to be introduced in the next two years.

As Taiwan has become the key to China-US relations, Yang said China needs to improve its ability to fight so that the US will correct its wrong actions and work with China to bring bilateral relations back to the right track of coordination, cooperation and stability.

China's diplomatic front will continue to carry on the fighting spirit and improve its capability to safeguard the country's dignity and interests, Vice Foreign Minister Ma Zhaoxu said last week at a news conference on the sidelines of the 20th National Congress of the CPC.
https://www.globaltimes.cn/page/202210/1278173.shtml
Well, Xi demonstrated with the 20th party congress, his 3rd term and the humilation of Hu Jintao that he was the ultimate leader, then indirectly threathend a nuclear EMP space war and from this supposedly position of strenght shows good will to the USA, just a little bit like Theodor Roosevelt: "Speak gently and carry a big stick".
After China's spectacular ASAT tests at that time it seemed that there had been calm in space for a long time, but now there are again alarmist articles regarding the newer ambitions of the Middle Kingdom. This time not due to conventional anti-satellite weapons, but nuclear weapons and EMPs in space, which exceptionally could affect the USA directly and for many  9-11 times, cause a "digital and EMP Pearl Harbor".
"Nuclear strikes against satellites A nuclear war in the middle atmosphere – this disturbing vision brings the Chinese military into play.
The weapon could specifically turn off enemy satellites, so the idea. October 21, 2022, 6:57 p.m
Chinese scientists have studied how spaceships and satellites could be destroyed with an atomic bomb. According to an article published in the Chinese journal Nuclear Techniques, a team led by physicist Liu Li from a nuclear research institute under the Chinese army used computers to simulate explosions at different heights at the edge of space. Although the physical processes are extremely complex, the new model can estimate the radius of the explosion and the extent of the damage "with great reliability", according to the researchers from the Northwest Institute of Nuclear Technology in Xian. A bomb with an explosive force of ten million tons, detonated at a height of 80 kilometers above the earth's surface, could therefore knock out orbiting satellites or other spacecraft. This result is quoted by the "South China Morning Post". and establishes a connection to the Starlink satellite program of the US company Space X by billionaire Elon Musk. A Chinese military study released in May called Starlink a threat to national security. The thousands of low-Earth orbiting satellites could provide communications services to China's adversaries or destroy Chinese spacecraft in kamikaze fashion. Therefore, the country must develop capabilities to take down Starlink.
Too dangerous and ineffective
 Rocket attacks on satellites, which are to be outlawed internationally anyway on a US initiative, are ruled out. This would destroy individual important satellites, but the decentralized operation of Starlink would continue. So the attack would have to be more extensive to have an effect. The challenge here: to hit the American network sensitively without interfering with their own satellites. Liu Li and colleagues now present a possible nuclear answer. According to Liu Li's team, there have already been several computer simulations of the use of nuclear bombs against satellites. However, they mostly assumed an explosion in space, outside the earth's atmosphere. There is a lack of air molecules there, which is why the radioactive particles would quickly be bundled by the earth's magnetic field into a radiating belt that would permanently endanger the spaceflight of friend and foe around the world – too dangerous and ineffective as a weapon. At an altitude of 80 kilometers, however, there is still air, where the explosion would form an atomic cloud. According to the calculations, the cloud, shaped like an upside-down pear, would spread to an altitude of almost 500 kilometers within five minutes and cover 140,000 square kilometers – almost 40 percent of the area of ​​Germany. Spacecraft such as satellites in this area could be knocked out by radioactive radiation or direct hits by debris. Most of the air particles would then fall back to Earth. an anonymous nuclear expert from Beijing told the South China Morning Post. Whether such a use would be legal, for example to defend against hypersonic weapons, is an open question. Detonating a real atomic bomb in the atmosphere or in space for testing purposes is forbidden under an international treaty. Although China did not join this agreement, it did sign an agreement in 1996 for a general ban on nuclear tests. This treaty has not yet come into effect, but ended China's nuclear testing program. According to the researchers from Xian, their results match those of the "teak test" conducted by the United States in 1958. At that time, the Americans detonated an atomic bomb more than 70 kilometers west of Hawaii to study the effects. China has been pursuing an ambitious space program for years and has set itself the goal of catching up with the USA in terms of technology. Military components also play a role here. In 2019, the United States established a so-called Space Force to prepare for possible conflicts in space."
https://www.spiegel.de/wissenschaft/weltall/atombombe-forscher-aus-china-simuren-atomschlage-versus-satelliten-a-fdf23630-aa71-4518-bd2f-952fe9d9959e
Next up will be the G20 summit in Bali to see how much easing there can be if the planned XI Biden meeting takes place. Going further than the focus of all analyzes on the person of Xi, who has almost monopolized his power but, as the Strait Times pointed out, was not officially given the title of the People's Leader at the party congress, even if he was named as such in the state media is a contribution by the Indian ex-general Asthana, who addresses the actually more important question: "Xi rises, but is China rising?"
"Xi has risen, but is China Rising?
Posted on October 26, 2022 by S B Asthana
Xi Jinping with his 'Smart Dictatorship with Chinese Characteristics has risen to get unprecedented third term, with a hierarchy structured with loyalists, having no space for minorities and women, but the news of the same made Chinese stocks tumble by approximately 15 percent and its richest class losing $12.7 billions in one day after the announcement. It brings to fore the basic question that Xi Jinping's rise has taken place but does it means China's rise or otherwise and how did he manage it?
In that context I am sharing the analysis of mine published in many international journals and online sites in different forms, besides being carried/quoted by news agencies, the URLs of some of which are also attached below. The updated text is placed underneath for benefit of readers.
Xi Jinping's Art of Smart Dictatorship with Chinese Characteristics
Key Points
The third term for Xi Jinping in 20th Congress of CPC was obvious.
The implosion theory fails, as delegates in 20th Congress add "new achievements" under Xi's leadership as "new developments".
Xi has smartly managed the 'Boiling Pot'.
Xi rises, but is China rising?
Backdrop
Xi Jinping, the 'Core' leader has unveiled his new Politburo Standing Committee inducting with four new loyalists, retiring Li Keqiang and Wang Yang, in his unprecedented third term. Elimination of four Politburo Standing Committee members, the highest decision-making body in China from the list of members of the new Central Committee, which oversees the party's 97 million members indicates Xi Jinping's complete overhaul of top hierarchy. The Central Committee, with around 200 full members, reports to the 25-member Politburo (now reduced to 24 members), which is headed by the Politburo Standing Committee. All these bodies have majority of Xi Jinping's men (No women).
Historically, whenever a dictator's ambition exceeded the bounds of worldwide toleration, it resulted in catastrophe for the nation and its people, who had given him encouragement through their mute toleration. Xi Jinping maintains tight control despite China's economy performing relatively poorly compared to its last three predecessors, the unpopular "zero covid" policy, the failing BRI, infrastructure failures, the unfavourable international environment, and some discernible protest. He also disproves those who advocated the implosion theory for China and even imagined a coup against him. He would have naturally made some shrewd decisions in his favour to acquire the level that no one other than Chairman Mao Zedong did in China. Xi Jinping has risen, but the question remains- Is China rising?
Xi: An Overambitious Dictator?
Reminding China about century of humiliation, Xi began his tenure by selling dreams to lift Chinese out of poverty and toward a developed society with Chinese characteristics and set timetables. In that he pushed through Belt and Road Initiative (BRI) as a crusader to lead global infrastructure development, with recent offer to build an 'open global economy'. It has increased global footprints/investments of China, hoping it to serve as growth engine for his country to fulfil Chinese dream to build a"moderately prosperous society and realize national rejuvenation". Internationally he tried to project himself as the crusader for new and just international order, to check the hegemony of West especially US (Despite junking the ruling of PCA and violating UNCLOS), and now declared 'new choice for humanity' based on 'scientific socialism' and 'Chinese wisdom'. He did everything possible to make himself great, under the banner of 'Making China Great'. He now promises 'incomparable glory' to China and seems to assume that Chinese people will accept him, without worthwhile checks and balances.
Post 19th Congress of CPC, China enshrined "Xi Jinping Thought on Socialism with Chinese Characteristics for a New Era" and ideas like BRI in the Chinese constitution. 20th Congress of CPC has added "new achievements" under Xi's leadership, as "new developments" in the past five years to it. He continues to hold all levers of power through number of crucial appointments to include Chairman of reorganised CMC, Politburo Standing Committee and the President (to be formally endorsed in March 23 in Annual Legislative Session), with his loyalists holding top hierarchy, to rein PLA for him. His anti-corruption drive was most popular amongst masses seeing powerful people in jail, besides systematically eliminating the entire dissenting elements and possible competitors.
Is the Pot Really Boiling?
Proponents of 'Implosion Theory' for China will like to believe that the disgruntlement stoked by economic slowdown, Zero Covid policy pressures at grassroot level, banking failures, bankruptcy of infrastructure giants triggering housing scams, coupled with the strictest possible personal surveillance measures has created a pressure cooker kind of situation with very strong lid on top. The legal system stands hostage to party leadership to give strength to the boiling pot theory.
After assuming power in 2012 with a GDP growth of 7.9 percent, Xi oversaw China's subsequent economic decline. His detractors in the CPC believe that his actual accomplishments do not merit his ascension to the rank of Mao, but the unsatisfied elements and lobby groups are kept in control by his extensive surveillance because questioning Xi 'The Core' is anti-national and results in imprisonment. Dissent has no place in "Socialism with Chinese Characteristics for a New Era," according to Xi, who has made this clear by establishing the watchdog body "National Supervisory Commission" and putting the National Security Law into effect.
Xi Jinping is aware of the internal difficulties mentioned above, as well as the fact that China has highly educated society with many of its citizens touring other democratic nations, who increasingly understand the realities of freedom. Significant internal concerns surround some of his actions, such as imposing restrictions on religious practises and forcing abortions on Uyghurs in Xinjiang, requiring Christians to replace images of Jesus Christ with those of Xi Jinping in order to receive government benefits, engaging in social engineering and mental profiling, and using force to try to suppress democratic ideas.
Smart Management of Boiling Pot!
In order to quell internal dissent, Xi has deftly constructed a narrative of himself as a crusader against Western hegemony, reminding everyone of centuries of humiliation, igniting nationalism within the country by playing the victim card to responses to his aggressive actions in the Taiwan Strait, South and East China Seas, and Himalayas, and the need to unite under his strong leadership as the national need, overriding all other concerns. In his opening statement to the 20th Congress, his overemphasis on "security" and "struggle" supports the notion that China is the victim of external aggression. It is possible to interpret Xi's actions, forcing students to read Xi's thoughts (the equivalent of Mao's Red Book), as an attempt to brainwash people into blindly believing in him.
His propaganda machinery has been able to build a narrative that despite certain pitfalls, the Chinese system of governance is better than more chaotic democracies which remain embroiled in protests, recording slower growth in last few decades. Dealing Uyghurs with iron hand he has also built a narrative to majority of Han Chinese staying in South-eastern half of the country that he has been able to give them secure environment with hardly any terrorist activities, unlike most democratic countries. The strict censorship of media and internet, mental profiling, electronic isolation of thoughts and the fear of harsh crackdown on dissenters has helped him to minimize unrests/disagreements. Xi has been able to manage that the 'Hate America' sentiments echo more strongly than 'anti- Xi' sentiments in China. His military expansion and built up has also been projected as 'Making China strongest ever' as a lead over other predecessors since Mao's era. In fact, Xi has pushed his country to a state where there is only one leader and rest everyone else is a worker.
Future of China under Over-ambitious Xi
CPC's 20th Congress applauding Hong Kong's transition from "chaos to governance" and adding "opposing and containing Taiwan independence" to its constitution convinces Xi that his aggressive posture has paid him well and might continue to serve his interest well. His reiteration that PLA would be a world class army by centenary 2027 with a strong system of strategic deterrence and new domain forces indicates growth of strategic arsenal to improve deterrence against US led West. The Chinese dream of "Rejuvenation" and Xi Jinping's goal of a "Prosperous Developed Society" with a "War Winning Modern PLA" by 2049 could have been achieved if he had not gone into overdrive with his aggressiveness, opening multiple fronts to oust the US as the world's superpower by unfairly exploiting pandemic.
In accordance with Xi's plan for 'Making China Great Again', China accelerated its incremental encroachment strategy in its peripheral regions. This gave him the confidence to aggressively use the pandemic to accomplish all of his goals ahead of schedule without having the means to defend its international shipping outside of its eastern seaboard. Although the US did not respond to his fire power demonstration around Taiwan during Nancy Pelosi's visit, China is still affected by restrictions on semiconductor chips, microprocessors, and other trade restrictions.
With the kind of global anger he has generated against his regime in last few years, the world has realised the need for diversification of global factory, along with economic distancing from China. Xi realises it, is evident from his statement "China cannot develop without the world, and the world also needs China,". Xi appears to be advocating for capacity building to fight against economic coercion of West and desire for alternate financial system. The fact that Chinese stocks are tumbling with the breaking news of stronger Xi Jinping march into third term, the increasing trend of decoupling from China and economic distancing is unlikely to be arrested, as investors fear the economic fallout from Xi's Zero- COVID stance, 'common prosperity' agenda with iron grip on voices inconvenient to him. Notwithstanding above, Xi has done well for himself, but pushed his country on a collision path with democracies, which might lead to its decline unless Chinese people wake up and shake up CPC to protect their dreams.
How does it Affect India?
In CPC's 20th Congress "Xi Jinping Thought on Strengthening the Military" was also added to the party's constitution, making it the only leader with military term named after him in the constitution. Xi Jinping's pitch for shaping security posture deterring and managing conflicts and winning local wars impact India and Taiwan directly. His attempt to stir up nationalism out of the Ladakh standoff was confirmed by the film about the Galwan episode being shown to all delegates, which appears to have helped him calm down domestic rage. The overplaying of the Taiwan problem follows the same logic. He will be inspired to maintain a tough posture on both fronts as a result.
From Indian perspective, notwithstanding Xi Jinping's rhetoric, this is the time when Beijing is under maximum external and internal pressure since last few decades. If Beijing continues with its arrogance, it will invite further global pressure. India should push for border settlement or demarcation of LAC, as the political cost of resolving the border/LAC may be lesser than maintaining an active front with India for China, given its engagements in Taiwan Strait, South and East China Seas . India should not settle down with token disengagement, because unless the LAC is demarcated the standoffs will continue. For the time being India should not blink at the borders and continue capacity building.