A Global Community of a shared Future: Aufrüstung in Asien geht weiter- Vietnam,Taiwan, Indien, Japan, Korea
A Global Community of a shared Future: Aufrüstung in Asien geht weiter- Vietnam,Taiwan, Indien, Japan, Korea
Die Aufrüstung in Asien gegen Chinas Bestreben indopazifische Macht und bis 2049 eine Militärmacht wie die USA zu werden geht weiter. Nun wollen die USA mit Vietnam das bisher größte Waffengeschäft abschließen:
"US in talks for largest-ever sale of arms, fighter jets to Vietnam
A major US-Vietnam arms deal could aggravate China, Vietnam's larger neighbor, which is wary of Western efforts to box in Beijing.
By REUTERS SEPTEMBER 23, 2023 16:01
The Biden administration is in talks with Vietnam over an agreement for the largest arms transfer in history between the ex-Cold War adversaries, according to two people familiar with a deal that could irk China and sideline Russia.
A package, which could come together within the next year, could consummate the newly upgraded partnership between Washington and Hanoi with the sale of a fleet of American F-16 fighter jets as the Southeast Asian nation faces tensions with Beijing in the disputed South China Sea, one of the people said.
The deal is still in its early stages, with exact terms yet to be worked out, and may not come together. But it was a key topic of Vietnamese-US official talks in Hanoi, New York and Washington over the past month.
Washington is considering structuring special financing terms for the pricey equipment that could help cash-strapped Hanoi steer away from its traditional reliance on lower-cost, Russian-made arms, according to the other source, who declined to be named.
Spokespersons for the White House and Vietnamese foreign ministry did not respond to requests for comment.
Official comments on the deal
"We have a very productive and promising security relationship with the Vietnamese and we do see interesting movement from them in some US systems, in particular anything that can help them better monitor their maritime domain, perhaps transport aircraft and some other platforms," said a US official.
"Part of what we're working on internally as the US government is being creative about how we could try to provide better financing options to Vietnam to get them things that might be really useful to them."
A major US-Vietnam arms deal could aggravate China, Vietnam's larger neighbor, which is wary of Western efforts to box in Beijing. A long-simmering territorial dispute between Vietnam and China is heating up in the South China Sea and explains why Vietnam is looking to build up maritime defenses.
"They are developing asymmetric defensive capabilities, but (want) to do so without triggering a response from China," said Jeffrey Ordaniel, associate professor of international security studies at Tokyo International University and director for maritime security at Pacific Forum International, a think tank. "It is a delicate balancing act."
Ordaniel said Washington should shift funds set aside for financing militaries in the Middle East to the Indo-Pacific region "so partners like Vietnam, the Philippines and Taiwan can afford the weapons they need to resist Beijing."
The Biden administration has said it is trying to balance geopolitical competition with China, including in the Pacific, and responsibly managing the two superpowers' relationship.
Earlier this month, Vietnam upgraded Washington to Hanoi's highest diplomatic status, alongside China and Russia, when US President Joe Biden visited the country.
The diplomatic turnaround marks a sharp pivot nearly a half-century after the end of the Vietnam War.
Since an arms embargo was lifted in 2016, US defense exports to Vietnam have been limited to coast guard ships and trainer aircraft, while Russia has supplied about 80% of the country's arsenal.
Vietnam spends an estimated $2 billion annually in arms imports, and Washington is optimistic that they can shift a share of that budget over the long term to weapons from the United States or its allies and partners, especially South Korea and India.
The cost of US weaponry is a major obstacle, as is training on the equipment, and is among the reasons the country has taken in less than $400 million of American arms over the past decade.
"Vietnamese officials are well aware that they need to spread the wealth," the US official said. "We need to lead the charge in helping Vietnam get what it needs."
Meanwhile, the war in Ukraine has complicated Hanoi's longstanding relationship with Moscow, making supplies and spare parts for Russian-made arms harder to acquire. Nonetheless, Vietnam is also actively in talks with Moscow over a new arms supply deal that could trigger US sanctions, Reuters has reported.
https://www.jpost.com/international/article-760247
Interessant, dass die Global Times gar nicht wegen der möglichen F16-und Waffenverkäufe der USA an Vietnam nach dem Bidenbesuch so beunruhigt ist, sondern die Aufmerksamkeit ganz woanders liegt: Auf den Seltenen Erden, von denen Vietnam angeblich die weltweit zweitgrößten Vorkommen haben soll.
!GT Voice: Rare earths won't be tool for US to divide China, Vietnam
By Global Times Published: Sep 25, 2023 10:22 PM
Illustration: Chen Xia/Global Times
It seems that the US has turned its eyes to Vietnam as a key link in restructuring its rare-earth supply chain amid concerns over the potential loss of Chinese supplies. While the US support for Vietnam's rare-earth development looks like a challenge to China, it needs to be made clear that rare earths will not be a tool for the US to drive a wedge between China and Vietnam as the two neighboring countries have the potential to cooperate in the rare-earth industrial chain.

Vietnam plans to restart its biggest rare-earth mine next year with a Western-backed project, Reuters reported on Monday, citing two companies involved. As an initial step, the Vietnamese government intends to launch tenders for multiple blocks of its Dong Pao mine before the year's end, according to the Reuters report.

The development, which came just a few days after US President Joe Biden visited Hanoi and signed an agreement to boost Vietnam's ability to lure investors for its rare-earth reserves, was widely seen as part of a broader push by the US to dent China's dominance in a sector that offers critical materials used in magnets for electric vehicles, smartphones and wind turbines, among others.

Washington's interest in investing in Vietnam's rare-earth industry is not a whim. With rare earths reportedly in short supply globally, the US is in urgent need of restructuring the rare-earth supply chain, and Vietnam is supposed to be a critical part of the supply chain. According to data from the US Geological Survey (USGS), Vietnam has the second-largest volume of rare-earth deposits in the world, topping 22 million tons. Vietnam's production surged from 400 tons in 2021 to 4,300 tons in 2022, with its rank of production going up from 10th to sixth, Reuters reported, citing USGS data.

Of course, the US is well aware of the uncertainties surrounding Vietnam's development as a rare-earth hub, which is why there are geopolitical considerations behind US-Vietnam cooperation on rare earths. It's not just a case of luring Vietnam to sell its cheap rare-earth resources to the US.

It is no secret that China currently supplies most of the world's rare earths, so whether or not Vietnam establishes a rare-earth industrial chain, its development of the industry could be interpreted by outsiders as a potential challenge to China's position in the global rare-earth industry. In this sense, the US plan to rope Vietnam into its restructuring of the rare-earth industrial chain may also drive a wedge between China and Vietnam to a certain extent.

While the US may want to use rare earths to create the illusion of a conflict of interest between China and Vietnam, there is every reason to believe that the cooperation between the two neighboring countries is strong enough to defy such a ploy.

China's production of rare earths is based on the technological breakthroughs and achievements of Chinese scientists in refining rare-earth elements, which is the fundamental reason why other countries can hardly replace China's place in this industrial chain.

China has no intention to compete with Vietnam on rare-earth exports. This is because if Vietnam relies entirely on the US to develop its own rare-earth industry, it is not conducive for the country to seek the maximization of interests from its rare-earth resources, especially when it doesn't possess the most critical processing technologies. In this sense, Vietnam needs to protect its own rare-earth interests by maintaining cooperation with China.

As for China, the warming US-Vietnam relations may serve as a reminder of the importance China needs to attach to further strengthening industrial ties with Vietnam through cooperation.

When it comes to rare earths, China needs to invest more in technological upgrading to ensure its leading position in the industrial chain, which is essential for cooperation between China and Vietnam in terms of rare earths and other industries.
https://www.globaltimes.cn/page/202309/1298896.shtml
Große Schlagzeile ganz stolz in der DDP-nahem Taipeh Times über Taiwans neues U-Bootprogramm. Der Sinn des Ganzen wird aber primär damit beschrieben, dass man die Lebensadern für die Ostküste Taiwans freihalten will und nicht, um China den Zugang zum Pazifik abzuschneiden, wenngleich es diesen Effekt ja haben könnte. Ob das so eine "Eigenproduktion" ist, wenn man die Technologietransfers im weiteren Artikel liest, ist wohl etwas zweckoptimistisch gedacht.
"Tue, Sep 26, 2023 page1
Two new subs to be deployed by 2027
DETERRENCE: The president on Thursday is to launch the first indigenous submarine, which is to enter sea trials next month before being delivered to the navy next year
By Yimou Lee / Reuters, TAIPEI
Photo courtesy of the Ministry of National Defense
Taiwan hopes to deploy at least two new, domestically developed submarines by 2027, and possibly equip later models with missiles to bolster its deterrence against the Chinese navy and protect key supply lines, the head of the program said.
Taiwan has made the Indigenous Submarine Program a key part of an ambitious project to modernize its armed forces as Beijing stages almost daily military exercises.
President Tsai Ing-wen (蔡英文), who initiated the program when she took office in 2016, is expected to launch the first of eight new submarines on Thursday under a plan that has drawn on expertise and technology from several nations — a breakthrough for diplomatically isolated Taiwan.
Admiral Huang Shu-kuang (黃曙光), head of the nation's Indigenous Defense Submarine program, said that a fleet of 10 submarines — which includes two Dutch-made submarines commissioned in the 1980s — would make it harder for the Chinese navy to project its power into the Pacific.
"If we can build up this combat capacity, I don't think we will lose a war," Huang this month told an internal briefing on the project, which was attended by Reuters.
Huang said the first submarine, with a price tag of NT$49.36 billion (US$1.54 billion), would use a combat system by Lockheed Martin Corp and carry US-made MK-48 heavyweight torpedoes. It is to enter sea trials next month before being delivered to the navy by the end of next year.
For subsequent models, Taiwan would leave space for submarine-launched anti-ship missiles, but adding those weapons depends on production availability in the US, where capacity is already tight, Huang said, without naming the companies that would be involved.
He called the submarines a "strategic deterrent" to Chinese warships crossing the Miyako Strait near southwestern Japan or the Bashi Channel that separates Taiwan from the Philippines.
Taiwan's diesel-electric submarines can keep China at bay within the first island chain, Huang said, referring to the area that runs from Japan through Taiwan, the Philippines and on to Borneo, enclosing China's coastal seas.
"This was also the strategic concept of the US military — to contain them within the first island chain and deny their access," he said. "If Taiwan is taken, Japan will definitely not be safe, South Korea will definitely not be safe."
The Chinese Ministry of National Defense did not respond to a request for comment.
The Chinese navy, including its Shandong aircraft carrier, has become increasingly active in the past few months off Taiwan's eastern coast, prompting worries that Beijing could launch an attack from that direction. Eastern Taiwan is where planners have long envisioned the military regrouping and preserving its forces during a conflict.
The submarines can help maintain Taiwan's "lifeline" to the Pacific by keeping ports along its eastern coast open for supplies in a conflict, Huang said.
"The submarines will keep their ships away from our eastern shores," he said.
Chieh Chung (揭仲), a military researcher at the National Policy Foundation think tank, said the fleet would have trouble with that task, because China could position warships in the Pacific before launching an attack.
However, he added that the submarines could occupy strategic ambush points in the region and "greatly harm [China's] combat ability" by targeting high-value ships such as carrier groups or landing fleets.
Taiwan has quietly sourced technology, components and talent from at least seven nations to help it build submarines, a Reuters investigation has found.
Getting foreign assistance was particularly challenging for Taiwan, which does not have official ties with most nations.
Huang declined to say which nations had approved export permits, but said he had reached out to generals from nations that included the US, Japan, South Korea and India.
"For those foreign generals who agreed with my ideas, they helped convey the message to their governments or arrange meetings," he said. "I told them our needs and that's how we achieved our purpose of securing export permits."
Huang also expressed thanks for "great help" from a team led by an unnamed retired rear admiral of Britain's Royal Navy, who secured export permits from the UK through a Gibraltar-based company.
Britain sharply increased the amount of submarine parts and technology exports approved for Taiwan last year, a Reuters analysis of the data showed.
Huang described the program as "even harder than reaching the sky," citing challenges such as a global chip shortage that hit many manufacturers around the world.
He said his team scrambled to source chips from Taiwan to avoid delays by foreign vendors.
A foreign supplier had also pulled out at the last minute after the work with Taiwan was leaked to a Chinese embassy, he said, without elaborating.
China's frequent military harassment, including close approaches to Taiwan's territorial waters and airspace, has prompted Taiwan and the US to rethink the nation's "asymmetrical" strategy of making its forces more mobile and harder to attack, with a focus on smaller weapons systems, he said.
"The American thinking is changing gradually. They realized that you can't withstand [the harassment] without bigger boats," Huang said, pointing to the navy's plan to build a new generation of bigger frigates.
"They are getting closer and closer," he said, referring to China.
https://www.taipeitimes.com/News/front/archives/2023/09/26/2003806785
Taiwans U-Boot-Plan, um die VBA vom Pazifik abzuschneiden wird als Illusion dargestellt, da China schon ein multidimensionales Anti-U-Bootnetzwerk habe. Ob das die USA und Taiwan nicht wissen? Oder ist das doch nicht so engmaschig wie vom lieber anonym bleibenden Pekingansässigen Militärexperten behauptet?
"'Daydreaming' for Taiwan island to block PLA from Pacific with local sub deployment
By Liu Xuanzun
Published: Sep 25, 2023 07:57 PM
Anti-submarine patrol aircraft attached to a naval aviation regiment under the PLA Southern Theater Command takes off for a round-the-clock training exercise in early July, 2023. (eng.chinamil.com.cn/Photo by Qin Qianjiang)

The island of Taiwan's submarine deployment plan to block the Chinese People's Liberation Army (PLA) from entering the Pacific Ocean is daydreaming, experts said on Monday, ahead of the scheduled launch of the island's first "indigenous" submarine later this week.

A naming and launch ceremony for the submarine Hai Kun will be held in Kaohsiung on Thursday, media on the island reported on Monday.

The submarine is scheduled to be delivered to the island's naval force in 2024, said Huang Shu-kuang, the leader of the island's "indigenous" submarine program, who also hopes to finish building three "indigenous" submarines by 2025 and four by 2027, according to the report.

Huang claimed that the island's submarine forces will be deployed to the island's southwestern, southeastern, eastern waters and waters between Suao and Japan's Yonaguni Island, with the goal of cutting off PLA forces' access to the Pacific Ocean from the first island chain, so the PLA cannot encircle the island of Taiwan.

The plan is just an illusion of the island attempting to resist reunification by force, a Beijing-based military expert who requested anonymity told the Global Times on Monday.

The PLA has already constructed a multidimensional anti-submarine network all around the island of Taiwan, which includes Y-8 fixed wing anti-submarine patrol aircraft and Z-9 vessel-borne anti-submarine helicopters in the air, anti-submarine-capable corvettes, frigates and destroyers on the sea surface, as well as submarines underwater, the expert said.

In their almost daily routine exercises around the island, some of these PLA anti-submarine forces are frequently spotted by the island of Taiwan.

If a conflict breaks out, the island's submarines will be easily detected and dealt with by the PLA, and they will pose only limited threats, the expert said, noting that the true potential targets of the PLA are submarines from external interference forces such as the US and Japan.

Observers also question the technical capabilities of the submarine that the island claimed to be "self developed," which uses a number of foreign technologies in combat systems and weapons, like the MK-48 heavyweight torpedoes the island purchased from the US.

An assembled submarine using imported technologies may face incompatibilities, especially as the island does not have much experience in building submarines on its own, analysts said, who questioned if the island's submarine can enter service without encountering issues.
https://www.globaltimes.cn/page/202309/1298869.shtml
Derweil meinen wiederum US-Militärexperten, dass eine Blockade Taiwans durch China für letzteres nicht machbar und ein "Monsterrisiko" sei, das dieses davor abschrecken werde:
"Thu, Sep 21, 2023 page1
Blockade a 'monster risk' for China: US officials
CROSS-STRAIT CONCERNS: At the same US Congress hearing, Mira Resnick said a US government shutdown could affect weapons sales and licenses to allies such as Taiwan
A Chinese blockade of Taiwan would be a "monster risk" for Beijing and likely to fail, while a military invasion would be extremely difficult, senior Pentagon officials told the US Congress on Tuesday.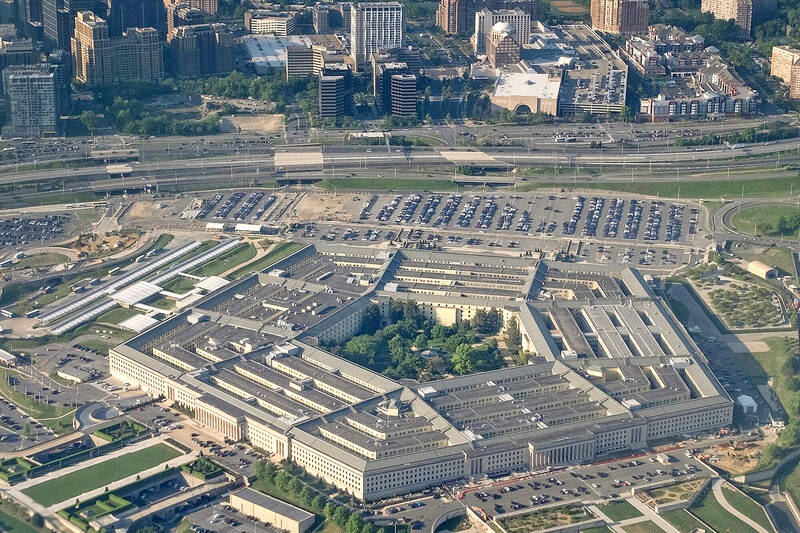 Photo: Bloomberg
Growing worries of a conflict come as China has ramped up military pressure on Taiwan, holding large-scale war games simulating a blockade on the nation, while conducting near-daily warplane incursions and sending Chinese vessels around its waters.
US Assistant Secretary of Defense for Indo-Pacific Security Affairs Ely Ratner said a blockade would be "a monster risk for the PRC [People's Republic of China]."
"It would likely not succeed, and it would be a huge risk of escalation for the PRC, where it would likely have to consider whether or not it was willing to ultimately start attacking commercial maritime vessels," Ratner told the US House of Representatives Armed Services Committee.
"A blockade would be devastating to the international community and would likely induce the broad-based wide deep response from the international community … that Beijing would likely be trying to avoid," he said.
He was echoed by US Army Major General Joseph McGee, a vice director of the Joint Staff.
"It is an option, but it is probably not a highly likely military option… It is much easier to talk about a blockade than actually do a blockade," McGee said.
"There is absolutely nothing easy about a PLA [Chinese People's Liberation Army] invasion of Taiwan," he said, pointing to the nation's mountainous terrain and the Taiwan Strait separating it from China.
"They would have to mass tens of thousands, maybe hundreds of thousands of troops on the eastern coast, and that would be a clear signal," McGee said, adding that combined amphibious and airborne air assault operations would be "an extremely complicated joint operation."
"That would leave them in that [Taiwan Strait] gap, 90 to 100 miles [145km to 161km] — that would lead them susceptible to all the fire that could be brought to an invading force that was already telegraphing their intentions," he said.
China's latest massive show of force came on Monday, when Beijing sent more than 100 warplanes in 24 hours around the nation, prompting Taipei to decry its "destructive unilateral actions."
Also during Tuesday's hearing, Mira Resnick, US deputy assistant secretary of state for regional security in the Bureau of Political-Military Affairs, said a US government shutdown could affect foreign weapons sales and licenses to its allies, including Taiwan.
"This is something we would like to avoid," Resnick said.
Her comments come as the US is less than two weeks from a potential government shutdown, as lawmakers struggle to agree on a short-term spending bill — an impasse that could also have repercussions on military and humanitarian aid to Ukraine.
Resnick said that in the past, the bureau had been unable to process new licenses or new military sales for any partner, including Taiwan, during a shutdown, except in an emergency.
Additional reporting by Reuters
https://www.taipeitimes.com/News/front/archives/2023/09/21/2003806551
Derweil scheint es engere Beziehungen zwischen Taiwan und Indien zu geben, wobei Taiwan sich da keine 180 Gradwenden Indiens unabhängiger Realpolitik erwartet, aber doch etliche Vorteile. Ausdruck dessen ist auch der Besuch ehemaliger indischer Generäle in Taiwan:
"Sun, Sep 24, 2023 page8
Security facets of India-Taiwan ties
By Kumari Mansi
India and Taiwan do not have offical diplomatic relations, hence any traditional or direct security ties between the two countries are implausible. The China factor looms large over their relations like the sword of Damocles, but it is this same sword that puts them in accord.
Recently, China warned India on security ties with Taiwan following the visit of three former Indian service chiefs to Taiwan. The augmentation in overture from both sides is a cognizance of an enmeshed security-stability-sovereignty triad of economic growth, development and poverty alleviation.
This calculus gets more prominence in the aftermath of the Russian invasion of Ukraine and uncertainty in the Taiwan Strait.
There has been an upward trajectory in India-Taiwan relations in the recent past that cannot solely be attributed to the matters of low politics. Considerable credit can be given to the increasing Chinese belligerence in the Taiwan Strait, the South China Sea and the Himalayas. This year's edition of China's standard national map is just another example of China's territorial aggression with its neighbors, including India and Taiwan.
The increased prominence of Taiwan in India's strategic and military circles has been evident since late July, when India Chief of Defense Staff General Anil Chauhan ordered a study to assess India's possible options if Taiwan were to be attacked by China. The idea is to be ready if any conflict breaks out in the Taiwan Strait.
A few days later, former chiefs of India's three services, former chief of the air staff R.K.S. Bhadauria, former chief of the naval staff admiral Karambir Singh, and former chief of the army staff general M.M. Naravane, were in Taipei to participate in the Ketagalan Forum on Indo-Pacific Security Dialogue.
Singh was also one of the key speakers at the forum and referred to Taiwan as the major flashpoint in the Indo-Pacific. He also said that India does not want the Chinese playbook in the South China Sea to be replicated in the Indian Ocean. The team also included Major General Rakesh Bhadauria, head of the Centre for Strategic Studies and Simulation military think tank, and Captain Kamlesh Agnihotri, a senior fellow at the National Maritime Foundation (NMF), which is headed by Singh. The NMF's intellectual and organizational development is supported by the Indian Ministry of Defense and the Indian Navy.
It is not unprecedented that former chiefs or ex-military personnel have visited Taiwan, but the magnitude and the timing of recent visits should not be overlooked. Following the security forum, the team also held discussions at the Institute of National Defense and Security Research, visited several places and interacted with various stakeholders. New Delhi and the delegates maintained that they were visiting in their personal capacity and that there was no agenda from the Indian side, but this has generated speculation that there has been a shift in India's position on China.
In a separate interview, Singh, Naravane and Bhadauria said that India's official position regarding China has not changed. When asked about the study group, they said that their visit was not part of any study group. Naravane added that if China invaded Taiwan, India would provide diplomatic support to the nation and condemn the Chinese aggression, which is consistent with India's position. India does not support any form of aggression against any country.
However, its nature and the magnitude would depend on three things: how the crisis starts, how it unfolds into conflict and how the US and the other countries in the region respond.
Naravane also believes that India should be engaging more with Taiwan. Apart from semiconductors, Naravane and Bhadauria believe that India and Taiwan should try to forge ties based on their respective capabilities in the fields of defense manufacturing, IT, module technology, R&D and space.
However, there are no ongoing military-to-military exchanges. Their views might be personal, but it highlights increasing focus on Taiwan in India's security calculus.
Both India and Taiwan operate in realpolitik, so it would be naive to expect something drastic and overt. Their best option is to follow the art of deception. Officially, track II and track 1.5 diplomacy is at the center of India-Taiwan relations, but the possibility of working below the radar and in a multilateral framework for security or military engagements and information sharing can be explored. Experts from Taiwan's strategic community also believe that more security dialogue between India and Taiwan is needed to make informed decisions.
Taiwan can also tap into India's improved ties with the US, Japan, South Korea, Australia and ASEAN, as these countries already have strong ties with Taiwan. The increased naval exercises, military exchanges and information sharing between India and these countries would certainly benefit Taiwan. The increased interoperability in the region opens a multilateral mechanism and backdoor channel of communication for Taiwan.
A stronger India in the Indian Ocean is in Taiwan's interest. India is a "threat in-being" for China. Chinese vulnerability lies in the Indian Ocean region on which China's energy security depends. In 2021, 70 percent of China's petroleum and liquefied natural gas exports and 60 percent of its total trade went through the Strait of Malacca. Chinese President Xi Jinping (習近平) might try to downplay the "Malacca dilemma," but the fact that China is trying to explore alternate access points to the Indian Ocean via Pakistan and Myanmar tells a different story. The ambitious proposal of a Thai canal to provide an alternative to transit through the Strait of Malacca underlines Chinese attempts to mitigate its vulnerabilities in the Indian Ocean. A strong Indian position in the Indian Ocean Rim along with the presence of the US Navy in the region would certainly be a concern for China while planning an attack on Taiwan.
It is not in India's interest for Taiwan to be unified with China, as it would further bolster China's belligerence along the Sino-India border. A crisis in the Taiwan Strait would have far-reaching consequences for the region and the Global South where India has pitched itself as a leader. India would not be in a position to be neutral or shun the matter as someone else's problem.
Furthermore, unification could change the entirety of Asian power dynamics, putting India in a precarious regional and global position. The recalibration in Indo-US relations, India's strengthened relations with other Indo-Pacific partners, and India's prominent position in the Indian Ocean would put an onus on India to take a strong position.
Taiwan needs to integrate more into the international community, to globalize security in the Taiwan Strait and increase the magnitude of its engagement with the world in general and the Global South in particular. It needs to develop asymmetric diplomacy like its asymmetric defense.
Regarding Taiwan's approach to India, the nation must target long-term dividends by adopting a bottom-up approach whereby it engages more local-level politicians. This approach has worked well in the case of Taiwan-US relations, where Taiwan enjoys bipartisan support, and so could also work with India.
Aside from that, building sister-city projects and private-to-private collaboration (like start-ups) should be explored. To address its demographic depression, education cooperation and human resource mobility agreement to facilitate labor movement can play an important role.
The India-Taiwan relationship needs to adopt a niche diplomacy to further people-centric policymaking, promotion of peace, development, democracy and the economy. The economy might be the driving force, but the security calculus is the underlying impetus of India-Taiwan relations in the present geopolitical scenario.
Kumari Mansi is an assistant professor at Amity University Haryana, India and a Ministry of Foreign Affairs fellow at National Chengchi University.
https://www.taipeitimes.com/News/editorials/archives/2023/09/24/2003806684
Ex- NATO –General Domroese jr. meinte:
"Lesenswert und interessant, dass gleich 3 indische ex Militärs nach Taiwan reisen….
Indien ist einerseits in der QUAD, andererseits in BRICS.
Passt irgendwie nicht zusammen…."
Jedenfalls hält man diese neueren Kontakte zu Indien für wertvoll, zumal China seine neue Karte von Indien und dem Indopazifik herausgegeben hat und in Indien scheinbar seit Juli eine Neubewertung stattgefunden hat:
Thu, Sep 28, 2023 page8
EDITORIAL: India is a partner worth pursuing
India has long been touted as one of the world's top emerging economies, and was a BRIC nation — Brazil, Russia, India and China — when it formed in 2001, expanding to BRICS in 2010 with the addition of South Africa.
For a long time, India trailed China in the speed and size of its economic development. The past few years have seen the country increase in geopolitical importance and engage more with other members of the international community, not just because of its inherent strengths, but because of the counterbalance it is hoped it can provide against China. Major economies have come to regard India as an essential partner, including in multilateral military exercises and as part of the Quadrilateral Security Dialogue in the Indo-Pacific along with the US, Japan and Australia.
India's long-term insistence on carving its own path, refusing to firmly align itself with any one nation, has not changed. Its growing influence and power, to an extent, makes it an unknown quantity. Nobody is under the illusion that it will fall into lock-step with the Western democratic world as was the hope for China after Deng Xiaoping (鄧小平) opened the country up to economic reforms. Some have linked the West's muted response to Canada's allegations that the Indian government was involved in the killing of a Sikh with Canadian nationality on Canadian soil to its courting of India.
Some might see similarities between China's rise and that of India, and are wary of the direction the latter might take, but Taiwan has no concerns in that regard. Rather, it stands to benefit by increasing the depth and frequency of ties between New Delhi and Taipei, as both have to deal with the Chinese Communist Party's (CCP) "gray zone" tactics and distortions of history to claim territory that it has no historical, legal or rational claim to.
For India, this is being manifested most explicitly in border disputes between western Tibet and Kashmir and in the northeastern Indian state of Arunachal Pradesh, which the CCP claims as "South Tibet."
Meanwhile, the CCP insists that Taiwan is an inalienable part of its territory, and has intentionally misinterpreted UN Resolution 2758 and forcefully insisted on other countries' adherence to the "one China" principle. The latest example of this was China's publication of a "standard map" with an aspirational mapping of its "territories" that included contested areas involving not just India and Taiwan, but also Indonesia, Vietnam, Malaysia, Brunei, the Philippines, Japan and Russia.
India and Taiwan experience military provocations from the CCP. Both have to constantly refute the bogus nature of the CCP's claims over their territory. Both suspect that China has its reasons to wrest sovereignty from them, over the whole or part of their territory: China would benefit hugely from annexing Taiwan and is arguably troubled by a stronger, more geopolitically influential India on its doorstep, especially as it is showing signs of declining economically and demographically.
All of this suggests that increased ties, trade and technological exchanges would be mutually beneficial for Taiwan and India. There have been visits by Indian politicians and parliamentary exchanges, but these must be more visible and more frequent. The absence of official ties is an obstacle, but much can be done outside of the public domain for now, until a more stable and explicit relationship is established.
Taiwan and India can learn to play in the gray zone, to counter the gray zone tactics employed by the CCP.
https://www.taipeitimes.com/News/editorials/archives/2023/09/28/2003806875
Die Machtbalance im Westpazifik soll angeblich schon 2025 kippen. Der Asahi Shimbum beschreibt in einer Analyse wie die USA und Japans SDF sich daraufhin anpassen wollen, um eine Krise abzuschrecken. Die Einrichtung eines Gemeinsamen Kommandos ist geplant, aber noch unklar, wie die Entscheidungsgewalt und die Kompetenzen verteilt sind.
ANALYSIS/ U.S. forces move ahead to contain China; hurdles still high for SDF
By YOSHIHIRO MAKINO/ Senior Staff Writer
June 16, 2023 at 07:00 JST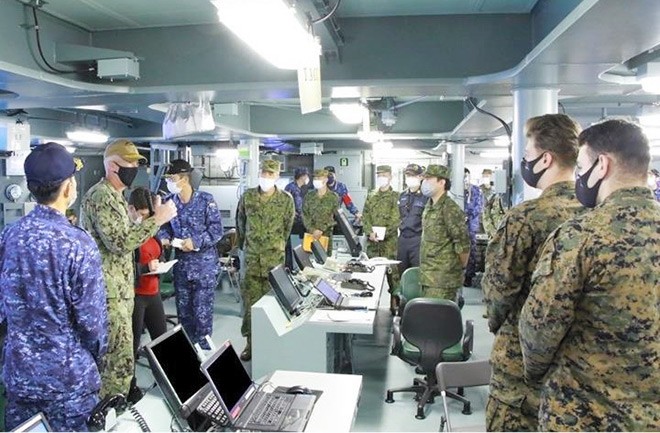 The joint Keen Sword 23 exercise takes place in November 2022 around the southwestern Nansei Islands and elsewhere. (From the website of the Japanese Defense Ministry's Joint Staff Office)
With China's growing presence in mind, the United States is reorganizing its forces into smaller, distributed units while bolstering information sharing with Japan and South Korea for a more integrated response to possible contingencies.
At the U.S.-South Korea summit on April 26, Washington and Seoul agreed to enhance their extended deterrence under the U.S. nuclear umbrella.
Japan, however, still faces a pile of challenges over the command flow and operations of the Self-Defense Forces despite the rising probability of a Taiwan crisis transpiring.
Ryoichi Oriki, former chief of staff of the SDF's Joint Staff, expressed a sense of urgency.
"The military balance in the Western Pacific is on the verge of collapse," he said. "One estimate predicts China's military power will surpass that of the United States in 2025."
Beijing's anti-U.S. security policy is known as Anti Access/Area Denial (A2/AD).
Under the framework, China is expected to take measures to prevent U.S. troops from entering the First Island Chain in the South China Sea extending from Kyushu through Taiwan's east side.
China is also said to be taking steps to prevent free movement of U.S. units in the Second Island Chain linking Japan's Izu and Ogasawara islands with Guam, Saipan, Palau and the Marianas.
UNIT REORGANIZATION
In response, Washington is forging ahead with new tactics for its forces.
The U.S. Navy and Air Force have traditionally been deployed on the assumption that they can take control of the seas and skies.
But under a new scenario being discussed, U.S. troops fail to overwhelm their Chinese counterparts in the skies and waters near the First Island Chain.
U.S. units are separated into two categories: Inside Units sent to zones exposed to threats from the seas and skies, and Outside Units stationed in relatively safe areas.
Mark Gunzinger, a former U.S. deputy assistant secretary of defense, touched upon the planned U.S. response to an emergency in Taiwan.
"There's a potential … you'll have a major fight with China that could involve Japan," Gunzinger said.
He said that a few years ago, following a range of discussions, U.S. forces decided to fight along with their allies in risky "Inside" areas.
Under the renewed course of action, the U.S. Navy, Air Force, Army and Marine Corps are reorganizing their units.
The Japan-U.S. Security Consultative Committee announced in January this year that the U.S. 12th Marine Regiment in Okinawa Prefecture will be turned into the 12th Marine Littoral Regiment (MLR) by 2025.
The envisioned regiment will be responsible for the Expeditionary Advanced Base Operations (EABO), with the aim of deploying units following detection of a sign of an enemy attack.
The MLR will be armed with missiles, air defense features, logistics abilities and other functions, allowing itself to launch attacks while mobile.
It will also collect enemy intelligence to provide a strategic foothold for reinforcements.
The MLR is considered a mainstay among Inside Units.
In the run-up to the MLR's introduction, the U.S. Marine Corps conducted joint training with the Ground SDF's land-to-ship missile regiment.
"The MLR will likely work around the southwestern Nansei Islands, Taiwan, the Philippines and elsewhere on the First Island Chain," said Katsuki Takata, a former commander in chief of the SDF's Ground Component Command.
The U.S. Army in 2017 started putting in place its Multi-Domain Task Force (MDTF), which is in charge of cyberspace and other fields.
Gen. Vincent Brooks, a former commander of the U.S. Army Pacific and U.S. Forces Korea, described the MDTF as a unique organization fitted with functions suited for modern warfare.
The U.S. Army set up an airborne division in Alaska in June 2022.
"That allows additional commanding control to conduct independent combat operations, introduced by parachute, anywhere from the Arctic Circle, to the Himalayas, to the jungles of Thailand, or Cambodia, down into Indonesia, I mean, anywhere in the region," Brooks said.
The U.S. Navy is moving ahead with its Distributed Maritime Operations (DMO) in the hope of making available a horde of small unmanned vessels.
"DMO is really turned into how the U.S. Navy will fight the Chinese navy, in the Western Pacific, mostly around Taiwan," stated Bryan Clark, a senior fellow at the U.S. Hudson Institute. "And they're focused on how to have a survivable naval force, because it's distributed its people to missile fires against Chinese navy ships that might be threatening Taiwan."
The U.S. Air Force is carrying out drills to supply sets of fighters, fuel, ammunition and other materials to airports that were formerly not used as its bases under the Agile Combat Employment (ACE) concept.
An F-35A fighter jet from Alaska was stationed on the island nation of Palau in the Pacific in June 2022. Redevelopment work of an airfield on Peleliu in Palau has gotten under way as well.
Against the backdrop of changes in the U.S. armed forces, the U.S. Department of Defense is putting more emphasis on their network with the help of the Joint All-Domain Command and Control (JADC2).
"The benefit to that is it hardens all of our forces against attacks, which are not just physical attacks by missiles and bombs and so forth, but also cyber strikes, electronic warfare attacks, and so forth," Gunzinger said. "That means that we've solved all the problems with interoperability."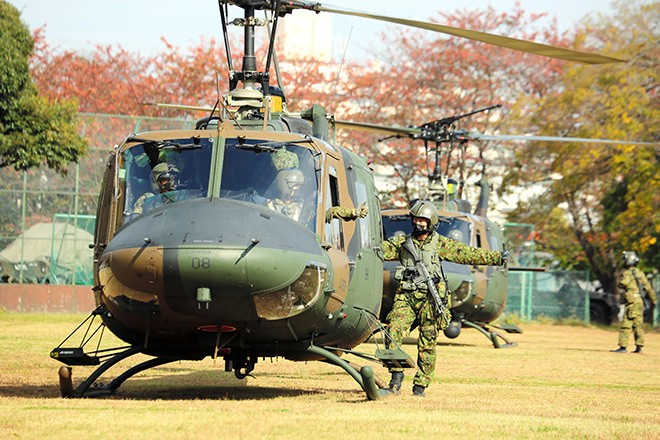 COORDINATION WITH ALLIES
Washington sees bolstered ties with Tokyo and Seoul as indispensable for containing China. And the United States has been stressing the significance of security cooperation among the three nations.
The April 26 U.S.-South Korea summit in Washington marked the 70th anniversary of their bilateral alliance. Plans to ramp up trilateral ties were also reaffirmed there.
Japanese Prime Minister Fumio Kishida visited South Korea on May 7 and discussed bilateral issues, including security.
Washington expects Seoul to prevent North Korea from taking military action simultaneously with a Chinese invasion of Taiwan.
"The reality is that no important security or economic issue in the region can be addressed without both South Korea's and Japan's active involvement," said Harry Harris, a former U.S. ambassador to South Korea who once led the U.S. Indo-Pacific Command.
Brooks explained why the United States is shoring up relations with its allies.
"Their effort is to continue to cause doubt in the minds of the People's Liberation Army and the Chinese Communist Party leadership that they can have success. There should be doubt in their minds about whether they (China) can do this," he said. "And that delays the onset of when a crisis would occur."
Brooks noted the SDF and the South Korean military need to be connected with the JADC2 system for that objective.
An era is believed to be nearing when Washington, Tokyo and Seoul should work closely together in mutual information sharing for not only ballistic missile defense but also various other operations.
Reorganized U.S. forces have jointly trained with the SDF for a potential Taiwan crisis.
According to several inside sources, Washington apparently wants the SDF to defend U.S. bases in Japan and other Japanese territories.
Such expectations include the SDF supplying fuel and ammunition to U.S. units operating around the Taiwan Strait.
If U.S. forces are exposed to enemy attacks, Tokyo is expected to declare that Japan's survival is being threatened and the country can, therefore, exercise its right to collective self-defense in line with national security legislation introduced in 2015.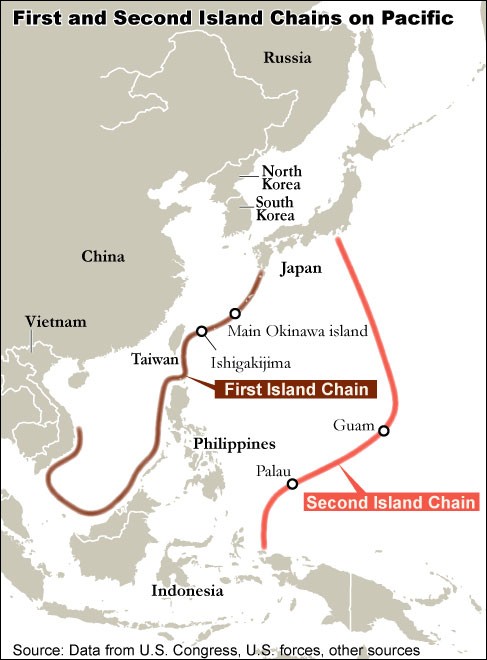 Russia's invasion of Ukraine has fueled a sense of alarm among Japanese politicians and SDF officials.
Japan's National Security Strategy, approved by the Cabinet in December last year, calls for deepening security cooperation with the United States. The description may make China feel cautious about fighting the United States because it could lead to direct conflict with Japan.
Amid the enhanced U.S.-Japan security ties for a possible clash with China, Tokyo is required to make every diplomatic effort to prevent Beijing from receiving the wrong message about Japan's heightened defense ability.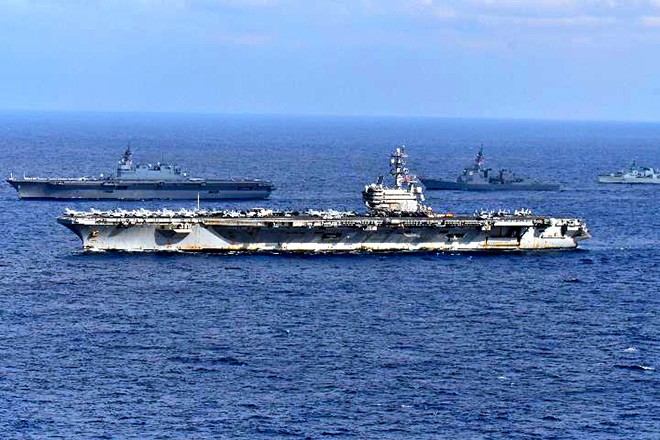 HURDLES FOR SDF
Marking a drastic shift from its postwar defense approach, Japan recently approved three key revised security policy documents, including the National Security Strategy.
Japan now has a "counterstrike" capability to attack enemy bases.
"The measure aims to supplement the collapsing military balance in the West Pacific and deter conflict," said Oriki, who once served as the SDF's highest-ranking officer.
However, the SDF still faces hurdles in changing its existing system to adapt to the new environment.
The SDF is proceeding with a southwestern shift as part of a countermeasure against China.
An SDF camp opened in March this year on Ishigakijima island in Okinawa Prefecture following those on nearby Yonagunijima, Amami-Oshima and Miyakojima islands.
Although the new camp would be regarded as the forefront line of Japan's defense during a Taiwan invasion, detailed arrangements for bilateral cooperation have yet to be made with U.S. forces.
The separation of roles between the SDF and the U.S. Marine Corps' MLR has not been determined, although the MLR would be deployed earlier than other units in an emergency.
The SDF also apparently lags behind the U.S. side concerning a comprehensive reorganization of naval, air and land forces.
Another problem is determining who will issue commands at all levels during emergencies.
The National Security Strategy refers to the decision to install a permanent joint command to unify SDF control.
But Goro Matsumura, a retired chief of the GSDF's northeastern regional headquarters, pointed to a political void.
"No mechanisms have been worked out to specify how far politicians will leave decisions up to the joint commander and units in battlefields," Matsumura said.
Japanese law also does not make clear each commander's authority and responsibility.
Linking the SDF with the JADC2 may result in the U.S. side taking effective control of all troops, given the nation's overwhelming amount of intelligence at hand.
Defense coordination guidelines should be developed beforehand to bypass the issue, but no concrete moves have been made so far.
Also problematic is the Japanese government's reluctance to hold open debates about a Taiwan crisis because it does not want to sour ties with China. But there is a significant rift among politicians and experts in Japan over the Taiwan issue.
Tokuhiro Ikeda, a senior fellow at Harvard University's Asia Center, emphasized the role the private sector should play.
"The National Security Strategy aims to deter crises, too," Ikeda said. "It is essential for the media and experts to project what the government cannot say publicly based on disclosed information and other sources for deeper discussions."
https://www.asahi.com/ajw/articles/14923476
Chinaexperte Professor van Ess meinte dazu noch:
"Die Karte mit den beiden Inselketten ist schön (es gibt ja noch eine dritte Inselkette weiter weg). Man fragt sich allerdings, wie diese Machtbalance schon 2025 kippen soll. Man kann ja Japan und Okinawa nicht so einfach wegblasen. Dass die USA mit ihren Schiffen 2025 vor der Westküste Japans nicht mehr kreuzen können, ist wenig glaubhaft, ein bisschen mehr vielleicht, dass sie die Taiwan-Straße nicht mehr so leicht durchfahren können. Hier baut doch wahrscheinlich ein Militär Druck auf sein eigenes Parlament auf, mehr Geld zu investieren."
Nun, aber gerade die Möglichkeit, dass man nicht mehr ungestört die Taiwanstraße und die erste Inselkette durchfahren kann, wird eben als die eigentliche Gefahr und das Kippen der Machtbalance gesehen und das scheint man gerade damit verhindern zu wollen.
Das betrifft inzwischen auch die Kooperation zwischen Japan und den USA im Weltraum, wie man schon 2020 lesen konnte:
"Japan to boost space cooperation with U.S. in revised policy
THE ASSOCIATED PRESS
June 30, 2020 at 12:15 JST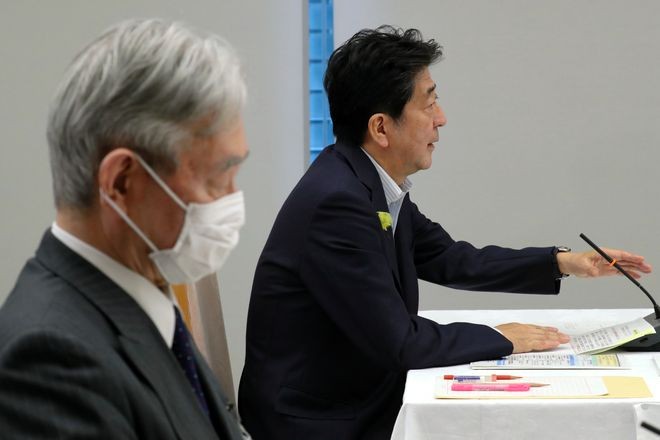 Prime Minister Shinzo Abe, right, at the government's strategic space development panel on June 29 (The Asahi Shimbun)
Japan said Monday it will step up its defense capability in space and improve its ability to detect and track missiles, while cooperating with the United States in response to what it called a growing threat from North Korea and China.
A revised basic space policy adopted by the government's strategic space development panel endorses plans for a number of small-scale intelligence-gathering satellites to quickly assess North Korean missile movements.
In civil aerospace, Japan will seek to cooperate with the United States in sending astronauts on an American lunar mission.
The revised policy is be adopted by the Cabinet on Tuesday.
Japan aims to double the scale of its space industry from the current 1.2 trillion yen ($11 billion) by the early 2030s.
Prime Minister Shinzo Abe pledged Monday that his government will promote investment in future strategic areas such as technology to clean up or avoid hitting space debris, as he set a goal for Japan to become "a future independent space power."
Abe has pushed for Japan's Self-Defense Force to expand its international role and capability by bolstering cooperation and weapons compatibility with the United States, as it increasingly works alongside American troops amid concerns about the increasing capabilities of China and North Korea.
Japan launched a new space defense unit in May to monitor and counter threats to the country's satellites.
The Space Operations Squadron, part of Japan's Air Self-Defense Force, started with 20 members and is expected to grow to about 100 once it is fully operational in 2023.
The launch of the squadron comes amid growing Japanese concern that China and Russia are seeking ways to interfere, disable or destroy satellites.
The squadron will cooperate with the U.S. Space Command that U.S. President Donald Trump established last year, as well as Japan's space exploration organization, the Japan Aerospace Exploration Agency.
https://www.asahi.com/ajw/articles/13502173
Ausdruck dessen ist nun auch eine amerikanische Space Base in Japan:
"U.S. Space Force looking to launch Japan base, team with SDF
THE ASAHI SHIMBUN
September 26, 2023 at 17:18 JST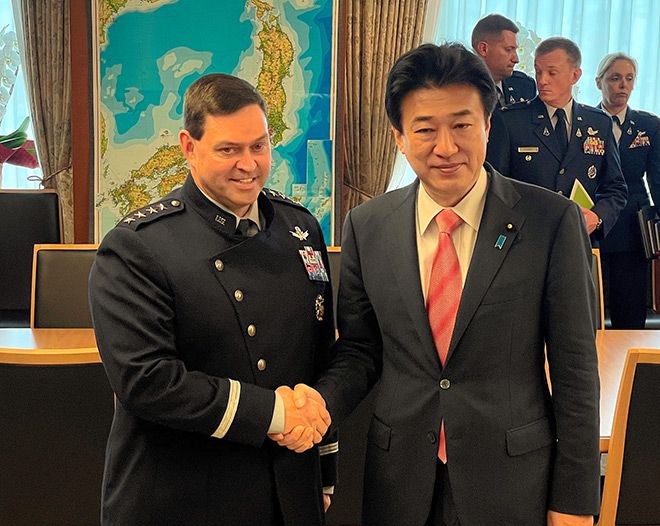 Defense Minister Minoru Kihara, right, meets on Sept. 25 with Gen. Chance Saltzman, the U.S. Space Force's chief of space operations. (Nobuhiko Tajima)
The United States Space Force is aiming high to counter aggression from China and North Korea by opening a base in Japan that would allow for greater cooperation with the Self-Defense Forces.
In a meeting on Sept. 25 in Tokyo, visiting Gen. Chance Saltzman, chief of space operations in the U.S. Space Force, and Defense Minister Minoru Kihara agreed on the importance of cooperation in space defense.
At a news conference that day, Saltzman said that establishing a base in Japan would be the "next step" in cooperative efforts designed to bolster defense of space over the Indo-Pacific region.
A U.S. Space Forces Indo-Pacific base was established in Hawaii in November 2022 and operations of a Space Force base in South Korea began the following month.
Having a base in Japan would not only bolster the SDF's space defense capabilities, but would provide another avenue for strengthening trilateral defense cooperation with the United States and South Korea.
Saltzman said that discussions had begun with officers of U.S. Forces Japan over such issues as when the Japan base would be established, what its duties would be and the scale of the base.
He added that space was becoming an increasingly important area of modern warfare and that the Space Force had to deal with threats such as directed-energy weapons, which do not fire solid projectiles but direct lasers, microwaves and various beams at their targets, as well as anti-satellite missile technology.
Saltzman said that China was an adversarial threat in various areas, including space. The Chinese military has made active moves in space, including conducting ballistic missile tests to destroy satellites.
Closer cooperation with the SDF would help address not only this, but also North Korea's ballistic missile launches.
Saltzman said the U.S. Space Force would provide support to the SDF by sharing intelligence that would help Japan develop strike capabilities against enemy bases that are preparing to launch missiles at Japan. Obtaining accurate intelligence on the location of the enemy launch site would be vital to carrying out such a counterstrike.
The SDF has set up its own units for space defense in recent years and greater cooperation with the U.S. Space Force would bolster its efforts.
In 2020, the Space Operations Squadron was established at Fuchu Air Base in Tokyo as the SDF's first unit specialized in space. In 2022, the Defense Ministry set up the Space Operations Group as a higher organization to command the squadron.
(This article was written by Taketsugu Sato, a senior staff writer, and Nobuhiko Tajima.)
https://www.asahi.com/ajw/articles/15014293
Japans SDF stellt nun auch daher das erste Space Squad auf:
"SDF's 1st outer space unit begins satellite mission at base in Tokyo
By YOSHITAKA ITO/ Staff Writer
May 18, 2020 at 19:00 JST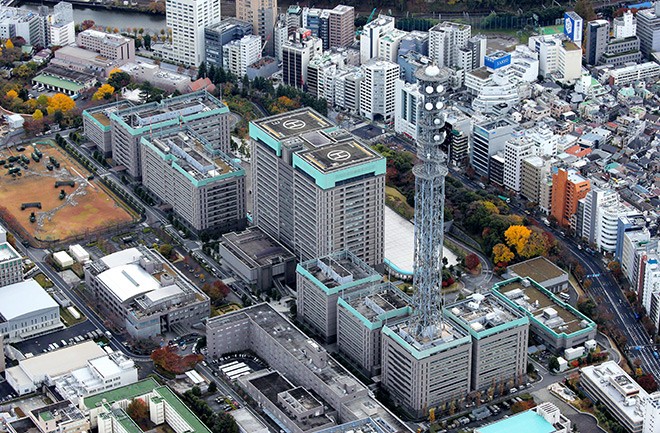 The Defense Ministry in Tokyo's Ichigaya District (Asahi Shimbun file photo)
To protect Japan from emerging threats, the Self-Defense Forces is going boldly where it's never gone before: outer space.
Twenty SDF members on May 18 started preparations to gather intelligence on space debris to safeguard the country's satellites at the Air SDF's Fuchu Base in Tokyo as the forces' first-ever "space squad" started operations.
Damage to satellites from collisions with space debris risks undermining the ability to gather defense intelligence, possibly hindering Japan's response to North Korea's missile launches, and may also hamper meteorological observations and air traffic control.
Satellites are also increasingly threatened due to moves by some countries to develop devices that can attack them.
"The unit has started small, but we will make it grow steadily," Defense Minister Taro Kono said.
But the squad will have to wait until fiscal 2023 before becoming fully operational. Radar and other equipment necessary for the surveillance of space have yet to be made available. The unit is expected to be expanded when that arrive
https://www.asahi.com/ajw/articles/13383396
Derweil steigern sich die Spannungen auf der koreanischen Halbinsel und will Nordkorea nun auch die nukleare Aufrüstung und den Status als Atommacht in seine Verfassung aufnehmen:
"Nordkorea verankert Bau von Atomwaffen in der Verfassung
Aktualisiert am 28.09.2023-05:54
Nordkorea hat seinen Status als Atomwaffenmacht in der Verfassung verankert. Machthaber Kim Jong-un will das Atomwaffenarsenal seines Landes "exponentiell" auszubauen.
Nordkoreas Führung hat ihre Politik zum Ausbau der Atomstreitmacht in der sozialistischen Verfassung verankern lassen. Einen entsprechenden Verfassungszusatz beschloss Nordkoreas Parlament bei einer Sitzung in dieser Woche in Pjöngjang, berichteten die Staatsmedien am Donnerstag.
"Die Politik zum Aufbau von Atomwaffen in der Demokratischen Volksrepublik Korea wurde als Grundgesetz des Staates verankert, das niemand missachten darf", sagte Machthaber Kim Jong-un auf einer Sitzung der Obersten Volksversammlung, wie die Nachrichtenagentur KCNA am Donnerstag berichtete. Vor einem Jahr hatte das nordkoreanische Parlament den Umgang mit Atomwaffen bereits gesetzlich verankert.
Kim erklärte den Status damals für "unumkehrbar". Das Gesetz erlaubt auch den präventiven Einsatz von Atomwaffen. Mit der Verankerung des Status einer Atommacht in der Verfassung geht Nordkorea nun noch einen Schritt weiter. Kim sprach nach Angaben der KCNA von einem "historischen Ereignis, das einen mächtigen politischen Hebel für eine (…) Stärkung der nationalen Verteidigungsfähigkeit darstellt".
Nordkorea hat in diesem Jahr bereits zahlreiche Raketentests unternommen, was die Spannungen mit Südkorea verschärft hat. Kim drohte zudem immer wieder mit einer militärischen Eskalation in der Region und verkündete, das eigene Atomwaffenarsenal "exponentiell" auszubauen.
Washington und Seoul warnen bereits seit Monaten, dass Nordkorea in näherer Zukunft einen Atomwaffentest ausführen könnte. Es wäre der erste solche Test seit 2017.
https://www.faz.net/aktuell/politik/ausland/nordkorea-verankert-bau-von-atomwaffen-in-der-verfassung-19205884.html
Scheinbar fühlt sich Xi nun nach Bidens Camp David Summit und den trilateralen Gesprächen genötigt, den Südkoreanern auch mal einen persönlichen Besuch abzustatten. Scheinbar nicht mehr dieses, sondern erst nächstes Jahr. Man scheint also auch keine Eile zeigen zu wollen. Kommentatoren wollen da gleich wieder einen "Wendepunkt" in den Beziehungen zwischen China und Südkorea sehen.
"Tue, Sep 26, 2023 page1
South Korea seeks Xi visit to mark a turning point in ties
Bloomberg
South Korea is seeking to have Chinese President Xi Jinping (習近平) visit for the first time in about a decade, seeing a trip as turning a page in relations between the two that have shifted as Seoul more closely aligns itself with the US.
The office of South Korean President Yoon Suk-yeol is working to arrange a visit, a senior government official said at the weekend. The comments came after Xi met South Korean Prime Minister Han Duck-soo on the sidelines of the Asian Games on Saturday and said he would "seriously consider" visiting South Korea, Yonhap news agency reported.
Yoon's national security adviser Cho Tae-yong in an interview with MBN cable TV on Sunday said that Xi's visit would be difficult this year, but possible next year.
"It is expected that this will be a turning point in [South] Korea-China relations," Cho said. "This is the goal we must achieve."
The movement for a possible visit comes as the US for months has been pressuring security partners including Taiwan, South Korea, the Netherlands and Japan, to comply with sweeping curbs on the sale of advanced chips — a move seen as targeting China's technology sector.
Xi last visited South Korea in July 2014, becoming the first Chinese leader to visit Seoul ahead of Pyongyang since China established diplomatic ties with South Korea in 1992. During his trip, he discussed ways of curbing North Korea's nuclear ambitions with then-South Korean president Park Geun-hye and setting up direct won-yuan trading.
Xi on Saturday said that China and South Korea are close neighbors and inseparable partners, and the advancement of bilateral ties serves the common interests of both nations and bodes well for regional peace and development, Xinhua news agency reported.
South Korea is also working to revive a three-way summit with Japan and China — those talks last happened in 2019 and then stalled, initially due to the COVID-19 pandemic and then amid political tensions.
South Korea's ambassador to Japan in an interview last week said that high-level talks are under way for the summit to happen this year, adding that this would not affect Seoul's ties with Washington.
The foreign ministers of South Korea and Japan met on the sidelines of the UN General Assembly to help advance a three-way summit and senior officials from the three nations are set to meet in Seoul today.
Yoon has worked with US President Joe Biden to bolster security cooperation to take on threats such as North Korea's nuclear program and Chinese assertiveness in the Indo-Pacific region.
Yoon has sought a delicate balance between China, his nation's biggest trade partner, and the US, his nation's main security ally.
He has also shown support for Biden administration calls to restructure global supply chains to reduce dependence on China, drawing criticism from Beijing.
Beijing has found itself under pressure in the wake of revived cooperation among South Korea, Japan and the US that has bolstered joint military drills, including missile-defense exercises and information sharing.
Their improving relations also led to a historic summit of Biden, Yoon and Japanese Prime Minister Fumio Kishida last month.
https://www.taipeitimes.com/News/front/archives/2023/09/26/2003806789
Nachdem zum 10jährigen Jubiläum der chinesischen Seidenstraße BRI die USA, die EU, Indien und Saudiaarabien bei dem G 20- Gipfel in Indien den Indian-Middle East-European Economic Corridor beschlossen, der von Deutschland, Italien., Israel, Saudiarabien bis Indien als Hauptschwerpunkte unter Umgehung der Türkei, Syriens und des Irans verlaufen soll, man auch auf einen Israel-SA- Deal hofft, sieht nun auch Japan da die Möglichkeit, den von ihm und Indien schon einmal initiierten Asia-Africa Economic Corridor wieder zu beleben. Weiteres Gebiet von Interesse ist nun auch für Japan Zentralasien, das man nicht China überlassen will, zumal Putin- Russland da sehr angeschlagen und auf dem Rückzug ist und wegen des Ukrainekriegs nicht mehr imstande ist militärische Macht in Zentralasien auszuüben, musste es doch nun schon bei dem neuen Krieg Aserbeidschans gegen Berg- Karabach hilflos am Rande verweilen und als Zaungast zuschauen. Zumal Xi nun auch den ersten China-Zentralasien-Gipfel abgehalten hatte- ohne Ru0land- , nun auch die EU samt Deutschlands Scholz und Baerbock neues Interesse am "neuen Zentralasien" und "Neuen Usbekistan" zeigt, die EU über Global Gateway schon einmal solche Leuchtturmprojekte wie den weltweitgrößten Staudamm, den Rogun-Staudamm in Tadschikistan fördert, will Japan da auch nicht abseits stehen:
"Japan eyes stronger partnership with Central Asia
By TAKASHI FUNAKOSHI/ Staff Writer
September 27, 2023 at 18:03 JST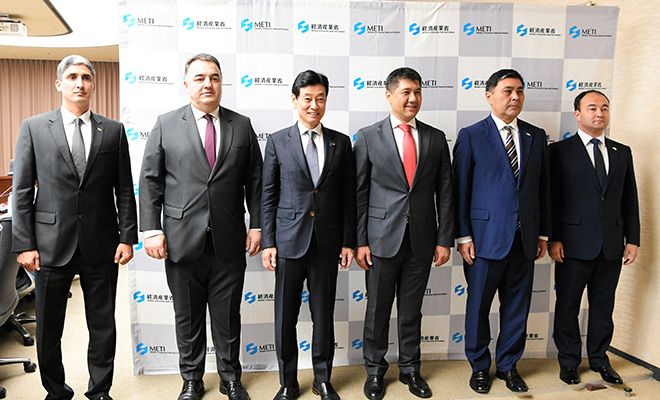 Yasutoshi Nishimura, third from left, economy and industry minister, poses with representatives from Central Asian nations who attended the ministerial economic and energy meeting of the Central Asia plus Japan Dialogue on Sept. 26. (Takashi Funakoshi)
Japan is taking steps to strengthen relations with five nations from Central Asia that possess rich oil, natural gas and essential mineral resources.
Traditionally, Central Asia has had strong ties with Russia. However, the region is also seeking to diversify diplomatic ties in the wake of Russia's invasion of Ukraine.
While the United States and China are also stepping up their engagement in the region, Japan held its first ministerial economic and energy dialogue on Sept. 26.
"In recent years, the challenge worldwide has been how to realize carbon neutrality while balancing both economic growth and a stable energy supply," Yasutoshi Nishimura, the economy and industry minister, said on the day.
"We would like to candidly exchange opinions on how Japan can cooperate with these efforts," Nishimura told ministers from Kazakhstan, Kyrgyzstan, Tajikistan, Turkmenistan and Uzbekistan, who participated in the meeting either in-person or online.
Following the meeting, the ministers issued a joint statement that included promoting implementation of the Joint Crediting Mechanism, which would allow countries to count the dissemination of greenhouse gas reduction technologies to other nations as reductions in their own emissions.
U.S., CHINA GROW CLOSER TO CENTRAL ASIA
The five Central Asian nations, which are former Soviet Union republics, have deep security ties with Russia.
At the same time, they have also benefited from trade and investment as key locations in China's Belt and Road Initiative, which seeks to extend Beijing's influence through economic cooperation projects.
The five countries have long maintained a balance between China and Russia, but their diplomatic strategies are beginning to change, triggered by Russia's invasion of Ukraine.
Kazakhstan, in particular, which shares a roughly 7,500-kilometer border with Russia, has become increasingly alarmed by Russian President Vladimir Putin's expansionism.
While maintaining friendly relations with Russia, the five nations have not supported Russian military actions. They repeatedly have been absent or abstained in votes on recent United Nations resolutions condemning Moscow.
China is taking advantage of this development.
Chinese President Xi Jinping invited the leaders of the five nations to the city of Xi'an on the same day as the Group of Seven summit in Hiroshima in May. Xi pledged to provide 26 billion yuan (530 billion yen, or $3.6 billion) in financial support and proposed cooperation on counterterrorism.
In response, U.S. President Joe Biden held a meeting with the leaders of the five nations in New York on Sept. 20. Biden proposed cooperation on border security and establishing dialogues on mineral resource development.
The United States, which geopolitically values Central Asia, often referred to as the "backyard of China and Russia," is ramping up its engagement with these countries.
German Chancellor Olaf Scholz is also set to invite the leaders of the five nations to Berlin later this month to discuss cooperation on resource transportation.
Central Asia is also becoming increasingly important for Japan, which is diversifying its sources of stable oil, gas and mineral supplies.
"The Central Asian side also hopes for sustainable development unaffected by regional situations," a senior Foreign Ministry official said. "This is a good opportunity to strengthen our access."
Japan established a framework for dialogue with the five nations in 2004 and has continued to hold meetings among foreign ministers and experts. It intends to upgrade this framework to a summit level with the five Central Asian leaders starting next year.
Foreign Minister Yoko Kamikawa, who met with her Kazakh counterpart Murat Nurtleu in New York on Sept. 20, confirmed that both sides would make arrangements ahead of the summit planned for next year.
https://www.asahi.com/ajw/articles/15015190
Auch wird schon überlegt, inwieweit China denn Russland als militärische Macht in Zentralasien ersetzen könnte, nachdem die CSTO scheinbar eher funktionslos geworden ist und unklar ist, ob Putin Kasachstan nochmals so aus der Klemme helfen könnte. Momentan hält man das für eher unwahrscheinlich, da es gegen Chinas bisherige Politik spreche, dass man keine militärischen Interventionen in anderen Ländern mache, auch um solch ein Desaster wie die USA im Irakkrieg oder Afghanistan nicht erleben zu müssen, auch aus Imagegründen , wenngleich über die Global Security Initiative über sogenannte Private Militär- und Sicherheitsfirmen und Ausbildung fremder Militärs da schon Netzwerke errichtet werden nebst sogenannten Friedensinitiativen, doch da China bis 2049 en Militärweltmacht wie die USA werden wollen, könne sich dies zukünftig vielleicht dann doch ändern:
"Why didn't China send troops to aid Kazakhstan?
THE ASSOCIATED PRESS
January 14, 2022 at 12:30 JST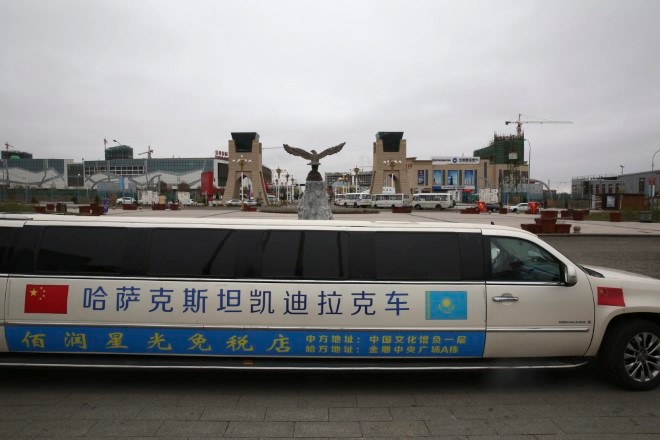 A stretch limousine bearing Chinese and Kazakhstan flags is displayed in the special trade zone along Kazakhstan's border with China near Khorgos, on April 1, 2018. (AP Photo)
BEIJING–China gave strong verbal backing to Kazakhstan's leader for his deadly crackdown to quell violent unrest, but stood aside as Russia sent in special forces troops.
Resource-rich Kazakhstan, on China's western border, has economic and strategic importance for Beijing and is an important link in its "Belt and Road" infrastructure initiative to expand its global trade and political influence in rivalry with the U.S. and its allies.
China's response to the crisis underscores how it prefers to influence outcomes with verbal assurances and offers of assistance, without committing troops.
"The growing closeness between Russia and China means we can expect more rhetorical support for Moscow's overseas ventures, particularly when they go up against Western geostrategic aims," said Rana Mitter, an Oxford University China expert.
"However, China remains extremely reluctant to deploy People's Liberation Army troops outside its own territory, except in areas such as U.N. peacekeeping operations, as it would contradict its constant statements that unlike the U.S., China does not intervene in other countries' conflicts," Mitter said.
WHAT ARE CHINA'S GOALS IN CENTRAL ASIA?
Since the demise of the Soviet Union, China has steadily expanded its economic and political influence in a region that Russia considers its own backyard. As the largest and by far the wealthiest Central Asian state, Kazakhstan is key, acting as the buckle in China's "Belt and Road" initiative, and its authoritarian politics act as a bulwark against democratic movements in Ukraine and elsewhere that China derides as Western-engineered "color revolutions."
China's ruling Communist Party, which violently repressed its own pro-democracy challenge in 1989, views such movements, whether in Georgia or Hong Kong, as a threat to its own stability. In a message to Kazakh President Kassym-Jomart Tokayev amid the unrest, Chinese leader Xi Jinping said his country would "resolutely oppose external forces deliberately creating turmoil and instigating a 'color revolution' in Kazakhstan."
China's position dovetails with its strident opposition to outside criticism of its policies, whether its human rights record or its expansive territorial claims in the South China Sea, as meddling in its internal affairs.
China's influence in Central Asia still has limits, however, and Kazakhstan may feel uneasy about inviting in Chinese troops, given China's harsh treatment of ethnic Kazakhs and other Muslim minorities within its borders, said Steve Tsang, director of the China Institute at the University of London's School of Oriental and African Studies.
"An important element of China's foreign policy under Xi is to make the world safe for authoritarian states and stop color revolutions from spreading," Tsang said.
WHEN DOES CHINA INTERVENE?
China frequently vows retaliation for any criticism of its policies, especially when the offenders are the U.S. and its allies. It is far friendlier with autocrats, pledging non-interference and cooperation with whomever is in power, regardless of their records on human rights and corruption.
That's evidenced in its dealings with regimes that others criticize, from Myanmar's military leaders to Hungary's Viktor Orban. While not recognizing the Taliban, it is hedging its bets in Afghanistan by working with the country's current rulers, despite their espousal of the form of radical Islam that Beijing has sought to keep from infiltrating its restive, largely Muslim region of Xinjiang, which shares a narrow border with Afghanistan and a much larger one with Kazakhstan.
China generally reserves action, military and otherwise, for cases in which its own security is perceived as threatened, as in the 1950-53 Korean War, or more recently, in violent incidents along its disputed border with India, and especially with Taiwan, which China threatens to invade if it doesn't agree to unite. Beijing responded with ruthless trade and diplomatic retaliation against Lithuania when the tiny Baltic nation broke with diplomatic convention by allowing Taiwan to open a representative office in Vilnius under the name "Taiwan" instead of "Chinese Taipei."
HOW DOES CHINA VIEW MILITARY ALLIANCES?
Troops, mostly from Russia, were deployed to Kazakhstan last week by the Collective Security Treaty Organization, a grouping of six former Soviet states, at the president's request amid unprecedented violence. China officially eschews such security alliances, although The Shanghai Cooperation Organization, which Beijing dominates along with Moscow, has a security component, currently limited to joint training and other non-combat missions.
Unlike the CSTO, there is "no agreement about sending troops from member countries of the SCO," Chinese international security expert Li Wei said. "In addition, China sticks to the fundamental principle of not using force in other countries."
U.N. Peacekeeping Operations remain the rare exception, and China is quick to point out that it is the largest contributor of forces to such missions among the five permanent members of the U.N. Security Council.
Given the growing might of China's military, some experts expect Beijing to become more amenable to military interventions in the future. Oxford's Mitter also points to a growing "grey zone" of Chinese private security enterprises that can be used to protect Chinese interests "without any formal government intervention."
https://www.asahi.com/ajw/articles/14521814
China hat nun ein neues Weißbuch herausgegeben , das etwas an den programmatischen Artikel vom damaligen US-Präsidentenberater und Verleger Henry Luce (der damals Madame Tschiang Kaitschek in den USA so hypte) "The American Century" von 1941 erinnert, in dem er die USA als den Samariter der Welt bezeichnete, aber auch mit einem Satz klarstellt:
"Wir müssen Die Welt nicht für die Demokratie, sondern für Amerika sicher machen" .Sagt eigentlich alles, ist auch nicht zynisch, sollte man aber mal so als das, was man als "nationale Interessen" in der Realpolitik ansieht, verbuchen. (genauso könnte man die chinesische Version des gerade erschienen Weißbuchs der KP China "A Global Community for a shared future 'bezeichnen, wo auch heuchlerischerweise der chinesische Führungsanspruch in Samariterphrasen für eine große  Weltgemeinschaft wohlklingende gepackt und paraphrasiert wird-frei nach Carl Schmitt: "Wer Menschheit sagt, der lügt". Aber vielleicht sollte Baerbock mal in "The American Century"  reinschauen, insofern sie es überhaupt kennt oder Kissingers Paradigma "Staaten haben keine Freunde, sondern Interessen" ein wenig beherzigen ,auch wenn sie den Tony Blinken duzen darf, solange sie genehm ist. Die chinesische Version jedenfalls erinnert an die traditionelle chinesische Idee der Datong, der Großen Gemeinschaft mit dem Reich der Mitte als Zentrum des Universums und der Welt und sinozentrischem Tributsystem für die ausländischen Barbaren:
"China releases a white paper on its proposals and actions on building a global community of shared future
By GT staff reporters Published: Sep 26, 2023 10:01 AM
Photo: Li Xuanmin/GT


The Chinese government released a white paper on Tuesday to introduce the theoretical base, practice and development of a global community of shared future, as by presenting China's vision of the course of human development, it counters the hegemonic thinking of certain countries that seek supremacy.

The white paper, titled "A Global Community of Shared Future: China's Proposals and Actions," introduced the background for China to raise the concept of a global community of shared future as the world is undergoing changes on a scale unseen in a century with various problems posing unprecedented challenges for human society. The zero-sum game is doomed to fail, the white paper said. But certain countries still cling to this mindset, blindly pursuing absolute security and monopolistic advantages, which will do nothing for their development in the long run but create a major threat to the world.

It is increasingly obvious that the obsession with superior strength, and the zero-sum mentality are in conflict with the needs of our times, the white paper said, pointing out that the new era calls for new ideas.

To build a global community of shared future is to pursue openness, inclusiveness, mutual benefit, equity and justice, the white paper said. The goal is not to replace one system or civilization with another. Instead, it is about countries with different social systems, ideologies, histories, shared rights, and shared responsibilities in global affairs.

The vision of a global community of shared future stands on the right side of history and on the side of human progress. It introduces a new approach for international relations, provides new ideas for global governance, opens up new prospects for international exchanges and draws a new blueprint for a better world, according to the white paper.

Such important vision transcends outdated mindsets such as zero-sum game, power politics, and Cold War confrontations. It has become the overall goal of China's major-country diplomacy in the new era, and a great banner that leads the trend of the times and the direction of human progress.

The concept of a global community of shared future has deep roots in China's profound cultural heritage and its unique experience of modernization. It carries forward the diplomatic traditions of China and draws on the outstanding achievements of all other civilizations, the white paper said. It also manifests China's time-honored historical traditions, distinct characteristics of the times, and a wealth of humanistic values.

The white paper also pointed out the direction and plan to build a global community of shared future including pressing ahead with a new type of economic globalization in which countries need to pursue a policy of openness and explicitly oppose protectionism, the erection of fences and barriers, unilateral sanctions, and maximum-pressure tactics, so as to connect economies and jointly build an open world economy.

Some countries are seeking to decouple from China, enclosing themselves in "small yards, high fences," which will ultimately only backfire, the white paper said. Also, some people overstate the need to "reduce dependence" and "de-risk," which is essentially creating new risks.

The direction and the plan also include following a peaceful development plan, fostering a new type of international relations, practicing true multilateralism and promoting the common values of humanity.

Over the past decade, China has contributed its strength to building a global community of shared future with firm conviction and solid actions.

For instance, by July 2023, more than three-quarters of countries in the world and over 30 international organizations had signed agreements on Belt and Road cooperation with China. The BRI originated in China but the opportunities and achievements it creates belong to the whole world. It's an initiative for economic cooperation, not for geopolitical or military alliances, and it's open and inclusive process that neither targets nor excludes any party, the white paper said.

Among those BRI projects, for example, the China-Laos Railway began operation on December 3, 2021, with 167 tunnels and 301 bridges built in 11 years along its total length of 1,035 kilometers. The railway construction created more than 110,000 local jobs, and helped build about 2,000 kilometers of roads and canals for villages along the railway, benefiting local people.

Besides the BRI, the Global Development Initiative, the Global Security Initiative and Global Civilization Initiative have evolved into a crucial cornerstone for building a global community of shared future, offering China's solutions to major challenges pertaining to peace and development for humanity.

Facing constant flare-ups of hotspot issues, China has been committed to fulfilling its role as a responsible major country, pushing for the resolution of international and regional flashpoints, such as the Korean Peninsula, Palestine, the Iranian nuclear issue, Syria and Afghanistan, the white paper said.

On the Ukraine issue, China has actively promoted talks for peace, put forth four points, four things that the international community should do together and three observations, and released China's position on the political settlement of the Ukraine crisis and has dispatched the special representative of the Chinese government on Eurasian affairs to engage in extensive interactions and exchanges with stakeholders on the political settlement of the Ukraine crisis.

Also, through the mediation of China, Saudi Arabia and Iran achieve historic reconciliation earlier this year, setting a fine example for countries in the region to resolve disputes and differences and achieve good neighborly relations through dialogue and consultation, and catalyzing a wave of reconciliation in the Middle East.

China has also proposed a range of regional and bilateral initiatives on building communities of shared future and working with stakeholders to build consensus and expand cooperation, there by playing a constructive role in promoting regional peace and development. It also boosts international cooperation in fields including fighting the COVID-19 pandemic, addressing disorder in cyberspace governance and dealing with the global climate challenge.

Over the past decade, the vision of a global community of shared future has gained broader support. More countries and people have come to the understanding that this vision serves the common interests of humanity, represents popular calls for peace, justice and progress, and can create the greatest synergy among all nations for building a better world, the white paper said.