Auswirkungen des Hamastankriegs und der Großmachtkonflikte auf Ostasien: Südkorea befürchtet Hamas-style Krieg, Japan wird Exklusivmitglied der G7 und Modifizierung des Toyota- Kaizen- Modells
Auswirkungen des Hamastankriegs und der Großmachtkonflikte auf Ostasien: Südkorea befürchtet Hamas-style Krieg, Japan wird Exklusivmitglied der G7 und Modifizierung des Toyota- Kaizen- Modells
Nach den neuen Drohnenkriegen, bewirkt nun auch der Hamaskrieg mit seiner asymetrische Kurzstreckenraketenkeiwgaführung samt Terroangriffen auf Grenzgebiete ein Überdenken bisheriger Verteidigungsstrategien auch in anderen Ländern, ja auch bis Asien. Deutlichster Ausdruck dessen ist folgende Nachricht in der Asahi Shimbum über Südkorea:
"South Korean and U.S. forces stage drills for reaction to possible 'Hamas-style' attack by North Korea
THE ASSOCIATED PRESS
October 27, 2023 at 17:35 JST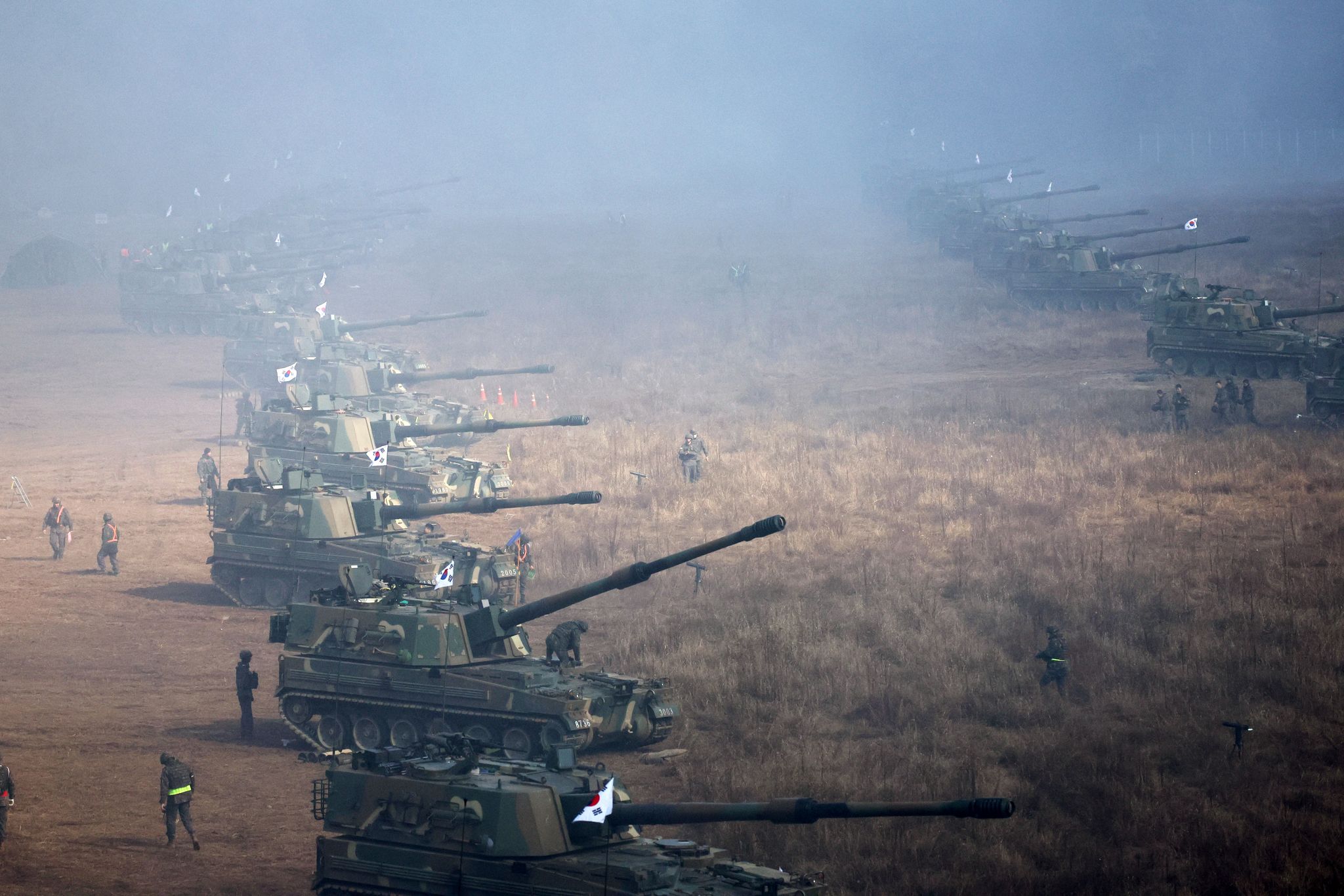 South Korean army K-9 self-propelled howitzers and K-55A1 self-propelled howitzers are seen during the military drills at a training field in Cheorwon, South Korea, Oct. 27, 2023. (Yonhap via AP)
SEOUL–South Korean and U.S. troops have been conducting live-fire exercises this week to hone their ability to respond to potential "Hamas-style surprise artillery attacks" by North Korea, South Korea's military said Friday.
The two forces regularly conduct live-fire and other training, but this week's drills come after Hamas' Oct. 7 assault on Israel raised security jitters in South Korea, which shares the world's most heavily fortified border with rival North Korea.
Experts say the North's forward-deployed long-range artillery guns can fire about 16,000 rounds per hour in the event of a conflict, posing a serious threat to Seoul, which is about 40-50 kilometers (25-30 miles) from the border.
The three-day firing exercises, which began Wednesday, involved 5,400 South Korean and U.S. soldiers, 300 artillery systems, 1,000 vehicles and air force assets, according to South Korea's military.
In a simulated response to "the enemy's (possible) Hamas-style surprise artillery attacks," the exercises practiced strikes designed to "remove the origins of the enemy's long-range artillery provocations at an early date," South Korea's Ground Operations Command said in a statement.
North Korea didn't immediately react to the drills. It typically views major U.S.-South Korean military training as invasion rehearsals and responds with missile tests.
South Korea and the United States have been expanding their regular military drills in the face of North Korea's advancing nuclear program. Since last year, North Korea has carried out more than 100 missile tests, some of them simulated nuclear attacks on South Korea and the U.S.
https://www.asahi.com/ajw/articles/15040238
Doch das hat noch mehr Implikationen, denn die Frage ist: Ist eine Hamas-style Offensive und Kriegsführung als neues Modell über die bewährten grünen Männchen seitens Rußlands auch im Baltikum, Polen, Georgien oder im Kosovo denkbar oder umgekehrt auch als neue Option seitens der NATO? Oder auch seitens des Irans im Persischen Golf der zwischen Indien und Pakistan, wenn man an Kaschmir denkt oder zwischen Indien und China im Himalaya?
Rußlands Kriegsminister Schoigus Besuch in Nordkorea und der Hamaskrieg scheinen jetzt auch zu Änderung der Abschreckungsstrategie gegenüber Nordkorea zu führen .Die gemeinsamen US-Südkoreamanöver gegen Hamasstyle "artillery attacks" finden gerade statt,wobei unklar ist,ob man nun eher Granatgeschosse oder Kurzstreckenraketen oder beides fürchtet. Bisher ist Südkoreas Kill chain ja vor allem auf wenige Patriot- und THAAD gegen chinesische nordkoreanische Mittelstreckenraketen ausgelegt. Iron Dome oder nun laserbasierte Iron Beamsysteme für Hamasstyle oder Hisbollahstyle Kurzstreckenraketen sind scheinbar noch Fehlanzeige. Ein Vordenker und eine Art chinesischer Douhet ist der chinesische Militärstratege Chen Guodong,der schon Kurzstreckenterrorwellen als neue air power in Sachen Luftüberlegenheit Andachten zu den sonstigen Taiwanszenarien. Möglich, dass es dann auch bald einen nordkoreanischen Douhet oder Bomber-Harris gibt. Schon Nordkoreas massive Artilleriekontingente an der Grenze in Reichweite des 40 km entfernten Seoul waren auch immer schon ein wesenticher Faktor, warum die USA von Invasionsplänen etwa in den 90er Jahren unter Clinton, wie sie auch offen im TIME- Magazin abgedruckt wurden, eher theoretisch und dann Abschreckungspläne blieben, da man mit mindestens 250000 südkoreanischen Toten und der Ausradierung der südkoreanischen Hauptstadt und anderer Städte rechnete—noch zu Zeiten, als Nordkorea keine Atommacht war. Inzwischen ist es eine und baut seine Arsenale und Trägersysteme massiv aus.
Nun soll auch das erste nordkoreanische U-Boot mit Cruise missiles(Reichweite 1500 km) in Betrieb gesetzt werden
"N. Korea tests submarine-launched missile, Seoul confirms
THE ASSOCIATED PRESS
March 13, 2023 at 08:50 JST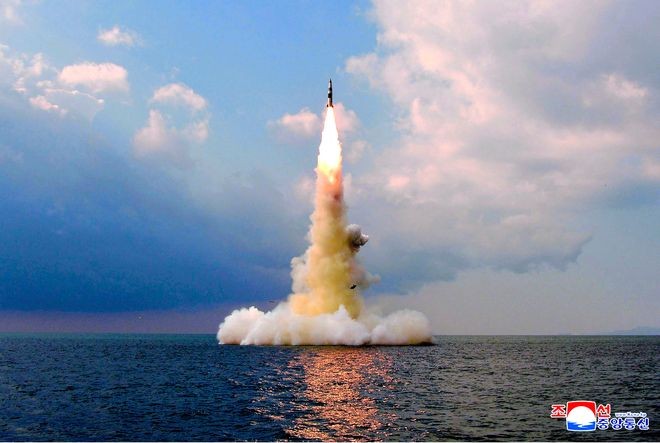 This photo distributed by the Korean Central News Agency shows a test-firing of a submarine-launched ballistic missile by North Korea on Oct. 19, 2021. (Provided by Korea News Service)
SEOUL–North Korea said Monday it has conducted submarine-launched cruise missile tests, days after its leader Kim Jong Un ordered his troops to be ready to repel its rivals' "frantic war preparation moves."
The test on Sunday came a day before the U.S. and South Korean militaries begin large-scale joint military drills that North Korea views as a rehearsal for invasion.
North Korea's official news outlet, the Korean Central News Agency, said Monday that the missile launches showed the North's resolve to respond with "overwhelming powerful forces" to the intensifying military maneuvers by the "the U.S. imperialists and the South Korean puppet forces."
KCNA also implied that the North aims to arm the cruise missiles tested with nuclear warheads.
It said the missiles flew for more than two hours, drawing figure-eight-shaped patterns in waters off the country's eastern coast, and hit targets 1,500 kilometers (930 miles) away. The missiles were fired from the 8.24 Yongung ship, KCNA said, referencing a submarine that North Korea has used to conduct all its known submarine-launched ballistic missile tests since 2016.
Sunday's actions were the North's first underwater-launched missile tests since the country test-fired a weapon from a silo under an inland reservoir last October. Last May, the country test-launched a short-range ballistic missile from the same vessel.
North Korea's command of submarine-launched missile systems would make it harder for adversaries to detect launches in advance and provide the North with retaliatory attack capability. Experts say it would take years, extensive resources and major technological improvements for the heavily sanctioned nation to build several submarines that could travel quietly in seas and reliably execute strikes.
After a record number of missile tests last year, North Korea has carried out several additional rounds since Jan. 1. Before Sunday's launches, the country also test-fired an intercontinental ballistic missile potentially capable of reaching the mainland U.S.; short-range, nuclear-capable missiles designed to hit South Korea; and other weapons.
Experts say Kim, who sees his nuclear arsenal as his best security guarantee, is trying to pressure the United States into accepting the North as a legitimate nuclear power and relax international economic sanctions.
Earlier Monday, South Korea's military said it had detected the launch from a submarine in waters near the North's eastern port city of Sinpo on Sunday. Sinpo has a major submarine-building shipyard.
South Korea's Joint Chiefs of Staff said that South Korean and U.S. intelligence authorities were analyzing details of the operation.
North Korea sees regular South Korea-U.S. military exercises as a major security threat, though the allies say their drills are defensive. Some observers say North Korea uses its rivals' drills as a pretext to test weapons and modernize its nuclear arsenal to secure an upper hand in dealings with the United States.
Last Thursday, Kim supervised a live-fire artillery drill simulating attacks on a South Korean airfield. He ordered his military to maintain the capability to "overwhelmingly respond " to enemy actions, according to KCNA.
The news agency reported Sunday that Kim also convened a key meeting on military affairs to adopt unspecified steps to make "more effective, powerful and offensive use of the war deterrent" in light of U.S. and South Korean maneuvers.
South Korean-U.S. drills are to run until March 23. They include a computer simulation called the Freedom Shield 23 and several combined field training exercises, collectively known as the Warrior Shield FTX.
The computer simulation is designed to strengthen the allies' defense and response capabilities amid North Korea's increasing nuclear threats and other changing security environments, according to the South Korean and U.S. militaries.
The allies' last large field training, called Foal Eagle, was held in 2018, the militaries said.
In past years, the U.S. and South Korea cancelled or scaled back some drills to pursue diplomatic efforts to denuclearize North Korea and out of concern about the COVID-19 pandemic. The two countries once more expanded exercises after North Korea conducted a record number of missile tests in 2022 and adopted an increasingly aggressive nuclear doctrine.
In recent weeks, the U.S. flew powerful, long-range bombers for joint aerial drills with South Korean fighter jets. South Korea's Defense Ministry said the deployment demonstrated U.S. commitment to use a full range of military capabilities, including nuclear, to defend its Asian ally in the event of outright conflict with North Korea.
https://www.asahi.com/ajw/articles/14859907
Noch dürfte es noch nicht vor der amerikanischen Westküste etwa Los Angeles oder San Francisco oder Las Vegas ins Visier nehmen, zumal die beabsichtigte U-Bootflotte noch Jahre brauchen dürfte, wenngleich dies mit russischer Hilfe bei Raketen- und U-Bootentwicklung (vielleicht dann auch with a little help of a Chinese friend) schneller gehen könnte, wie auch bei der ICBMentwicklung. Jedenfalls gewinnen Peter Vincents Prys Überlegungen zu einer neuen US-Abschreckingsstrategie bezüglich einer Nukleartriade China-Russland-Nordkorea weitere Aktualität, zumal nun etwa die Carnegie Foundation nach Trumps Kündigung des INF-Vertrages, Putins Kündigung aus dem Atomtestverbotsvertrags nun auch ein mögliches Ende des jetzt schon etwas löchrigen Nonproliferationsvertrags (NPT) fürchtet, samt eines globalen nuklearen Wettrüstens, als Kettenreaktion. Die von dem nationalistischen etwas zurechtgestutzten ehemaligen Chefredakteurs der Global Times Hu Xinjing jetzt geforderte Aufstockung von Chinas nuklearen Arsenalen ,inklusive der ICBMs geht auch in diese Richtung.
Neben der Intensivierung der militärischen und politischen Kooperation infolge von Bidens "historischenCamp Davidgipfels" der USA mit Japan und Südkorea , der verfassunsgmäßigen und strategischen Umstellung der japanischen SDF auf eine nun mehr offensive Militärmacht mit "enemy strike capabilities" und Südkoreas Revival der "Kill chain", weiterer Aufrüstung und Aufstockung der Verteidigungshaushalte werden auch strukturelle Umgruppierungen und Anpassungen im Rahmen der zunehmenden chinesischen und nordkoreanischen Bedrohung vorgenommen, z. B. eine zunehmende Lokalisierung und teils auch Dezntralisierung von japanischen und US- Truppen in Japan und nicht nur Okinawa, weswegen der Leitartikel der Asahi Shimbum , dass das dann aber auch mehr potentielle Angriffsziele wären, für die man die lokalen Regierungen und ihre Bevölkerung gewinnen müßte.
"EDITORIAL: Answers needed on how alliance will respond to China's threat
October 27, 2023 at 12:51 JST
To counteract the enhancement of China's missile capabilities, the U.S. forces stationed in Japan are undergoing a significant transformation, expanding their cooperation with Japan's Self-Defense Forces.
The radical and rapid realignment of the U.S. forces in Japan, being conducted without detailing the burdens and risks for the host communities such as Okinawa, has dangerous implications.
China has been vigorously deploying intermediate-range missiles while upholding an Anti-Access/Area Denial (A2/AD) strategy, which aims to keep the U.S. military from areas within the so-called first island chain, a series of western Pacific archipelagos stretching from Kyushu and Okinawa to Taiwan and the Philippines.
To slip through China's attacks under the A2/AD strategy and enable retaliation and reconnaissance within the ranges of Chinese missiles, the U.S. military has devised a strategy centered around "dispersion."
The U.S. Marine Corps has established the rotational Marine Littoral Regiment (MLR), designed to operate in complex environments along the shore, with small-scale units dispersed across remote islands.
Following the activation of an MLR in Hawaii, the 12th Marine Regiment stationed in Okinawa is scheduled to transition to the 12th MLR next month.
Coordination with allied countries familiar with the local operational terrain is deemed indispensable for the operation and deployment of the MLR.
Earlier this month, the Marine Corps and the Ground Self-Defense Force conducted unusually large-scale joint training exercises in Japan, focusing on island defense, mainly in Kyushu.
While such joint drills were previously relocated outside of Okinawa to alleviate the burden of the heavy U.S. military presence borne by the southernmost prefecture, Okinawa was also included as a training site this time.
The U.S. Air Force has introduced a new operational concept dubbed Agile Combat Employment (ACE), aimed at dispersing air combat forces across multiple bases during security emergencies, moving them from easily targeted major bases such as Kadena Air Base in Okinawa, one of the largest U.S. Air Force bases in the Far East.
It should be assumed that the use of civilian airports, as well as SDF bases, is being considered for this approach.
In the joint statement of the Japan-U.S. foreign and defense ministerial meeting (2+2) held in January this year, "the importance of the flexible use of air and seaports" was emphasized. The officials "decided to work together through exercises and planning to enable such use."
Since then, there have been some notable moves in line with this strategic shift. The Marine Corps, for example, submitted a plan to use Shimojishima Airport on the remote Okinawan island of Shimojishima in the city of Miyakojima, which is normally not used for non-civilian aviation purposes.
And two U.S. Navy minesweepers made port calls at Ishigakijima island, another island in Okinawa Prefecture.
It is hardly surprising that these moves, which came amid the expansion of joint Japan-U.S. military training, have aroused anxiety and concerns among citizens in Okinawa.
Even though it is vital for Japan and the United States to make concerted responses to China's military buildup, it is unacceptable for the operational range and facility usage of the U.S. military and the SDF to be expanded limitlessly without efforts to win the support and understanding of the local communities involved.
If U.S. forces are dispersed to evade enemy attacks, the risk of the locations to which they are transferred being attacked inevitably increases.
How will it be possible to deal with the potential danger posed by such dispersion to local residents? What will become of the government's promise to reduce the burden on Okinawa?
The Japanese government, which is bent on strengthening the bilateral alliance, bears the responsibility of providing clear explanations about these questions to the public.
–The Asahi Shimbun, Oct. 27
https://www.asahi.com/ajw/articles/15039678
Der Hamastankrieg wirkt sich nicht nur militärisch aus, sondern auch damit eingehend politisch, wie das Beispiel Japans in Asien deutlich macht:
So einig ist der Kern des Westens, die G7 in Sachen Israel/Palästina da nicht, da Japan, obwohl es den Vorsitz des nächsten G7-Gipfel hat isoliert und "excluded" von den anderen G6 ist. Aufgrund seiner Neutralitätsdiplomatie in diesem Konflikt. Anders als Russland und China hingegen scheint es ausschließlich auf Abbas und die PLO zu setzen, sich für einen Waffenstillstand,2 Staatenlösung mit einem Peace Corridor einzusetzen. Wobei interessant wäre, was es mit diesem Corridor auf sich hat. Ist das auch oder vor allem ein Economic Corridor, vielleicht auch Teil des India- Middle East Europe Economic Corridor, vielleicht in Richtung Japan und Afrika durch den schon länger on Japan und Indien initiierten Asia-Africa Economic Corridor verlängert und damit wieder Konkurrenzprojekt zu Chinas Neuer Seidenstraße BRI im Nahen Osten werden soll?
"Japan, G-7 on different pages regarding Middle East conflict
THE ASAHI SHIMBUN
October 27, 2023 at 17:33 JST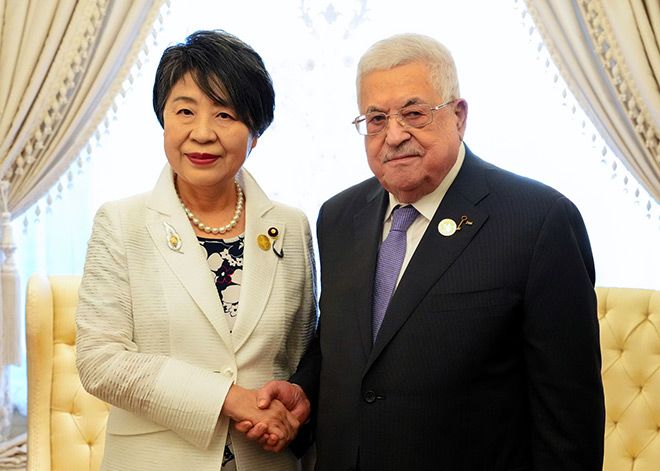 Foreign Minister Yoko Kamikawa, left, meets with Palestinian Authority President Mahmoud Abbas in Cairo on Oct. 21. (Provided by the Foreign Ministry)
Japan's diplomatic approach to the conflict between Israel and the Palestinian Islamic group Hamas differs from other Group of Seven nations, which have expressed sole support for Israel.
And in contrast to its recent attempts to show leadership as the G-7 chair regarding Russia and China, Japan is struggling to engage in balanced diplomacy in the Middle East.
While holding dialogue with Arab countries, the government is making final arrangements for Foreign Minister Yoko Kamikawa to visit Israel in early November.
"Based on our stance to support the two-state solution, we will work on building trust between the parties involved through our country's own initiatives, such as the Corridor for Peace and Prosperity concept," Prime Minister Fumio Kishida said at an Upper House plenary session on Oct. 25.
Japan has long supported the two-state solution, in which Israel and Palestine coexist as independent nations. It has also promoted the Corridor for Peace and Prosperity concept to support Palestine's economic independence.
Kishida's remarks indicate Japan's stance has not changed.
JAPAN, U.S. OUT OF STEP
Even after Hamas' attack on Israel, Japan has maintained a balanced diplomacy, valuing friendly relations with both Israel and Arab nations supporting Palestine.
A key reason is Japan's heavy reliance on the Middle East for more than 90 percent of its crude oil imports.
If the nation were to come out in full support of Israel, it could face a backlash from Arab countries, potentially leading to a serious energy crisis.
On Oct. 8, Kishida called for the "utmost restraint from all parties involved," while strongly condemning Hamas' attack on X, formerly Twitter.
Japan began using the term "terrorist attack" from Oct. 11, in contrast to U.S. President Joe Biden, who used the term immediately following Hamas' attack and expressed full support for Israel.
Japan and the United States have aligned their positions against China and Russia, but the two nations showed distinct differences in their approaches to the Israel-Hamas conflict at the U.N. Security Council.
For example, on Oct. 18, the United States vetoed a resolution calling for a ceasefire to the conflict, but Japan voted in favor.
LIMITATIONS OF A NEUTRAL COUNTRY
Kamikawa attended the Cairo Summit for Peace that Egypt hosted on Oct. 21 and it is clear that Japan's stance remains prioritizing dialogue.
"The path to peace in the Middle East must not be closed," she said.
The Japanese foreign minister also held talks with Palestinian Authority President Mahmoud Abbas.
Kamikawa is considering visiting Israel and Jordan from Nov. 2 to Nov. 5.
"Japan has no direct stake in either Palestine or Israel, and it is religiously neutral so it can engage in diplomacy from a neutral position," said Kazuto Suzuki, a professor of international political economy at the University of Tokyo Graduate School of Public Policy.
"By utilizing its assets, Japan, acting as a neutral country, could cooperate in ceasefire negotiations, like setting up a place for dialogue between the two sides," he added.
However, this time, Japan has not been able to fully use the G-7 framework to engage in negotiations.
Despite being the chair country, Japan is being "excluded from the G-7," a Foreign Ministry official said.
On Oct. 22, Biden held talks with the leaders of the G-7 nations, except for Japan, and the six leaders issued a joint statement in support of Israel's right to self-defense.
The omission highlights the limitations of Japan's diplomacy in that no matter how much it advocates for its own ideals, heading discussions in the G-7 without coordinating with the United States is virtually impossible.
The upcoming G-7 foreign ministers' meeting scheduled for early November in Tokyo will be a crucial test for Japanese leadership in the Middle East.
(This article was written by Shino Matsuyama and Akira Nemoto.)
https://www.asahi.com/ajw/articles/15039994
Bleibt abzuwarten, ob Japan sich ewig so von Nahostöl weiter abhängig machen will, einmal weil dies eben eine politisch instabile Krienregion war, ist und voraussichtlich noch bleiben wird, der Transport über Persischen Golf, Indische Ozean, Malakastraße, Taiwanstraße wie i Falle Chinas viele chocke points einer Blockade und Unterbrechung der Energietransporte hat. Ja, vielleicht kommt da in den USA und vielleicht auch inIran die Überlegung Japan wie Deutschland von russischem ÖL auf US- LNG umzustellen, große Tele über den weniger gefährlichen Pazifik aus der Energieexportnation USA zu beziehen, wenngleich nicht über Pipelines wie Nordstream.
Weitere mögliche fundamentale Veränderungen konnte es auch aufgrund des sinoamerikanischen Konflikts und den Lieferkettenstockungen geben. Das jahrzehntelang gefeierte Toyotamodell steht nun auch auf dem Prüfstand:
"Toyota's reliance on 1 supplier drags out long shutdown
THE ASAHI SHIMBUN
October 27, 2023 at 18:52 JST
The recent widespread shutdown at Toyota group's assembly plants exposed a vulnerability in its hallmark "lean" production system, which minimizes inventory.
It took 10 days for Toyota's domestic production to resume full capacity after an accidental explosion on Oct. 16 at a plant of Chuo Spring Co., one of its suppliers, in Aichi Prefecture.
At one point, 13 assembly lines across eight plants stopped operations completely. That's roughly half of the company's 28 assembly lines across 14 plants in Japan.
Tens of thousands of vehicles are estimated to have been affected by the production outage.
Toyota has previously had production disrupted by accidents at suppliers' facilities.
In 2016, the automaker shut down all of its domestic assembly lines for six days following an explosion at an Aichi Steel Corp plant. A cyberattack on Kojima Industries Corp. in 2022 again halted operations at all of Toyota's assembly plants in Japan for a whole day.
Even though such accidents were predictable, Toyota allowed the latest incident to halt production longer than in previous accidents.
The primary cause of the prolonged outage was Toyota's heavy reliance on Chuo Spring for coil springs, components that are essential for vehicle suspension systems.
Most cars need coil springs that are tailored to their specific model.
"They come in different designs and materials depending on the car's make, virtually no two models share the same coil springs," said an industry insider.
Most manufacturers develop coil springs specifically designed for each model under a confidential agreement signed with their client automakers.
"They can't be sourced from elsewhere when the regular supply chain is disrupted," said the insider.
Three manufacturers dominate more than 90 percent of the domestic coil springs market, with NHK Spring Co. leading the industry with a 45 percent share, followed by Chuo Spring at 35 percent and Mitsubishi Steel Mfg. Co. at 18 percent, according to a 2019 report by research firm MarkLines Co.
"There were hardly any alternative suppliers," said a Toyota executive of the recent shortage of coil springs.
One of key principles that gives Toyota its competitive edge is a "just-in-time" production policy, where parts are only produced when they are needed, which helps to reduce inventory costs and improve efficiency.
This spares the automaker from the need to stockpile some 30,000 parts that make up a typical car, but means that they don't have backup supplies on hand if their supply chain is disrupted.
Although Toyota typically partners with multiple parts manufacturers to deal with such potential disruptions, the latest accident hit one of their irreplaceable suppliers.
Another factor behind the recent production outage is the increasing pressure Toyota has put on their suppliers to ramp up production.
"Parts manufacturers are strained to run their plants at full capacity," said Seiji Sugiura, a senior analyst at Tokai Tokyo Research Institute Co., to meet the auto giant's record 10.1 million global vehicle sales target for the fiscal year ending in March 2024.
In response to the latest operational disruption, Toyota asked its suppliers to inspect their manufacturing facilities for any potential issues.
The automaker also pledged steps to prevent future plant shutdowns, but the effectiveness of these measures remains to be seen.
(This article was written by Chihaya Inagaki and Eisuke Eguchi.)
https://www.asahi.com/ajw/articles/15040092
In den 80er Jahren wurde ja das Toyota-just in time und lean production System globales Vorbild für die Betriebe und wurde die Ära des Postfordismus ausgerufen.Neben der Lektüre des Buches des Detroiter GM-Chefs Lee Iaccoca, der die untergehenden Rust Belt Autonation erretten und umstrukturieren sollte angesichts der Invasion von europäischen,vor allem deutschen und japanischen Mittelklassewagen in den USA ,die die benzinfressenden, überdimensionierten US- Dinosaurierriesenstrassenschiffe nach dem OPEC-Ölboykott zunehmend verdrängten, galt bei Wirtschaftswissenschaftlern, BWLern und VWLern (mit Ausnahme der Finanzwissenschaftlerbankeryuppies, die mehr Investmentbanking, Hedgefunds und Derivatenhandel und abenteuerlich Spekulationsgeschäfte interessierten und alle Gordon Greccos und Wolves of Wall Street werden wollten) das Toyotamodell und Kaizen aus Japan als neuester Schrei in Sachen Betriebsorganisation. Japan, von dem man bis zur Immobilienkrise noch bis in die 90er als kommender Supermacht sprach, die die USA herausfordern und überholen würde, wurden da geradezu Wunderkräfte nachgesagt.
Jedenfalls begann Kaizen und lean production und just in time als das Toyotamodell seinen Siegeszug infolge des dann einsetzenden Globalisierungsbooms und wurden alle Lieferketten und Produktionsabläufe danach reorganisiert.Das hatte auch Auswrkungen auf die Verwaltung und den Staat, da zeitgleich eben auch die neoliberale Ideologie des "slim state" oder "lean state" aufkam, womit man alles "fit für die Globalisierung" machen und "verschlanken" wollte, was heute rückblickend als "Kaputtsparen" und "Aushungern" des Staates kritisiert wird.   Über Abhängigkeiten und Lieferschwierigkeiten machte man sich da keine Gedanken, da das alles billiger, schneller, produktiver, effizienter, gewinnmaximierend war, solange es eben die 3 Globalisierungsjahrzehte noch nicht zu drastischen Handelskriegen und offener Großmachtkonkurrenz kam, sondern die niederschwellig und kaum bemerkt sich durch die geoökonomischen und geopolitischen Machtverschiebungen Richtung Asien erst so langsam aber kontinuierlich aufbauten und dann infolge vom Westen genehmigten WTO-Beitritt Chinas 2001 im Schatten von 9 11 katalysiert und exponential beschleunigt wurden. Heute wird man sich dessen katalysiert durch die Konflikte des Westens mit China und Russland zunehmend bewusst. Interessanterweise widmet die heutige Asahi Shimbum gerade am Beispiel Toyotas, das ja der Pionier in dieser Richtung war, die nun auftretenden Schwächen des Toyotamodells. Wobei die Frage ist, ob dies grundsätzlich infrage gestellt und nun durch ein neues Resilienzmodell mit vielleicht wieder mehr Lagerhaltung, Diversifizierung von Zulieferern  und anderen Produktionsabläufen ersetzt oder modifiziert wird oder beibehalten wird und man nur die Lieferketten regional anders ausrichtet, aber am Toyotamodell festhält. Bisher scheint die Diskussion eher in letztere Richtung beim Decoupeln und Derisking zu gehen .Strategische Vorratshaltung, auch für den Krisen- und gegebenfalls auch  Kriegsfall scheint mit Ausnahme der USA und Chinas noch nicht so Priorität in Europa und Deutschland zu haben, bisher scheint man mehr in Richtung gewisser selektiver Renationalisierung gewisser strategischer Warenproduktion (Chips, Batterien, etc.) zu gehen oder mittels enormer Subventionen und zunehmender Industriepolitik gehen zu wollen, mit noch unklaren Ausgang hinsichtlich Preis, Qualität und Wettbewerbsfähigkeit, Verschuldung und Finanzierbarkeit. Aber was brüllt der Affe in der Toyotawerbung? "Alles ist möglich!"