Vom unvermeidlichen Niedergang des Westens aus Sicht des theokratischen Irans und eines jüdischen Rabbis
Vom unvermeidlichen Niedergang des Westens aus Sicht des theokratischen Irans und eines jüdischen Rabbis
Heute mal die offizielle Sichtweise des islamofaschistischen Irans auf den Hamastankrieg. Vergleiche der Hamas und seiner selbst mit IS verbittet er sich gleich. Jedenfalls sei der Sieg des Islamismus und der Untergang Israels und damit auch des Westens unausweichlich- Gott mit uns und eine sehr teleologsich-theologische Sicht der Vorhersehung und Ausgewähktheit des islamistischen Volkes und God´s own Ummah:
"By Ali Karbalaei
Will the Zionist project work in Gaza?
October 27, 2023 – 22:42
Israel has historically excelled in turning crises into expansionist opportunities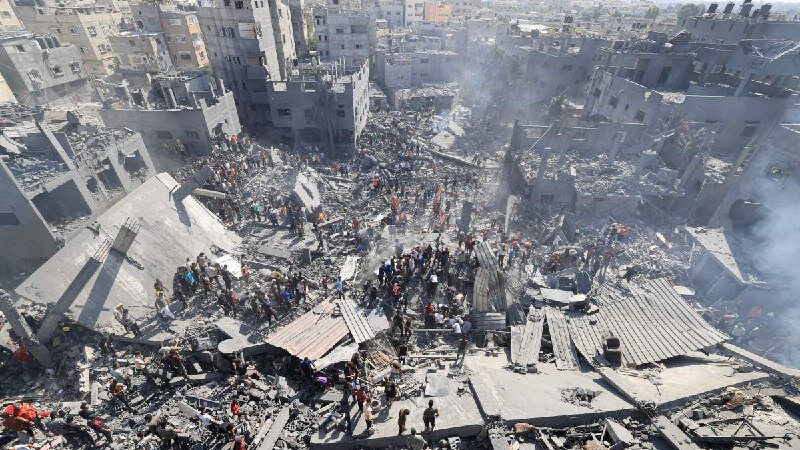 TEHRAN- The historical process of the Arab-Israeli conflict shows the Israeli regime has always excelled in turning crises into expansionist opportunities rather than peace. That allowed the occupation to accomplish its Zionist project, which is yet to be completed.
The question is whether the regime will be able to take another step toward that mission today in Gaza?
As soon as this regime declared war on the Gaza Strip, the United States, along with most Western European governments, rushed to declare their "absolute" and "unequivocal support" for all measures taken by their "ally" to achieve a decisive victory.
These countries provided political and moral backing. The U.S. went further by providing financial support and shipping advanced weapons.
The same governments were quick to endorse Israeli propaganda campaigns that Hamas is no different to Daesh and that Operation al-Aqsa Storm was no different from the September 11 attacks.
The U.S. promoted the fake Israeli propaganda claiming that Hamas fighters had raped women and beheaded children.
The most surprising aspect is the insistence of these countries on the legitimacy of this war on Gaza based on "Israel's right to defend itself" in accordance with the text of Article 51 of the UN Charter, which allows all member states the possibility of resorting to force in response to any attack.
It's quite a twisted logic and not at all consistent with any correct or objective reading of the text or spirit of the UN charter.
The Charter, which permits the use of force for self-defense, at the same time prohibits occupiers of other people's land resorting to the Charter to try and expand their occupation.
More importantly, the Charter also recognizes the right of all people's self-determination and future and permits national liberation movements to take up arms and liberate their occupied homeland and to enable their people to exercise their right to self-determination.
The Charter not only stipulates in more than one place the right to self-determination, but it stresses that enabling an occupied population to exercise this right is necessary and a condition to achieve this noble goal.
People around the world have the right, in such a context, to ask who qualifies to be treated as an aggressor and who deserves to be treated as a victim.
It isn't morally and legally permissible to view the party that carries weapons in defense of a population who were uprooted from their homeland and forced to live in refugee camps as an aggressor, as the U.S. and western European governments claim, while viewing the occupying party that practices settlement expansion, ethnic cleansing, and racial discrimination as the victim.
When the occupier uses force to perpetuate its occupation of the lands of others, it is not permissible at all to consider its behavior in this case as a "legitimate act of self-defense".
It is absurdly illogical to label Hamas that gained the confidence of the majority of the Palestinian people in the 2006 Gaza elections as a "terrorist entity".
The international community has a legally binding duty to deal with Hamas as an integral part of a broader Palestinian liberation movement that includes other factions with diverse orientations.
Although it is recognized that the Operation al-Aqsa Storm led to the commission of violations prohibited under international law, due to acts that affected unarmed settlers, no one has the right to overlook the crimes the Israeli regime has committed and is still committing, against Palestinian civilians since the establishment of the Zionist state in 1948 until today.
If the international community has overlooked all the massacres committed by the occupation regime over the past 75 years, is it permissible for the international community to also overlook the violations committed by the current Israeli government?
Formed less than a year ago, it has broken the record for violations of international law and exceeds records of any other government since the establishment of the entity.
In just 9 months, the number of settlements this government built, homes it demolished, Palestinians it kidnapped at gunpoint and threw into prisons, attacks committed by settlers, and incursions into holy places that these settlers carried out under the guard of Israeli armed forces as well as the public calls to demolish al-Aqsa Mosque and Judaizing Islam's third holiest site are a horrifying record.
The Operation al-Aqsa Storm was a reaction long in the waiting against Israeli extremism and terror, something the international community, especially the Security Council, failed to halt, let alone restrain.
The Israeli government has tempted its current war cabinet to persist in committing the most horrific types of violations, and so it must bear the responsibility for what happened on October 7 and what may happen in the future.
It is impossible for any neutral observer with any degree of impartiality and integrity to view the war launched by the Israeli occupation against Gaza as an act of "legitimate self-defense".
Even if the West considers that the Israeli response, which began about three weeks ago and has not yet been completed, is a reaction to the al-Aqsa Storm, it is recognized that every war, whether defensive or aggressive, has limits determined by international law.
It is necessary to take into account the symmetry between the size of the force used when exercising action or reaction.
According to the Israeli sources, the al-Aqsa Storm led to a loss of life totaling approximately 2,000 people, including dead, missing, and prisoners, and about 5,000 wounded, including about 1,200 disabled soldiers. It also led to the destruction of the military division responsible for the Gaza Strip.
All of which are indicators that suggest the main goal of the Palestinian resistance was primarily military, although at the same time it led to many casualties among settlers, who are, from a Palestinian point of view, usurpers, squatting on Palestinian land.
As for the Israeli response, which is still ongoing, it has killed more than 7,000 people, most of them children and women, and completely levelled an unprecedented number of residential zones in the Gaza Strip, while forcing hundreds of thousands from the north of Gaza to be displaced in the south.
The brutal Israeli bombardments directed at civilians, and not Hamas fighters, are primarily intended to evacuate the entire Gaza Strip of residents and forcibly move them to the Egyptian Sinai.
The world is watching a process of genocide accompanied by forced deportation of Palestinians, all of which constitute war crimes.
Since its creation, the Zionist regime saw crises as opportunities to expand its occupation.
In 1948, Zionists took advantage of their first crisis in Palestine (when Arab armies entered the conflict to support the Palestinians) and annexed more Palestinian lands.
If the occupying regime was genuinely seeking peace, it would have exploited the armistice talks in 1949 to reach a permanent settlement.
In 1967, Zionists took advantage of the crisis from the closure of the Strait of Tiran and further expanded their illegal occupation of what remained of Palestine, in addition to the Syrian Golan and the Egyptian Sinai.
Israel had the chance once again to barter the new lands it illegally occupied in 1967 for peace treaties with Arab countries that would have allowed it to retain 78% of stolen Palestinian lands and establish a state for Palestinians that would have constituted 22% of pre-1948 Palestine, but it rejected every formula for peace.
These days, Israel is seeking to turn the crisis from the Operation al-Aqsa Storm to forcibly deport the residents of Gaza to the Egyptian Sinai, and then devote its time to the residents of the occupied West Bank and forcibly deport them to Jordan, which will practically allow it to liquidate the Palestinian issue.
The Western backing for the Zionist regime has led only to one result: pushing the regime toward more extremism to achieve its expansionist plans by completely eliminating Hamas and overthrowing its rule in Gaza.
All of this is nothing but a pipe dream as the current regional and international conditions are completely different from all the conditions that have characterized the course of the Arab-Israeli conflict throughout history.
For the first time in the history of this conflict, a Palestinian resistance movement has succeeded in breaking and overthrowing the prestige of the Israeli army in a unique military operation that the Palestinian resistance personally undertook to plan and implement in its entirety.
The Israeli army will never be able to regain its lost prestige, no matter how far it continues to take unlawful revenge on the defenseless Palestinian population.
Amid this barbaric behavior, the masks will fall off, not only from the Zionist entity but also from the West, whose era of decline has started to become clearly visible.

https://www.tehrantimes.com/news/490648/Will-the-Zionist-project-work-in-Gaza
Die Sichtweise Irans: Israel ist immer auf Expansionismus aus, hat jedes mal bei den früheren Kriegen sein Territorium ausgedehnt und die Siedlungen ausgebaut. Wohl ein guter Teil theokratisvhe und religilse Projektion des eigenen islamistischen Missionierungsexpansionismus des islamofaschistischen Irans, sei es als schiitischer Halbmond im Greater Middlea East oder vorerst panislamischer Bündnisse auch mit der sunnitischen Hamas, die als "Befreiungsbewegung des heiligen Landes und der Al Aqasmosche und Jerusalem samt Qudstagen betrachtet wird, wie dies auch die sunnitischen Muslimbrüder und die AKP Erdogans tun–deswegen zerlegen diese Islamisten auch den Greater Middle East mittels ihrer islamistischen Mordbrennermilizen mittels Jihad , ob nun in Syrien, Irak, Lybien oder nun eben Palästina). Mit der Gazaoffensive plane es nun die Palästinenser aus dem Gaza in den Sinai und aus der Westbank nach Jordanien zu vertreiben, um so ganz Palästina und Grossisrael zu bekommen. Doch die internationalen Bedingungen seien anders als 1967 und da der Al Aqsa Storm das Image der Unbesiegbarkeit der israelischen Armme zerstört habe, sei deren Niederlage und damit auch des untergehenden Westens zwangsläufig. Zumal eben immer stikkschweigend vorausgesetzt, das Allah immer mit den Aufrechten ist.
Der Yom Kippurkrieg und die Rückgabe des Sinai, als auch die Räumung des Gazas durch Scharon werden da wohlweislich nicht erwähnt.
Auch wird das Desaster der IDF im Libanon 1982 Nachfolgejahre ausgelassen, wo es auch hieß, dass der Unbesiegbarkeitsmythos der IDF damit auch Vergangenheit sei, zumal einige das auch schon beim Yom Kippurkrieg behaupteten, zumal Israel damals angeblich genauso davon überrascht war wie nun 2023.
Ein weiterer Artikel der Tehran Times berichtet von angeblich massenhaften Israelis, die das Land fluchtartig verlassen. Man setzt also auf Zermürbung, Angst, Panik, innere Auflösung, einen zweiten Exodus, zumal mit dem Al Aqsasturm Israel für viele nicht mehr als das gelobte und sichere Land mehr sei. Da könnte der Iran aber die Einigkeit der Israelis bei vielen Differenzen und das Rachegefühl angesichts dieser Bedrohungen und des ersten Massenmassakers der Hamas auf israelischen Boden unterschätzen.
Richtig aber ist, dass Smotrich, Ben Gvir und möglicherweise auch Netanjahu eine Wiederbesetzung, ja Wiederbesiedlung oder Vertreibung der Palästinenser mittels zweiter Nakba beabsichtigen, auch wenn dies Gantz und Lapid wahrscheinlich nicht wollen (aber sie vermeiden auch etwas zu den fanatischen Siedlern und einer Zweistaatenlösung zu sagen) , wie auch die USA,die EU und der Rest der internationalen Gemeinschaft. Könnte Israel das.einfach so machen wie 1967? Einfach Fakten schaffen und dann hoffen, dass die USA und die EU das tolerieren bei vielleicht verbalen Protesten, aber ohne Sanktionen oder anderen Massnahmen? Vor dem Krieg schein Netanjahu ja in seiner UNO- Rede Israel mit ganz Jerusallem als Hauptstadt und Teilen der Westbank – Samaria und das andere für religiöse intersessante heiliges Kernland der Westbank als neues Israel auf einer Karte gezeigt und nicht die ganze Westbank und auch nicht Gaza. Schwer zu sagen, was er nun plant. Wie gesagt, die internationale Lage ist heute etwas anders. Aber spätestens seit 1973 ist Israel auch Atommacht. Das ist auch nicht ganz unwichtig, wenngleich Israel diese kaum im Gaza oder der Westbank einsetzen wird.
Oder hofft Netanjahu, dass er aus dem Krieg gestärkt herausgehen wird, vielleicht als Kriegsheld oder sein Versagen (Newsweek: "Idiocracy") dies auf Gantz und andere abschieben kann. Oder wird dann Lapid, der sich wegen der Beteiligung von Ben Gvir und Smotrich an der Nationalen Notstandsregierung an dieser nicht beteiligen will, dann als unbeflecktes Blatt zu kommenden shooting star oder vielleicht auch Liebermann? Angekündigt ist ja für die Zeit nach dem Krieg eine Fehleruntersuchung. Wahrscheinlich wird Netanjahu dann die Schuld auf die Opposition und die Kriegsdienstverweigererbewegung als auch die ihm kritisch gegenübergestanden Teile der IDF, Mossad und Shin Beth zu schieben suchen mit ein wenig Selbstkritik und versuchen eine Säuberungswelle in Militär und Geheimdiensten durchzuführen und sie mit seinen letzten loyalen Hardlinern und Falken zu ersetzen und dann doch noch versuchen das Verfassungsgericht auszuschalten und ein autoritäres Regime zu errichten, vielleicht auch in Hoffnung, dass bei einer Wiederwahl Trumps oder eines proisraelischen Trumpisten oder Republikaners 2024 er dann doch grünes Licht für die dann geschaffenen Fakten bekommt. So wahrscheinlich seine Hoffnungen ,aber auch ungewiss, ob das dann alles so klappt – vom Kriegsverlauf bis hin zu Trump ( der ihn ja auch als Versager, Weichei und Looser zwischenzetlich betitelt und nur starke Männer liebt) und ohne innenpolitische Widerstände.
Interessant heute auch ein Meinungsbeitrag eines Rabbis, der so die isrealsiche Variante eines Mullahs zu sein scheint, in der Jerusalem Post, bei dem der Westen und Israel vorgeworfen wird ein Debattierclub von Philosophen und nicht echte Männer der Tat und Ideologen wie die Hamas zu sein, weswegen man verlieren müsse. Deswegen müsse man eine israelische Hamas, also scheinbar ein Smotrich oder Ben Gvir als neuer Messias werden, um zu siegen.
"Israel's Western philosophy can't beat Hamas ideology – opinion
Western philosophy is no match for the Hamas ideology because they are fighting two different battles.
By JONATHAN LIEBERMAN OCTOBER 27, 2023 21:52
In the realm of human thought, the distinction between ideology and philosophy may appear subtle, but the consequences of this difference can be profound, especially in conflict-ridden regions like our part of the world.
I asked Google the following question: "What is the difference between an ideology and a philosophy?"
Among the many answers I received, was one which made me stop and think:
"If people are discussing, it's philosophy; if they are fighting, it's ideology. Don't worry about subtle distinctions between 'discussing' and 'fighting'; the moment things turn ugly in any way, philosophy is dead and ideology has taken over."
Herein lies the problem we have in the world today, and in particular right now in the Middle East.
Hamas: An ingrained ideology
Hamas is not just a political entity, and not just a terrorist organization (although it is those things), it is an ideology – something that is 100% ingrained in the psyche, education, and actions of its adherents. Their members believe in this ideology with every fiber of their body and are willing to fight and to kill and, yes, to die for it too.
The problem, of course, is that it is a foul, evil, and murderous ideology, the core of which, is the destruction of all Jews and the Jewish State of Israel.
Advertisement
The clash of ideology and Western philosophy
In contrast, the State of Israel is a modern nation built upon the principles of Western philosophy, which, in turn, have their roots in the Judeo-Christian principle of "love thy neighbor as thyself." The challenge lies in the fact that an ideology nearly always prevails over a philosophy when they collide. This is because those adhering to an ideology do not feel bound by any moral or ethical principles other than the aims and ideals set forth by their ideology.
In contrast, a philosophy thrives on discussion, debate, persuasion, and educated argument.
The Western philosophy of Israel, rooted in the principles of fairness, justice, and respect for human life, seems helpless in the face of the uncompromising and heinous Hamas ideology.
Western philosophy is no match for the Hamas ideology because they are fighting two different battles.
Two teams with different rulebooks
It's akin to watching two football teams playing a game with entirely different sets of rules. One team is expected to play by the rules and avoid foul play, while the other seems free to act with impunity, ignoring the rulebook altogether. Hamas's ideology does not recognize the rule of law, human rights, or humanitarian considerations for Jews. They operate in a world where their ideology legitimizes and glorifies violence, hatred, and even the celebration of death.
A glimpse into Hamas's brutality
The recent release of body camera footage and recordings of telephone calls and WhatsApp messages from Hamas terrorists during their heinous attacks on Simchat Torah serves as a chilling reminder of the depths of their ideology. A particularly disturbing message from a terrorist to his mother read, "Mother, you will be so proud of me – I am a hero; I killed ten Jews with my bare hands." This is the stark reality of the Hamas ideology which we are facing.
Israel's moral defensive war
On the other side of this conflict stands Israel, a responsible state that has waged a moral defensive war against these barbaric acts. Colonel Richard Kemp CBE, a former Commander of UK Operations in Afghanistan, has described the Israel Defense Forces (IDF) as "the most moral army in the world." Israel has consistently adhered to humanitarian standards in its military operations, a demand placed upon it by the international community.
The double standard
However, a perplexing double standard persists in the international community. Israel is expected to respond "proportionately" to the violent acts of Hamas terrorists. But what does "proportionate" mean in the face of such brutality? As Douglas Murray, a respected British author and political commentator, pointed out in a recent speech, a proportional response to the actions of Hamas would mean finding a Hamas music festival and slaughtering 260 of the attendees, raping, pillaging, and murdering men, women, children and elderly – that is proportionate.
My point is not to call for Israel to descend to the depths of depravity exhibited by Hamas (God forbid), but rather to recognize that the principles of Western philosophy regarding the rules of war fall short when confronting the deeply ingrained Hamas ideology of evil. There can be no consideration of treating the enemy with humanitarian values when their ideology recognizes no such rules.
Reevaluating humanitarian aid
The world calls for humanitarian aid to be provided to Gaza, even in the midst of the conflict. However, this aid must be contingent on reciprocity. When Hamas demonstrates a willingness to act humanely by releasing innocent civilians and respecting humanitarian principles, then, and only then, should consideration be given to such aid. Until that point, not a drop of water, not a morsel of food, and not a liter of fuel should be allowed into Gaza.
A change in strategy
As we assess the ongoing situation, it is crucial to recognize that the time has come for a change in strategy. Israel's historical commitment to Western philosophical principles is commendable, but it faces an adversary that operates on a fundamentally different plane.
Israel must now consider playing by the same rules as its enemies. This doesn't mean adopting their immoral tactics but understanding the ruthlessness and uncompromising nature of the Hamas ideology.
Unless we turn our desire for survival in the land of our forefathers into an ideology and not a woolly western philosophy, we are doomed to fail in the quest for a life free from constant threats of terrorist activity.
The solemn declaration of "Never again" must be more than a slogan. We have to mean it like our lives depend on it – because they do.
The writer, a rabbi, lives in Ramat Poleg, Netanya, and is a co-founder of Techelet – Inspiring Judaism.
https://www.jpost.com/opinion/article-770390
Der Artikel hat einen gewissen wahren Kern, daß es Härte, Kampfgeist und auch nicht soviel Gefühlsduselei in einem Krieg geben muß. Argumentativ ist das Ganze verabsolutiert aber übermäßig und ist idealtypisch binär und simpel gestrickt. Der moralische, werteliebende, philosophische, demokratische, hedonistische, verweichlichte und verweiblichte, sich zu Tode quatschende und theoretisierende Westen der Philosophie und des Wortes, der zwangsläufig gegen die ideologische, brutale, wertefreie, puritanische-asketischen Männer der Tat , hier mal der Islamismus und die Hamas verlieren muss. Bisschen arg überzogen. Und die IDF "die moralischste Armee der Welt"- ist das nicht auch ein bisschen arg dick aufgetragen? Der Mossad-ein Club der Toten Dichter. Der Shin Beth-ein Debatierclub Habermassscher Dimensionen und diskursiver Laber- Blabla-Abgründe? Alles Weicheier, die keine Eier in der Hose und auch nicht Gottvertrauen haben für einen heiligen Krieg ? Und auch säkular oder als politische Religion im Sinne von Erich Voegelin: Warum haben Hitler, Mussolini und Tojo dann nicht gegen die demokratischen USA und GB gewonnen? Diese kapitalistischen Diktatoren hielten ja den demokratischen Westen damals auch für dekadent, schwach und dem Untergang geweiht wie nun heutezutage die KP China, Putin, Orban, Erdogan oder eben der Iran. Zumal man auch den Kapitalsimsu nach der Weltwirtshcaftskrise 1929 am Ende sah. Tja, vielleicht weil die demokratischen Staaten des Westens ja den kommunstischen Ideologen Stalin an Bord hatten, der unter dem Verlust von 20 Millionen Sowjetmenschen die Ostfront zurückrollte, bis die debattierenden Philososophendemokratien dann zum Ende im letzten Moment doch noch die 2. Front eröffneten? Sind die philosophierenden Demokraten vielleicht trotz viel kritisierten Werteliberalismus da vielleicht dann doch wieder realpolitischer als ihr Image vermuten lässt und bedienen sich eben auch Ideologen gegen andere Ideologen? Only Nixon could go to China? Ach, da hört man dann gleich wieder was von heuchlerischen doppelten Standards von jenen Leuten, die Werte ablehnen, aber diese dann idealtypisch wieder von der Gegenseite einfordern. Aber warum siegte dann nicht Stalin und der Sowjetkomminismus im weiteren? Wäre demnach ja nach diesem abstrakten Muster auch logisch und zwangsläufig. Auch eine gute Frage ist: Worauf will der Autor eigentlich hinaus? Ist er so der alttestamentarische Jahwe-Rache-Gotte und die Kassandra in der Wüste voller gottloser, säkularer und demokratischer Philosophen statt gottesstaatlicher Theologen wie ihm , eine Art "Der Untergang des Abendlands" und neuaufgelegter Kulturpessimismus eines Oswald Spenglers mit seinen automatisch-deterministischen und biologiekundlichen 4-jahreszeitlichen  Pflanzenwachstumsphasen ala Vivaldi von der Blüte bis eben zum Verwelken und Tod? Oder darf man das als Aufruf verstehen jetzt alle Moral, Philosophie, Werte, Demokratie, Humanität über Bord zu schmeißen, Rachehott Jahwe zu werden und einfach wie die Gegenseite zu werden und einen klerikalfaschistisch-ideologischen Staat zu errichten? In diese Richtung zielte ja die sogenannte Justizreform Netanjahus. Am besten wird Israel so wie die Hamas, dann eben ein Smotrch- oder Ben Gvir- Israel. Zumal, der das schreibt ein Rabi ist, der vielleicht eben den Clash of Civilization und einen Relgionskrieg will. Klingt irgendwie wie die faschistische Version von Fukuyamas "Ende der Geschichte". Wenn nur noch überall alles wertefrei und diktatorisch ist, herrscht dann der Weltfriede mittels nur noch harmonischen Deals zwischen den brutalen, wertegreien Ideologen, angeblich auf Basis nationaler Interessen, die dann idyllisch und widerspruchslos in der dann in ewig gültigen  Interessenssphären einer multipolaren Welt friedlich koexistieren. Zudem man ja ezwam Hitler- Stalin- Pakt oder dem wendischen Verhältnis zwischen Putin und Erdogan gesehen hat, wie lange angeblich festgelegte Interessenssphären-Deals zwischen Ideologen halten. Klingt echt zu gut, um wahr zu sein. Und dass Ideologen, die nur das Gesetz des Dschungels und des Stärkeren kennen, na(r)zistische Herrenmenschen meinen zu sein und nach Weltherrschaft und Expansion streben, dann eben zusammen zu Weltfriedenstauben mutieren und sich wie kritisierte Philosophen verhalten würden wird da stillschweigend vorausgesetzt und behauptet. Was natürlich kein Widerspruch oder doppelter Standard oder gar schizophren ist. Wobei der Zionismus ja keine Weltherrschaft errichten will, sondern sich mit einem Israel mit Teilen der Westbank und ganz Jerusalem als Hauptstadt statt Tel Aviv zufrieden geben würde, wie dies Netanjahu bei seiner UNO-Rede als zukünftige Karte von Israel noch bescheiden präsentierte oder eben einem Großisrael, das die ganze Westbank und Gaza umfasst. Was nicht gerade wie Weltherrschaftsambitionen anmutet. Es sei denn er glaubt an ein heiliges Band eines fundamentalreligiösen und evangelikalen USraels. Aber auch die US-Evangelikalen sehen für eine biblsche Endzeit ja dann in den Juden wieder Ungläubige, die mam zum Christentum bekehren muß und würden dann so antisemitisch wie einst Luther nach seinem Aufruf an die Juden zum Christentum zu wechseln. Also auch nichts mit One Nation/World under God, one Future oder der christliche, damals noch katholisch erhoffte Weltstaat der Jesuiten. Die meisten US- Evangelikalen wollen die USA erst mal in eine klerikalfaschistische Diktatur wie in Magareth Atwoods "The Handmaid´s Tale" verwandeln, mittles Israel, der IDF und dem US-Militär den Krieg um das Heilige Land und Jerualem führen, wobei die Juden als Kreuzritterhilfstruppe wahrgenommen werden als Auftakt eines vangelikalen Weltstaates, die bei Erfolg zum Christentum konvertieren müssen. Nationalistische Ideologen wie der eher areligiöse Trump oder Putin verbünden sich mit diesen fundamentalreligiösen Rechten als Teil ihrer nationalistischen und rechtsradikalen Identitätspolitik , die aufgrund seiner Weltmachtambitionen ein toxisches religiös-nationalistisches Hybridgebräu ergibt, das ebenso expansionistisch und missionarisch wie der klerikalfaschistische Iran und der Islamsimus ist. Da verbinden sich sogenannte nationalistische Interessen mit religiösem Missionarismus und Millenialiss als toxischem Hybridgebräu wie Erdogans Islamismus und das Panturkentum und der Nationalismus der Grauen Wölfe samt neoosmanischer und panturkischer Großreichsideologie als Bündnis zwischen islamistischer AKP und faschistischer MHP und glauben an einen Messias und von der Vorhersehung geschickten und auserwählten Führer und Erlöser. So auch der Rabbi in der Jerusalem Post im Falle des Bündnisses Netanjahu mit Smotrich und Ben Gvir.
Zuletzt noch folgende Meldung:
"The World's Only Muslim Nuclear Power Warns Israel's War in Gaza Must Stop"
Newsweek vom Oct 27, 2023 at 8:45 AM EDT
Atommacht Pakistan gegen Atommacht Israel-nuklearer Jihad? Momentan noch eher unwahrscheinlich bei den jetzigen Regierungen, es sei denn die pakistiansichen Taliban stürzen die pakistianische Regierung.