Interview with Daniel Pipes: " The battle against Islamism has not yet started!"
Interview with Daniel Pipes: " The battle against Islamism has not yet started!"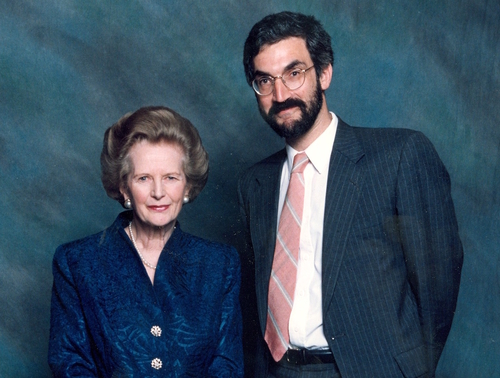 What a real conservative looks like: Margaret Thatcher with Daniel Pipes, 1996.
Global Review had the pleasure to have an interview with Daniel Pipes, expert on Islam and counterjihaddist. Daniel Pipes (born September 9, 1949) is an American historian, writer, political commentator and pro-israel lobbyist. He is the president of the Middle East Forum, and publisher of its Middle East Quarterly journal. His writing focuses on the American foreign policy and the Middle East. He is also an Expert at Wikistrat.
After graduating with a PhD from Harvard and studying abroad, Pipes taught at a number of universities. He then served as director of the Foreign Policy Research Institute, before founding the Middle East Forum. His 2003 nomination by U.S. President George W. Bush to the board of directors of the U.S. Institute of Peace was protested by Arab-American groups, and Democratic leaders, who cited his oft-stated belief that victory is the most effective way to terminate conflict.
Pipes has written a dozen books, and served as an adviser to Rudolph Giuliani´s 2008 presidential campaign. He was in 2008–11 the Taube Distinguished Visiting Fellow at Stanford University´s Hoover Institution.
The Republican Party nominated Donald Trump as its candidate for president of the United States – and Pipes responded ending his 44-year GOP membership. The reasons he laid out in an article in the Philadelphia Inquirer:
"Trump's boorish, selfish, puerile, and repulsive character, combined with his prideful ignorance, his off-the-cuff policy making, and his neo-fascist tendencies make him the most divisive and scary of any serious presidential candidate in American history. He is precisely "the man the founders feared" in Peter Wehner´s memorable phrase. I want to be no part of this. (…)the conservative movement, to which I belong, has developed since the 1950s into a major intellectual force. It did so by building on several key ideas (limited government, a moral order, and a foreign policy reflecting American interests and values). But the cultural abyss and constitutional nightmare of a Trump presidency will likely destroy this delicate creation (…) For the Republican Party to recover its soul, Trump needs to be thumped in November. Purged of his influence, the party of Lincoln and Reagan can rebuild."
http://www.danielpipes.org/16834/why-i-just-quit-the-gop
Daniel Pipes has his own blog at:  http://www.danielpipes.org/
Global Review: Mr. Pipes, what do you think of Samuel Huntington´s book "Clash of Civilisations"? Are religions the defining moments of culture, despite Enlightenment and globalisation? Where was Huntington right and where wrong ?
Daniel Pipes: Huntington made some very major mistakes which have become increasingly evident in the two decades since he aired his thesis. For example, he thought U.S.tensions with Japan in the 1990s resulted from civilizational differences; a decade later, those tensions disappeared, replaced by far more severe problems with Europe, even though the United States and Europe form part of the same civilization. The real division, as always remains political, not civilizational.
Global Review: Many people say that Islam is not a religion, but a reactionary, totalitarian and repressive ideology comparable with fascism and communism ; and that Islam cannot be reformed. Other people say that Islamism had nothing to do with religion and Islam. What do you think about the relation between Islam and Islamism?
Daniel Pipes: Both these statements are silly. Of course, Islam is one of the major religions of the world; what is there to argue about?Islamism, a modern movement, however shares much with fascism and communism. Islamism is a form of Islam.Denying this would be akin to saying that the Jesuits are not Christians.
Global Review: Some experts compare Islam with Confucianism and Hinduism. They note that in the 50s, Confucian societies were tought unable to develop economically and socially and that Confucianism was seen as an obstacle to progress. Same with Hinduism in India. Today, however, East Asia and India are economic powerhouses and many people perceive Confucianism and Hinduism as driver of this success story. Could the same happen with Islam, that it will also reform?
Daniel Pipes: Yes, it is possible that Muslim peoples will recover from today´s predicament and go on to economic and political success.We have no way of predicting such things. And no civilization or religion is permanently down.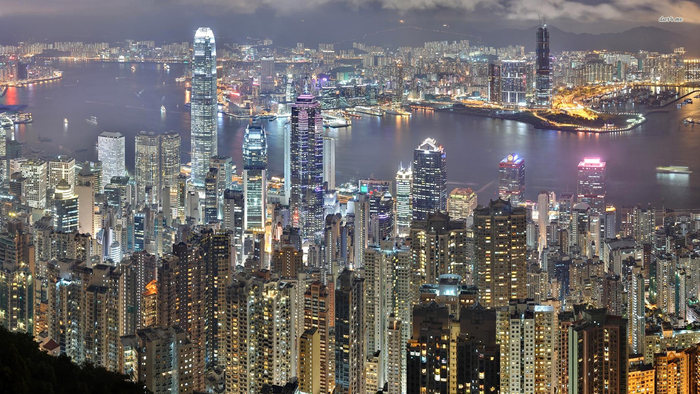 The Hong Kong skyline: No one any more sees Confucianism as an obstacle to development.
Global Review: There is a broad spectrum of Islamists. Al-Qaida, the Islamic State, Boko Haram, Al Shabab which want to occupy territory by military means and create an ever expanding state. And then the Muslimbrothers, the Turkish AKP and the Iranian Khomeinists which want to seize power by a revolutionary mass movement or a mass party and then establish a theocratic system or a Islamist presidential dictatorship. Which of these Islamist groups are the greatest danger for the West and which of these concepts do you think will be the most successful?
Daniel Pipes: I worry most about the subtle, infiltrating Islamists. When it comes to force, we can easily defeat them. But when it comes to our own institutions-schools, law courts, media, parliaments-we are far less prepared to defend ourselves.
Global Review: In the Western countries many Islamophobic parties and politicians are on the rise. Do you think this will help the spread of Islamism or do you think that these parties will support counter-jihad. Hillary Clinton said that Trump and his anti-Muslim speeches are the best recruiters for the Islamic State. True?
Daniel Pipes: I do not regognize the word "Islamophobe" and do not know what it means except, in the immortal phrase of Andrew Cummins as a word "created by fascists and used by cowards to manipulate morons". Your question reverses the sequence of events. Islamist ideology breeds Islamist violence, which starts the process and in turn inspires anti-Islamic sentiments. Anti-Islamic views might also inspire more Islamist violence, but that is incidental.The real dynamic here is Islamism creating anti-Islam parties. As Norbert Hofer has shown in Austria, they are approaching 50 per cent of the vote and with it, political power.
Global Review: Focusing on "Islamophobic"parties opposition to Islam ignores that they are largley semi-fascist.Gert Wilders says that the Koran is comparable to Hitler´s "Mein Kampf" and that Islam is a totalitarian ideology. Can pepople like this be allies in a fight against Islamism? Maybe Obama and Merkel are weak on Islamism, but would you support Trump, Gert Wilders, Austrian FPÖ, Hungarian Fidesz and antiislamic and antisemitic Jobbik, just because they are against Islam?
Daniel Pipes: ​The anti-Islamic leaders and parties are unsophisticated and make many mistakes. I hope that, as they get closer to power, they will get more educated and serious. I do not support them but I do give them advice.
Global Review: Trump´s new adviser against Islamism is retired lieutenant general Michael Flynn.Flynn repeated many of the themes found in his new book, The Field of Fight, How We Can Win the Global War Against Radical Islam and Its Allies, which he coauthored with Michael Ledeen.Flynn spends much of the book proving that America's enemies—North Korea, China, Russia, Iran, Syria, Cuba, Bolivia, Venezuela, Nicaragua, al-Qaida, Hezbollah, and ISIS—are in fact working in concert. What do you think about his ideas?
Daniel Pipes: Flynn has some good instincts, but does not know the topic well. He has a lot to learn. ​
Global Review: The failed counter coup in Turkey helps Erdogan to establish his Islamist presidential dictatorship. Do you think that NATO would accept a Islamofascist dictatorship as a reliable member state? Some experts say that Saudi Arabia is also a Islamist dictatorship, but a partner of the USA and the West. Therefore realpolitik will prevail. How do you think the relations between Erdogan-Turkey and the West will develop?
Daniel Pipes: As I understand it, NATO has no mechanism to expel a member state; if that is accurate, it has no choice but to work with Erdogan. In the brief period since the coup attempt, Erdogan has been very hostile to the West. Perhaps he will end up in the Shanghai Cooperation Organisation.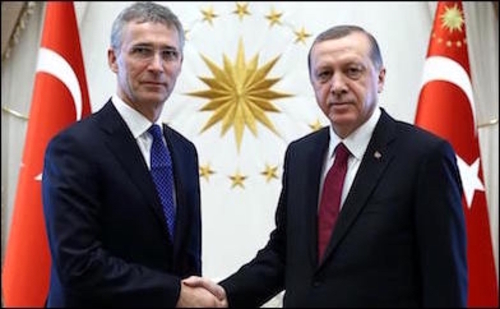 Turkey's president Erdoğan (R) shakes hands with NATO Secretary-General Jens Stoltenberg
Global Review: Besides Islamists, the West has to deal with Russia, China and Northkorea. How can it deal with all these challenges at the same time? Which counterjihadist strategy do you find most promising?
Daniel Pipes: The strategic enviroment today is far easier than during the cold war; there is no determined ideological enemy with the tools of a great power at its disposal.The key is for the West not to go to sleep. Electing such leaders as Obama and Merkel, however, means going to sleep. The best counter-jihaddi strategy is one that takes ideas seriously.
Global Review: It took the West two decades to get rid of fascism and 70 years to get rid of communism. How long do you think will it take to get rid of Islamism? Are we facing the zenith of Islamism right now or are we just halfway up the road and will it get even worse?
Daniel Pipes: The battle against Islamism has not yet started.I cannot predict how long it will take. It´s pre-1945 in communist terms and the 1930s in fascist terms. I see Islamism as having peaked in 2012-2013 and showing signs of weakness.
Global Review: Will the bad experience with Islamism and secular (military) dictatorships in Muslim countries create a new democratic movement and a new Muslim spring in the future after a catharsis? Or do you think these countries are all failed countries which will disintegrate because they are incapable of changing course?
Daniel Pipes: Muslims are learning bitter lessons from the Islamist experience.I hope they will put these to good use, though so far there is little evidence of this happening.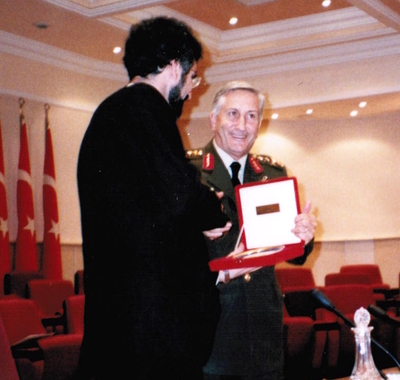 General Cevik Bir and Daniel Pipes at the headquarter of the Turkish Army in Ankara 1997–Daniel Pipes is one of the few defenders of the failed military coup in Turkey 2016
—————————————————————————————————————————————————–
German translation:
"Die Schlacht gegen den Islamismus hat noch nicht begonnen"
Global Review: Herr Pipes, was denken Sie über Samuel Huntingtons Buch "Kampf der Kulturen"? Definieren trotz der Aufklärung und Globalisierung Religionen die Momente der Kultur? Wo hatte Huntington recht und wo lag er falsch?
Daniel Pipes: Huntington machte einige wichtige Fehler, die in den zwei Jahrzehnten, seit er seine These vorstellte, zunehmend offenkundig geworden sind. Zum Beispiel glaubte er, die Spannungen zwischen den USA und Japan in den 1990-er Jahren hätten sich aus zivilisatorischen Unterschieden ergeben; ein Jahrzehnt später verschwanden diese Spannungen aber; sie wurden von weit schwierigeren Problemen mit Europa ersetzt, obwohl die Vereinigten Staaten und Europa einen Teil derselben Zivilisation bilden. Die echten Spaltungen bleiben wie immer politischer, nicht zivilisatorischer Natur.
GR: Viele Menschen sagen, der Islam ist keine Religion, sondern eine reaktionäre, totalitäre und repressive Ideologie, die mit Faschismus und Kommunismus vergleich bar ist; und dass der Islam nicht reformiert werden kann. Andere sagen, der Islamismus habe nichts mit Religion und Islam zu tun. Was sagten Sie zu den Beziehungen zwischen Islam und Islamismus?
DP: Beide Äußerungen sind dumm. Natürlich ist der Islam eine der großen Religionen der Welt; was gibt es da zu streiten? Der Islamismus jedoch hat als moderne Bewegung viel mit dem Faschismus und dem Kommunismus gemeinsam. Der Islamismus ist eine Form des Islam. Das abzustreiten wäre so, als wurde man sagen, dass die Jesuiten keine Christen sind.
GR: Manche Experten vergleichen den Islam mit dem Konfuzianismus und dem Hinduismus. Sie führen an, dass man von konfuzianischen Gesellschaften in den 1950-er Jahren glaubte, sie seien nicht in der Lage sich wirtschaftlich und sozial zu entwickeln und dass der Konfuzianismus als Fortschrittshindernis angesehen wurde; dasselbe gilt für den Hinduismus in Indien. Heute sind Ostasien und Indien aber wirtschaftliche Machtzentren und viele Menschen nehmen Konfuzianismus und Hinduismus als Antreiber dieser Erfolgsgeschichte. Könnte dasselbe mit dem Islam geschehen, dass er sich ebenfalls reformiert?
DP: Ja, es ist möglich, dass muslimische Völker sich von der heutigen misslichen Lage erholen und wirtschaftlichen und politischen Erfolg haben werden. Es gibt keine Möglichkeit solche Dinge vorherzusagen. Und keine Zivilisation oder Religion bleibt dauerhaft am Boden.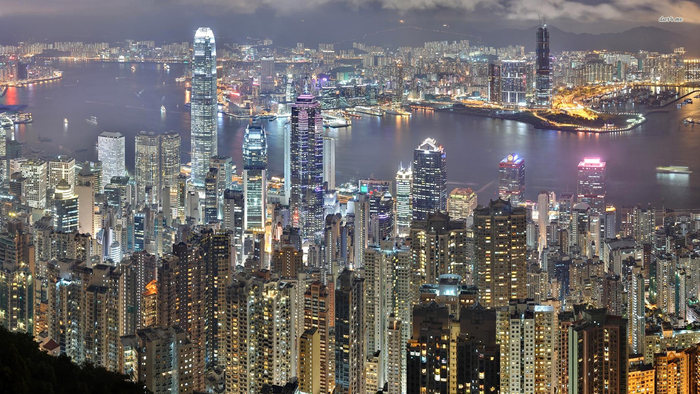 Die Skyline von Hongkong: Niemand betrachtet Konfuzianismus mehr als Entwicklungshindernis.
GR: Es gibt ein breites Spektrum an Islamisten. Al-Qaida, den Islamischen Staat, Boko Haram, Al-Schabaab, die Territorium mit militärischen Mitteln in Besitz nehmen und einen immer weiter expandierenden Staat schaffen wollen. Und dann die Muslimbruderschaft, die türkische AKP und die iranischen Khomeinisten. Welche dieser Islamistengruppen sind die größte Gefahr für den Westen und welche dieser Konzepte werden Ihrer Meinung nach die erfolgreichsten sein?
DP: Ich mache mir die meisten Sorgen wegen der subtilen, infiltrierenden Islamisten. Wenn es um Gewalt geht, können wir sie leicht besiegen. Aber wenn es um unsere eigenen Institutionen geht – Schulen, Gerichte, Medien, Parlamente – dann sind wir weniger darauf vorbereitet uns zu verteidigen.
GR: In den westlichen Ländern befinden sich viele islamophobe Parteien und Politiker im Aufwind. Glauben Sie, das wird der Verbreitung des Islamismus helfen oder werden diese Parteien der Bekämpfung des Jihad nützlich sein? Hillary Clinton sagte, dass Trump und seine antimuslimischen Reden die besten Werber für den Islamischen Staat sind. Stimmt das?
DP: Ich verstehe den Begriff "islamophob" nicht und weiß nicht, was er bedeutet, außer in der unsterblichen Formulierung von Andrew Cummings: als ein Wort "das von Faschisten geschaffen wurde und von Feiglingen benutzt wird, um Deppen zu manipulieren".
Ihre Frage kehrt den Ablauf der Ereignisse um. Die islamistische Ideologie züchtet islamistische Gewalt, die den Prozess beginnt und im Gegenzug antiislamische Gesinnungen anregt. Antiislamische Ansichten könnten ebenfalls zu mehr islamistischer Gewalt inspirieren, aber das ist nebensächlich. Die wahre Dynamik hier ist der Islamismus, der antiislamische Parteien schafft. Wie Norbert Hofer in Österreich gezeigt hat, erzielen sie 50 Prozent der Stimmen und damit politische Macht.
GR: Sich auf die Opposition der "islamophoben" Parteien zu konzentrieren ignoriert, dass sie weitgehend semifaschistisch sind. Geert Wilders sagt, dass der Koran sei Hitlers Mein Kampf vergleichbar und der Islam eine totalitäre Ideologie. Kann er ein Verbündeter im Kampf gegen den Islamismus sein? Obama und Merkel mögen in Sachen Islamismus schwach sein, aber unterstützen Sie Wilders, Trump, Österreichs FPÖ, Ungarns Fidesz oder Jobbik?
DP: Antiislamische Führungspolitiker und Parteien sind undifferenziert und machen viele Fehler. Ich hoffe, dass sie, wenn sie der Macht näher kommen, gebildeter und ernsthafter werden. Ich unterstütze sie nicht, aber ich gebe ihnen Rat.
GR: Der gescheiterte Putsch in der Türkei half Erdoğan seine islamistische Diktatur zu durchzusetzen. Glauben Sie, dass die NATO eine islamofaschistische Diktatur als Mitgliedsstaat akzeptieren wird? Einige Experten sagen, Saudi-Arabien sei auch eine islamistische Diktatur, aber ein Partner der USA und des Westens. Daher werde Realpolitik obsiegen. Wie, denken Sie, werden sich die Beziehungen zwischen der Erdoğan-Türkei und dem Westen entwickeln?
DP: So wie ich es verstehe hat die NATO keinen Mechanismus um einen Mitgliedsstaat auszuschließen; wenn das stimmt, hat sie keine andere Wahl als mit Erdoğan zu arbeiten. In der kurzen Zeit seit dem Putschversuch ist Erdoğan dem Westen gegenüber sehr feindselig gewesen. Vielleicht wird er in der Shanghaier Organisation der Zusammenarbeit enden.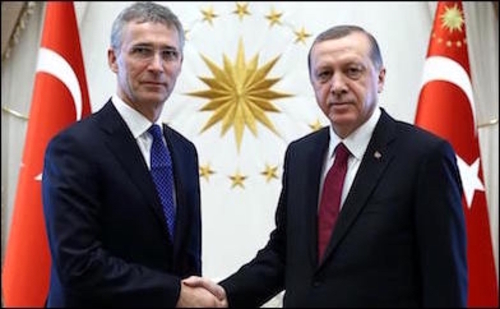 Der türkische Präsident Erdoğan (rechts) schüttelt NATO-Generalsekretär Jens Stoltenberg die Hand.
GR: Abgesehen von den Islamisten muss der Westen auch mit Russland, China und Nordkorea klarkommen. Wie kann er mit all diesen Herausforderungen gleichzeitig umgehen? Welche Strategie zur Bekämpfung der Jihadisten ist Ihrer Meinung nach die vielversprechendste?
DP: Das strategische Umfeld ist heute weit einfacher als während des Kalten Krieges; es gibt keinen festgelegten ideologischen Feind, dem die Mittel einer Großmacht zur Verfügung stehen. Für den Westen liegt der Schlüssel darin, dass man nicht einzuschläft. Führungskräfte wie Obama und Merkel zu wählen heißt jedoch, dass man sich schlafen legt. Die beste Strategie gegen die Jihadisten ist eine, die deren Ideen ernst nimmt.
GR: Der Westen brauchte Jahrzehnte, um den Faschismus und 70 Jahre, um den Kommunismus loszuwerden. Wie lange, glauben Sie, wird er brauchen, um sich des Islamismus zu entledigen? Sehen wir im Moment den Zenit des Islamismus oder befinden wir uns erst auf halbem Weg nach oben und es wird noch schlimmer werden?
DP: Die Schlacht gegen den Islamismus hat noch gar nicht begonnen. Ich kann nicht vorhersagen, wie lange sie dauern wird. Wir befinden uns im Verhältnis zum Kommunismus noch vor 1945 und verglichen mit dem Faschismus vor den 1930-er Jahren. Ich sehe es so, dass der Islamismus in den Jahren 2012/13 seinen Höhepunkt erreicht hat und Zeichen der Schwäche zeigt.
GR: Wird die schlechte Erfahrung mit dem Islamismus und säkularen Diktaturen in muslimischen Ländern nach einer Katharsis in der Zukunft eine neue demokratische Bewegung und einen neuen muslimischen Frühling schaffen? Oder glauben Sie, diese Länder sind allesamt gescheiterte Länder, die alle zerfallen, weil sie nicht zu einer Kursänderung in der Lage sind?
DP: Muslime ziehen aus der islamistischen Erfahrung eine bittere Lektion. Ich hoffe, sie werden diese gut nutzen, obwohl es bisher sehr wenig Hinweise dafür gibt, dass dies geschieht.
http://de.danielpipes.org/16916/schlacht-gegen-islamismus
——————————————————————————————————————————————————-
Japanese translation:
『グローバル論評』(以下GR):パイプスさん、サミュエル・ハンチントンの本『文明の衝突』をどう思われますか?啓蒙主義とグローバル化にも関わらず、 宗教は文化の時を定義していますか?ハンチントンは、どこが正しくて、どこが間違っていたのですか?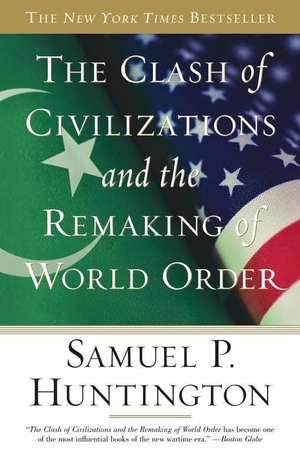 ダニエル・パイプス(以下DP): ハンチントンは、その命題を吹聴して以来、十年後にますます明らかになってきた幾つかの非常に主要な間違いを犯しました。例えば1990年代の合衆国と日本の緊張は、文明の相違の結果だと彼は考えました。十年後、合衆国と欧州が同じ文明の一部を形成しているのに、欧州との遙かにもっと厳しい問題に置き換えられて、それらの緊張は消滅しました。本当の分裂は常に、文明ではなく政治であり続けるのです。
GR:イスラームは一宗教ではなく、ファシズムや共産主義に擬えられる反動的で全体主義的で抑圧的なイデオロギーだ、と多くの人々が言っています。そして、そのイスラームは改革され得ないのだ、と。イスラーム主義は、宗教やイスラームとは何ら関係がないのだと言う人々もいます。イスラームとイスラーム主義の関係について、どうおっしゃいますか?
DP:これらの発言のどちらも馬鹿げています。勿論、イスラームは世界の主要な宗教の一つです。そこで何について議論すべきですか?しかしながら、イスラーム主義は現代の運動で、ファシズムや共産主義と多くを共有します。イスラーム主義はイスラームの一形態なのです。これを否認することは、イエズス会がクリスチャンではないと言うことに似ているでしょう。
GR:イスラームを儒教やヒンドゥ教と比較する専門家もいます。1950年代に、儒教社会は経済的社会的に発展できず、儒教は進歩の障害と見なされていると考えられました。同じことが、インドのヒンドゥ教でもあります。しかしながら、今日、東アジアやインドは経済的な原動力で、多くの人々は儒教とヒンドゥ教を、この成功物語の動員力と見なしています。同じことが、それもまた改革するであろうイスラームでも起こり得ますか?
DP:はい、ムスリムの人々が今日の苦境から回復して、経済的政治的な成功へと移ることは可能です。このような状況を予測する方法はありません。そして、永遠に下がり留まる文明あるいは宗教はありません。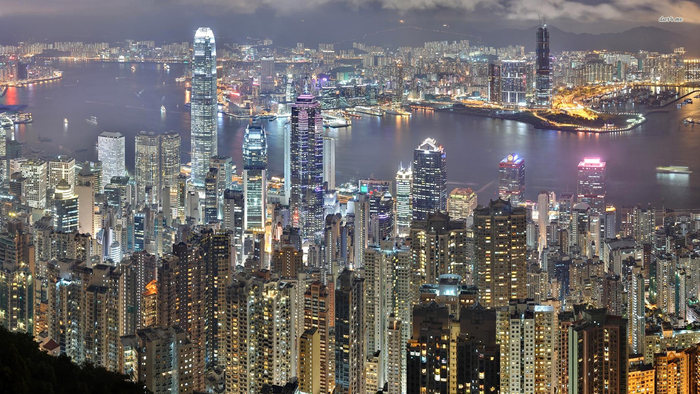 香港の地平線。もはや誰も儒教が発展の障害と見なさない。
GR:イスラーム主義者の広い範囲があります。軍事手段で領土を占拠して、拡張国家さえ造り出したがっているアル・カーイダ、イスラーム国、ボコ・ハラム、アル・シャバーブです。それから、ムスリム同胞団、トルコの公正発展党、イランのホメイニー派があります。これらのイスラーム主義集団のどれが、西洋にとって最大の危険ですか?これらの概念のどれが、最も成功すると思われますか?
DP:微細で浸透しているイスラーム主義者について、私は最も懸念します。軍のことになると、我々は容易に打ち負かすことができます。でも、我々自身の機構-学校、法廷、メディア、議会-のことになると、我々は、自分達を防衛する用意が遙かにあまりできていません。
GR:西洋諸国では、多くのイスラーム恐怖症の政党や政治家が上昇中です。イスラーム主義の広まりを助けるでしょうか、それとも、これらの政党がジハード対抗を助けるとお考えですか?トランプと反ムスリム演説はイスラーム国にとって最善の募集者だ、とヒラリー・クリントンは言いました。本当ですか?
DP:「イスラーム恐怖症」という用語を私は認めませんし、アンドリュー・カミンズの不朽の表現で「ファシストによって創造され、間抜けを操る臆病者によって使われる」語として以外に、それが何を意味するのか知りません。
ご質問は、一連の出来事の逆です。イスラーム主義のイデオロギーが、そのプロセスを始め、順に反イスラーム感情を鼓舞するイスラーム主義の暴力を生み出します。反イスラーム見解もまた、イスラーム主義の暴力をもっと鼓舞するかもしれませんが、それは付随的です。ここでの本当の動力は、イスラーム主義が反イスラーム政党を作り出していることです。オーストリアでノルベルト・ホーファーが示してきたように、50パーセントの票で政治権力に近づいているのです。
GR:イスラームに反対する「イスラーム恐怖症」政党に焦点を当てることは、 彼らが専ら疑似ファシストであることを無視します。ヘルト・ウィルダースは、コーランはヒトラーの『我が闘争』に擬えられ、イスラームは全体主義イデオロギーだと言っています。彼はイスラーム主義に対する闘いにおける同盟であり得ますか?ひょっとしたら、オバマやメルケルはイスラーム主義に弱いかもしれませんが、ウィルダースやトランプやオーストリアの自由党(FPÖ)やフィデス=ハンガリー市民同盟あるいはヨッビクを支持されますか?
​DP:反イスラームの指導者や政党は洗練されていませんし、多くの間違いを犯します。彼らが権力に近づくにつれて、より教育され、真剣になるだろうことを、私は希望します。彼らを支持はしませんが、私は助言を与えています。
GR:トルコの失敗したクーデターは、エルドアンがイスラーム主義の独裁制を樹立する助けをしました。NATOは、加盟国家としてイスラーム・ファシスト独裁制を受け入れるだろうとお考えですか?サウジアラビアもイスラーム主義の独裁制ですが、アメリカ合衆国や西洋の一パートナーであるという専門家もいます。それ故に、リアルポリティークが優勢であろう、と。どのようにエルドアンのトルコと西洋の関係が発展するとお考えですか?
DP:私が理解しているところでは、NATOは加盟国家を追放するメカニズムを持っていません。もしそれが正確ならば、エルドアンと共に働く以外に選択はありません.クーデター企図以来の短期間で、エルドアンは西洋に対して非常に敵対的でした。恐らく、彼は上海協力機構に行くことになるでしょう。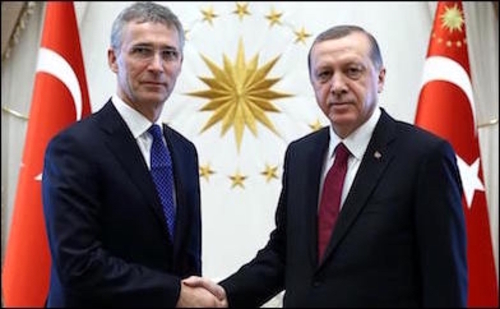 NATO事務総長のイェンス・ストルテンベルグと握手するトルコ大統領エルドアン(右)
GR:イスラーム主義者の他に、西洋はロシア、中国、北朝鮮と取り組まなければなりません。同時に、これらの難題全てとどのように取り組めますか?どの対ジハード戦略が最も将来性があると思われますか?
DP:今日の戦略環境は、冷戦期よりも遙かに容易です。大国の道具と共にある、自由に使える決定的なイデオロギーの敵は、全くありません。鍵は、西洋にとって、眠りに行かないことです。しかしながら、オバマやメルケルのような指導者を選出することは、眠りに行くことを意味します。最善の対ジハード戦略は、識見を真剣に受け取ることです。
GR:西洋は、ファシズムを取り除くのに二十年、共産主義を取り除くのに七十年かかりました。イスラーム主義を取り除くのに、どのぐらいかかると思われますか?イスラーム主義の絶頂にちょうど今直面しているのか、それとも、まさに道半ばにいて、更に悪化するのでしょうか?
DP:イスラーム主義に対する闘いは、まだ始まっていません。どれぐらいかかるか、私は予測できません。まだ、共産主義の期間で1945年以前、ファシストの期間で1930年代です。イスラーム主義は2012-13年にピークで、弱さの兆候を示していると私は見ています。
GR:イスラーム主義との悪い経験やムスリム諸国での世俗的な軍事独裁制は、カタルシスの後で、新たなムスリムの春が、将来、新たな民主運動を作り出すでしょうか?それとも、これらの国々は行程を変える能力がないので、全てが崩壊するであろう失敗国だとお考えですか?
DP:ムスリムは、イスラーム主義者の経験から辛い教訓を学んでいます。彼らがこれらを有効利用することを私は希望します。今までのところ、これが起こっているという証拠は殆どありませんけれども。
http://ja.danielpipes.org/16876/http-wwwdanielpipesorg-16851-the-battle-against-islamism-has-not-yet-started
Turkish translation:
İslamcılığa karşı savaş henüz başlamadı
Global Review: Bay Pipes, Samuel Huntington tarafından kaleme alınan 'Medeniyetler Çatışması' isimli kitap hakkındaki düşünceleriniz neler? Aydınlanma ve küreselleşmeye rağmen dinler kültürün belirlenmesinde temel etken mi? Huntington'un haklı ve haksız olduğu hususlar nelerdir?
Daniel Pipes: Huntington'un tezini ortaya koymasından sonraki 20 yılda giderek belirginleşen bazı çok büyük hatalar yaptı. Örneğin ABD'nin 1990'lı yıllarda Japonya ile olan gerginliğinin medeniyet farklılıklarından kaynaklandığını düşündü, 10 yıl sonra bu gerginlikler yerlerini, ABD ile Avrupa aynı medeniyetin parçaları olmalarına rağmen, Avrupa ile yaşanan çok daha ciddi problemlere bırakarak ortadan kayboldular. Gerçek bölünmelerin nedeni her zaman olduğu gibi politiktir, medeniyet değil.
GR: Birçok insan İslamın bir din olmaktan ziyade komünizm ve faşizm gibi gerici, totaliter ve baskıcı bir ideoloji olduğunu ve İslamda reformun imkansız olduğunu ileri sürüyorlar. Bazıları da İslamcılığın din ve İslam ile hiç bir ilgisi olmadığını ifade ediyorlar. İslam ile İslamcılık arasındaki ilişki hakkındaki düşünceleriniz nelerdir?
DP: Her ikisi de aptalca ve saçma. Hiç şüphe yok ki İslam dünyadaki belli başlı dinlerden bir tanesidir ve bu tartışılmaz bir gerçektir. Modern bir hareket olan İslamcılığın ise faşizm ve komünizm ile birçok ortak noktası bulunmaktadır. İslamcılık, İslamın bir şeklidir. Bunu reddetmek Cizvitlerin Hristiyan olmadıklarını iddia etmekle aynı anlama gelir.
GR: Bazı uzmanlar İslamı Konfüçyüs ve Hinduizm ile karşılaştırıyorlar. 1950'li yıllarda Konfüçyüs inanışına mensup olanların ekonomik ve sosyal açılardan gelişemeyeceği düşünülüyordu ve Konfüçyüs inanışı ilerlemenin önünde bir engel olarak görülmekteydi, aynı yaklaşımlar Hindistan'daki Hinduizm için de geçerliydi. Günümüzde ise Doğu Asya ve Hindistan, ekonomik açıdan bir güç merkezi haline geldiler ve bir çok insan Konfüçyüs ve Hinduizm inançlarını başarı hikayelerinin motive edici faktörleri olarak görmekteler. Aynı şey İslam için de geçerli olabilir mi? İslam dininde de reformlar olacak mı?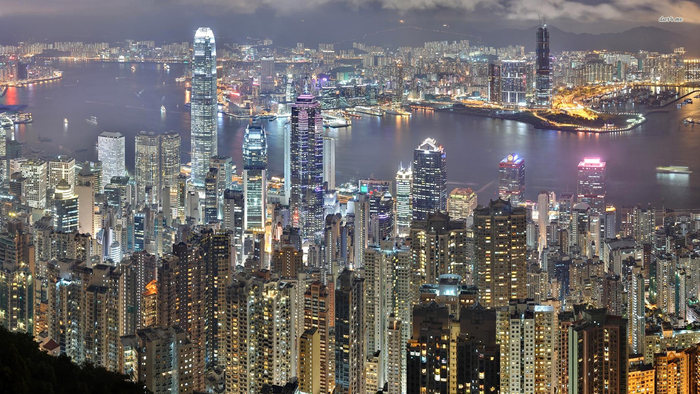 Hong Kong: Artık kimse Konfüçyüs dinini ilerlemenin önünde bir engel olarak görmüyor
DP: Evet, Müslümanların bugün içinde bulundukları çıkmazdan kurtulmaları ve ekonomik ve politik bir başarıya ulaşmaları mümkün. Böyle şeyleri önceden haber verebilecek durumda değiliz. Ve hiçbir medeniyet veya din sonsuza kadar geri kalmaz.
GR: İslamcıların geniş bir spektrumu var. El-Kaide, İslami Devlet, Boko Haram, El Şebab gibi örgütler askeri güç kullanarak arazi ele geçirmek ve sonsuza kadar büyüyen bir devlet oluşturmak istiyorlar. Ve Müslüman Kardeşler, Türkiye'deki AK Parti ve İran Humeyni yanlıları. Bu İslami gruplardan hangileri Batı için en büyük tehlikedir ve bu konseptlerden hangisi başarılı olacaktır?
DP: En büyük tehlikenin örtülü ve gizli bir şekilde hareket eden İslamcılar olduğunu değerlendiriyorum. Kuvvet kullanma söz konusu olduğunda onları kolaylıkla yenebiliriz. Fakat okullar, mahkemeler, medya, parlamento gibi kendi kurumlarımız söz konusu olduğunda kendimizi savunmaktan çok uzağız.
GR: Batı ülkelerinde bir çok İslamofobi yanlısı parti ve politikacılar giderek artmakta. Bunun İslamcılığın yayılmasına katkıda bulunacağına inanıyor musunuz ya da bu partilerin cihada karşı gelmek için yürütülen çabalara bir faydası olacak mı?
DP: İslamofobi terimini kabul etmiyorum ve Andrew Cummins tarafından ilk kez ifade edilen ölümsüz 'faşistler tarafından yaratılan ve moronları manipüle etmek için korkaklar tarafından kullanılan' manası hariç, tam olarak da ne anlama geldiğini bilmiyorum.
Sorunuz, olayların sırasını tersine çevirmektedir. İslamcı ideoloji İslamcı şiddeti beslemekte, bu da işlemi başlatmakta ve tepki olarak da İslam karşıtı duyguları körüklemektedir. İslam karşıtı görüşler de daha fazla İslamcı şiddetin doğmasına yol açıyor olabilir. Buradaki gerçek dinamik, İslam karşıtı partiler yaratan İslamcılıktır. Avusturyalı Norbert Hofer'in işaret ettiği gibi oy kullananların oranı % 50'ye yaklaşıyor, bu da politik bir güce ulaşmaları anlamına gelmekte.
GR: İslam karşıtı İslamofobik partilere odaklandığımızda bunlar, yarı faşist oldukları yönündeki iddiaları red etmekteler. Goert Wilder, Kuran'ın Hitler'in 'Kavgam' adlı kitabı ile karşılaştırılabileceğini ve İslam'ın tamamiyle totoliter bir ideoloji olduğunu ileri sürmektedir. İslam karşı yürütülen savaşta Wilders bir müttefik olabilir mi? Belki Obama ve Merkel İslamcılık konusunda zayıflar, fakat siz Wilders, Trump, Avusturya Özgürlük Partisi (FPÖ), Macar Fidesz veya Jobbik'i destekliyor musunuz
​DP: İslam karşıtı liderler ve partiler gerekli olgunluktan uzaktalar ve birçok hatalar yapıyorlar. İktidara yakınlaştıkça daha iyi öğreneceklerine ve daha ciddi olabileceklerine inanıyorum. Onları desteklemiyorum fakat onlara tavsilerde bulunuyorum.
GR: Türkiye'de başarısızlığa uğrayan darbe girişimi, Başkan Recep Tayyip Erdoğan'a İslami diktatörlüğünü oluşturmada yardımcı oldu. NATO'nun İslamcı ve faşist bir diktatörlüğü üye ülke olarak kabul edeceğini düşünüyor musunuz? Bazı uzmanlar Suudi Arabistan'ın da İslami bir diktatörlük olduğunu, fakat ABD ve Batının müttefiki ve ortağı olduğunu iddia etmekteler. Bu nedenle gerçek politika hakim olmaya devam edecek. Erdoğan'ın Türkiyesi ile Batı arasındaki ilşikilerin geleceğini nasıl görüyorsunuz?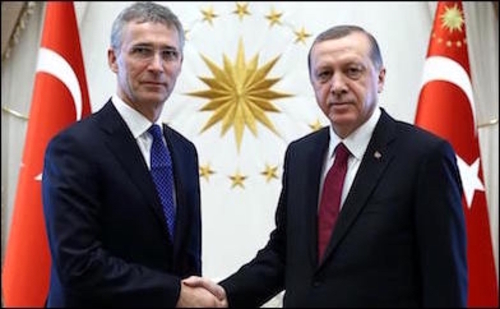 Türk Başkanı Recep Tayyip Erdoğan ve NATO Genel Sekreteri Jens Stoltenberg, Ankara, 21 Nisan 2016
DP: Anladığım ve bildiğim kadarıyla NATO'nun üye bir ülkeyi üyelikten çıkarma mekanizması yok, bu doğru ise NATO'nun Erdoğan ile çalışmaktan başka seçeneği yok. Darbe girişimi sonrasındaki kısa dönemde Erdoğan Batıya karşı oldukça düşmanca bir tutum sergiledi. Belki de Şanghay İşbirliği Örgütüne katılacak
GR: İslamcıların yanı sıra Batı, Rusya, Çin ve Kuzey Kore ile de uğraşmak durumunda. Bütün bu zorluklarla aynı anda nasıl baş edilebilir? Hangi cihat karşıtı strateji size göre başarılı olacaktır?
DP: Günümüzdeki stratejik ortam Soğuk Savaş dönemine nazaran çok daha kolay; elinde kullanmaya hazır büyük enstrümanlar olan ideolojik bir düşman yok. Batı için önemli olan uyanık olmasıdır. Bununla beraber, Obama ve Merkel gibi liderleri seçmek Batının uyuduğu anlamına gelmektedir. En iyi cihat karşıtı strateji fikirleri ciddiye alandır.
GR: Batının faşizmden kurtulması 20 yıl, komünizmden kurtulması ise 70 yıl sürdü. İslamcılıktan kurtulması kaç yılını alacak? Şu anda İslamcılığın zirvesini mi yaşıyoruz yoksa henüz yarısını mı gördük ve durum gelecekte çok daha mı kötüleşecek?
DP: İslamcılığa karşı savaş henüz başlamadı. Ne kadar süreceğini tahmin edemiyorum. Komünizm açısından bakıldığında hala 1945 öncesi, faşizm açısından bakıldığında ise 1930 öncesi zamanları yaşıyoruz. İslamcılığın 2012-13 yıllarında zirve yaptığını ve zayıflama işaretleri göstermeye başladığını düşünüyorum.
GR: Müslüman ülkelerde İslamcılıkla ve laik askeri diktatörlükler ile yaşanılan tecrübeler gelecekte boşalma sonrası yeni bir demokratik hareket ve yeni bir Müslüman baharı oluşmasına neden olacak mı? Veya bu ülkelerin hepsinin yönlerini değiştirebilme kapasitesinden yoksun oldukları için başarısız olduklarını mı düşünüyorsunuz?
DP: Müslümanlar, İslamcı deneyimden çok acı dersler öğreniyorlar. Ümit ederim ki, bugüne kadar öyle yaptıklarına dair çok az kanıt olsa da, bunlardan iyi yönde yararlanacaklardır.
http://tr.danielpipes.org/16909/islamciliga-karsi-savas-henuz-baslamadi
Swedish translation:
"Kampen mot Islamismen har ännu inte startat"
Global Review: Vad anser du om Samuels Huntingtons bok Clash of Civilizations? (Civilisationernas kamp: mot en ny världsordning) Är religioner det som definierar ­­­­­­­ögonblick av kultur trots Upplysningen och glo­­­­balisering? Vad hade Huntington rätt om och vad hade han fel om?
Daniel Pipes: Huntington gjorde några större misstag vilket har blivit alltmer uppenbart under de två decennier sedan han offentliggjorde sin tes. Till exempel så trodde han att spänningarna mellan USA och Japan på 1990-talet berodde på kulturella skillnader; ett decennium senare har dessa spänningar försvunnit och ersatts av betydligt värre problem med Europa trots att USA och Europa är delar av samma kultur. Den verkliga skiljelinjen förblir som alltid politisk, inte kulturell.
GR: Många människor säger att islam inte är en religion utan en reaktionär, totalitär och förtryckande ideologi jämförbar med fascism och kommunism; och att islam inte kan reformeras. Andra säger att islamism inte har någonting med religion och islam att göra. Vad säger du om relationerna mellan islam och islamism?
DP: Båda dessa uttalanden är löjliga. Naturligtvis är islam en av de större religionerna i världen; vad finns det att bråka om? Islamism som är en modern rörelse har dock mycket gemensamt med fascism och kommunism. Islamism är en form av islam. Att förneka detta skulle vara som att säga att jesuiter inte är kristna­­­­­­­­­­.
GR: Vissa experter jämför islam med konfucianism och hinduism. De konstaterar att på 1950-talet ansågs konfucianska samhällen inte kunna utvecklas ekonomiskt och socialt och konfucianismen sågs som ett hinder för framsteg; samma med hinduismen i Indien. Idag är dock Sydostasien och Indien ekonomiska stormakter och många människor anser att konfucianism och hinduism är drivande krafter bakom denna framgångshistoria. Skulle samma sak kunna hända med islam, att det också kommer att reformeras?
DP: Ja det är möjligt att muslimer kommer att hämta sig från dagens svåra belägenhet och gå vidare till ekonomisk och politisk framgång. Vi har ingen möjlighet att förutsäga sådana saker. Och ingen civilisation eller religion förblir permanent lamslagen.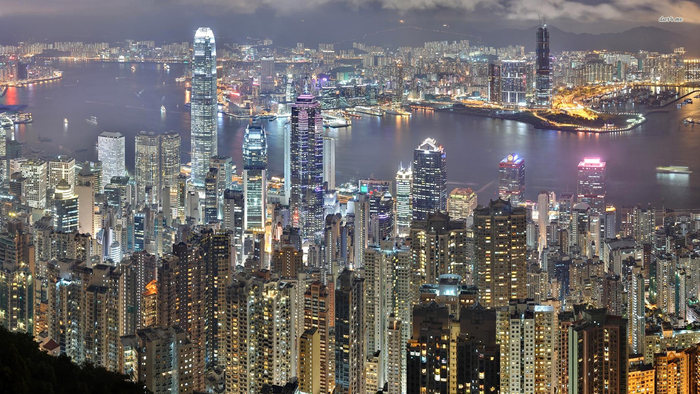 Hong Kongs skyline: Ingen ser längre konfucianism som ett hinder för utveckling.
GR: Det finns ett brett spektrum av islamister. Al-Qaida, Islamiska Staten, Boko Haram, Al Shabaab, som med militära medel vill ockupera områden och skapa en ständigt växande stat. Och dessutom det Muslimska Brödraskapet, turkiska AKP och de iranska Khomeinisterna. Vilka av dessa islamistiska grupper utgör det största hotet för Västvärlden och vilken av dessa koncept tror du kommer bli den mest framgångsrika?
DP: Jag oroar mig mest för de subtila, infiltrerande islamisterna. När det gäller styrka kan vi lätt besegra dem. Men när det gäller våra egna institutioner – skolor, domstolar, media, parlament – är vi mycket mindre förberedda på att försvara oss själva.
GR: I länder i Västvärlden är många islamofobiska partier och politiker på uppgång. Tror du att detta kommer att hjälpa till att sprida islamism eller kommer dessa partier att hjälpa kontra-jihadisterna? Hillary Clinton sade att Trump och hans anti-muslimska tal är de bästa rekryterna för den Islamiska Staten. Är detta sant?
DP: Jag accepterar inte uttrycket "islamofob" och vet inte vad det betyder förutom i Andrew Cummins odödliga fras som ett ord "skapat av fascister och använt att ynkryggar för att manipulera idioter".
Din fråga vänder på händelseförloppet. Den islamistiska ideologin föder islamistiskt våld, vilket startar processen och i sin tur inspirerar anti-islamiska känslor. Anti-islamiska åsikter kan också inspirera till mer islamistiskt våld, men detta är en bisak. Den verkliga dynamiken här är islamism som skapar anti-islamiska partier. Som Norbert Hofer har visat i Österrike närmar de sig 50 procent av rösterna och med det politisk makt.
GR: Fokuseringen på de "islamofobiska" partiernas motstånd mot islam bortser från det faktum att de i stort sett är halvfascistiska. Geert Wilder säger att koranen kan jämföras med Hitlers Mein Kampf och att islam är en totalitär ideologi. Kan han vara en allierad i kampen mot islamism? Obama och Merkel är kanske svaga när det gäller islamism men stödjer du Wilders, Trump, Österrikes FPÖ, Ungerns Fidesz eller Jobbik?
DP: Anti-islamiska ledare och partier är osofistikerade och gör många misstag. Jag hoppas att de i takt med att de kommer närmare makten skaffar sig mer kunskap och blir seriösa. Jag stödjer dem inte men jag ger dem råd.
GR: Den misslyckade kuppen i Turkiet hjälpte Erdoğan att etablera sin islamistiska diktatur. Tror du NATO kommer att acceptera en islamofascitisk diktatur som medlemsstat? Vissa experter säger att Saudiarabien också är en islamistisk diktatur, men en partner till USA och Västvärlden. Därför kommer realpolitiken att segra. Hur tror du relationerna mellan Erdogan-Turkiet och Västvärlden kommer att utvecklas?
DP: Som jag förstår det har NATO ingen mekanism för att utesluta en medlemsstat; om detta är korrekt så har man inget annat val än att arbeta med Erdoğan. Under den korta tiden sedan kuppförsöket har Erdoğan varit väldigt fientlig gentemot Väst. Han kanske kommer att ansluta sig till Shanghai Cooperation Organisation.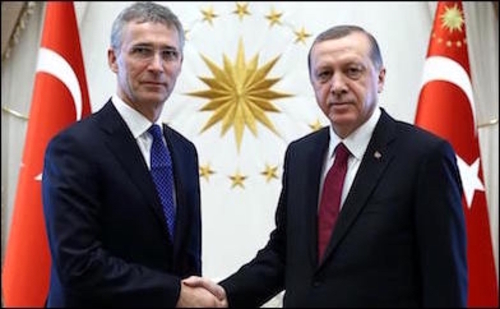 Turkiets president Erdoğan (V) skakar hand med NATOs Generalsekreterare Anders Fogh Rasmussen.
GR: Förutom islamister måste Västvärlden hantera Ryssland, Kina och Nordkorea. Hur kan man hantera alla dessa utmaningar på en gång? Vilken kontrajihadist-strategi anser du vara den mest lovande?
DP: Den strategiska miljön idag är mycket lättare än under Kalla kriget; det finns ingen beslutsam fiende med stormaktsmedel till sitt förfogande. Nyckeln för Västvärlden är att inte somna. Att välja sådana ledare som Obama och Merkel betyder dock att somna. Den bästa kontrajihadist-strategin är en som tar idéer på allvar.
GR: Det tog Väst två decennier att göra sig av med fascismen och 70 år att göra sig av med kommunismen. Hur länge tror du det tar att göra sig av med islamismen? Står vi inför islamismens zenit just nu eller har vi endast kommit halvvägs och kommer det att bli ännu värre?
DP: Kampen mot islamismen har ännu inte börjat. Jag kan inte förutspå hur länge det kommer att ta. Med kommunistiska termer är det fortfarande pre-1945 och med fascistiska termer 1930-talet. Jag tror att islamismen nådde sin topp 2012-13 och att de nu uppvisar tecken på svaghet.
GR: Kommer de dåliga erfarenheterna med islamism och sekulär militärdiktatur i muslimska länder att skapa en ny demokratisk rörelse och en ny muslimsk vår i framtiden efter en katarsis? Eller tror du att dessa länder alla är misslyckade länder som kommer att upplösas eftersom de inte är kapabla att ändra kurs?
DP: Muslimer har lärt sig flera bittra läxor från den islamistiska erfarenheten. Jag hoppas de kommer att använda dessa till något gott men hittills finns det inte mycket som tyder på att så är fallet.
http://sv.danielpipes.org/16906/kampen-mot-islamismen
Danish translation:
"Kampen mod islamismen er endnu ikke begyndt"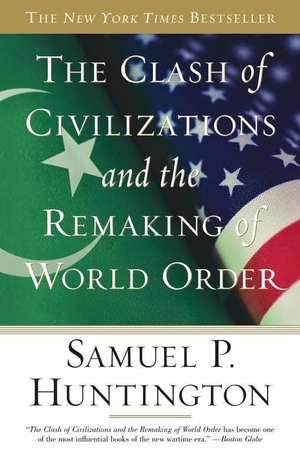 Global Review: Mr. Pipes, hvad mener De om Samuel Huntingtons bog Clash of Civilizations? Er religionerne det afgørende element i kulturen, trods Oplysning og globalisering? Hvor havde Huntington ret, og hvor tog han fejl?
Daniel Pipes: Huntington begik nogle meget afgørende fejl, som blev stadig tydeligere gennem de tyve år, efter at han luftede sin tese. Han mente for eksempel, at USA's spændte forhold til Japan i 1990'erne var en følge af civilisatoriske forskelligheder; ti år senere forsvandt disse spændinger og blev erstattet af nogle langt mere alvorlige problemer med Europa, til trods for at USA og Europa er del af samme civilisation. De virkelige splittelser er som altid politiske, ikke civilisatoriske.
GR: Der er mange, der siger, at islam ikke er en religion, men en reaktionær, totalitær og undertrykkende ideologi, svarende til fascisme og kommunisme; og at islam ikke kan reformeres. Andre siger, at islamismen intet har at gøre med religion og islam. Hvad mener De om relationen mellem islam og islamisme?
DP: Begge de nævnte opfattelser er tåbelige. Selvfølgelig er islam en af de største religioner i verden; hvad er der at diskutere? Islamismen, som er en moderne bevægelse, har imidlertid meget til fælles med fascisme og kommunisme. Islamismen er en udgave af islam. At benægte dette svarer til at sige, at jesuitterne ikke er kristne.
GR: Nogle eksperter sammenligner islam med konfucianisme og hinduisme. De skriver, at man i 1950'erne ikke anså de konfucianske samfund for at være i stand til at udvikle sig økonomisk og socialt, og at konfucianismen blev betragtet som en hindring for fremskridtet; det samme med hinduismen i Indien. Men i dag er Østasien og Indien økonomiske kraftcentre, og mange mennesker opfatter konfucianismen og hinduismen som drivkræfter i denne succeshistorie. Kunne det samme ske for islam, at den ligeledes vil reformere sig?
DP: Ja, det er muligt, at muslimske folkeslag vil overvinde tidens vanskeligheder og bevæge sig i retning af økonomisk og politisk succes. Vi kan umuligt forudsige den slags. Og ingen civilisation eller religion bliver ved med at være i bund.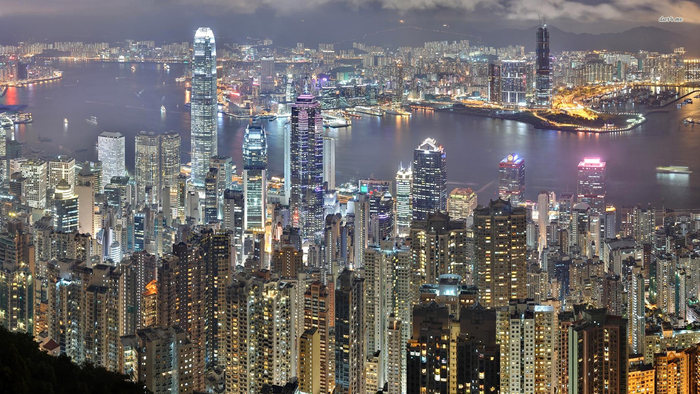 Udsigt over Hong Kong: Ingen betragter længere konfucianismen som en hindring for udviklingen.
GR: Der findes en bred vifte af islamister. Al-Qaida, Islamisk Stat, Boko Haram, Al Shabaab, som ønsker at besætte landområder med militære midler og skabe en bestandigt ekspanderende stat. Og så er der det Muslimske Broderskab, det tyrkiske parti AKP og de iranske khomeinister. Hvilken af disse islamistiske grupper udgør den største fare for Vesten, og hvilken af disse udgaver, tror De, vil få størst succes?
DP: Jeg er mest bekymret over de skjulte, infiltrerende islamister. Når det gælder fysisk magt, kan vi nemt besejre dem. Men når det gælder vore egne institutioner – skoler, retssale, medier, parlamenter – er vi langt mindre forberedt på at skulle forsvare os.
GR: I de vestlige lande vinder mange islamofobiske partier og politikere terræn. Mener De, at dette vil bidrage til spredningen af islamismen eller vil disse partier hjælpe til i kampen mod jihad? Hillary Clinton har sagt, at Trump og hans anti-muslimske taler er de bedste rekrutteringsværktøjer for Islamisk Stat. Er det sandt?
DP: Jeg anerkender ikke begrebet "islamofobi" og ved ikke, hvad det betyder, bortset fra at det, med Andrew Cummins udødelige sætning, er et ord, der er "skabt af fascister og brugt af kujoner til at manipulere med fjolser."
Deres spørgsmål vender rundt på begivenhedernes gang. Islamistisk ideologi avler islamistisk vold, som starter processen og til gengæld fremkalder anti-islamiske holdninger. Anti-islamiske synspunkter kan også inspirere til mere islamistisk vold, men det er mindre væsentligt. Den egentlige dynamk her er en islamisme, som fremkalder dannelsen af anti-islamiske partier. Som Norbert Hofer har vist det i Østrig, nærmer disse sig 50 procent af vælgerne og dermed den politiske magt.
GR: Fokuseringen på de "islamofobiske" partiers modstand mod islam overser, at de stort set er halvfascistiske. Geert Wilders siger, at koranen er at sammenligne med Hitlers Mein Kampf, og at islam er en totalitær ideologi. Kan han være en allieret i kampen mod islamismen? Måske står Obama og Merkel svagt over for islamismen, men støtter De Wilders, Trump, Østrigs FPÖ, Ungarns Fidesz eller Jobbik?
​DP: Anti-islamiske ledere og partier er ikke særlig forfinede og begår mange fejl. Jeg håber, at de, når de kommer tættere på magten, bliver mere skolede og seriøse. Jeg støtter dem ikke, men jeg rådgiver dem gerne.
GR: Det forfejlede kup i Tyrkiet hjalp Erdoğan med at befæste sit islamistiske diktatur. Tror De, at NATO vil acceptere et islamisk-fascistisk diktatur som medlemsstat? Nogle eksperter siger, at Saudi-Arabien også er et islamistisk diktatur, og dog partner med USA og Vesten. Derfor vil realpolitikken sejre. Hvordan tror De, at forholdet mellem Erdogans Tyrkiet og Vesten vil udvikle sig?
DP: Som jeg forstår det, så har NATO ingen mekanisme til at smide en medlemsstat ud; hvis det er rigtigt, har de ingen anden mulighed end at samarbejde md Erdoğan. I den korte periode siden kupforsøget har Erdoğan været meget fjendtlig over for Vesten. Måske ender han i Shanghai Cooperation Organisation (SCO).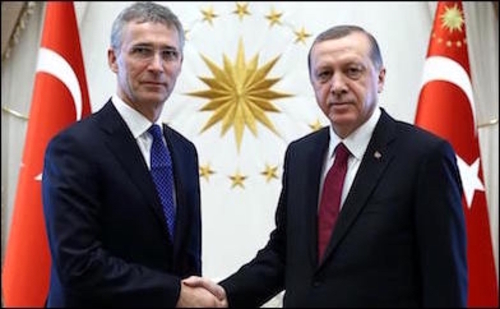 Tyrkiets præsident, Erdoğan (R), giver hånd til NATO's generalsekretær, Jens Stoltenberg
GR: Ud over islamisterne må Vesten forholde sig til Rusland, Kina og Nordkorea. Hvordan kan man håndtere alle disse udfordringer på én og samme tid? Hvilken kontra-jihadisk strategi finder De mest lovende?
DP: Det strategiske miljø i dag er langt nemmere end under den kolde krig; der findes ingen målbevidst, ideologisk fjende med en stormagts midler til sin rådighed. Nøglen for Vesten er at lade være med at falde i søvn. Men at vælge ledere som Obama og Merkel betyder imidlertid, at man falder i søvn. Den bedste kontra-jihadiske strategi vil være en, der tager ideer seriøst.
GR: Det tog Vesten to årtier at slippe af med fascismen og 70 år at slippe af med kommunismen. Hvor lang tid tror De, det vil tage at slippe af med islamismen? Står vi i øjeblikket ved et islamistisk højdepunkt, eller er vi kun nået halvvejs, og vil det hele bare blive endnu værre?
DP: Kampen mod islamismen er endnu ikke begyndt. Jeg kan ikke spå om, hvor lang tid den vil vare. Vi befinder os i kommunistisk forstand stadig før 1945 og i 1930'erne i fascistisk forstand. For mig ser det ud til, at islamismen toppede i 2012-13 og nu udviser svaghedstegn.
GR: Vil de dårlige erfaringer med islamismen og sekulære militærregimer i muslimske lande skabe en ny, demokratisk bevægelse og et nyt muslimsk forår i fremtiden, efter en katharsis? Eller mener De, at alle disse lande er fejlslagne stater, som vil gå i opløsning, fordi de er ude af stand til at ændre kurs?
DP: Muslimerne lærer en bitter lektie gennem deres erfaringer med islamismen. Jeg håber, at de vil gøre god brug heraf, selvom der indtil nu er meget få tegn på, at det vil ske.
http://da.danielpipes.org/16939/kampen-mod-islamismen
Indonesian translation:
Perjuangan Melawan Ideologi Islam Radikal belum juga Dimulai
Global Review: Pak Daniel, apakah yang anda pikirkan tentang buku Samuel Huntington, Clash of Civilizations (Benturan Peradaban)? Walau pernah ada masa Pencerahan dan globalisasi, apakah agama berperan merumuskan arah kebudayaan? Mana saja hal yang benar dan yang salah yang Huntington ungkapkan?
Daniel Pipes: Huntington melakukan sejumlah kesalahan besar, yang semakin jelas selama dua dekade sejak dia mengemukakan tesisnya. Sebagai contoh, dia berpikir, ketegangan antara AS dan Jepang pada era 1990-an berakibat dari perbedaan peradaban; namun satu dekade kemudian, ketegangan itu lenyap, diganti dengan persoalan yang jauh lebih parah dengan Eropa, walaupun Amerika Serikat dan Eropat membentuk bagian dari peradaban yang sama. Pembagian yang sebenarnya, sebagaimana senantiasa ada, tetaplah politis, tidak berkaitan dengan peradaban.
GR: Banyak orang katakan bahwa Islam bukan agama, tetapi hanya sebuah ideologi reaksioner, totaliter dan represif yang dapat dibandingkan dengan fasisme dan komunisme dan bahwa Islam tidak bisa direformasi. Orang lain lagi mengatakan bahwa ideologi Islam radikal (Islamisme) tak ada kaitannya sama sekali dengan agama dan Islam. Apakah yang anda katakan soal hubungan antara Islam dan ideologi radikal Islam (Islamisme)?
DP: Dua pernyataan itu bodoh. Tentu, Islam adalah salah satu agama penting di dunia. Apa yang perlu diperdebatkan? Ideologi Islamisme, bagaimanapun, sebuah gerakan modern punya banyak kesamaan dengan fasisme dan komunisme. Islamisme merupakan satu bentuk Islam. Menyangkal ini sama saja dengan mengatakan bahwa para Yesuit (para iman dan bruder Ordo Yesuit) bukanlah Kristen.
GR: Sejumlah pakar membandingkan Islam dengan Konfusianisme dan Hinduisme. Mereka melihat pada era 1950-an, masyarakat Konfusian dianggap tidak mampu berkembang secara ekonomis dan sosial dan bahwa Konfusianisme dilihat sebagai hambatan terhadap kemajuan; sama seperti Hinduisme di India. Bagaimanapun, sekarang ini, Asia Timur dan India adalah mesin pembangkit ekonomi. Banyak orang lalu mempersepsi Konfusianisme dan Hinduisme sebagai penggerak kisah keberhasilan ini. Apakah hal yang sama terjadi dengan Islam, artinya bahwa dia juga bereformasi?
DP: Ya, memang tidak mungkin bahwa masyarakat Muslim akan pulih dari kesulitan masa kini dan selanjutnya bergerak menuju keberhasilan ekonomi dan politik. Kita tidak punya cara untuk memprediksi hal-hal ini. Namun tidak ada peradaban atau agama yang tetap bertahan demikian.
GR: Kaum Muslim radikal punya spektrum yang luas. Al-Qaida, Negara Islam, Boko Haram, Al-Shabaab ingin menduduki kawasan lewat berbagai sarana militer dan menciptakan sebuah negara yang senantiasa berkembang meluas. Kemudian ada Ikhwanul Muslim, Partai AK Turki dan pengikut Khomeini Iran. Manakah dari berbagai kelompok Islam radikal ini yang jadi bahaya terbesar Barat dan konsep-konsep manakah dari semua ini yang anda anggap paling berhasil?
DP: Saya paling mengkhawatirkan soal kaum Muslim radikal yang melakukan penyusupan secara halust. Ketika persoalannya tiba pada kekuatan, kita bisa dengan mudah mengalahkan mereka. Tetapi ketika sampai pada institusi-institusi kita —sekolah, pengadilan hukum, media, parlemen— kita sangat tidak siap untuk membela diri.
GR: Di negara-negara Barat, banyak partai dan politisi yang fobia terhadap Islam (Islamophobic) bermunculan. Apakah anda pikir hal ini akan membantu menyebarluaskan ideologi radikal Islam (Islamism) atau akankah partai-partai ini membantu kontra-jihad? Hilary Clinton mengatakan bahwa Trump dan pidato-pidato anti-Muslimnya adalah perekrut terbaik bagi Negara Islam. Apakah benar?
DP: Saya tidak akui istilah "Islamofobia" atau fobia terhadap Islam dan saya tidak tahu apa artinya, kecuali dalam frasa abadi yang diungkapkan oleh Andrew Cummings. Menurut dia, sebagai sebuah kata, Islamofobia "diciptakan oleh kaum fasis dan dimanfaatkan oleh para penakut untuk memanipulasi orang tolol."
Pertanyaan anda membalik urutan peristiwa. Ideologi kaum Muslim radikal melahirkan kekerasan kaum Muslim radikal, yang memulai prosesnya dan selanjutnya menginspirasi lahirnya perasan anti-Islam. Pandangan anti-Islam mungkin juga menginspirasi lebih banyak lagi kekerasan kaum Muslim radikal, tetapi itu bersifat insidental. Dinamikanya yang sebenarnya di sini adalah ideologi Islam radikal (Islamisme) menciptakan partai-partai anti-Islam. Seperti Norbert Hofer pernah perlihatkan di Austria, mereka mendekati 50 persen suara pemilih dan dengan suara itu terjadilah kekuasaan politik.
GR: Memfokuskan diri pada partai-partai "fobia terhadap Islam" yang beroposisi kepada Islam mengabaikan kenyataan bahwa pada umumnya mereka semi-fasis. Geert Wilders mengatakan bahwa Al-Qur'an bisa disamakan dengan buku Mein Kampf-nya Hitler dan bahwa Islam adalah sebuah ideologi totaliter. Bisakah dia menjadi sekutu dalam perjuangan melawan Islam radikal? Mungkin Obama dan Merkel lemah kepada Islam radikal, tetapi apakah anda mendukung Wilders, Trump, Partai FPO dari Austria, Fidesz atau Jobbik dari Hongaria?
​DP: Para pemimpin dan partai anti-Islam tidak cerdas dan melakukan banyak kesalahan. Harapan saya ketika mereka semakin dekat dengan kekuasaan, mereka menjadi lebih terpelajar dan serius. Saya tidak dukung mereka tetapi memberikan mereka nasehat.
GR: Kudeta yang gagal di Turki membantu Erdoğan membangun pemerintahan diktator Islam radikalnya. Apakah anda berpikir NATO bakal menerima kediktatoran fasis berbasiskan Islam (Islamofasis) sebagai negara anggota? Sejumlah pakar mengatakan Arab Saudi juga sebuah pemerintahan diktator Islamisfasis, tetapi dia mitra Amerika Serikat dan Barat. Karena itu, realpolitiknya bertahan. Bagaimana anda pikirkan hubungan antara Erdogan-Turki dan Barat bakal berkembang.
DP: Setahu saya, NATO tidak punya mekanisme untuk mengeluarkan negara anggota. Jika benar, maka dia tidak punya pilihan selain bekerja sama dengan Erdoğan. Dalam masa singkat sejak kudeta yang gagal, Erdoğan menjadi sangat memusuhi Barat. Barangkali dia mungkin saja berakhir dengan bekerja sama dengan Organisasi Kerja Sama Shanghai.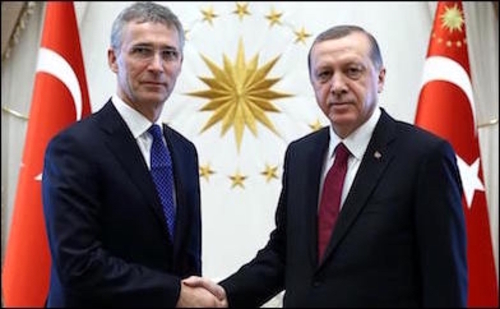 Presiden Turki Erdoğan (Kanan) berjabat tangan dengan Sekjen NATO Jens Stoltenberg
GR: Selain kaum radikal Islam, Barat terpaksa bekerja sama dengan Rusia, Cina dan Korea Utara. Bagaimanakah Barat menangani semua tantangan ini pada waktu bersamaan? Manakah strategi kontrajihadi yang anda lihat paling menjanjikan?
DP: Lingkungan strategis sekarang lebih mudah dibandingkan dengan selama perang dingin. Tidak ada musuh ideologi yang begitu bertekad dengan sarana-sarana kekuasaan besar yang siap dimanfaatkan. Kuncinya adalah Barat tidak boleh pergi tidur. Memilih para pemimpin seperti Obama dan Merkel bagaimanapun berarti siap untuk pergi tidur. Strategi kontra-jihad terbaik adalah satu strategi yang memanfaatkan ide secara serius.
GR: Barat membutuhkan waktu dua dekade untuk melepaskan diri dari fasisme dan 70 tahun untuk melepaskan diri dari komunisme. Berapa lama anda pikir waktu yang diperlukan untuk melepaskan diri dari ideologi Islam radikal? Apakah kita tengah menghadapi titik nadir ideologi Islam radikal sekarang ini juga atau apakah kita sudah tepat separuh jalan menuju ke sana dan akankah kita justru semakin terjebak?
DP: Perjuangan melawan ideologi Islam radikal belum dimulai. Karena itu, saya tidak bisa meramalkan berapa lama waktu yang diperlukan. Perjuangan melawan ideologi Islam radikal ini masih pra-1945 dalam istilah kaum komunis dan era 1930-an dalam istilah para fasis. Saya melihat ideologi Islam radikal telah memuncak pada 2012- 2013 dan tengah memperlihatkan tanda-tanda kelemahan.
GR: Akankah pengalaman buruk dengan ideologi radikal Islam dan diktator militer sekular di negara-negara Muslim bakal menciptakan sebuah gerakan demokrasi baru dan Musim Semi Muslim pada masa datang ada katarsis? Atau anda pikir semua itu adalah negara-negara gagal yang bakal terpecah belah karena tidak mampu berubah arah?
DP: Kalangan Muslim belajar dari pelajaran pahit pengalaman kaum Muslim radikal. Saya harap mereka memanfaatkannya untuk digunakan secara baik, walaupun sampai sebegitu jauh sedikit sekali bukti hal ini terjadi.
http://id.danielpipes.org/16961/perjuangan-islam-radikal
Slovak Translation:
"Boj proti islamizmu ešte nezačal"
Global Review: Pán Pipes, čo si myslíte o knihe Samuela Huntingtona Clash of Civilizations (Stret civilizácií)? Sú náboženstvá rozhodujúcimi momentami kultúry, a to aj napriek osvietenstvu a globalizácii? Kde mal Huntington pravdu, a kde chyboval?
Daniel Pipes: Huntington urobil niekoľko veľmi výrazných chýb, ktoré sa stávajú čoraz viac zrejmé v posledných dvoch desaťročiach, odkedy prezentoval svoju tézu. Napríklad si myslel, že napätie medzi Spojenými štátmi a Japonskom v 90. rokoch bolo výsledkom civilizačných rozdielov; o desať rokov neskôr toto napätie zmizlo, nahradili ho omnoho vážnejšie problémy s Európou, a to i napriek tomu, že Spojené štáty a Európa sú súčasťou rovnakej civilizácie. Skutočný rozpor, tak ako vždy, zostáva politický, a nie civilizačný.
GR: Mnohí ľudia hovoria, že islam nie je náboženstvom, ale reakcionárskou, totalitárnou a represívnou ideológiou, porovnateľnou s fašizmom a komunizmom, a že islam nemožno reformovať. Iní ľudia hovoria, že islamizmus nemá nič spoločné s náboženstvom a islamom. Čo hovoríte o vzťahoch medzi islamom a islamizmom?
DP: Obidva tieto výroky sú nezmyslom. Samozrejme, islam je jedným z hlavných svetových náboženstiev; o čom tu treba diskutovať? Avšak islamizmus, moderné hnutie, zdieľa mnoho s fašizmom a komunizmom. Islamizmus je forma islamu. Popierať to by bolo podobné ako hovoriť, že jezuiti nie sú kresťania.
GR: Niektorí experti prirovnávajú islam ku konfucianizmu a hinduizmu. Uvádzajú, že v 50. rokoch dvadsiateho storočia neboli konfuciánske spoločnosti schopné vyvíjať sa ekonomicky a sociálne, a že konfucianizmus bol považovaný za prekážku pokroku; rovnako ako hinduizmus v Indii. Ale dnes sú Východná Ázia a India hospodárskym motorom a mnohí ľudia vnímajú konfucianizmus a hinduizmus ako hnaciu silu tohto úspechu. Mohlo by sa tak stať aj s islamom, že sa bude tiež reformovať?
DP: Áno, je možné, že moslimský národ sa zotaví z dnešných ťažkostí a bude pokračovať k hospodárskemu a politickému úspechu. Nemáme žiadny spôsob, ako predikovať takéto veci. A žiadna civilizácia alebo náboženstvo nezostane navždy v tej pozícii, v akej sa práve nachádza.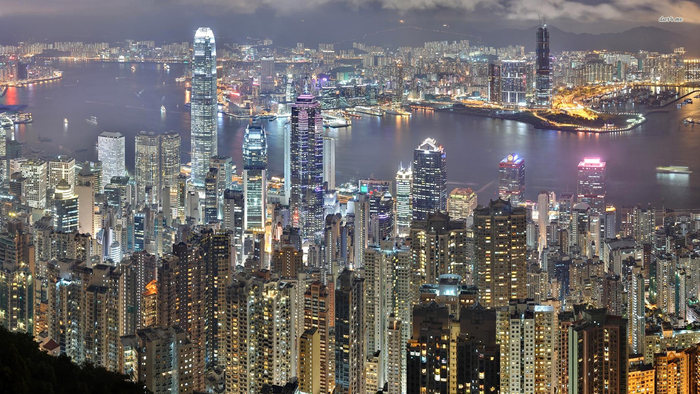 Panoráma Hong Kongu: Už nikto nepovažuje konfucianizmus za prekážku rozvoja.
GR: Existuje široké spektrum islamistov. Al-kájda, Islamský štát, Boko Haram, al-Šabáb, ktoré chcú okupovať územia vojenskými prostriedkami a vytvoriť stále sa rozširujúci štát. A potom Moslimské bratstvo, turecká strana AKP a iránski Chomejnisti. Ktoré z týchto islamistických skupín sú pre Západ najväčším nebezpečenstvom a ktorá z týchto koncepcií bude podľa vás najúspešnejšia?
DP: Obávam sa najviac subtílnych, infiltrujúcich sa islamistov. Keď pôjde o násilie, môžeme ich ľahko poraziť. Ale keď pôjde o naše vlastné inštitúcie – školy, súdy, médiá, parlamenty – sme oveľa menej pripravení brániť sa.
GR: V západných krajinách sú mnohé islamofóbne strany a politici na vzostupe. Myslíte si, že títo budú pomáhať šíriť islamizmus, alebo budú tieto strany pomáhať kontra-džihádu? Hillary Clintonová hovorí, že Trump a jeho anti-moslimské prejavy sú najlepším náborom pre Islamský štát. Je to pravda?
DP: Nepoznámm termín "islamofób" a neviem, čo to znamnená, s výnimkou nesmrteľného výroku Andrewa Cumminsa, ako je slovo "vytvorené fašistami a používané zbabelcami na zmanipulovanie hlupákov."
Vaša otázka obracia sled udalostí. Islamistická ideológia plodí islamistické násilie, ktoré začína tento proces a opačne inšpiruje anti-islamské cítenie. Anti-islamské názory by tiež mohli inšpirovať viac islamistického násilia, ale to je vedľajšie. Skutočne dynamický je tu islamizmus, ktorý vytvára anti-islamské strany. Ako ukázal Norbert Hofer v Rakúsku, získali takmer 50 percent hlasov a s tým aj politickú moc.
GR: Sústreďovanie sa na kontrast "islamofóbnych" strán voči islamu ignoruje to, že sú do značnej miery semi-fašistické. Geert Wilders hovorí, že Korán je porovnateľný s Hitlerovým Mein Kampfom a že islam je totalitárnou ideológiou. Môže byť Wilders spojencom v boji proti islamizmu? Možno sú Obama a Merkelová slabí, pokiaľ ide o islamizmus, ale podporujete Wildersa, Trumpa, rakúsku stranu FPÖ, maďarskú stranu Fidesz alebo Jobbik?
​DP: Anti-islamskí vodcovia a strany sú nesofistikovaní a robia mnoho chýb. Dúfam, že keď sa dostanú k moci, stanú sa vzdelanejšími a serióznejšími. Nepodporujem ich, ale dávam im radu.
GR: Nevydarený pokus o prevrat v Turecku pomohol Erdoğanovi zaviesť jeho islamistickú diktatúru. Myslíte si, že NATO bude akceptovať islamofašistickú diktatúru ako členský štát? Niektorí experti hovoria, že Saudská Arábia je tiež islamistickou diktatúrou, ale je partnerom Spojených štátov amerických a Západu. Takže reálna politika preváži. Čo si myslíte, ako sa budú vyvíjať vzťahy medzi Erdoganom-Tureckom a Západom?
DP: Ako som pochopil, NATO nemá mechanizmus na to, aby vylúčil členský štát; ak je to presne tak, nemá inú možnosť, ako pracovať s Erdoğanom. V krátkom období od pokusu o prevrat bol Erdoğan voči Západu veľmi nepriateľský. Možno chce skončiť so Shanghai Cooperation Organisation (Šanghajskou organizáciou spolupráce).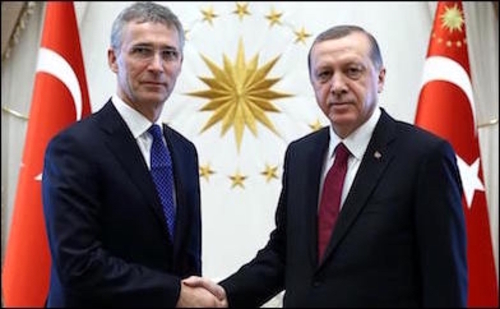 Turecký prezident Erdoğan (vpravo) si potriasa rukou s generálnym tajomníkom NATO Jensom Stoltenbergom
GR: Okrem islamistov sa musí Západ vysporiadať s Ruskom, Čínou a Severnou Kóreou. Ako sa bude môcť vysporiadať so všetkými týmito výzvami súčasne? Ktorú kontra-džihádistickú stratégiu považujete za najsľubnejšiu?
DP: Dnešné strategické prostredie je omnoho jednoduchšie ako počas studenej vojny; nie je určený strategický nepriateľ s prostriedkami veľkej moci, ktoré by mal k dispozícii. Kľúčom k úspechu pre Západ je nezaspať. Voľba takých vodcov ako je Obama a Merkelová však znamená ísť spať. Najlepšia kontra-džihádistická stretégia je tá, ktorá berie nápady vážne.
GR: Západu trvalo dve desaťročia, kým sa zbavil fašizmu a 70 rokov, kým sa zbavil komunizmu. Čo si myslíte, ako dlho bude trvať, kým sa zbavíme islamizmu? Čelíme zenitu islamizmu práve teraz, alebo sme práve len v polovici cesty a ešte sa to doknca zhorší?
DP: Boj proti islamizmu sa ešte nezačal. Nemôžem predvídať, ako dlho to potrvá. Je to stále v komunistických termínoch pred rokom 1945 a vo fašistických termínoch pred 30. rokmi dvadsiateho storočia. Ja to vidím tak, že islamizmus vrcholil v rokoch 2012-13 a vykazuje známky slabnutia.
GR: Vytvoria v budúcnosti zlé skúsenosti s islamizmom a sekulárnou vojenskou diktatúrou v moslimských krajinách nové demokratické hnutie a novú Moslimskú jar po katarzii? Alebo myslíte, že všetky tieto krajiny sú zlyhávajúcimi krajinami, ktoré sa rozpadnú, pretože nie sú schopné zmeniť kurz?
DP: Moslimovia sa učia trpkému ponaučeniu z islamistickej skúsenosti. Dúfam, že to dobre využijú.
http://sk.danielpipes.org/16964/boj-proti-islamizmu-este-nezacal