Post SA Iran Deal: BRICS Expansion and Other Geopolitical Tectonic Shifts
Post SA Iran Deal: BRICS Expansion and Other Geopolitical Tectonic Shifts
After the Iran-SA deal under Chinese mediation, there are some geopolitical tectonic shifts. Iran is now becoming increasingly active and today's Tehran Times headlines:
"Leader calls Iran, Turkmenistan 'relatives' who share huge cultural affinities
May 31, 2023 – 21:32
"Ayatollah Khamenei receives chairman of People's Council of Turkmenistan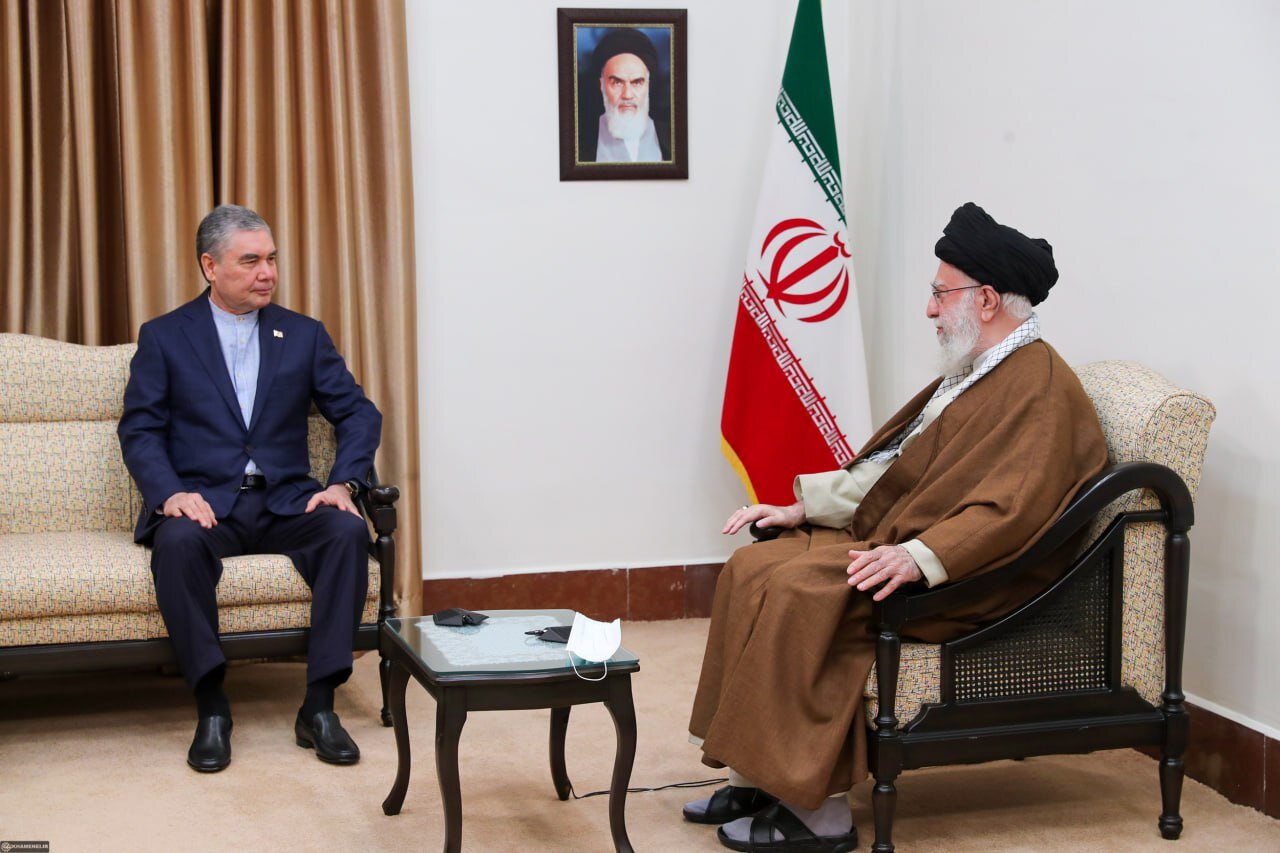 TEHRAN- Ayatollah Seyed Ali Khamenei, the Leader of the Islamic Revolution, has described Iran and Turkmenistan as "relatives" with a number of common cultural roots.
TEHRAN- Ayatollah Seyed Ali Khamenei, the Leader of the Islamic Revolution, has described Iran and Turkmenistan as "relatives" with a number of common cultural roots.
The Leader made the remarks during a meeting with Gurbanguly Berdimuhamedov, chairman of the People's Council of the National Assembly on Wednesday in Tehran.
The Leader stressed that the cultural affinities between the two countries are crucial for advancing cooperation in a variety of fields, particularly in those of energy, gas, water and road transportation.
"These cultural fields should not be underestimated," Ayatollah Khamenei said.
The Leader was referring to the fact that hundreds of well-known scientists and individuals reside along the border between the Atrak and Jayhoun rivers in the two nations, as well as the fact that the tomb of the renowned Turkmen poet Makhtumaghli Faraghi is located in Iran.
The Leader praised Berdimuhamedov, who was Turkmenistan's president 2007–2022,for his special attention to cultural and religious issues, as well as his efforts to expand cultural centers and mosques.
Ayatollah Khamenei added, "In the field of commercial issues, there is more potential to expand cooperation, particularly in the road sector and areas related to water, electricity, and gas."
The Leader underscored that "more cooperation between Iran and Turkmenistan will be the basis for improving the status of the two countries in the changing world."
Expansion of relations will be in the interest of the two countries, the Leader remarked, expressing optimism about the future of relations.
Berdimuhamedov, for his part, said that he was pleased with the meeting. "I have always used your Excellency's views and recommendations during my trips to Iran over the past years and during my presidency, and on the basis of those recommendations, important work has been done," noted Berdimuhamedov.
Given his other visits during his stay in Tehran, Berdimuhamedov continued, "In these negotiations, good agreements were reached to expand cooperation, especially the use of Iranian specialists and experts in road construction, water, electricity, and gas fields."
Leading a high-ranking delegation of political and economic figures, Berdimuhamedov arrived in Tehran on Tuesday to hold talks with top Iranian officials.
Several cooperation documents were signed during his visit to Iran by officials from both nations.
Additionally, President Raisi, Mohammad Bagher Ghalibaf, the Parliament speaker, and Ayatollah Sadegh Amoli Larijani, the head of the Expediency Council, were all met by Berdimuhamedov.
https://www.tehrantimes.com/news/485363/Leader-calls-Iran-Turkmenistan-relatives-who-share-huge-cultural
Well, the Turkmenian representatives are still wearing gentlemen suits and ties and not yet mullah clothes and turbans, so they are still more like "relatives" in totalitarianism, but maybe then another case for the neo-Ottoman empire of Türkiye and Erdogan, that politically and culturally there are more affinities to the hybrid neo-Ottoman Pan-Turkic nationalist Türkiye and the Turkic peoples of Central Asia. Eli Cohen was already at the opening of the Israeli embassy in Turkmenistan-unfortunately not particularly suitable for the Mossad because of the isolation, state control, a country without a population, especially with a mountain to Iran, although Eli Cohen claimed that one could see Iran directly from the Israeli embassy, but military bases, Mossad stations for the destabilization of Iran are not to be expected here. Unlike in Azerbaijan, the land and topography speak against it, as the reporter from the Times of Israel reported. But more happened after the SA_ Irandeal under Chinese mediation. UAE terminates maritime cooperation with the USA, which raises the question: Will I2U2 then remain intact?
"On why UAE withdrew from U.S.-led maritime coalition
US decline prompts allies' departure
May 31, 2023 – 21:41
By Faramarz Kuhpayeh
TEHRAN – In the latest blow to the U.S. hegemony in the West Asia region, the United Arab Emirates (UAE) announced its withdrawal from a U.S.-led maritime coalition, further giving credence to perceptions of U.S. decline.
In a statement on Wednesday, the UAE foreign ministry said, "As a result of our ongoing evaluation of effective security cooperation with all partners, two months ago, the UAE withdrew its participation in the Combined Maritime Forces."
The statement added that the UAE remains committed to responsibly ensuring the safety of navigation in its seas, in accordance with international law.
The statement comes amid press reports of tensions between the U.S. and the UAE over Emirati complaint about lack of action on the part of the U.S.
The Western press reported that the U.S. was unhappy over how the U.S. dealt with Iranian seizure of oil tankers in the Persian Gulf. The UAE rejected these reports, saying, "The UAE has rejected the mischaracterization, in recent press reports, of US-UAE conversations regarding maritime security."
Aside from the credibility of the UAE-US differences, Abu Dhabi's withdrawal from the U.S.-led Combined Maritime Forces is another indication of U.S. traditional partners in the region moving away from Washington out of growing perceptions of the global decrease in U.S. might.
When juxtaposed with positions by other allies of the U.S., the Emirati move sends an unequivocal signal about the depth of the dent in the American credibility in the West Asia region.
Saudi Arabia, a historical ally of America, has preceded the UAE in parting ways with the U.S. In March, it signed a landmark deal with Iran that was brokered by China, the global competitor for the U.S. Since then, the Saudis have been working with the Iranians to fully resume diplomatic relations.
And the UAE itself seems to be following suit. Of course, the U.S. has never fully severed relations with Iran. But it downgraded them in solidarity with Saudi Arabia. And when Riyadh moved to snuggle up to Iran, the Emiratis decided to upgrade ties with Iran.
A senior Emirati official has recently underlined the United Arab Emirates' determination to strengthen relations with Iran.
Khalifa Shaheen Al Marar, who is a Minister of State of the United Arab Emirates, made the remarks during a meeting with Iranian Foreign Minister Hossein Amir Abdollahian in Tehran on Tuesday.
The UAE's minister emphasized Abu Dhabi's determination to boost relations with the Islamic Republic, the Iranian foreign ministry said in a statement.
In a sense, the Emiratis, like their Saudi peers, have ceased to believe that America can be relied upon.
Interestingly, even the Israelis appears to be coming to terms with the dwindling U.S. influence. When the U.S. proposed to Israelis that they conduct joint military planning on Iran, the Israeli received the American proposal cautiously. They may have well stopped short of rejecting it out of compliments.
All in all, the U.S. decline reached a point where even its longtime allies are exasperated by its inability to take the initiative.
https://www.tehrantimes.com/news/485362/US-decline-prompts-allies-departure
Also interesting is the son of the late Emir of Oman: he says goodbye to his father's alleged neutrality under which Oman was considered more of the Switzerland of the Middle East and is inciting joint naval maneuvers with Iran. Iran is also pushing initiatives to become a member of the Gulf Cooperation Council (GCC). After expanding on land in the Shia crescent of Iran-Iraq, Syria, Lebanon, the mullah regime is now expanding its maritime presence, enthuses about a Great Eurasian Maritime Zone that, under his leadership, will link the Gulf to Southeast Asia, India and possibly China Mossad, IDF and Jerusalem Post also report that Iran now wants to expand its ships and warships as terrorist bases on water, including drones and rockets, in addition to the already existing land potential of missiles and drones in Lebanon and Gaza, including Iran itself. This is now triggering a whole wave: The BRICS may now want to expand and to include 20 additional states, foremost Venezuela Saudi Arabia, Turkey and the UAE. Not as an anti-NATO, but an alliance of the Global South, a kind of non-aligned movement with a clearly anti-Western accent, in which China, Russia and India in particular, along with Brazil and South Africa in a subordinate position, are fighting for leadership.
"The antithesis to the West: BRICS want to take in more states The name BRICS stands for Brazil, Russia, India, China and South Africa. Now, however, many states want to join the group. The five foreign ministers are discussing this in Cape Town. Amid geopolitical tensions, the foreign ministers of the BRICS (Brazil, Russia, India, China and South Africa) met in Cape Town on Thursday for two days of talks. It was an opportunity to "reflect on regional and global developments," it said at the start. The foreign ministers, including Russia's Sergei Lavrov, want to prepare for the BRICS summit meeting in Johannesburg in August. Important issues include the admission of new members and, in the longer term, possibly a common currency. South Africa's BRICS ambassador, Anil Sooklal, said more than 20 countries had formally or informally submitted applications for admission, including Venezuela, Saudi Arabia, Iran and the United Arab Emirates. The interest demonstrates a growing trust in the group of states, which is campaigning for a reform of the multilateral system in order to give the governments of the Global South more say. Stress test for South Africa Referring to the war in Ukraine, the ambassador said the foreign ministers would deal with this, but also with many other conflicts in the world. The group of states is fundamentally committed to "peaceful solutions through political dialogue". Russia is part of the "BRICS family" in which all members have equal say and are treated equally. For host South Africa, the BRICS summit in August is likely to be a tough test for relations with western economic partners.As a treaty state to the International Criminal Court (ICC), the South African authorities would be obliged to arrest the Russian president upon entry. However, an arrest is considered highly unlikely. South Africa continues to strive for friendly relations with Russia. A team of experts is currently looking for legal ways to avoid arrest without violating the Rome Statute of the ICC.
According to reports, a relocation of the summit to China or Mozambique is also under discussion. 15 counterparts from Africa and other countries of the Global South were also invited to the meeting of foreign ministers as "friends of the BRICS". China has sent Deputy Foreign Minister Ma Zhaoxu to South Africa.
https://www.faz.net/aktuell/politik/ausland/gegenpol-zum-westen-brics-wollen-weitere-staaten-aufnehmen-18934649.html
But perhaps Putin, threatened by Ukrainian drones over the Kremlin, will send a double or a clone, perhaps also to avoid a plane crash like General Lebed, especially since it is not known whether the Russian siloviki are still as reliable as the German Air Force. One But as the German satire magazine Postillion reports, the doubles also have clone-amoeba division tendencies:
"Work too risky: Putin's double sends doubles ahead
Moscow (dpo) – Better safe than sorry: Because his job is becoming increasingly dangerous, Putin's double Aleksandr Orlov has recently been using the services of a double who is supposed to embody the Russian president in his place. "I used to really enjoy doing this work," reports Orlov, who looks like a spitting image of Putin. "No one would have had the balls to really attack or something like that on me or Putin." But since the Russian President has made more and more enemies in recent months, the 63-year-old has become increasingly nervous. "Anytime some crazy oligarch could want to get at me with his henchmen. That's why I hired Dimi, who now stands in for me on more and more appointments." Dimi – this is Dimitri Kuznetsov, a retired electrician from St. Petersburg, who looks like Orlov in the face. "He now makes all the appearances that are too sensitive for me, for example outdoors or when there are supposed to be a lot of soldiers and guns around Putin," explains Orlov. "If something should happen to him, I'll be there as a backup." According to Aleksandr Orlow, the Russian President himself should not notice any of this. "I'd rather the boss didn't know about it," he explains. "A few weeks ago, he was actually taken aback when suddenly everyone on the internet said that his double's ears looked completely different to those of the real Putin. That was because Dimi hadn't had his third ear surgery yet. But now you can't see any difference – especially when Dimi thinks about always stretching his lower jaw forward." Is doppelganger doppelganger Dimitri Kuznetsow also concerned about his safety? "It's a bit," he admits to the postilion. "But I promised my wife: I'll only do the job until I've earned enough to be able to afford a good double."
https://www.der-postillon.com/2023/06/putin-doppelgaenger-doppelgaenger.html?m=1
At the same time as the upcoming BRICS meeting, Biden is making an offer to India that is not at all what Beijing has in mind:
"US woos India to join 'NATO Plus' ahead of Modi-Biden meeting, harms New Delhi's strategic autonomy
By Wang Qi
Published: Jun 01, 2023 08:32 PM Updated: Jun 01, 2023 08:25 PM
Indian Prime minister Narendra Modi inspects military guard of honor after arriving at the historic Red Fort on the occasion of India's Independence Day in Delhi, India, Aug. 15, 2022. (Str/Xinhua)

The US has stepped up efforts to woo India ahead of Indian Prime Minister Narendra Modi's visit to Washington, with its envoy to India recently hailing New Delhi as "one of Washington's closest allies," and saying India should decide whether to join US-led NATO Plus while highlighting the need to deepen defense cooperation.

Experts said on Thursday that the US' hyping of the issue is more about shaping a favorable public opinion environment for its own "Indo-Pacific" security architecture. Although India's official attitude toward NATO Plus membership remains unknown, if India makes the unwise choice of leaning toward NATO, it will cause great harm to New Delhi's strategic autonomy, international status and relations with neighboring countries, experts said.

In an interview with Indian media outlet WION on Tuesday, US Ambassador to India Eric Garcetti said that "anything is on the table" when asked to comment on a report mentioning that a US committee has recommended that India be included in the US-led NATO framework.

Garcetti said it was up to New Delhi to decide whether it wants to join NATO plus, emphasizing that India is one of Washington's closest allies. NATO Plus, currently NATO Plus 5, is a security arrangement that brings together NATO and five aligned nations – Australia, New Zealand, Japan, Israel and South Korea – to boost defense and intelligence ties.

On May 27, a US House committee adopted a policy proposal to include India in NATO Plus so as to "deter China's aggression" on the Taiwan question.

Qian Feng, director of the research department at the National Strategy Institute at Tsinghua University, told the Global Times that the US wants to replicate in the Asia-Pacific region the model of confronting Russia through the NATO framework to counter China, in which the US regards India as a key link that will determine whether its "Indo-Pacific strategy" will succeed.

India also wants to leverage the US and NATO framework to increase its influence and, to some extent, its strategic leverage with China, Qian noted.

The US' attempts to woo India came ahead of Modi's state visit to Washington DC on June 22 at the invitation of US President Joe Biden.

On June 5, US Defense Secretary Lloyd Austin will meet with his Indian counterpart Rajnath Singh in New Delhi during his seventh "Indo-Pacific" tour, where he is expected to "further deepen the US-India Major Defense Partnership," according to a release from US Department of Defense.

The possibility of India's closer cooperation with NATO in the future cannot be ruled out, but for now, India is wary of being pushed into a direct confrontation with China by the US, even if China-India relations are at low ebb due to a border standoff, Qian said.

In addition, in the case of the deterioration of US-Russia relations and the continuation of the Russia-Ukraine conflict, India will also take into account its long-term cooperation with Russia, and keep a certain distance with the US, the expert noted.

Li Haidong, a professor at the China Foreign Affairs University, told the Global Times on Thursday that by hyping India's accession to NATO Plus, which is unlikely to occur in the near future, the US is actually looking to shape a favorable public opinion and political environment, laying the groundwork for the possible establishment of a closer relationship between India and the NATO mechanism in the future, so as to further expand US influence in the Asia-Pacific region.

However, New Delhi needs to be awake to the fact that India's growing global status comes from its maintaining strategic autonomy and not taking sides, Li said. "For India, it is in its best national interest to maintain a moderate balance among the great powers."

India has always longed for leadership of the Global South. If New Delhi chooses to become part of the US entourage by leaning toward the NATO mechanism, which represents the security interests of the US and its allies, it will have a great impact on its global leadership ambitions, as well as its position as a major power and its room for diplomatic maneuvering, Qian said.

"If India takes sides, it will pose a huge challenge to its position in regional organizations like the Shanghai Cooperation Organisation, and its relations with China and Russia," Li said.
https://www.globaltimes.cn/page/202306/1291789.shtml
At the same time, the Sino-American tussle continues at ASEAN, especially at the annual and upcoming Shangri-La Dialogue in Singapore:
"Chinese defense minister begins Singapore visit by enhancing ASEAN-China defense cooperation
By Li Aixin, Guo Yuandan in Singapore and
Chen Qingqing in Beijing Published: Jun 01, 2023 09:48 PM
Illustration: Chen Xia/GT

Chinese State Councilor and Minister of National Defense Li Shangfu began his visit to Singapore and met Singapore Defense Minister Ng Eng Hen on Thursday ahead of the 20th IISS Shangri-La Dialogue, laying the groundwork for setting up a hotline between the two countries with the aim of strengthening mutual understanding and trust while enhancing the ASEAN-China defense cooperation.

In sharp contrast to the US that's continuing to hype up the "China's threat" at the defense summit as it has been ramping up efforts to maintain its hegemony in the Asia-Pacific by accelerating to introduce a NATO-like security structure to the region, China will actively promote a sustainable, balanced and comprehensive security initiative amid the growingly tense US-China rivalry and the ongoing Ukraine crisis, indicating the future direction for Asian countries to build a secure and stable environment and pointing out "who is the biggest troublemaker in the region," some experts said.

On Thursday, the Chinese and Singaporean defense ministers witnessed the signing of a Memorandum of Understanding (MOU) on the establishment of a secure defense telephone link.

Regarding the relationship between China and ASEAN, Li Shangfu pointed out that the Asia-Pacific is "our common home, and prosperity and stability are the common wishes of all peoples." ASEAN is an important force for maintaining peace and promoting development in the regional and international arenas, said the Senior Colonel Tan Kefei, spokesperson of China's Ministry of National Defense.

China firmly supports ASEAN's central position in the regional architecture, supports the construction of the ASEAN Community, supports ASEAN in maintaining strategic autonomy, and is committed to promoting the construction of a closer China-ASEAN community of shared destiny, the spokesperson said.

The establishment of the hotline indicates that mutual trust between the Chinese and Singaporean militaries has reached a new height, and the military and security communication and cooperation between the two armies are gaining momentum, Senior Colonel Zhang Chi, an expert from PLA National Defense University, told the Global Times on Thursday.

China and Singapore can focus on their common security needs, jointly build a regional security barrier, and make due contributions to the development of the comprehensive strategic partnership between China and ASEAN as a whole, Zhang said.

Li Shangfu is on his first visit to Singapore as the Chinese defense minister to attend the Shangri-La Dialogue, which attracts top defense officials, diplomats and security analysts from around the world. Some Western media outlets say this year's summit will be dominated by the US-China tensions, the Ukraine crisis and the heightened tensions on the Korean Peninsula.

Compared with the previous Shangri-La Dialogue, this year's summit is held against the backdrop of the US attempts to build a NATO-like security structure in Asia, and there have been growing concerns over the Ukraine crisis that could turn into a direct conflict between NATO and Russia or between the US and Russia, Li Haidong, a professor with the China Foreign Affairs University, told the Global Times on Thursday.

"It's expected that the US will continue hyping up the so-called China's threat during the summit. The US has been trying to manipulate other Asian countries to follow its security blueprint and introduce more European countries to the region to make sure its proposals have a broader acceptance in the Asia-Pacific region," Li Haidong said.

During the meeting, Li Shangfu reiterated China's firm stance on the Taiwan question, saying Taiwan is China's Taiwan, and the Taiwan question is the core of China's core interests, Tan noted.

We are committed to pursuing the prospect of peaceful reunification with the utmost sincerity and effort, but we will never allow the DPP authorities to leverage foreign powers for independence, nor will we allow external forces to use Taiwan to contain China, the Chinese defense minister said.

"We absolutely do not promise to abandon the use of force. China must and will inevitably be reunified. China will resolutely defend its national sovereignty and territorial integrity," he said.
Peacekeeper vs troublemaker

Ahead of the Shangri-La Dialogue, the US has been peddling the "China threat" theory by hyping again China's "unprofessional" interception of a US spy plane over the South China Sea, referring to "China's coercion" when seeking to enhance the defense capabilities of Japan and trying to shift the blame to China for "no planned meeting" between the Chinese and US defense ministers at the summit.

US Defense Secretary Lloyd Austin is scheduled to deliver a speech on Saturday morning themed as "US' leadership in the Indo-Pacific" while Chinese defense minister is going to talk about "China's new security initiatives" on Sunday, according to the summit schedule.

Zhao Xiaozhuo, a researcher of international military relations at the PLA Academy of Military Science, said while the US Asia-Pacific security strategy emphasizes "war," "division" and "small clique," China's foreign policy emphasizes "peace," "development" and "big family." From the actions of China and the US in the security of the Asia-Pacific region, from ideas, policies to actions, it's clear the US is a force for confrontation and China is a force for peace.

The US is a force of division and China is a force of cooperation. The China-US rivalry is not only the rivalry between the two forces but the rivalry between the two prospects for Asia Pacific, Zhao said.

From Thursday, the US, Japan and the Philippines launched maritime exercises in the South China Sea – their first such drills among these three countries, targeting implicitly China. Also on the same day, Austin met with Japanese officials in Tokyo, vowing to enhance Japan's defense capabilities including its strike capabilities by referring to "Chinese coercion" and the "Russia-Ukraine war."

Chinese Foreign Ministry spokesperson Mao Ning said at a press conference on Thursday that military cooperation between states should be conducive to regional peace and stability, instead of targeting any third party or harming the interests of a third party. "Talking about coercion, I want to say that it is the US, not China, who is carrying out massive coercion," said Mao.

Based on China's Global Security Initiative (GSI), we're going to propose our ideas for a secure Asia-Pacific region to ensure that there won't be war and conflicts in the region, especially when we take what happened in the Europe as an example, Song Zhongping, a Chinese military expert and TV commentator, told the Global Times on Thursday.

"It's also the time for us to elaborate on China's active defense military strategy, and China's consistent positions such as 'no-first-use nuclear weapons' and promote peaceful negotiations to solve conflicts. It's also possible to promote a regional security mechanism, for example, for the Korean Peninsula, under the GSI," Song said.

US-China tension in focus

While the US-China tension is anticipated to be a major focus at this year's summit, Austin said on Thursday it was "unfortunate" his Chinese counterpart had declined to meet him at an upcoming security forum because they needed to communicate to "stop dangerous encounters" between military aircraft, according to Western media reports.

US Secretary of State Antony Blinken also called on China on Wednesday to agree to greater communication, saying that "the most dangerous thing is not to communicate and, as a result, to have a misunderstanding and miscommunication."

The US has been creating those narratives with the aim of shifting the blame to China for the unsmooth communication, which is a typical political manipulation, as no matter how many "beautiful words" Washington has said, its action goes in the opposite direction, Li Haidong said, noting the US lacks sincerity in its engagement with China.

For example, the US' intention of conducting military drills in the South China Sea is pretty clear, which is trying to create the tense atmosphere in the region and force regional countries to become dependent on the US, highlighting its role of leadership by creating division and conflict, toward which all regional countries should remain vigilant, the expert noted.

However, some scholars and officials from the ASEAN members are aware of the US' intention of using the tactics of "encirclement, militarization and provocation" to bring conflicts to the region, who also believe regional countries need to act together in pursuing peace and security.

"Twenty years ago the dialogue served as a mechanism, to use their patronizing term, to "socialize" China into a global order confidently dominated by the US. Today that world order is over. China, the BRICS economies and the Global South now play a vastly greater role in the world," John Pang, a former Malaysian government official and a senior research fellow at Perak Academy of Malaysia, told the Global Times on Thursday.

"It also shows how much ASEAN, with literal skin in the game for security, needs to get our act together and give substance to ASEAN centrality and independence by organizing our own broad security forum, with our own framing of the issues," Pang said.
https://www.globaltimes.cn/page/202306/1291796.shtml
The Indian contribution to Lula's peace club and within the BRICS, which now discusses to expanded by another 15- 20 states, could then look like this, together with the Chinese Ukraine plan initiative:
But it can be assumed that Modi would offer more real political demands as a world peace guru as the peace message of Hari Krishna and Hare Rama, but as General Asthana correctly states, India will only go in there if the constellation of an "accept to accept", i.e. negotiation will of both sides is given That mutual does not exist at the moment, especially not before the Ukraine offensive and then we'll see if the Chinese can do more there. In any case, Scholz's security adviser Jens Plotner was in Beijing, also to prepare for the upcoming German-Chinese intergovernmental dialogue, which also dealt with the Ukraine crisis and Scholz also announced that he wanted to call Putin and that Ukraine would only become a member of the NATO long after the war under many conditions, such as non-discrimination against Russian-ethnic Ukrainians, i.e. at no time at all or a very distant fuure, while Baerbochk believes that NATO membership, at least during the war, is not on the agenda. But it's funny that now from the Eastern European side and some voices from Global Britain it can be heard that not only Scholz, but also Baerbock are "procrastinators and hesitant", old Ostpolitik and German special ways (Duetsche Sonderwege" and the old "Gemran question"., At least the Global Times reports about the meeting of Scholz security adviser Jens Plotner with Politburo member Wang Yi only a very short. Apparently more of a formal visit without much misunderstanding. In any case, the Chinese Communist Party seems to be counting on a positive course of the upcoming German-Chinese intergovernmental meeting, which is intended to send a signal to and for Europe and therefore or and to the world. Isn't that asking a bit much when the traffic light coalition goverment can't even agree on a China strategy? At leas tthe CCP seems to rely more on and trust Scholz, which is why he also wants to call Putin. At least the Chinese peace initiatives wants to initiate a formation of a European bloc around the Weimar triangle France-Germany-Poland, for which the visit of the Chinese special representative in Poland speaks, in order to form European sovereignty beyond Anglo-Saxons and the USA including Global Britain with the help of the new Chinese Great Brother , especially since in alliance with the Global South and to land the next coup after the SA Iran deal within the framework of the Global Security Initiative under the Xi Jinping thoughts and thus to create a sustainable image of China as a world power for peace. With a hoped-for Eurasian re-engagement of the Europeans with China and "West" and Central Asia, including the New Silk Road, which may be working with the EU to rebuild post-war Ukraine.
"Senior Chinese diplomats meet with German envoy, highlight need to send positive signal to Europe and the world
By Global Times Published: Jun 01, 2023 10:41 AM
Wang Yi, director of the Office of the Foreign Affairs Commission of the Communist Party of China (CPC) Central Committee,also a member of the Political Bureau of the CPC Central Committee, meets with Jens Plotner, foreign and security policy advisor to the German chancellor, on Wednesday in Beijing. Photo: Chinese Foreign Ministry

Both Wang Yi, director of the Office of the Foreign Affairs Commission of the Communist Party of China (CPC) Central Committee, and Chinese State Councilor and Foreign Minister Qin Gang met with Jens Plotner, foreign and security policy advisor to the German chancellor, on Wednesday in Beijing.

Wang, also a member of the Political Bureau of the CPC Central Committee, said that as all-round strategic partners, China and Germany should not only steadily develop bilateral relations, but also contribute to jointly addressing global challenges, according to the Xinhua News Agency.

He said that in the face of increasing instability and uncertainties in the international situation, China and Germany should work together to make the seventh China-Germany inter-governmental consultation a success, and send a positive signal to Europe and the world.

Plotner said the foundation of Germany-China relations is solid and Germany will continue to firmly pursue the one-China policy.

"We are full of expectations for the upcoming round of inter-governmental consultation between the two countries and will work together to speed up the preparatory work," Plotner said.

The two sides also exchanged views on Ukraine and other international and regional issues of common concern.

Qin Gang and Plotner also had in-depth communications on preparations for the seventh round of inter-governmental consultation between the two countries and exchanged views on international and regional issues of common concern, Xinhua reported.

Global Times
https://www.globaltimes.cn/page/202306/1291741.shtml
Meanwhile, the situation in the Balkans is getting worse and Vuvic is mobilizing his army against Kosovar Albania. One hopes that Serbia will not open a second front for Putin, but this is unlikely. NATO is increasing its presence in Kosovo after clashes between Kosova Albanians and Serbs, while Biden is canceling US maneuvers in Kosovo if Kosova Albanians do not treat minority Serbs better. But Kosovo also seems increasingly influenced by the Sino-American conflict. The NATO war against Serbia over Kosovo or the Amselfeld was viewed by Russia, China and the Serbs as a breach of international law, as they did not recognize Kosovo´s separation and independence, especially since China feared that such a case could also be a model for Taiwan. The NATO bombing of the Chinese embassy in 1999 has not yet been forgotten, especially since China sends a mourning delegation to Serbia every year to commemorate the Chinese martyrs and seek revenge. In addition, it looks as if China is now looking for a route via the Balkans and the Greater Middle East after Italy and Ukraine have blocked the New Silk Road, and China is also supplying weapons to Serbia on behalf of or replacement for Russia, since Vuvic fears US and EU sanctions , should they come from Russia., especially since the USA maintains Camp Bondsteel in Kosovo, the largest US military base in the Balkans.
What the Kosovo conflict has to do with Taiwan
According to Ana Krstinovska from the China think tank Choice, the fact that China is on Serbia's side on the Kosovo issue also has to do with a conflict that is currently taking place around 9,000 kilometers to the east, in the Taiwan Strait. China cannot recognize Kosovo because Beijing wants to prevent "Taiwan from achieving similar successes," writes Krstinovska. China regards Taiwan as a breakaway province and is threatening to use force to unite the democratically ruled country with the mainland. In the conflict between Beijing and Washington, too, Kosovo could become a plaything for the great powers. The relationship between the two countries currently oscillates between cautious rapprochement and open hostility. China accuses the United States of wanting to suppress its rise to global power, while Beijing is working hand in hand with Moscow to overthrow the world order led by the United States. Krstinovska warns, "Should US-Chinese tensions continue to escalate to seemingly unrelated issues (like the war in Ukraine), Kosovo could eventually become collateral damage."
https://www.merkur.de/politik/kosovo-konflikt-eskalation-china-russland-ukraine-krieg-serbien-news-zr-92315906.html
In any case, China's New Silk Road in the Slavic world and the Russian world is now making headway, especially in Russia's Far East now that a free port in Vladivostok has been approved for China. While optimists and the Chinese only want to discover a promotion of regional trade, angry Russian and Chinese nationalists are blaming each other on social media. While Russian nationalists sense the "sell-out of the Far East", "Russian world", "Russian homeland" and "Chinese land grab" now that China is ousting Russia in Central Asia and is holding the China-Central Asia summit without Putin despite a beautiful SCO, Chinese nationalists see this as part of the National Rejuvenation: and retrieval of Chinese areas and homeland that were annexed by Russia as part of the Second Opium War and as part of the imperialist Unequal Treaties of the time which were outright land grabs on the Chinese heartland, especially since Vladivostok was also called Sea Cucumber Bay in Chinese as this area is three times the size of Germany together with Valdivostok.. With all the emphasis on the strategic Chinese-Russian partnership for a purely multipolar world, there is now the Russian fear that the second pole will decline and become only a Chinese colony and Chinese gas station and new Hong Kong for a Chinese multipolar future. The CCP, however, presents this as the sole measure to promote regional trade on both sides, nothing is read about the contractual provisions, whether the free port will only be used for civil or military purposes, how large it is in comparison to the Russian ports or whether a kind of leasing contract modeled on Hong Kong, Sri Lanka and now Cambodia for the symbolic 99 years or another time limit was signed. Surely there will not be a new Ussuri war, but more of a gradual and creeping conquest is to be expected. But here is the official version of the CCP, which does not want to officially humiliate the Russians:
"China-Russia trade, regional economic development gets boost with Vladivostok being new transit port for domestic trade
Industry insiders tap into business potential with Vladivostok being transit hub for domestic trade
By Yin Yeping and Tao Mingyang Published: May 31, 2023 09:59 PM
The China-Russia Express from China-SCO Local Economic and Trade Cooperation Demonstration Area (SCODA) to Vladivostok port in Russia starts its maiden voyage in Qingdao, East China's Shandong Province on September 14, 2022. This is the first cargo ship from SCODA to Russia's Far East and the express will get to Vladivostok port at least 10 days sooner. Photo: cnsphoto

China-Russia trade and the regional economy in Northeast China will be further boosted with the opening of a new transshipment port for cross-border transportation of domestic trade in Vladivostok in Russia's Far East, which takes effect on Thursday, amid the growing need for regional economic development.

Vladivostok, now the largest Russian port on the Pacific Ocean, also known historically as Haishenwai in Chinese, will enable traders to diversify their routes and cut transport costs, particularly between industrial hubs in the northeast and manufacturing and trade centers in South China, industry insiders said.

The new transit port, as a win-win cooperative mechanism, is expected to bring benefits for regional economic development in Northeast China as well as Russia's Far East, ultimately injecting new impetus into bilateral trade and investment, experts said.

The decision to launch the new port came amid China's strategic deployment of revitalizing the old industrial base in the northeast and promoting cooperation with overseas ports in the cross-border transportation of domestic trade, per a recent notice from the General Administration of Customs (GAC).

Zhoushan Yongzhou Container Terminal and Jiaxing Zhapu Port in East China's Zhejiang Province will be added as entry ports for the cross-border transportation of domestic trade with Vladivostok.

Jilin and Heilongjiang provinces in Northeast China have long been hampered in their economic and trade development because there is no outlet to the sea.

The nearest and most-used domestic trade transit route in the region now is through Dalian in Liaoning Province, which often means a trip of more than 1,000 kilometers. The distance between Vladivostok and major regional trade hubs such as Northeast China's Suifenhe and Hunchun is only about 200 kilometers, a big shortcut that will greatly cut logistics costs, Kang Shuchun, a director of the China Federation of Logistics and Purchasing, told the Global Times.

With the shorter distance, the delivery fee for each container transported from Hunchun to Zhoushan Yongzhou Container Terminal via Vladivostok may be reduced by at least 2,000 yuan ($281), Kang said.

There are now 13 trade routes with Russia, mostly scheduled on a weekly basis, and they are very busy, an employee with one of the entry ports for the cross-border transportation of domestic trade in Zhejiang told the Global Times on condition of anonymity.

The traded goods are in a wide range of categories ranging from daily commodities to cars.

"After Vladivostok is opened as a domestic trade port, voyage adjustments will be made according to available arrangements. Many freight forwarders are interested in this soon-to-open route, and they contact us for consultation," the person said.

In addition to boosting the regional economy and trade cooperation between China and Russia, the new transit port will enable more goods made in Northeast China to be exported at competitive prices to South Korea, Japan and even Southeast Asia, the industry expert said.

Zhang Hong, a research fellow at the Institute of Russian, Eastern European and Central Asian Studies of the Chinese Academy of Social Sciences, told the Global Times that in addition to providing new possibilities for bulk commodity trade in Northeast China, the new transit port will strengthen logistics cooperation between China and Russia's Far East.

"Investment and trade in sectors such as energy will be tapped into," Zhang said.

While agricultural products and vehicles produced in Northeast China can be quickly transported to the market in the south via the new route, border crossings involve customs supervision, according to media reports.

Having Russia's Vladivostok as part of the transit port system for domestic trade is part of the follow-up efforts by the Chinese government to bolster regional economic and trade.

In 2020, Russia's Slavyanka sea port and Kraskino Highway Port were included as transshipment ports for the cross-border transportation of domestic trade goods in Jilin Province.

An expert said that the actual economic effect of the new transit port will take time to emerge.

The new port will be one of many options, rather than the only choice available. There are already three cross-border ports in Jilin in operation, with one connecting North Korea and the other two with Russia, Zhang said.

Due to the vast land and sparse population in the Far East, investment in infrastructure may not yield benefits in the near term, the expert said.
https://www.globaltimes.cn/page/202305/1291710.shtml
Now as a supposed European counter-answer to all this, the European Moldava meeting. Significant that now, in view of the complete disorientation, also, but not only of the Greens, it is also enough for the Green party mouth piece TAZ. In a contribution that is quite atypical for its more PC attitudes, the TAZ formulates an almost real political critique, also in relation to Europe in view of the European Moldova summit, whereby the question is whether this lack of orientation can only be explained by a lack of vision and a lack of competence alone or whether it is more an expression of totally diverging national and/or European or also transatlantic interests which cannot be brought under a minimal consensus:
"Europe Meeting in Moldova: Being against Putin is not enough
The demarcation against Russia's dictator is Europe's only common denominator. What is missing is a geopolitical strategy.
United: French President Macron, Maia Sandu, President of the Republic of Moldova, Ukrainian President Zelensky, Chancellor Scholz
Moldova and Ukraine are part of Europe. This sign was supposed to emanate from the second summit of the "European Political Community" (EPG) in Chişinău – and it worked. 47 heads of state and government accepted the invitation, with Moldova taking center stage for one day. However, there was never any question that Moldova and Ukraine belonged to Europe. The crucial question is whether they belong in the EU or NATO. This question was not answered in Chişinău. Although Moldova campaigned for EU membership in 2030, there was no progress. Ukraine's NATO membership also remains controversial. The USA, Germany and France are on the brakes. They fear – rightly – that joining NATO in the middle of a war could trigger a fatal chain reaction. So it was not far from the demonstratively displayed unity. The new Europe club was only united against Russia and Vladimir Putin. But there have already been many anti-Putin summits.
You don't need an EPG to bash Putin. What Europe lacks is a geopolitical forum – and that is exactly why the EPG was launched by French President Macron. However, geopolitics is more than a family photo from Moldova. Geopolitics is about geography and interests. Geography wants Europe to live with Russia. European interests make it necessary to think about the time after the war – there, too, one cannot ignore Russia. But these geopolitical basics had a hard time in Moldova – Macron barely got through. Once again, Ukraine's President Zelensky set the tone by demanding security guarantees. Security guarantees only make sense when the war is over. A ceasefire was not an issue, however, and a new peace order is not in sight.
There was little movement on other issues either. Sweden's still blocked NATO accession, the tensions between Serbia and Kosovo, the ongoing crisis between Armenia and Azerbaijan: the Europeans talked about it, but there were no results. Meanwhile create other facts. At a meeting of the Brics states in South Africa, which took place parallel to the European summit and which was also attended by Russian Foreign Minister Sergei Lavrov, preparations were made for expanding the group by more than a dozen states. Saudi Arabia and Turkey could soon join Brazil, Russia, India, China and South Africa. While Europe is preoccupied with itself, the new, multi-polar world order is growing. The Europeans only play a supporting role in it. Being against Putin is not enough to engage in geopolitics.
https://taz.de/Europatreffen-in-Moldau/!5935605/
Yes, the green TAZ is very coorrecht this time, but does chatter goose Baerbock and Habeck listen to the message? At the moment, due to the lack of a heating pumps and refugee strategy, the German coalition government is not able to formulate an NSS or even a China strategy. Scholl Latour already said sweetly among the even more realpolitician Fischer and Triitin that the Greens cannot think much further strategically than the next cycle lane or bottle deposit.
---